Restaurant Annette – the Moroccan escape in Sofia
The Moroccan restaurant Annette is a cozy place for sharing words, emotions and of course, food
Morocco became a quite popular travel destination among our friends in the recent years. We heard a lot of stories and saw so many colourful pictures that went straight into our wish list. Finally, we made it to Morocco in November 2019 and returned with plenty of memories and photos we would like to share. And while we work on our new articles, we recall one Moroccan experience here in Sofia. If you are not heading to Morocco anytime soon or if you are heading to and wish to be prepared what to expect, let us take you to this place – Annette Moroccan Restaurant in Sofia.
North of Sahara
Is there a person not curious about the Moroccan culture? I think no. if you have not had the chance to go there personally, you must be very curious. If you have had the chance to visit Morocco, you are probably nostalgic of your stay there. Anyway, just the thought of Morocco for us is very exciting. And no culture could be felt thoroughly without its food. This is why we were so excited about our visit to the Moroccan restaurant in Sofia – Annette.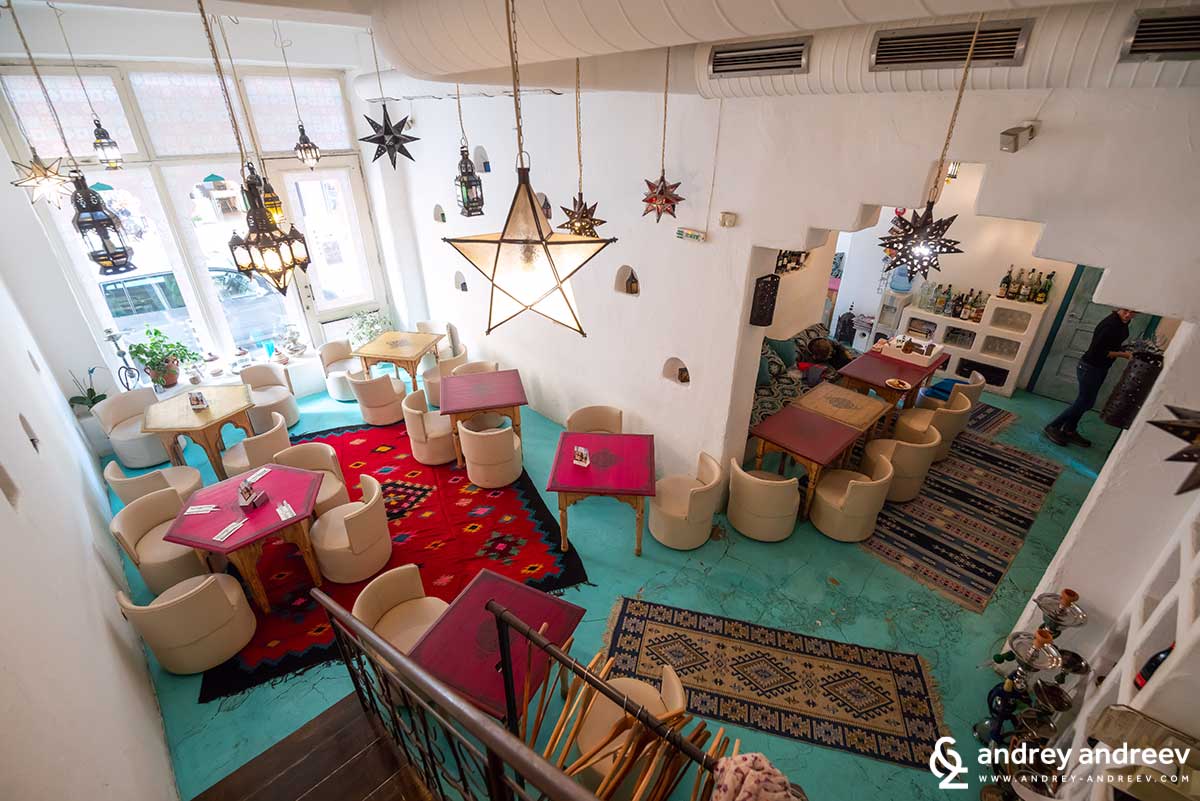 The Moroccan cuisine
Where was a gathering of many cultures, there is always very interesting cuisine. This is valid especially for regions where different peoples and cultures were mixed for millennia. The history of Morocco is very spicy and colourful and such is their food. Rich in eggplants, couscous and a lot of tea.
Until I parked our vehicle in the crowded centre of Sofia, Maria had already discovered the tea. Moroccan black tea with mint and pine nuts. At Annette restaurant you might not find the usual contemporary luxury but you will definitely find coziness everywhere. It was an autumn day so we decided to leave the white garden for warmer times and settle on the second floor with the traditional low tables and sofas.
A place and food for sharing
I think that the whole idea of Anette restaurant – both the interior and food, is about sharing. Sharing the moment with friends, acquaintances or just with the people on the neighbouring table. The feeling is just like this, especially on the second floor. The round tables and the comfy pillows, placed on the floor, do not let anyone to have a fixed seat.
It might not be the best choice for people who insist to have their personal space. But if you feel social, you will love it. The thing about food is similar, although if you insist on eating you dish by your own, no one will take it from you. However, the food in Annette restaurant and the way it is being served just calls for it to be shared. We were even a bit sorry that we did not invite friends with us and went only the three of us. Well, next time.
So what we shared at Annette restaurant?
Colourful meals with spicy flavours
The best thing you could do at Annette restaurant is go with your friends and order a mix of all of their starters. They are served is small round bowls that might look too small from the first sight but this is an optical illusion. If you order just one of them, you will probably feel it too spicy or too rich in tastes. However, if you have a palette of 10 different appetizers, you will feel the absolute pleasure.
Let's start with the amazing hummus. We also loved the fried sliced zucchini with mint, as well as the tabbouleh. The eggplants were also surprisingly tasty despite we are not huge fans of eggplants.
Quite spicy but very memorable was the matbuha – spicy stewed tomatoes and peppers. We also tried the piquant carrots and also the traditional piquant chickpeas. Mutabbal was a paste of eggplant and tahini and it was not spicy at all, compared to the other starters. One of the things we also loved were the falafels. And finally, there was something almost Bulgarian among the appetizers – marinated Bulgarian cheese. No need to say it was very spicy, too.
Moroccan bread
All of these treats were served in the company of two types of bread. One was traditional home-made bread and the other was batbut – fresh home-baked pita bread with leek and herbs. Both went perfectly with the appetizers, but we really fell in love with the batbut.
If you have space for a main course: Chicken, veal or just couscous?
If you have followed our previous advice to taste as many appetizers as possible, you might be already full. However, the main dishes deserve not less attention and we could not resist tasting them, too. Or at least the legendary couscous. Here is what we had.
Couscous with vegetables
Fluffy, simple, with non-demanding but memorable taste and flavours. This is the basic Moroccan couscous, served only with zucchini and eggplants and delicious broth. You really do not need anything else to enjoy it. However, if you prefer, it can be prepared with different meats as well.
Chicken fillet with pear in red wine sauce
As we said before, where cultures mix, tastes mix, too. This is absolutely valid for Moroccan cuisine and this dish is a proper example. You will find savoury, salty, wine.. and many oriental spices, all in one dish. If you love culinary experiments and mixing tastes like us, you will probably like it. If not, you may want to get back to the couscous which is loved by everyone.
Here is the moment to mention that the wine sauce and wine in general is not a popular product in Morocco. Alcohol is generally forbidden for locals and alcoholic drinks are served only in separate restaurants, serving mainly tourists. Indeed, there are a few wine cellars in Morocco, but again they are created to serve the tourist demand.
Veal with prunes, almonds and herbs (and some couscous)
We were not fans of veal until recently and we are still very cautious when we order veal. But this one was an extremely successful pick. The meat, the prunes and the almonds just fit perfectly. And the couscous for garnish helped make the feeling fluffier and lighter.
And let's say again that the main dishes are also sharing-friendly. They were all served in small bites of fillets, ready to be shared.
The dessert: Malebi and Moroccan sweets
We were very curious about the Malebi. We do not have much experience with this dessert but we remember a trip to Svilengrad, Bulgaria, where a friend took us to try their local Malebi which was obviously a big attraction. Well, it was not bad but not something we would return for. So we wondered for some time whether the Moroccan malebi would be worth trying. Anyway, we decided to give it a chance and it was one of the best food choices we have ever made. We enjoyed to the last spoon the amazing white crеam covered with pistachios. I don't know how to describe it, so take a look at the pictures.
We combined the malebi with a mix of traditional Moroccan sweets – some with jam, others with nuts, all different but lovely. We finished our tea and headed to a walk around Sofia to enjoy the rest of this wonderful day.
Anna and the Moroccan cuisine
As most 3-year old kids, Anna was not willing to stay at one place and just taste food. Instead, she spent the most of our 2-hour stay jumping around the tables and sofas. Her favourite foods appeared to be the bread and the couscous, which she called rice. And of course she loved the desserts.
Restaurant Annette and the real Morocco
A year after this visit to Annette restaurant we made the trip to the real Morocco. Of course, we were eager to try on the spot all the flavours and tastes of Morocco. After a 10-day trip through various regions of Morocco and tasting all kinds of Moroccan food (including street food, traditional restaurants, touristic restaurants, fine restaurants and luxury hotel restaurants), we can say that Annette Restaurant is indeed a very good and even better than the more average restaurants in Morocco. So with all our hearts we can recommend Annette Moroccan Restaurant in Sofia.
However, if you are planning a trip to Morocco, there are places we would happily recommend there. We had wonderful lunch at the restaurant of Jnane Tamsna hotel outside Marrakech, and were also spoiled with delicious food in the two restaurants of Movenpick Hotel Marrakech. Another place we would never forget is Kasbah du Toubkal, a Berber Hospitality Centre in the High Atlas mountains.
Angel Kanchev street
Angel Kanchev street is a very nice street, parallel toVitosha boulevard. If you have already enjoyed your walk in the Sofia city centre, it is a great idea to jump for a Moroccan lunch at Anette Restaurant,which is located exactly at Angel Kanchev 27.
November 11th, 2018
Hello! We are Andrey, Maria and little girls Anna and Adriana – the Andreev family. We live in Sofia, Bulgaria. Some of us have been living here for a long time, others for less and others their whole life.Now we want to show you our lovely city and take you to a walk through the…