The Belogradchik Rocks as we saw them
This post is also available in:

Български
I woke up before sunrise, I hadn't actually planned it. I got up, dressed quietly, trying not to wake up the kids and Mimi, and I sneaked out through the front door of the house. We were staying in a cozy guest house near Varbovo village, 20 min drive from the town of Belogradchik and the Belogradchik rocks. A warm autumn day was before us and for me it started with an early morning walk before and during the sunrise.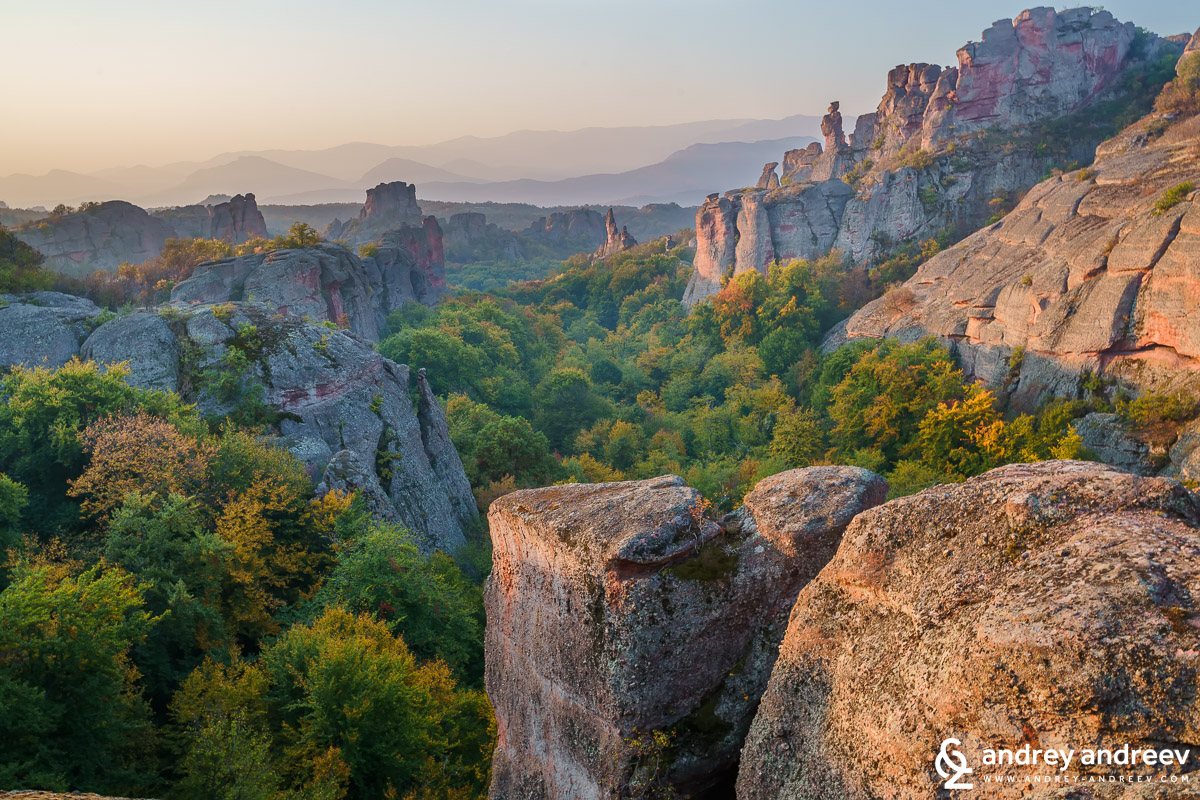 Sunrise on the rocks
I have always loved driving in the morning dawn. It is always a time when you hurry for some curious place, chasing a new adventure and new mood. The radio was playing something and I was thinking about the places I could reach quickly because I was almost late for the sunrise.
The previous day I had spotted small lay-by just before entering Belogradchik and I decided to head to this place to wait for the sun. I stopped the car, passed by a huge rock and found myself before a fantastic panorama. Maybe it was not the best place for sunrise but I really loved it. Enchanting view of the autumn trees and the high rocks rising above them,
The day slowly arrived above the rocks and filled me with good mood. If Anna had woken up with me, she would have started with her morning routine, which is a a mix of yoga and something else.
Belogradchik rocks
In our blog we like speaking about our moods and feelings but the accent stays on the places we have visited. We have been many times to Belogradchik, in different seasons, and we have always had a great time. The stunning reddish rocks, spreading on a large area (30 km long and 3 km wide) reveal magnificent views before us, as they are from another planet. They have always attracted us not only to take photos but to spend some time in this beautiful and calm region of Bulgaria.
The Belogradchik rocks are made of colourful sandstone, rich in hematite pigments (iron oxide) which gives them the reddish-brownish shades. Their unique shapes are due to the erosion and local people have a lot of stories and legends about them.
If you want to explore the paths between the rocks, you may want to look for a local guide. We had made some research and found Kiril Kirilov – Kikovski, who is probably the best choice for a guide in the area. We were happy to meet him and let him take us through this beautiful region.
Belogradchik fortress
We really love fortresses and the history around them.
Such beautiful and inaccessible places have many times acted as fortresses and observation points. We remember the fortress at Cape Kaliakra which is naturally protected from three sides by the sea and only one wall was needed to make the area unconquerable. In such way, the Belogradchik rocks were used from Roman times as base for a fortress. The Romans had to build walls only on the northwestern and southeastern sides.
On the site of Belogradchik fortress archaeologists have found remains of walls, ceramics, iron tips for arrows and pikes, coins from Roman emperors. The fortress was fortificated further by the Vidin ruler Ivan Sratsimir in 14th century. He erected two partition walls and auxiliary equipment, including hanging rope bridges and stone staircases. Later the Ottomans took over the fortress and made significant reconstruction on the 19th century. With the help of French and Italian engineers, they turned it into a well-equipped defensive facility. It was used against Bulgarian rebels, too.
There new fortress had three yards with three gates, cannon platforms, warehouses for food and water, residential buildings, workshops, etc. It was used for the last time during the Serbian-Bulgarian war in 1885 when Serbian forces were defeated before it. There are many interesting facts and stories about the Belogradchik fortress so we would advise you to visit it with a professional guide.
On sunset near Belogradchik – another place worth seeing
The Belogradchik fortress and the rocks around it are the main attraction in the area. But let us remind you that the Belogradchik rock formations are spreading to a quite wider area. The whole area around the town is full of beautiful rocks and amazing hidden places between them, where you can enjoy the wonders of the nature
During the time spent with Kiril he showed us a very beautiful route and showed us stunning rock formations in various shapes. The place was amazing and I was determined to witness a sunset here.
I left Maria and the kids to rest at the hotel and headed to a rock that looked very convenient. I parked the car next to the remains of a former restaurant. Then I found the path and climbed on the rock.
Here the view is stunning and the sunset makes it just unforgettable. Staying there, watching the rocks, wishing to never leave. Only the sound of birds can be hear. I really wish to represent this beauty but you should live it by yourselves.
What to see near Belogradchik?
Where to eat in Belogradchik
The best place to eat in Belogradchik is restaurant Pri Ivan.
Where to stay near Belogradchik?
If you search online for places to stay in Belogradchik, you may not find all the guest houses in the area. However, we were happy with our choice – the small family-owned guest house Torlashka Shreshta near the village of Varbovo. Another interesting place to stay near Belogradchik is Eco village The Clay Houses. But there are many other opportunities, too.
How to reach Belogradchik?
Our preferred way of travelling from Sofia to Belogradchik, and the fastest one, is by car. The drive takes about 3 hours and the shorter and quite convenient one is through the Petrohan pass. Another option is the route through Hemus highway – Vratsa – Montana. This route is longer but takes about the same time.
If you want to go to Belogradchik by public transport, this would be a challenge. But it is not impossible. As far as we know, there is a bus from Sofia to Belogradchik once a day. It departs at 16.30 from Central Bus Station Sofia. If you prefer train, the closest train station to Belogradchik is Oreshets. From there you should call a taxi or hotel transfer.