Why you would love to visit a Bulgarian winery and what you will find there
Тази статия може да я прочетете и на:

Български
Life is too short to drink bad wine
Bulgaria might not be the most famous wine destination but it is actually quite underestimated. After our recent trip to Italy we had the opportunity to taste many local wines and we really think that Bulgarian wines are not less good. If you are wine lovers and love travelling, why not go where good Bulgarian wine is being produced? We really envy people that have built their own wineries for the wonderful location and even more wonderful products they are making. Visiting every Bulgarian winery is our new passion and we find it very exciting.
Choosing a Bulgarian winery to visit
There is nothing easier than attending a wine tour in Bulgaria. There are tens and maybe hundreds of wineries all over the country. So no matter where you are now, there is probably a winery open for visitors around you. Our favourite Bulgarian wineries are: Villa Melnik, Maryan Winery, Medi Valley, Chateau Copsa, Rupel Winery, Zlaten Rozhen, Villa Bassarea .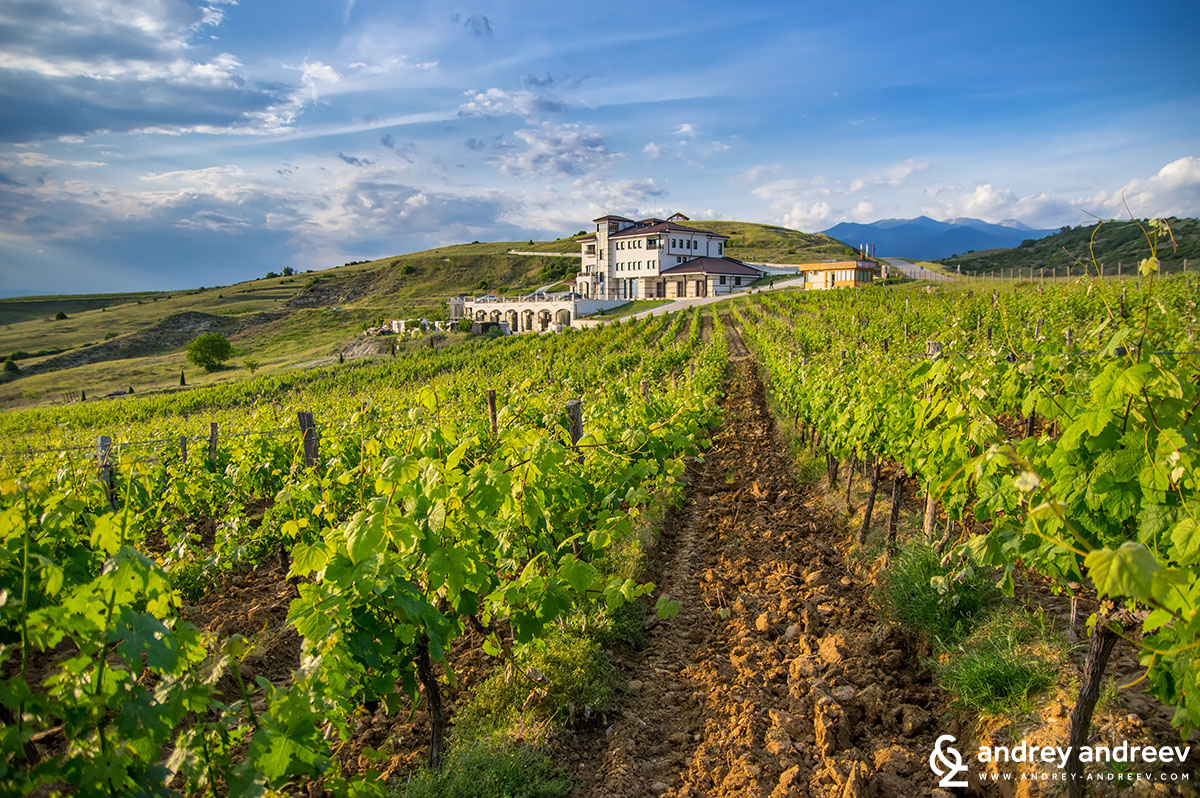 The small boutique wineries – our favourites!
The best thing about small wineries is that you will be usually welcomed by the owner himself. I love hearing stories from the first hand and enjoy the passion and sincerety which is typical when a person speaks about something he achieved by himself. You can hear very interesting things from the owners – about the vineyards, technology, some local legends and even some spicy details about life in the winery. Visiting a small family winery, you could be let to stay a little bit longer and enjoy private attention. And such places are usually calmer and quieter – just the way we love them!
What about the big wineries in Bulgaria?
Of course, large wineries with mass production are also interesting places to visit. You will usually be welcomed by staff that is well-trained and extremely kind and helpful. Another good thing about bigger wine cellars is that some of them have good restaurants and you can have a delicious meal together with the wine tasting – we know such one in Mogilovo village.
Another thing we love about bigger wineries are the recreation facilities. Many of them feature nice hotels, some with SPA facilities – the perfect conditions for rest and recreation. If you are interested in this kind of tourism, write us and we will give you suggestions where to go. However, if you have been somewhere and loved it, we will be happy to hear about your experience. We have not been everywhere and we are always happy to discover new places.
The beautiful vineyards
It is wonderful if the winery has its own vineyards and grows its production locally. We love the view to the neat rows of vines and also like walking between the rows. If you want to try, note that you need comfortable shoes because walking in the soil is not that easy. Some wineries would organize a picnic among the vines if you want, or another nice experience.
What to expect from a Bulgarian winery
Bulgarian wineries are usually located in very beautiful areas and some of them have attractive buildings. But the most important thing is going behind the walls and seeing how wine is really being made there. If you are not very familiar with the wine production process, you might get a little bored watching metal containers and listening to words you don't know. But if your host or guide is a good speaker, he will probably do his best to keep you interested and engaged.
In general, they will take you through the whole process – from collecting the grapes to bottling. Don't hesitate to ask any questions, no matter whether you are a newbie or a professional. The guides will be happy to answer all of your questions. It is really boring for them to talk to people who only smile and do not look interested and engaged.
Finally, they will take you to the wine cellar where wine is stored in barrels or sometimes bottles. Each cellar is different and usually the cellars are among the most interestiing places in a winery. Some wines are left to mature for some time, others are bottled immediately. The maturing process is also specific and usually the barrels differ on size and material. French oak barrels are a classic, but some wineries in Bulgaria like to experiment with Bulgarian oak and other local materials.
Wine tasting
Every wine tour finishes with the most pleasant part – the wine tasting. Despite walking around the winery is really interesting, the thought of tasting something new and good makes us really impatient every time we visit a winery in Bulgaria. I think the most important thing everyone should do on a wine tour is tasting something new, something that you have never tried before. Ask the hosts for a suggestions – they know best what to offer you! Some of the tastings feature some food as well.
But don't expect wine tasting to look like a visit to a bar. You will be offered small quantities of different selected wines, instead of drinking there for hours. However, small quantities do not mean that you cannot get drunk. So make sure that the driver of your car stays away from the glasses. After the tasting you can buy the wine you loved and enjoy it at home.
Some tips for first-timers (nothing mandatory, however)
The only mandatory thing about going to a wine tour is that the driver should not drink. Everything else is up to you.
Have a meal
Bring comfortable shoes if you are interested to walk among the vines
Have a meal before you attend a wine tour. If there is a restaurant in the winery, you can combine your lunch with the tasting. But check in advance, because some of these restaurants work only with reservations or with groups
Do not be shy to ask about anything you want to know or do not understand;
Try local varieties
Try local wines. Most of the Bulgarian wineries grow and produce wines from classical varieties of grapes like Merlot and Cabernet Sauvignon, but in Bulgaria there are also many good local varieties. Try Mavrud, Melnik 55, Dimyat, Rubin or some other, recommended to you by the staff of the winery.
Do not store the wine on hot places
Do not store the wine in the trunk of your car, especially in the summer. You should better have a cooler bag or store them in the coupe if air conditioning is on.
Visiting more than 2 wineries a day can be exhausting, unless you are not a real and experienced enthusiast. For us, even two are too much.
A wine tour takes about 1.30 – 2 hours in a single winery.
Allow some time to enjoy the vinewards, we love them!
Arrange an accommodation near the wine cellar you are visiting if you need to drive after the tour. Some wineries in Bulgaria also have hotels.
If you are wondering why wine is such a passion for us, read this article.
Which wineries we recommend