A wine day in the Sakar mountains, Bulgaria – visiting Chateau Kolarovo wine cellar
Now we want to tell you about one day of ours among wine and nature in the spring in Southern Bulgaria. We were in a region that stays a bit aside from the popular tourist routes but is very beautiful and almost secret to everyone. But we adore it.
If you are driving by Maritsa highway (connecting Bulgaria with Turkey, named after Maritsa river) and reach the town of Harmanli, you are really close to several local wineries. There are both small ones and larger ones. We are particularly passionate about the smaller ones, often family-owned, open to experiments and always ready to surprise us with different wines. Moreover, most of them are good friends to each other.
So, when we leave the highway, pass the bridge above Maritsa river and head to the nearby Sakar mountains, along the road between Harmanli and Topolovgrad we enjoy the view of numerous beautiful hills, many of them planted with vines. This day our trip here starts in one small wine cellar in the village of Kolarovo.
Kolarovo village
There are several villages named Kolarovo in Bulgaria. Incredibly, but more than one is a home of a wine cellar. This time we are talking about the Kolarovo village near Harmanli, in the Sakar mountains. The village itself is almost deserted, with about only 6 residents. However, in the village there are several wine cellars.
When you reach the small church and turn right, you will reach a the neat place with the 2-storey building of Chateau Kolarovo wine cellar.
The vineyards around Kolarovo village are notable because they were planted more than 40 years ago, in the late 1970s. The Kolarovo vineyards are planted with Merlot and still give wonderful harvest.
Wine cellar Chateau Kolarovo
Unlike the name, there is not a French-style chateau around. The winery is located in the building of a former dairy farm. However, this is not a reason for disappointment and the place is very welcoming. And I believe the wines are better than in some French chateaus.
When we decide to visit a wine cellar in Bulgaria, it is usually because we have first tried and liked their wines. Then we head to the place where these amazing wines are being made. So, we contacted the enologist of Chateau Kolarovo, Iliana Koeva to arrange a tour with lunch and tasting. But we will tell you more about the wine tasting a bit later.
In Chateau Kolarovo they make very serious wines from large variety of grapes: Petit Verdot – quite unusual variety for Bulgaria and also quite unusual for single vinification; Cabernet Franc and Syrah are quite popular varieties for the region of Harmanli and go really well in the area; Merlot – in the region you can find Merlot from both old vineyards and new plantations; Cabernet Sauvignon, Viognier also can be found in Chateau Kolarovo wines. Mavrud – the typical Bulgarian variety; Malbek – last time we tried an amazing rose wine from Malbek, definitely worth tasting. There are more, but I did not remember all of them.
The winery offers large variety of red wines, most of which mature in French oak barrels. The exception if for some Bulgarian varieties, like Mavrud, which mature in Bulgarian barrels. Even the white wines of Chateau Kolarovo mature in bottles for quite longer than usual before released on the market.
The walk around the wine cellar is a must if you want to imagine well the wine that is being made here. It give us more feeling of the wine itself. And it is also a way to break the ice with the hosts.
Inox, or what is hidden behind the boring looks of the storage tanks
Here we will not be explaining about the inox fermentation tanks which we saw in brief in the beginning of our tour. Now they are empty, because the fermentation was already done in the autumn and now they wait for the news harvest. However, the storage tanks, also made by inox, always attract our curiousity. They contain so many interesting things, like wines still maturing or ready for blending, or even ready wines, waiting to be bottled. Only the enologist knows all the secrets in there but when we take the tour together with her, she reveals some secrets and the tour becomes quite more interesting.
If you are not yet familiar with the process of winemaking, in the winery they will be happy to introduce you. We will not be talking about it now because we are not professionals. Generally, the most important things are the good hygiene and the proper work on the vineyards. Yes, it is true that the most important job is done on the vineyard, so we are always happy to visit wineries that produce their own grapes. Moreover, in the small wineries you can expect a lot of experiments and unique wines.
That day we tried several wines with still unclear future and one that is ready for bottling. We were so enthusiastic to try that we forgot to take notes, so we can hardly remember what exactly was it. Anyway, as we mentioned earlier, these were not ready-for-market wines, so we are still to see what they will turn into.
Just a few words about the unclear future. Do not think that we are speaking of something with doubtful quality. No, not at all! Such things cannot happen at Chateau Kolarovo. Everything finds its place eventually and the result is WOW. Just, it often happens that the best results come without a lot of planning or the initial plans just turn into other directions. And the final wines take their shape after months or even years in barrels.
Stoyan Stoyanov and Iliana Koeva
From our many trips we have learned that not only the place is important for the good experience, but people even more. There are natural and other attractions everywhere, but people are the ones who make them important and charming. This sis why we love visiting such small and cozy places, like Chateau Kolarovo. There we met the owner Stoyan Stoyanov and the enologist Iliana Koeva.
While Iliana showed us around, Stoyan was busy with the BBQ and had taken the job very seriously. So when we sat on the table in the small yard of the winery, just next to the well and the two cats, Stoyan served us the ready steaks and other delicious treats from the grill.
Lunch with wine tasting
Let's make a quick note that once Stoyan has worked as a cook. We must admit that he is still very good at this job. So that day the food and wine were in a perfect symphony.
Roussanne, Marsanne, Viognier
We started with a French-style white blend from Rousanne, Marsanne and Viognier – a typical blend for the valley of Rhone. This wine will soon make its debut on the market. It is vintage 2017, which sounds a bit puzzling, but after a short talk with Iliana and Stoyan we find out that such things are not surprising for the Chateau Kolarovo wines. In Chateau Kolarovo they like to play with wines, to leave them mature for long in barrels or bottles until they achieve the WOW effect. So this French-style blend is aromatic, middle-bodied and ready for everyone who appreciates wine as not only an addition to his table, but instead as a special component with its own character.
Megalit Mavrud 2013
We strongly support the idea that every Bulgarian wine cellar should make its own interpretations of the typical varieties for its region. In this case we are talking about probably the most popular Bulgarian grape variety – the Mavrud. Mavrud is a controversial variety, because you can find numerous different variants of it, some of which are not widely accepted. This Mavrud, however, is light and fresh. Despite being from vintage 2013, the long ageing have not made it heavy or hard to understand. Instead, it made the most out of the grapes.
So, the Megalit Mavrud 2013 has spent very short time in a barrel and more time in bottles. The colour is mild, slightly transparent, with light tannins and even a bit of sweetness. We love when we discover such light Mavrud wine, but still polished to the last detail.
Grenache, Syrah, Mourvedre – 2016
Here we go even deeper into the typical style of Chateau Kolarovo wines – full-bodied, complex, aged, for connoisseurs. This wine is only one bottle, but 500-l one, French oak, matured for a year. Thickness, tannins.. everything that goes perfectly with the incredible steaks Stoyan served a while ago.
Malbek Megalit 2017
This Argentinian grape variety develops really well in the South Sakar terroir. This interpretation is thick-bodied and incredibly delicious. Scents of jam from red and black fruits, perfectly pairing with sausages. This Malbek was recently bottled, after maturing for 18 months in oak barrels.
SKS – Special Kolarovo Selection – the wine you cannot actually find anymore
It is a strange feeling when you are told that you are drinking a wine for the first and last time. But this was the case with the bottle of SKS – Special Kolarovo Selection we opened during our lunch. It was one of the last bottles from vintage 2012. A blend of Merlot, Cabernet Sauvignon, Cabernet Franc and Mavrud. Almost a traditional Bordeaux blend, but with Mavrud instead of Petit Verdot. A bit Bulgarian-style. And very good. SKS is a wine that is not made each year. They make it only during very good years. The good news is that a new vintage is coming – soon we will see SKS 2017. Of course, it cannot be the same as vintage 2012. But it will definitely be a top-level wine, without any doubt.
The vineyards and Penka, the agronomist
During our long tour with lunch in the winery, our 6-month old daughter Adriana was calmly sitting in her stroller. One of the cats was playing with the stroller all the time. The working day was near its end and it was time to leave the winery and head to the vineyards for a tour with the agronomist Penka.
Penka was waiting for us on the crossroad between the villages Izvorovo, Oryahovo and Yerusalimovo. Together with her, we started the walk among the older and younger vineyards. The region is really beautiful, warm and suitable for growing vines.
When you see how beautiful and neat the vineyards look, you will understand how dedicated Penka is to her job and how she never leaved the workers out of control. Together with her, we started our walk by every row, every vineyard. Little Adriana looked with huge curiousity and enjoyed the sunny day.
if you like Bulgarian wine, there is high probability that the grapes for it have been grown here. During our walk we noticed that there were vineyards owned by many wine cellars across Bulgaria, including from Northern Bulgaria. However, the rows of our friends from Chateau Kolarovo looked the neatest. But when you like the people, you like everything about them.
New friends
As you may already guess, after this day, Stoyan and Iliana made new friends in our faces.
In the evening, together with all the workers, we spent the evening at a small party in the local pub at Izvorovo village. The next morning we had breakfast with Iliana, her family and some friends from another wine cellar – Villa Bassarea. The Sunday evening finished with a dinner with Stoyan in one of our favourite restaurants in Stara Zagora.
How to visit Chateau Kolarovo?
You will probably not find Chateau Kolarovo on the tourist maps, but if you want to visit this wonderful winery, here are some tips from us. So, if you like good wine and the company of those who make it, you can contact the enologist Iliana Koeva and arrange your visit. You can find her contacts on their website. She is the right person to tell you when ad how you can arrange your visit and tasting.
---
If you just want to try their wines, you can order online from their website or buy directly from their shop in Stara Zagora. We have written about some of their wines.
April 9th, 2019
Every time we experience something good, we become very enthusiastic to share it with everyone. This is our way to spend our free time and distract from job and other engagements. One of our favourite things to do is tasting new wines and talking about them. Moreover, last weekend we received a special prize for…
March 9th, 2019
The boutique wine cellar Chateau Kolarovo is not anything new in our wine adventures. Actually, it is among our favourites in Bulgaria and this article comes a bit late. However, it is about a new wine from them. But let's start from the beginning. During weekends our family always seeks to try something new. It…
---
You may find it hard to arrange your visit to the region yourself, especially if you are not familiar with Bulgaria. In this case, we would recommend you to contact our friends
Vasil and Zina
, who are based in Plovdiv and are always ready to organize wonderful wine tours all across Bulgaria.
Chateau Kolarovo in Stara Zagora
Stara Zagora is the city where I have grown up so I notice everything related to it. The owner of Chateau Kolarovo is from Stara Zagora and luckily, many restaurants there offer Chateau Kolarovo wines. Moreover, there is a shop of Chateau Kolarovo in the city.
Понеже Стара Загора е градът, в който съм отраснал и всичко свързано с него ми прави впечатление. А и собственикът на "Шато Коларово" е от Стара Загора и в този наш любим град в много от ресторантите има техни вина, с които да разнообразите всеки обяд или вечеря. А в града има и фирмен магазин на "Шато Коларово" в индустриалната зона.
Enoteca: Stara Zagora, Industrial zone, Industrialna str. 44, next to ZSK Boruy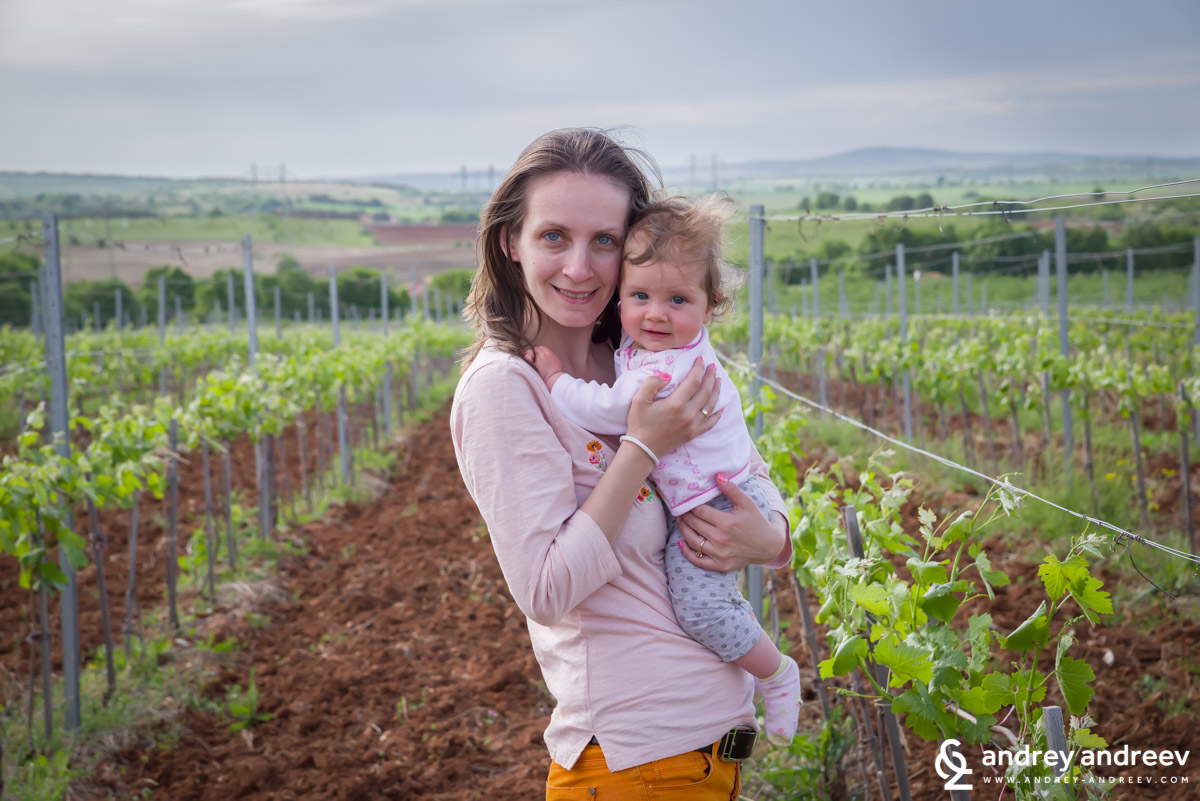 The wine community in Harmanli
We love the enthusiasm of winemakers in the area of Harmanli. They did not ask me to, but I will share the news. Some of our favourite local wine cellar now almost have a common place where you can taste and buy their wines. So if you are in a hurry and don't have time to go to Kolarovo, but have a few minutes to stop in Harmanli, here is where you should go. Just before you enter the town, on the back of the Lukoil gas station, you will find the cozy bar and tasting room where you can try some really good wines and buy them at base prices.
If you have more time in the region, here is one more favourite wine cellar to visit – Villa Bassarea. Unfortunately, we have not yet found the best place to stay around Harmanli, but if you have, feel free to suggest.
---
Follow us: Instagram and Facebook
---
---