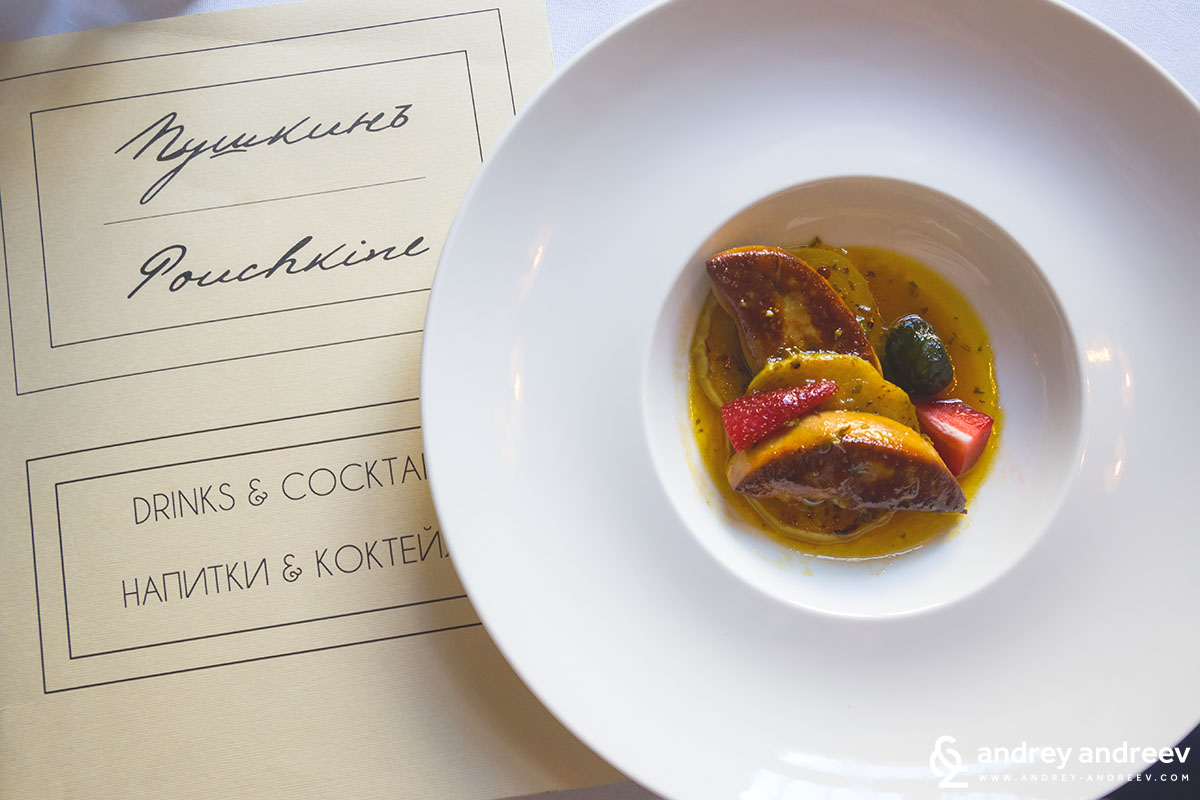 Club Pouchkine, Sofia, Bulgaria – the spirit of exquisite world cuisine
!!! Club Pouchkine is temporarily closed as of July 2019. We expect it to open in a new location soon! !!!
Lunch at one of the most central and still discreet places in Sofia
The word "restaurant" is intentionally missing from the headline. Because the place we are talking about today is more special than just a restaurant. Even more special than many other fine restaurants in Sofia. Club Pouchkine is a place where you can feel the spirit of a close, almost secret society where you go not only to eat but to have a cultural, gastronomic and emotional experience together with people who share your passions.
We admit that we had heard a lot about Club Pouchkine but we only recently had an opportunity to visit it. So one rainy Sunday we headed to the restaurant to try the special menu during the Sofia Restaurant Week festival. Here I have to day that Club Pouchkine is usually not open on Sundays. This time was an exception especially for Sofia Restaurant Week so they can let more people enjoy this unique experience. So the Sunday there was very quiet and even more exciting for us.
Where and what is Club Pouchkine?
We are looking of the beautiful yellow building at the heart of Sofia from all sides. We have passed by it thousands of times because it is at the very centre, just on the corner of the streets Rakovski and Moskovska, a few steps away from St. Alexander Nevski cathedral. However, we never knew what is inside that building. It appeared that Club Pouchkine is just there. But you would never discover it if you are not looking for it intentionally. The entrance to the restaurant is from the park on the back of the building. No huge signs, no neon. Just an elegant door leading to a discreet cosy garden. And the most interesting things are just behind the door of the building itself.
So this building is now hosting a Russian cultural-business centre named House of Moscow. However, it has been hosting the Russian embassy in Bulgaria for almost 100 years – from 1880 to 1976. So it is not surprising that a Russian spirit is all around the building. And also in Club Pouchkine.
Club Pouchkine is one of the fanciest restaurants in Sofia.It actually reminds me of those retro aristocratic clubs where rich and noble people gather to have some relax, talk on existential topics, smoke cigars and drink rare blends of whiskey. Surrounded by huge beautiful paintings, plush sofas and 5-star service. The atmosphere there is inviting for an intimate meeting between friends or partners on a glass of whiskey or whatever you would like to drink.
The other rooms are for those who come for lunch or dinner and want to enjoy not only the meeting with friends but also the superb food.
Club Pouchkine at Sofia Restaurant Week
We were extremely happy that Club Pouchkine participated in the Sofia Restaurant Week May 2018 edition. We do not hide the reason why we waited for so long before we visit. Club Pouchkine is not an average or daily place and goes with a price tag we would not afford easily. But Sofia Restaurant Week was a great opportunity to visit such a place at an affordable price.
So our usual team of three arrived there – Andrey, Maria and little Anna. Of course Anna was not interested neither in the amazing interior nor in sophisticated menu. She just wanted to know where the kids' place is and we started quite embarrased to try to explain her that such did not exist. Or we just did not expect it to exist. However, this turned out not to be true and the waiter literally pulled the kids' place out of the cupboard. The cosy bureau with several books and colour pencils was more than enough to make Anna happy. And us, too. So smiling and relaxed, we ordered our meals.
Starter: RUSSIAN SALAD vs MEDITERRANEAN SALAD
To be more precise: RUSSIAN SALAD with smoked salmon and red caviar and MEDITERRANEAN SALAD with baby spinach, goat cheese, apples, walnuts and cranberries.
Russian salad is quite popular in Bulgaria but we felt like we never had Russian salad before. An impressive meal, quite far from what we are used to eat for a Russian salad. It went so well with the caviar and smoked salmon, I have no idea why we have never tried such a combination before.
The Mediterranean salad was just an amazing mix of tastes that made us remember it for a long time. In Bulgaria salads are a controversial thing – some people believe that "Salad is not food" and could only pass for a starter. Others just do not believe that a salad could be delicious enough. Our opinion is that a salad is far from a bowl full of cut vegetables. The real salad is that piece of art that wakens up your senses and makes you long for the main course. Not because you are hungry, but because you are eager to try more tastes. This salad did exactly this.
Main dish: POULET 'MAGNIFIQUE' vs ESCALOPE DE FOIE GRAS
Precicely, it was POULET 'MAGNIFIQUE' – chicken steak with honey and herbs over steamed jasmine rice and ESCALOPE DE FOIE GRAS with seared, with orange juice and figue jam.
Both dishes had a sweet note which our family loves. Especially the foie gras. The portion looked small in size but not to underestimate it. It was an unbelievable pleasure to eat is on slow bites and enjoying every single one of them. Pure place for taste and soul. And huge admiration to the people who made it.
The chicken was also made with so much taste and mastery – juicy, with a tender sweet top and a balancing rice.
For dessert: Lemon tart or Tiramisu?
Maria picked the lemon tart just from the beginning because she is not much into desserts containing coffee and she is also fan of sour tastes. She spend so long time eating it on small bites while taking photos and sharing on social media. But I can't hite that the time was just superb. First it was the crispy base, then a sour wave of the cream and a final note of sweetness from the top. Memorable.
The tiramisu lived only seconds before Andrey ate it all with the big spoon. But is was as tender and delicate as the tart.
More about Club Pouchkine
Despite is was midday and we were not in the mood for heavy drinks, we took a glance of the menu. We were not the first to be impressed of their wine list. Since we are digging deeper into the wine matters, we can appreciate such things. Club Pouchkine is also famous for its selection of whiskeys and other alcoholic drinks.
Of course, the service and everything else in the restaurant was perfect and we would love if we could visit it more often. We are also curious about what new they will offer next time. I know that their menu changes seasonally and there are surprises all the time. Can't wait for the next edition of Sofia Restaurant Week in September!
November 11th, 2018
Hello! We are Andrey, Maria and little girls Anna and Adriana – the Andreev family. We live in Sofia, Bulgaria. Some of us have been living here for a long time, others for less and others their whole life.Now we want to show you our lovely city and take you to a walk through the…