The magic of terroir at Domaine Paul Blanck et Fils winery, Alsace, France
First day in Alsace, we are staying at Ammerschwihr and have a meeting in the nearby Kientzheim village. We have no idea what to expect but we walk by the road between the two villages that are almost conjoined. The vineyards with almost ripe grapes around are a marvellous view. We try to recognise the varieties with variable success. The fresh September morning foretells a beautiful Saturday which is about to finish at one of the best restaurants in the area. But our story starts with the joyful walk from Ammerschwihr to Kientzheim, where we were to visit a winery at 10 am. This small walk was a tiny piece of the Alsace Wine Route (Route des Vins d'Alsace), which is 170 km long across 67 towns and villages. We will tell you now about one of these places – Kientzheim.
Kientzheim
The village of Kientzheim is one of the many communes at the foot of Vosges mountains, a part of the Kaysersberg-Vignoble administrative region. The main street passing through the village is Grand-Rue – paved, clean, crawling between the beautiful Alsatian houses with steep roofs.
We pass by several beautiful small squares, by the town hall where we see an exhibition of old firefighting equipment, and almost reach the square of the catholic church at the centre of the village. Here is located Domaine Paul Blanck, one of the most notable wine cellars in the village, with history dating back to the 17th century. We had arrived a little earlier so we sat to wait on a bench by a very nice yellow vintage Renault car – old but well-maintained. The town was quiet and calm.
Philippe Blanck
Philippe came from somewhere. Actually, we had booked the wine tasting Terroirs de Grand Crus in Engish through the Parenthese Vinegronne platform, recommended by the Kaysersberg tourist office. We thought that we would be joining a group tour lasting about an hour and half but then Philippe came. He was a tall, emotional man, very energetic, all for us. Philippe Blanck is a grandson of Paul Blanck and together with his cousin Frederic they run the winery nowadays. Frederic is the winemaker. We immediately agreed that first we should go to the vineyard to see where the grapes grow. In Alsace everybody believes that the wine is made on the vineyard. (we too)
So, Philippe unlocked the yellow car we had spotted earlier and invited us to join him for a ride. He said it was his very first car. We sat comfortably and headed to the vineyards.
Grand Cru of Alsace
On the French side of Rhine, between Mulhouse and Strasbourg, there is a long strip of vineyards. Since 1975 the vineyards with the best location and exposure to sunlight, best soils and meeting other high criteria are classified as Grand Cru. Literally this means Great Vintage. In Alsace there are a total of 51 Grand Cru vineyards. The first one to receive the honour was Schlossberg, just near Kientzheim. Above the village is another great Grand Cru vineyard – Furstentum. The Grand Cru vineyards are not huge and are sliced between the many producers in the area. For example, the Furstentum is 30.5 ha and Schlossberg is about 80 ha.
The Blanck family are among the initiators of the Grand Cru classification in Alsace. We are a bit sorry that we could not meet Frederic, who is the winemaker at Domaine Paul Blanck.
A walk through the vineyards
The roads and paths among the vineyards are reserved only for pedestrians, bikers and the vehicles of vineyard owners. Going around the area by bike is actually a great idea and a popular thing. Philippe stopped the car by the first rows of vines and we started our grape tasting at the foot of the Altenbourg vineyard.
Muscat d'Alsace brought us a bit of confusion about its origin and variety. Actually, it turned out that it is not a single variety. Muscat d'Alace is actually a name given to several grape varieties grown in Alsace, among them Muscat Ottonel and Muscat Blanc à Petits Grains. On the vineyard where we stopped, Philippe explained that it was a hybrid between Chasselas and some other Muscat. But the result is quite similar everywhere. The Muscat d'Alsace gives aromatic and fresh wines, great for aperitif but not only. In early September the Muscat was almost ready for harvesting and we could feel the aromas of the grains on the vineyard.
Philippe explained us how to understand that the grapes are ready to pick. When you crunch the seed, it should be dry and black and taste like a toast. If it is green, it is not ripe yet.
I wanted to take you with me through every vine and grape we tasted – all the way from the village of Kientzheim through the Altenbourg vineyard, up to the Furstentum and Schlossberg. But Maria's notes are hard to understand. However, let's go back to the lower part of Altenbourg. Here we are on 200m altitude and a few rows up we see the Pinot Gris grapes.
A few metres above the soil is totally different. We are in the Gewurztraminer rows. Still pale pink, waiting to ripe. Gewurztraminer is one of the few Grand Cru grape varieties in Alsace (the others are Muscat, Riesling and Pinot Gris). Well, you could also have Pinot Noir or other grapes in the Grand Cru vineyard but you are cannot label it as Grand Cru wine.
Pinot Noir is the only red grape allowed to be grown in Alsace. We first tried it in the Altenbourg vineyard and then headed to the Grand Cru Furstentum.
After trying the not yet ready Pinot Noir from Altenbourg, we headed to the upper Furstentum vineyard. However, there the Pinot Noir was already harvested. It ripened earlier because of the higher altitude and slightly higher temperatures there. As I mentioned earlier, the winemakers in Alsace are not allowed to label and sell Pinot Noir as Grand Cru. Paul Blanck still have Pinot Noir in Furstentum Grand Cru and label it as Pinot Noir F. Here we are at about 400 m altitude. Furstentum is one of the 10 best grand crus of Alsace and is mostly planted with Gewurztraminer.
I hope you are not too bored from our story about the grape varieties. But we find the matter really interesting. So we are trying to inspire you to discover them yourselves when you visit Alsace – best in the early September.
Wine tasting in Alsace – what to expect?
We returned to the winery, planning to taste a few wines but not too many because it was almost noon and Philippe had promised his wife to return home before 13h. Please accept our apologies, Mrs. Blanck, that he did not make it!
Wine tastings in Alsace are oriented mostly towards getting to know the terroirs. You taste wine from the same grape variety, same vintage, same technology but different vineyard. To make the difference between the different soils, between Grand Cru and non-Grand Cru vineyard. Actually, the Grand Cru wine might not become your favourite, this is a matter of taste. But it is definitely worth tasting. So, together with Philippe we sat in the tasting room with several bottles of wine, bread and water and started with the white wines.
Les Cépages oubliés – the forgotten varieties
Our walk through the vineyards started with Muscat d'Alsace, then our tasting – too (vintage 2019). Great for aperitif, fresh and aromatic, a little spritzy with a feeling of bubbles, green apple and flowers.
Auxerrois Vieilles Vignes 2018 – Auxerrois has the same parents as the Chardonnay and is a typical variety for Alsace. It has similar aromas and tastes to the Chardonnay. This wine fermented and aged in 20-year old barrels.
Les Classiques – The Classics series
The Classics series of Paul Blanck includes wines from Pinot Blanc, Pinot Gris, Riesling, Gewurztraminer and Pinot Noir. (Pinot Blanc) 2018 is their bestseller and every year they export tens of thousands of bottles from it. Here we are in the most affordable price class of the winery – about 11 EUR a bottle. The Pinot Blanc is fresh and round with a nice tickle.
Pinot Gris
If you are wondering why we speak of the same grape variety multiple times, it is because we are tasting different wines from the same variety but from different terroirs. This is the magic of this tasting, named Terroirs de Grands Crus.
So it is time for the Pinot Gris 2017, which is near to semi-sweet with a scent of hazelnuts. Actually, in Alsace you will find a lot of wines that have some sweetness. Right after it, we tried the Pinot Gris Patergarten 2016. Patergarten is the name of the vineyard, south of Kientzheim, in the valley of a small river.
Les vins de terroir – Les Crus : lieux-dits renommé
The high-quality vineyards without special Grand Cru classification are known as Les Crus, or lieux-dits renommé. Some of them in the area around Kientzheim are Patergartem Altenbourg and some others. Patergarten is south of Kientzheim and Altenbourg is just north of the village, between Kientzheim and the Furstentum Grand Gru vineyard. It might sound strange that they are just next to each other but with different status, because the same sun shines on both of them. But the soil is different, too, as well as the altitude and steepness of the slope.
Pinot Gris Patergarten 2016 has rounder body and is also semi-dry and fleshy. Maria described the shape of the body as a round in a square. Philippe was encouraging us to try to visualise our feelings of wine. So if you see our notes, they look like child's drawings. But let's proceed to the next great wine – Furstentum Pinot Gris 2016.
Les vins de Terroir – Les Grands Crus
Furstentum Pinot Gris 2016 – this comes from the vineyard we visited in the morning. I think we spent the most of our time there. This wine matured 12 months in old oak casks on the lees. The contact with oak and the contact with oxygen reveal its aromas. Then it ages 2-3 years in the bottle to become more delicate. The aromas include honey and hazelnut. The taste is balanced, round, tasting like roasted almonds and candied citrus fruits. This is a wine that could age for 10 years or more.
Wineck-Schlossberg Pinot Gris 2016 – the Schlossberg vineyard is with granite soils and the difference from the previous can be felt. This Pinot Gris series is just 1500 bottles. In fact, all the Grand Cru wines are limited because the Grand Cru vineyards are divided between the many wine producers in the area.
This is the grape variety that according to Andrey is the best fit for his temperament because it is fine and trim.
Les vins de Terroir – Les Crus : lieux-dits renommés
Patergarten 2017 Riesling – matured for 6 – 9 months in large barrels on the lees and then 1-2 years in bottle. Dry wine, with aromas of white flowers and tastes of citrus zest.
Les vins de Terroir – Les Grands Crus
Schlossberg Riesling 2016 и Furstentum Riesling 2017 – tasting them next to each other was a great exercise for discovering the character of the vineyard. Schlossberg is the place with granite soils and Furstentum has limestone soil. Both wines have stayed for 12 months in oak and you should definitely try them.
Gewürztraminer
Gewürztraminer is Maria's preferred variety, the more expressive and sensitive one. You may notice that our tasting notes are becoming less detailed. But after so many wines we really started to get tired. But we took a couple of bottles for home and maybe we will add more notes about them later.
We always take some bottle with us. It is a great emotion to open it and remember where we have been and whom we met.
Almost all the Gewurztraminer wines in Alsace have a sweet note, they are often off-dry or semi-dry.
Les Classiques
Gewurztraminer 2017 – a fresh, off-dry wine with citrus and flower notes. Serve it chilled to 8-9°C to enjoy it fully. Coming from Kientzheim vineyard, from 20-year-old vines.
Les vins de Terroir – Les Crus : lieux-dits renommés
Altenbourg Gewurztraminer 2016 – amazing wine from the Altenbourg vineyard, precise and harmonious.
Les vins de Terroir – Les Grands Crus
Furstentum Gewurztraminer 2015 – for all the wines so far I could write "amazing wine with long ageing potential" and I would be right. But the wines from Furstentum are really notable and you could feel their history. Now, when I look back in time, I do not remember well all the tastes and aromas but I can never forget the emotion of tasting something so fine and special.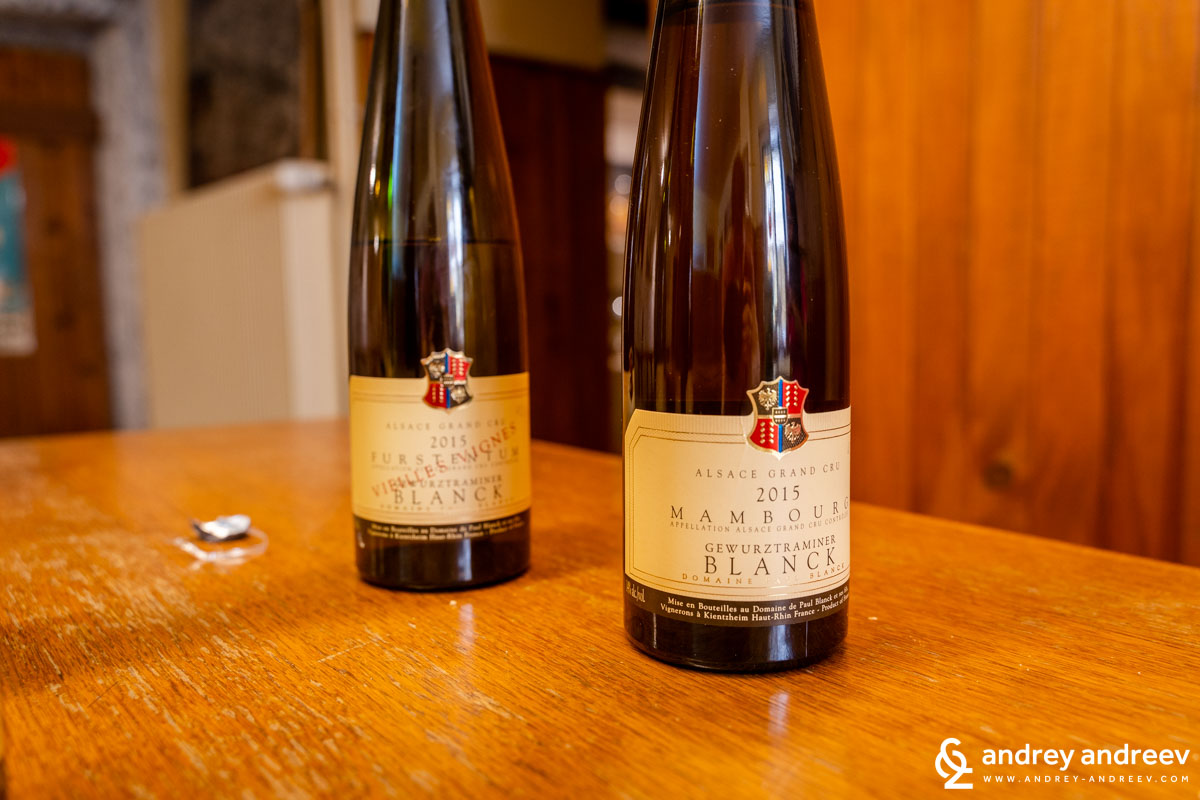 Mambourg Gewurztraminer 2015 – Mambourg is another Grand Cru vineyard near Sigolsheim, another village near Kientzheim. It is great for aperitif or paired with delicious fish.
Then we headed to the world of reds.
Pinot Noir
At the end, the time came for Pinot Noir and the red wines of Alsace. We already mentioned above that the Pinot Noir is not treated as a Grand Cru grape. But we still love it and were happy to try the Pinot Noir wines from the various terroirs and vintages. The Pinot Noir grown on Furstentum is not labeled Grand Cru but Pinot Noir F instead. Still amazing wine worth tasting.
Philippe was really late for lunch with his wife and we tried to leave as soon as possible. We took only 2 bottles for home because of the limits in the luggage. But it was the greatest start of our 3-day trip to Alsace, thanks to Philippe. Our whole stay was a dreamed holiday which made us love the wines and food of Alsace.
Follow us: Instagram and Facebook
---