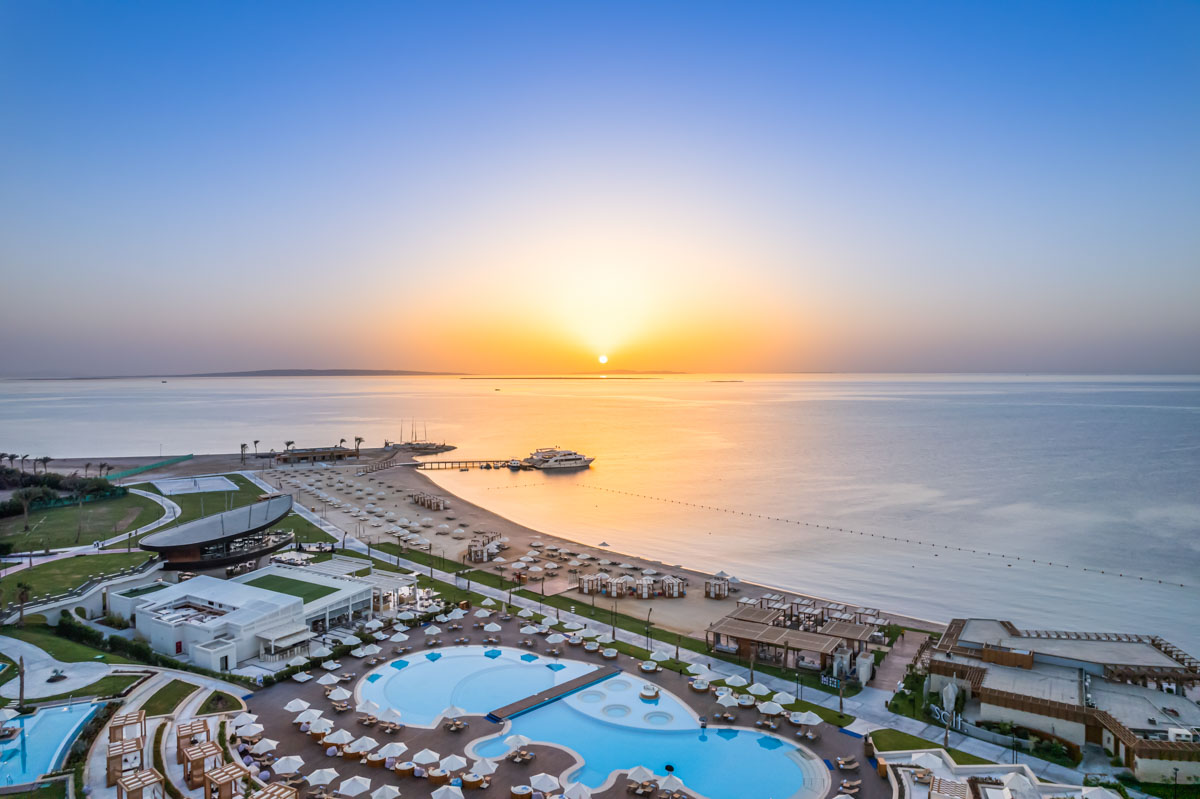 Our holiday in Egypt and the colourful world around the Red Sea – Sharm el Sheikh and Hurghada with Rixos Hotels
Egypt looks stunning even before landing there. Flying from Eastern Europe, first we see the coast of the African continent, Alexandria, the Nile delta. From here to Cairo everything was green in May. Then we started seeing the Sahara desert which overtook everything. For some time we kept seeing Nile curving and the greenery around it. Then everything became yellowish and we started dreaming of the Red Sea which we were already approaching.
The Red Sea, where we were heading, did not take too long to reveal its blue beauty. We left western Sahara and flew above the rocky mountains of the Sinai Peninsula, still fascinated by the beauty of the sea. Then we started lowering in our approach to the Sharm el Sheikh airport. It was a stunning contrast between the coral reefs and the blueish bays in one direction and the yellowish desert rocks on the other side. We saw numerous boats with divers along the shores and could not wait to be on their place just in a few days.
It is our first holiday in Egypt, we are flying from Sofia with a charter with Bulgarian tour operator Emerald Travel. We plan to visit three Rixos hotels, including two in Sharm el Sheikh and one in Hurghada. It was a great opportunity to explore the Rixos hotels in Egypt and confirm our expectations that they are a really amazing option for a holiday in this part of the world. So in this article we will tell you how it feels to holiday in Rixos Sharm el Sheikh Adult Friendly, Rixos Premium Seagate and the new gem, Rixos Premium Magawish Suites and Villas in Hurghada.
Sharm el Sheikh
We are heading to explore the two most popular holiday destinations on the Red Sea – Sharm el Sheikh and Hurghada. As many people. we have also wondered which one is better. Sharm el Sheikh started developing as a holiday destination in 1982, after Israel returned the territory to Egypt. But first steps in the tourism were made while it was still in Israel and Jewish people started camping around the famous Naama bay.
Diving and snorkelling in Sharm el Sheikh
Sharm el Sheikh is famous mainly for its beautiful diving sites. There are 250 coral reefs in the area, inhabited by more than 1000 different species. Even if you are not a keen diver, there is a way to see this beauty. We did it by boat trip which took us to one of the many beautiful bays in the area for snorkelling.
During the trip we saw the colourful bottom of the sea from the glass bottom of the boat. The snorkelling was also suitable for inexperienced swimmers who were given life vests to swim safely and fearless.
Landscape and beaches in Sharm el Sheikh
If you are preparing for the beaches in Sharm el Sheikh, get ready for the tides which can shock you the first day. The sea withdraws tens and metres before returning and this happens every day. In the region the sea around the beaches is usually very shallow so swimming is impossible. Most of the hotels have long jetties with swimming spots at their ends.
We are only 3 hours by plane from our home country (Eastern Europe) but the landscape looks like from another planet. We travel from the airport to the hotel by a wide, long, perfectly maintained and almost deserted highway. To the left we see the rocks of Mount Sinai, deserted by the heat and drought around. To the left is the sea, which then makes room to a row of hotels, markets, shops and other buildings. The landscape is colourful, even more than colourful, and quite usual for this part of the world. It quite reminds us of Morocco. The architectural styles are mixed, the clothes and styling of the people come from all ends of the world and trade is everywhere around.
Thee are two Rixos hotels in Sharm el Sheikh – Rixos Sharm el Sheikh and Rixos Premium Seagate. They are very close to each other, only 2 resorts between them. There is a regular free shuttle between the two of them. We stayed 2 days in each so we could feel them both.
Hurghada
If you land golden sandy beaches, Hurghada is probably more of your place. In the area there are also coral reefs but the ones around Sharm el Sheikh are more popular and liked. Here in Hurghada, the sea is also shallow for tens of metres from the beach. For both resorts it is better to use sea shoes because the bottom might be uneven and covered with various sea life.
In Hurghada we stayed in the new Rixos Premium Magawish Suites and Villas. The concept is of more relax, in pool villas or spacious apartments. For the active rest lovers there are bars, animation and sports activities but the general concept is for more relax and quietness.
Three faces of Rixos
There is something magical to be in oasis in the middle of the desert. This is how we felt in the Rixos hotels in Egypt. Thousands of palm trees, flowers, greenery, water murmuring all around. Everything is clean, beautiful and inviting for a joyful holiday. And although each hotel has its own charm and speaks for itself, they all left us with the same feeling. The feeling of warmth, hospitality, cosiness, as we were guests to the different houses of the same family of friends.
Rixos is a Turkish hotel chain positioned in the highest segment. They are keen to offer the best service possible. The philosophy of Rixos comes out of the Turkish hospitality and the goal to make your guest feel really special and happy. And a level up – to offer this feeling in each hotel in any part of the world – no matter it is in the busy city or in the desert.
We headed to Egypt with numerous warnings and prejudices – about cheeky merchants, demanding tips, potentially contaminated food and water among others. We were ready for an intercultural clash but none of these happened. And although we were between Africa and Asia, with totally unknown people, on the verge between desert and the sea, with beautiful but dangerous corals under our feet, we felt like swimming in familiar waters. Rixos provided us with relax, countless moments of joy, comfort, security and amazing hospitality.
Rixos Sharm el Sheikh Adult Friendly – romance for grown-ups
Let's return to the first hours after our arrival in Egypt, when we crossed the doors of Rixos Sharm el Sheikh. Security is a top priority here so we had to pass a baggage scan upon entrance in each hotel. We did not need to wonder which way to take because we were immediately greeted and invited by the staff with a welcome drink.
Minutes later we were in our room, driven with a golf cart – a usual shuttle for guests across the large resort. Slightly after us arrived our suitcase, while we were still trying to figure out are we dreaming. We are staying in a Junior Suite, around 74 sq.m. The smallest rooms here are at least 37 sq.m.
The scales here are definitely different from what we are used to see. The same is valid for the free space dedicated to each guest. Although there are over 600 rooms, they are located in many smaller blocks, making a feeling of rather a small town that a big hotel. The other two Rixos hotels felt the same.
Adult Only
Rixos Sharm el Sheikh is an adult-only resort since 2019. It is obvious that it was made to create romance, cosiness and relaxing atmosphere. If you like hearts, neon love signs, privacy in separate cabanas inside the pool or near the sea, this resort is your paradise. Comfortable double beds surround the pools and the quiet areas are everywhere.
Silence during the day and party in the night – this is the concept of Rixos Sharm el Sheikh. We can admit that here we experienced one of the best parties we have been to. The sunset party on the beach bar is the best possible start of every evening in Rixos.
Rixos Premium Seagate – for a dream family holiday in Egypt
The shuttle passes through the neat asphalt alley along the beach every 20 minutes. The route goes from Rixos Sharm e Sheikh to Rixos Premium Seagate and back. The two Rixos hotels in Sharm el Sheikh operate under the "Stay at one, enjoy two" concept. This meant that no matter in which resort you are staying, you can freely go and use the amenities of both.
Rixos Premium Seagate is the family hotel, where you can spend a wonderful holiday with children. And we are already discussing to bring the kids here.
The aqua park
Rixos Premium Seagate is just as exciting oasis as Rixos Sharm, with spacious green areas, palm trees, pools and beach. The major difference in terms of attractions is the aqua park next to the resort. There we found 23 water slides and other attractions and it is just huge. It is free to use by all guests of the resort and there are regular shuttles to bring you there. One day might not be enough for you if you like such places, it looked incredibly funny.
For the kids there is also a spacious kids club with own restaurant, kids pool and entertainment rooms for kids of different ages.
Fun for grown-ups as well
Both Rixos hotels in Sharm el Sheikh feature large SPA centres with various therapies. You can also freely use sauna, steam bath, Jacuzzi and and Turkish bath – Hammam. The service is amazing everywhere.
Both the daytime and evening entertainment were wonderful. Maria joined a pool jumping class and on the evening stage we watched a latin dance performance. We understood that there were a whole entertainment division in the Rixos chain, taking care for the professional animation across all of the resorts. It was really professional.
For us the important thing was that in every moment we were feeling wonderful, cared for and smiling. Isn't this the most important for every holiday?
Rixos Premium Magawish – privacy and relaxing holiday in Hurghada
Most people do not visit both Sharm el Sheikh and Hurghada during a single holiday in Egypt. However, we did an educational tour in both resorts to see what Rixos offer in Hurghada
Rixos Premium Magawish Suites and Villas is the newest hotel of the chain in Egypt and their first one in Hurghada. The concept here is for a relaxing and quiet holiday with more privacy and personal space.
The resort offers only villas and suites, most of which have direct access to pools. We stayed in one such pool villa and enjoyed hours of quietness with a glass of wine of coffee by the pool.
Of course, if you prefer the active rest and entertainment, there is daily animation, bars and restaurants, located near the beach. And because the resort is quite large, you can also order a shuttle to take you from your villa to where you are heading in the resort. The service is included in the Premium All Inclusive package.
One of the many wonderful attractions here is the horse stable, co-living with a small zoo. It is called Happy Horses and is home to 7 obviously happy horses, as well as a baby horse only 6 weeks old.
We took a small morning horse walk before we headed home
Top level culinary tourism
The mangal is smoking and behind the smoke clouds an enthusiastic chef places chicken, veal and lamb pieces. The smell of a campfire and real barbecue on wood takes us somewhere back in time, when we were camping with our parents and friends in the forest.
Sitting on wooden benches and tables, as in a small gazebo by the river, we spend hours talking about travels and delicious food. The atmosphere is intimate but everyone has enough personal space to enjoy the mangal their way.
Mangal means traditional Turkish BBQ, both the appliance and the cuisine as well
One of the things Rixos hotels are very proud of (with reason) is their concept of food. Highest quality and diversity of food is their top priority. In the Ultra All Inclisive concept they have one main and 6-7-8 a la carte tematic restaurants, all included in the package. They may have Japanese, Turkish, French, Asian, Seafood, Brazilian and other restaurants.
If you are food connoisseurs like us and always wonder whether the All Inclusive format will fulfil your curiousity of good food, Rixos is definitely your place. Some of their hotels operate under the Premium All Inclusive (Rixos Premium Seagate and Rixos Premium Magawish Suites and Villasamong them). Premium is the higher class above Ultra and features a selection of international labels alcoholic drinks.
The cuisines around the world
The restaurants in Rixos took us to several different journeys.
The first evening we had dinner at the Brazilian restaurant La Churrascaria – much loved format, where chefs cut the meat directly in your dish and the garnishes are located on a common table.
In this first evening we fell into the tens types of breads and tahini versions.
At the seafood restaurant of Rixos Sharm el Sheikh you are almost on the beach and the menu is taking you somewhere in Italy and Greece. Various fish, squids, fish soups and more. Most of the products come exactly from the Mediterranean sea but there are local Red sea catch as well.
French restaurant at Rixos Premium Seagate was magnificent, as a ballroom in a castle. In the menu we found onion soup, fish soup, smoked duck with mustard and other treats. We ate very slowly to enjoy every bite. If you want to take the experience to an even higher level, they have a fine wine list (additional cost) with a really amazing French wine selection.
The Turkish hotel chain is doing great in serving Asian food as well. We tried the Asian restaurant at Rixos Premium Magawish in Hurghada and had a small talk with the Chinese chef.
If you are fans of buffet restaurants, you will love them in Rixos. Abundance of products, tastes, aromas and dishes. The buffet restaurants are spacious and very well ordered so there are no queues.
Finally, the seafood restaurant at Rixos Premium Magawish was probably one of the most memorable places, located directly on the beach. An absolute nirvana of location, service, romance and food. They blew our minds with a series of appetisers with prawns, langoustines, squids, mussels and other treats, that we went into a shock when we were served a lobster for main course. During our last dinner in Egypt they showed us once more what Rixos means for hospitality and good food. Overwhelmed by this amazing dinner, we did zero photos of it.
Coziness, comfort and freedom
Recently we appreciate that dimension of luxe in the hotels, related to free personal space. The moment when you are staying at a huge resort with thousands of other guests but still walking calmly on the alleys and seeing no crowds around. Calm, free, with plenty of space and air to breathe – this is how we felt everywhere around the Rixos hotels.
Because of the large free spaces, the kids noise does not interrupt anyone's rest. There is also no need to reserve seats on the beach or by the pool early in the morning – there is plenty of space for everyone.
The feeling of freedom these places create is priceless. Moving in your own rhythm, going anywhere you want and when you want it. And as we mentioned freedom – we loved the Stay at 1, enjoy at 2 concept in Sharm el Sheikh. It is up to you how you enjoy Rixos.
Holiday with children in Egypt with Rixos
We almost wished we had brought our kids when we saw the kids clubs in Rixos. They are called Rixy club and are just huge. They have separate halls for the different age groups with entertainment for everyone. At Rixos Premium Seagate they also have a separate pool for the kids.
In the Rixy Club in Hurghada they also had a separate room for video games and another one for sleeping, in case anyone gets tired.
The kids club is open until 11 pm so you can have dinner calmly before picking the kids. In the Hurghada hotel they also have a horse stable and a small zoo and they take the kids from the club there once a week. Both clubs accept kids over 4 years old without a parent.
Before we came to Egypt, we wondered whether a holiday with kids here will be good idea. However, now we are 100 % sure that it absolutely is. And we would recommend it to everyone.
Tips, service and other useful information about holiday in Egypt
We headed to Egypt with just 50 $ in 1$ banknotes, ready to give tips where necessary because we know the tip is a part of the local culture. We were warned that tipping was extremely important there. However, we were never asked for tips and the service was still perfect in the Rixos hotels. It is possible that the personnel is just well-educated not to disturb guests for tips because they might not fully understand this part of the culture. We have already experienced this in Morocco, where in one of the good hotels all the staff were warned not to ask for tips because they might make the guests angry.
What to bring on a holiday in Egypt? The mosc common advises about going to Egypt include not to drink water from the tap, bring mosquito spray, sun protection, probiotics. They are a must, as well as a hat. Actually, we did not need all of them during our visit, we had no extreme situations and our holiday was pure pleasure. However, observe the list and have them all.
If you forget to pack something, do not worry too much. In the resorts and also at the airport you can buy almost everything needed at normal prices. The only inconvenience is that you have to bargain for everything and fixed prices are rarity.
Sunset at 6 pm
The sunset in Egypt occurs around 5 – 6 pm, depending on the month. In May the sunset was slightly after 6 pm and in the winter is around 5 pm. In the resorts in Sharm el Sheikh and Hurghada it is forbidden to use the pools of go in the sea after sunset. But the good thing is that nightlife starts and the heat goes away.
Holiday in Egypt – where, when, how?
One of the best things about Egypt is that you can ho on holiday almost year round. The beach season is 9 – 10 months long – from early spring to late autumn. Even in the summer it is not that hot and the temperatures reach 36 – 38 degrees, which is not much different to southern Europe.
Another great thing is that you do not need to cross the whole world to find a warm place for holiday in the cold months. Egypt is just 3 hours by plane from Sofia and some low-cost airlines also fly to there. We used the charters of Bulgarian tour operator Emerald Travel . Generally, Egypt is also more budget-friendly destination than Turkey, for example. We were staying in the most luxurious hotels and we had top quality service.
Finally, we can only admit that we are happy that our first visit to Egypt looked like this. Of course, we are keen to visit the historical sites as well, but they will deserve their attention and time as well.
Follow us: Instagram and Facebook
---