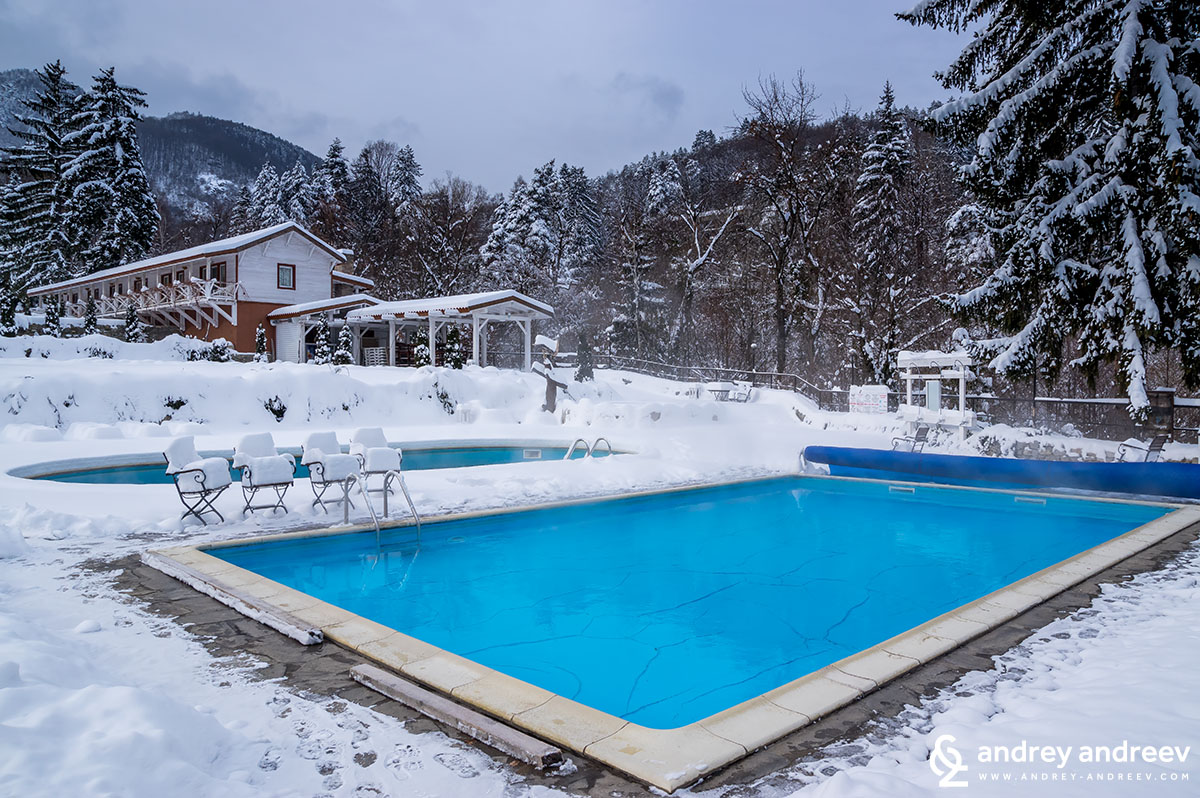 Outdoor hot mineral pools in Bulgaria – where to go in the cold seasons?
Тази статия може да я прочетете и на:

Български
Here is a list of spa resorts in Bulgaria with hot mineral pools for the winter season
When the weather gets cold, my family and I immediately start thinking about going to a SPA hotel with a hot outdoor pool. We love snowflakes falling on us in the hot mineral water or just feeling the refreshing cold air in the autumn while bathing in the hot pool. Finding new places is not always easy so we decided to share our experience with spa resorts in Bulgaria and hot mineral pools in Bulgaria and update the list constantly.
The best SPA resorts in Bulgaria with thermal waters
Bulgaria is rich in mineral springs – we have over 700 across the country. So this kind of pleasure is quite accessible to the people. We are happy to live in this SPA paradise and never miss a chance to enjoy it. It's like Iceland, but in the summer you can go to the beach, too. So there are plenty of places and hotels with hot mineral pools in Bulgaria.
---
Velingrad – the SPA capital of Bulgaria
At the heart of Rhodope mountains is the beautiful town Velingrad. It is famous across the country with its numerous hot springs (over 70) and the many hotels offering SPA services and thermal pools. The town fully deserves to be called SPA capital.
You can travel to Velingrad with the exotic Narrow Gauge Railway – the last of its kind in Bulgaria. Take it from
Septemvri
train station and enjoy the beautiful mountain views during the journey.
Velingrad is our favorite SPA resort in Bulgaria and we can recommend several places to stay there.
Villa Vuchev
5-star villa, not budget at all but still good value for money. Featuring an outdoor hot pool and an indoor jacuzzy, together with sauna. It's an incredible pleasure to jump in the pool when it's -15 degrees outside. The best thing about Villa Vuchev is that you will be left unbothered by any unknown people. No matter whether you are booking just one room or you are arriving with a company of several people, the villa is all yours. And there is no working time of the SPA centre – you can enjoy the Jacuzzi at midnight, if you wish. It is a totally wonderful place.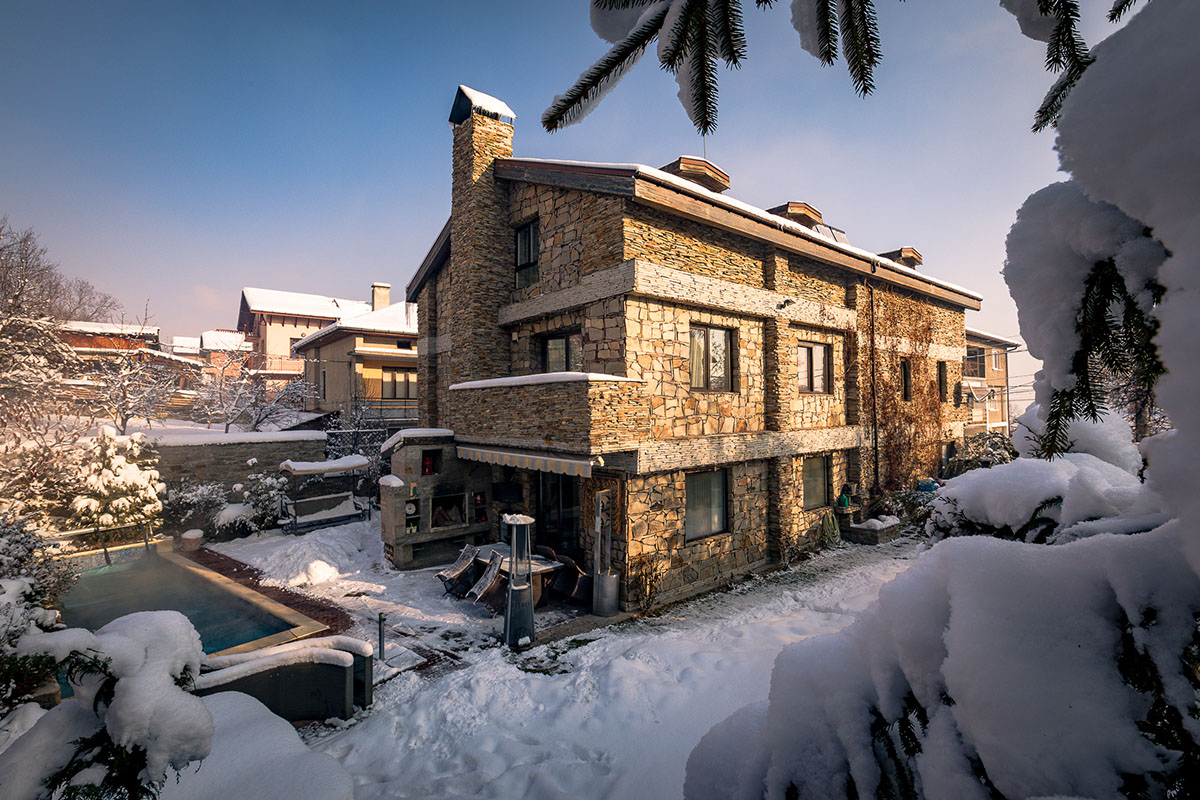 ---
Vella Hills hotel
A very nice, new and again, not budget 4-star spa hotel. Very good SPA centre with warm pools, including an outside pool, saunas, steam baths, etc. Good value for money, if you are not on a budget.
Aura hotel
A good budget option for Velingrad. You will need to book at least 1 week in advance and maybe even 2 weeks in the busy season. The outside pool is small and often crowded, but there is also a big covered pool and a small SPA centre. The restaurant is nice. Last visit – 2013 or 2014.
Hisarya – the Roman style near Plovdiv
Hisarya is a nice town in Central Bulgaria known for its many mineral springs – one of the places with highest density of hot springs in Bulgaria. So it is also one of the most popular spa resorts in Bulgaria. It is also very nice for walks and there is a fortress in the town centre.
[mapsmarker marker="198″]
There are plenty of hotels there but we have only been to the 4-star Hissar hotel. The outside pool is not very small but it gets really crowded in busy times (weekends) because the hotel is really big. There are also two spa centres and an indoor pool.
The village of Starosel – Wine&Spa Complex Starosel
There are two things that make the village of Starosel famous. The cultural side of tourism would take you to the Thracian Temple complex, discovered in 2000 in the Chetinyovata Mogila. It definitely deserves to be seen if you are interested in the history of the Thracians. But if you are lovers of the hot mineral pools, here you will also find the Wine&Spa Complex Starosel.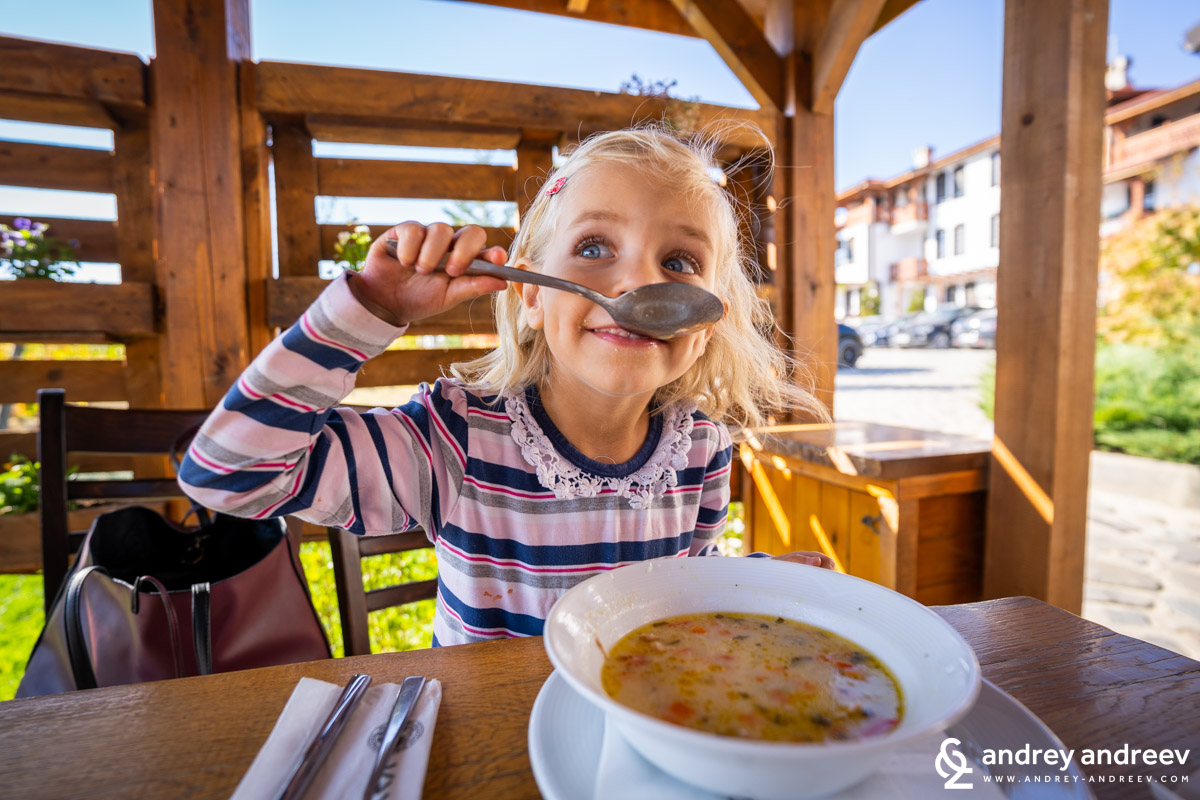 We found ourselves in Starosel one Saturday in October. I have been here before but my memory was of a small winery with a restaurant. Nowadays there is a whole hotel resort around it with several pools, 3 restaurants, the winery and other entertainment. Because here we are speaking mostly of the hot mineral pools, the hotel features several indoor pools, one of which with wonderful slide for kids. There is one hot outdoor pool and next to it you will find a cozy outdoor sauna in the shape of a wine barrel. We found it almost accidentally in the autumn evening and despite the hotel was full, there were few guests who dared to swim outside in the cool evening.
The resort is very nice for families with children and our only complaint was about the lack of enough highchairs for the youngest guests in the restaurant. If you travel with a baby like our little Adriana, this could be quite uncomfortable for you if you want to have a proper meal. However, the other facilities can make you enjoy a wonderful family holiday with good food and wine from the Starosel Winery.
If you wonder in which part of the resort to book a room, here is some information of the location of the pools (anyway, no matter in which part is your room, you can use all the SPA centres and pools. This information is in case you insist you have a room closest to your preferred SPA centre).
The resort has three hotel parts. The oldest one is near the main entrance, just next to the winery. There is the Starosel restaurant, the outdoor pool and barrel sauna and two more indoor pools and SPA facilities. The Thracian Residence is the newest and most luxurious part of the estate and is located on the top of the hill, furthest from the entrance. It features a brand new larger SPA centre with many water attractions (including slides, waterfalls, etc.), a huge swimming pool, for outdoor jacuzzi, a paid kid's room and another restaurant. Between the two hotel buildings are the buildings of the Apart Hotel Starosel, where we stayed in a cozy two-floor apartment. It does not have a dedicated SPA centre but you can use both the above mentioned, you just need to make a few more steps through the yard of the estate. The Apart Hotel is served by the reception of the Thracian Residence and the breakfast is served in the Thracian Residence restaurant.
Ognyanovo village – near town of Gotse Delchev – Southwest Bulgaria
Ognyanovo is located at the foot of the Rhodopean ridge Dabrash. From the village you can see the marvelous silhouette of Pirin mountains. Ognyanovo has been known for its mineral springs for centuries. Until recently, every house in the village was supplied by mineral water. We enjoyed this natural treasure for the first time on a cold January night a few years ago. We jumped in the hot basin Miroto, which is built just above one of the mineral springs. We spent hours there, resting in the hot waters and cooling in the icy river just nearby. Snow is a rare view in Ognyanovo. However, you can enjoy in in the nearby mountainous villages.
[mapsmarker marker="166″]
"Miroto" in Ognyanovo – the mineral water spring
Miroto is entrance-free and accessible anytime, even at night. We bathed there for hours in a hot January night, taking sporadic jumps in the neighbouring ice-cold river when we got too hot.
If you are looking for a budget option, you can stay in a small hotel or guest house and enjoy Miroto for free. However, we lately prefer more comfortable options with some additional SPA facilities. So if you have a suggestion for a nice hotel in Ognyanovo – feel free to share.
Sandanski – fresh air in the sunniest town in Bulgaria
Sandanski is also among our favourite destination – it is the warmest place in the whole country. It is sunny almost year-round and the town is also known with its fresh and even healing air. In the city there are also many thermal springs. But we have never stayed in a SPA hotel there. The area around is also known for its wine production – you may have heard of Melnik wine.
[mapsmarker marker="199″]
Marikostinovo village, known for its healing mud and hot mineral springs – near Petrich and Sandanski
I had known for a long time for the village of Marikostinovo and its healing mud. It is located just near the highway from Sofia to Kulata and Greece, just a few kilometers from the Greek border. In the village there is a dedicated hospital for rehabilitation where you can heal your locomotor system.
In Marikostinovo there is a hot spring where water springs at 68°C and near the spring there is a field of healing mud. Years ago this water was used for heating the greenhouses with tomatoes in the area. Then the tomatoes were taken to the train station and headed to their destination.
The good thing is that nowadays you do not need to be a tomato to enjoy the hot water and not only in the hospital. In the village now there is a wonderful 4* hotel – Mantar. The water in the indoor pool is 50:50 mineral and tap water and the temperature is about 37°C. Outdoors there is a wonderful recreation pool, working in the winter as well, with 100 % mineral water as hot as 39 – 40°C. There is also a large outdoor swimming pool, open in the summer months.
Mantar is a great place to spend a few days with family. Quiet, calm and easy to reach – only 2 minutes drive from the highway. The restaurant is also very good, open every day. They also have nice outdoor playground and also a smaller indoor kids room, but the latter is rarely used.
One of the best things about the hotel is its location – within 10 km of it there are several wonderful wine cellars to visit: Rupel wine cellar in Dolno Spanchevo village, Zlaten Rozhen in Kapatovo village, Villa Melnik near Harsovo village and several others.
Chiflik – at the heart of Balkan Mountains
We had heard a lot about Chiflik resort, near the town of Troyan. However, we just recently went there for the first time. And it totally deserves its reputation. Chiflik is a small village with many SPA hotel, almost all of them having outdoor hot pools.
[mapsmarker marker="200″]
Balkan hotel
There are many hotels in Chiflik resort. Balkan hotel is a good choice, 3-star, average price. There are several outdoor pools with different temperature, as well as a SPA centre. We really enjoyed the pools and also the Turkish bath.
You can visit the pools of Balkan hotel even if you are not staying in the hotel. The entrance fee is 10 lv per adult and 5 lv per child.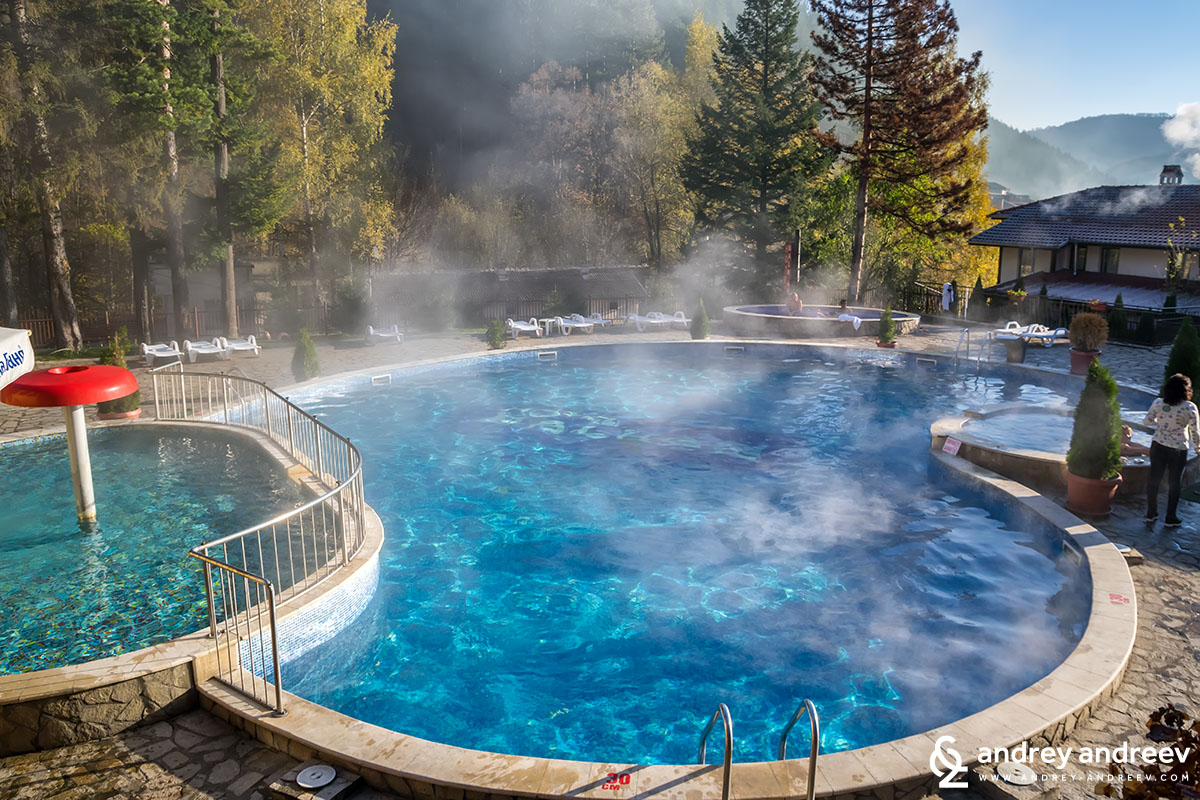 My daughter Anna loved the pool and in the morning woke me up with the words "Come on, Dad, sun is here, let's go to the pool!"
How to book?
For the mountain lovers, nearby is the Natural reserve Kozya Stena. However, before you go, check carefully your routes and their hardness.
Sapareva Banya – the home of the hottest geyser in continental Europe
In Sapareva Banya you can see one of the few hot geysers on continental Europe. The water is more than 100 degrees hot and there is a smell of spoiled eggs. In the town there are many places where you can enjoy the healing thermal water – both hotels with own pools and a public SPA complex with pools.
[mapsmarker marker="201″]
The easiest weekend destinations around Sofia
Kostenets villages
It is Friday and a snow disaster has captured the most part of Bulgaria. Extremely low temperatures with strong winds make the situation really bad in the eastern parts of the country and a difficult weekend is ahead. However, we are lucky to live in western Bulgaria and decide to find a SPA hotel with an outdoor pool near Sofia. We pick Kostenets – an hour drive from Sofia. It is not among the most popular spa resorts in Bulgaria, but it is a nice place, calm and close to Sofia. In the spring we visited the beautiful Kostenski waterfalls and just next to it there is a nice hotel with a lake – Ezeroto
[mapsmarker marker="201″]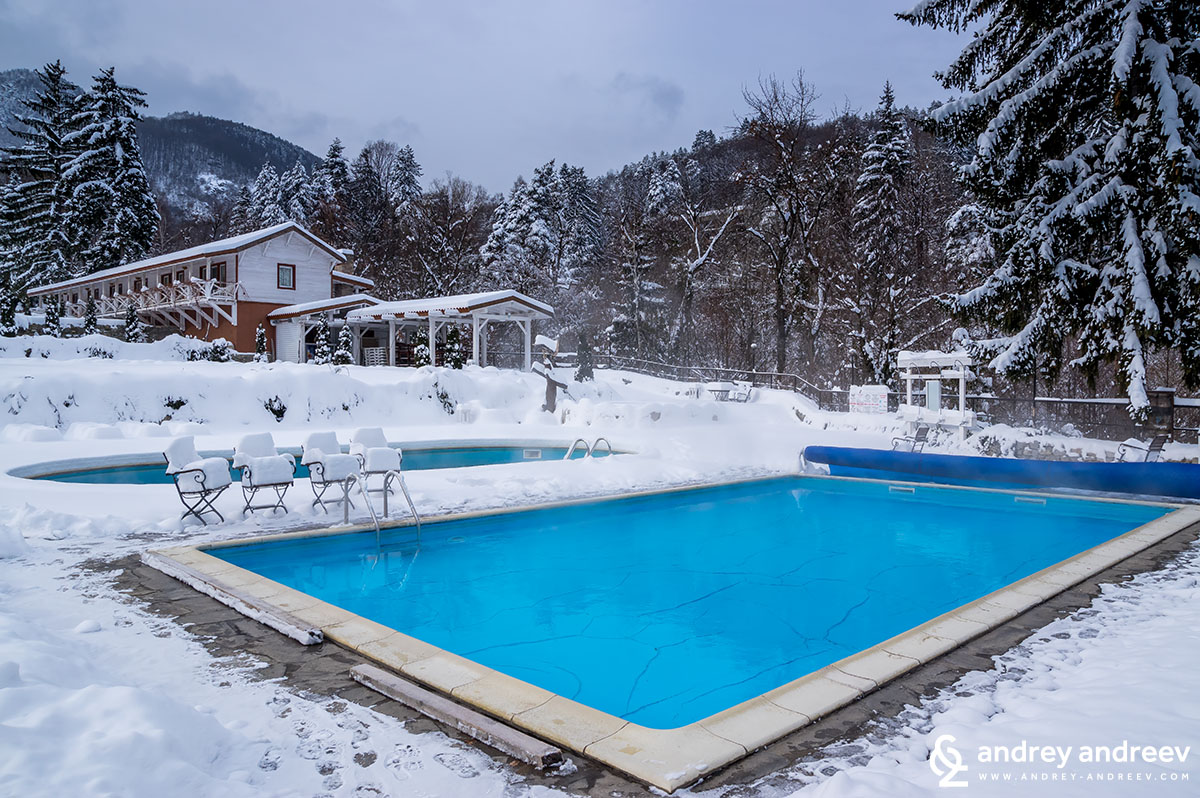 There we enjoyed one of our most relaxed days for a long time. It is a budget hotel with nice restaurant and if you are not a 5-star addict, I think you will like it. Despite the hard road situation, the road to the hotel was clean so we had no problems reaching there. The hotel is supplied with hot mineral water everywhere because they are using a local hot spring and it was very warm despite the -15 degrees outside. The water in the pools and showers is mineral as well. Besides the main hotel building, there is a second one, more luxurious, but also colder.
Note: The pool is far from the building
Included in the price is fitness centre, indoor Jacuzzi and outside pool. If you are enthusiastic to try the outside pool, have in mind that it is relatively far from the main building – maybe 100-200 m that you should walk in the snow. So bring your bath robes and suitable slippers for the exotic walk. The outside pool is big and warm and we felt great there. After the walk back to the hotel we took a few minutes in the really hot Jacuzzi, very refreshing.
TermaKostenets mineral pool complex, Vili Kostenets
There are days when I feel very tired and I really need to relax a bit. Especially when these days are cold and colourful. We had a small escape with little Anna on one such Sunday. We went 80 km from Sofia to the Vili Kostenets resort, where there are mineral springs. Just before the Kostenski waterfalls there is a new complex with hot mineral pools – Terma Kostenets.
In Terma Kostenets you can jump in the hot outdoor pool and several indoor pools and Jacuzzis. You will definitely enjoy your time here – it is warm, clean and calm place. At least our Sunday looked like this. There is not a hotel in the complex, the steam room is in construction and there is a restaurant and bar. They also make delicious juices.

Me and Anna spent 3 hours in the outdoor pool, she had a lot of fun and then slept in the car on the way back to Sofia.

---
Pancharevo village (12 km from Sofia)
Very close to Sofia, in the beginning of Pancharevo village (12 km from the city centre), is the outdoor hot mineral pool Korali. Take the first street left after you enter the village, before the Pancharevo mineral bath. Here you can enjoy the warm water during winter. We really like visiting, sometimes in the weekdays after work (open until 7 pm) and sometimes in the weekend with the kids. The pool is warm and open all seasons. Bring your bath robe and mind that the dressing rooms and sanitary rooms are modest.
Opening hours: Daily from 9 am to 7 pm.Type a message
---
Some not so popular destinations with thermal waters
Varvara village
Varvara village is also known for its hot mineral springs. There are 2 hot outside pools there – in Varvara Complex and another one in Aqua Varvara hotel. We have not been to Aqua Varvara but we often visit Varvara Complex in the spring. The hottest pool is small but sometimes the kids'pool is also filled with warm water. However, it is covered with some kind of tent. It is a great place for April and May, we haven't been there in the winter.
[mapsmarker marker="164″]
Banya village, near Bansko – ski and SPA in one place
Banya village is a popular and interesting place for SPA tourism. It is very close to Bansko ski resort and provides great opportunities for ski lovers. From here you can also enjoy marvellous views to Pirin, Rila and Rhodope mountains.
In the village there are two old baths that have been restored recently – Bulgarian and Turkish bath. They are now very interesting museums. Banya village has numerous mineral springs and almost every hotel offers mineral water. Together with the beautiful nature around, these make Banya a wonderful destination for a holiday. Hot mineral water is also pouring from several fountains around the village.
Here we have stayed in one of the budget SPA hotels – Seven Seasons, but if you are looking for more luxury, there are many other options. This hotel also has mineral water pools, although not very hot. The outdoor pool is open only in the summer. Banya village is 5 km from Bansko which makes is als a great place for ski lovers.
[mapsmarker marker="202″]
SPA on the seaside – Varna
It is known that in Varna there are at least 28 thermal springs. However, we are not familiar with the opportunities for SPA tourism there. As far as I know, in the nearby resort St. Constantine and Elena there are some hotels with thermal pools. We will be happy if you know something more.
The list of spa resorts in Bulgaria with thermal springs is really long. We tried to include at least the most popular and accessible destinations. There are also resorts where there is mineral water but it is not thermal and they are not a good idea for the winter. If you can add to this list, feel free!
| | |
| --- | --- |
| | In our Instagram account we share more photos and thoughts from our trips and daily life, so if you are curious, follow us there, too. |