When you don't want to leave – a holiday in Krapets village, Bulgarian Black Sea coast in April
Anna's first and main task was to find the room where she would not sleep. Our little princess does not want to sleep alone but insists on having her own room. Well, she did not know yet that days here will be full of adventures and she will fall asleep quickly in the evening and sleep alone until sunrise, a little bit after 6 am. But these are my daughters, they do not like to sleep late in the morning.
Anyway, after she picked a room (the only kids' room in the house actually), she went in the main bedroom to play with baby Adriana while we unpacked the bags. Well, it did not take us too much time and effort because we are usually travelling with only a couple of suitcases. And a box of wine bottles, of course. So, we quickly settled in our new home for the upcoming 4 days.
Krapets village – on the northernmost side of the Bulgarian Black sea coast
The village of Krapets is a wonderful calm place on the rocky northern Black sea coast of Bulgaria. It is in the northernmost part, just about 10 km south from the northernmost village of the Bulgarian side of the border – Durankulak. Krapets is a place where locals live their lives just because of life, not because of the tourists in the summer (unlike many other places, like popular resorts). We have not been there in the peak summer season but it looks promising to be a calm and peaceful place.
About the history of Krapets village, you can hear and read many different stories. The first knowledge of it dates back to 1573. During the centuries, it was mostly inhabited by a Bulgarian majority. It is thought that most of its nowadays residents have once moved from another village, Karapcha (nowadays Malomir), near Yambol, Southeastern Bulgaria. And this village have probably given the name of Krapets. We are not actually sure why did those people come from there, we did not dig so deep into history. However, if anybody knows, feel free to share with us.
We arrived in Krapets one afternoon in April, for the Easter holidays. We had decided to make a calm family holiday, without the wider family gatherings that usually occur on Easter. Moreover, we were there with an exploratory mission. The Northeastern areas of Bulgaria have always been too distant for us and we never had enough time, at least 4 – 5 days, to make such a trip. But spring is a wonderful time to take such trip because the weather is nice, the beautiful places are not crowded, neither are the nice hotels. Everything you need for a perfect family holiday.
Krapets Holiday houses
On the gate of the small and very cozy complex Krapets Holiday we were welcomed personally by the owners Svetlin and Kremena, who had previously called us a few times to check how our trip is going and ask if we needed anything. Yes, with the two kids we were travelling slowly, but it was nice and without tension. It took us about 24 hours in total to reach Krapets from Sofia, with 1 stop for the night and another for lunch with relatives.
As we mentioned in the beginning, Anna was impatient to check everything around. She ran around the green yard numerous times and was also curious to explore the common BBQ house where we first sat for a coffee with our hosts after arrival. It appeared that we were the only guests of the complex for the Easter holidays.
Family idyll
Krapets Holiday is a cozy complex of 4 guest houses, wonderful green yard and a shared summer kitchen with dining room that can accommodate up to 20 people. The total capacity of the whole complex is also around this number. Two of the houses are 2-bedroom houses and can host up to six people each and the other two have one bedroom and can accommodate up to 4 people.
The yard has a proper fence so that it is quite safe to let your kids play around without too much bothering. In general, you have all conditions for a perfect family vacation.
During our stay we had very nice talks with Svetlio about the houses, about life in the village, about life in general. During our stay we reminded of another similar place that we adore – the Big Berry glamping in Slovenia, on Kolpa river on the border with Croatia. For a long time we have been looking for such a place on the Bulgarian Black sea coast, with enough space around and without crowds.
To describe the houses in brief. Еach one of them has a living room with kitchen, one or two bedrooms with very comfortable beds and everything is very freshly furnished. We really felt home immediately upon entrance. We settled in one of the 2-bedroom houses.
And because we arrived in the late afternoon, we had brought some basic products for dinner, as well as coloured eggs and sweet breads for the upcoming holiday. We almost filled our fridge and the kitchen shelves and made a modest but nice dinner – a salad with some meat delicacies. An of course, we opened a bottle of good wine we had brought from Southwestern Bulgaria. Just as we would do if we were returning home from a long trip.
As every nice place, Krapets Holiday is fully booked for summer 2019. But the good thing is that it is working year-round. You can check and go towards the end of the summer, in September for example.
Krapets beach
In April it was windy and cool but what could feel better than going to the beach just for a walk and having a whole beach just for yourselves?! The beach of Krapets is outside the village, about 2-3 km north. In the summer a camping is operating there, as well as a bar. However, in April we were welcomed only by the wine sand strip, covered with many shells, where Anna managed to lose her sunglasses in just 5 minutes and we never found them again.
While enjoying the sand, the shells and the deserted view towards the nature around, we remembered our trip to Estonia just a year ago. There, on the beach of the Saka manor, we felt just like this – alone, out of the beach season, on a beautiful place, all of it just for us.
Our hosts and the new hotel
Just next to the Krapets Holiday complex there is a construction site now. But next year it should become a larger hotel with an indoor pool. It will provide the opportunity to enjoy the holiday even in rainy days, which are slightly more on the northern part of the seaside. And we mention this because the construction and the future hotel are supervised by Svetlin. Given how he made the houses, the hotel also looks promising. But we will see when It is ready.
Where to eat in Krapets?
We did not expect to find many working restaurants on this northern coast in the off-season, especially in Krapets. However, in the village there were two working restaurants in April. We only visited one of them, but twice – the restaurant of Yanitsa complex, just on the coast, which was recommended to us by Svetlio. The second time we ordered for "home" some fresh fish and made a cozy dinner with wine. This restaurant seems to work year-round or at least in the spring season. So you have a nice place to sit for a delicious dinner with fish, fish soup or grilled meat, if you prefer.
The fishermen in Krapets
In Krapets there is a small bay with several fishing boats. In the early morning, while everybody was asleep at our house, Andrey took an early walk there and enjoyed the sea. It was unusually calm that day, almost merging with the horizon. In the end of April fishing is prohibited for a large part of the sea fish, so we left the experience of buying fresh fish for the BBQ for the autumn.
What to see around Krapets – top 5 places
As we mentioned earlier, we chose to come here in the spring particularly because we wanted to explore the beauties of the region slowly and calmly, without too much other people around. Our group of 4 is enough noisy and funny, actually. We did not have big ambitions to see every nice place on the whole northern seaside in 4 days. Instead, we put a limit – Kavarna is the furthest point to the south where we would go. So here are in brief our favourite places in the area (there will be a separate article about them and they are actually more than 5):
Yailata
Yailata – the area is both a natural reserve and a National archaeological reserve. There you can see remains of an old necropolis, an early Byzantine fortress, ancient winery and a peony field that was not yet blossoming. Yailata is much more than any brief description so allow enough time and go there. /location/
Durankulak lake
Durankulak lake – another natural and archaeological reserve in one. On the large island inside the lake were found remains of some of the oldest settlements in Europe, more than 7000 years old. The lake itself is a territory for rest, feeding, nesting for many different birds. /location/
Cape Kaliakra
Cape Kaliakra, where the view from the fortress walls towards the sea makes us wonder how secure but also lonely must have been to live there. /location/
Tyulenovo
The stone arch of Tyulenovo – the place where every photographer has been. It is indeed a very beautiful place for walks and also for diving. /location/
Shabla
Cape Shabla lighthouse – the easternmost point of Bulgaria. It is a bit strange place, around the lighthouse there is a fishing village, but it is a local attraction. /location/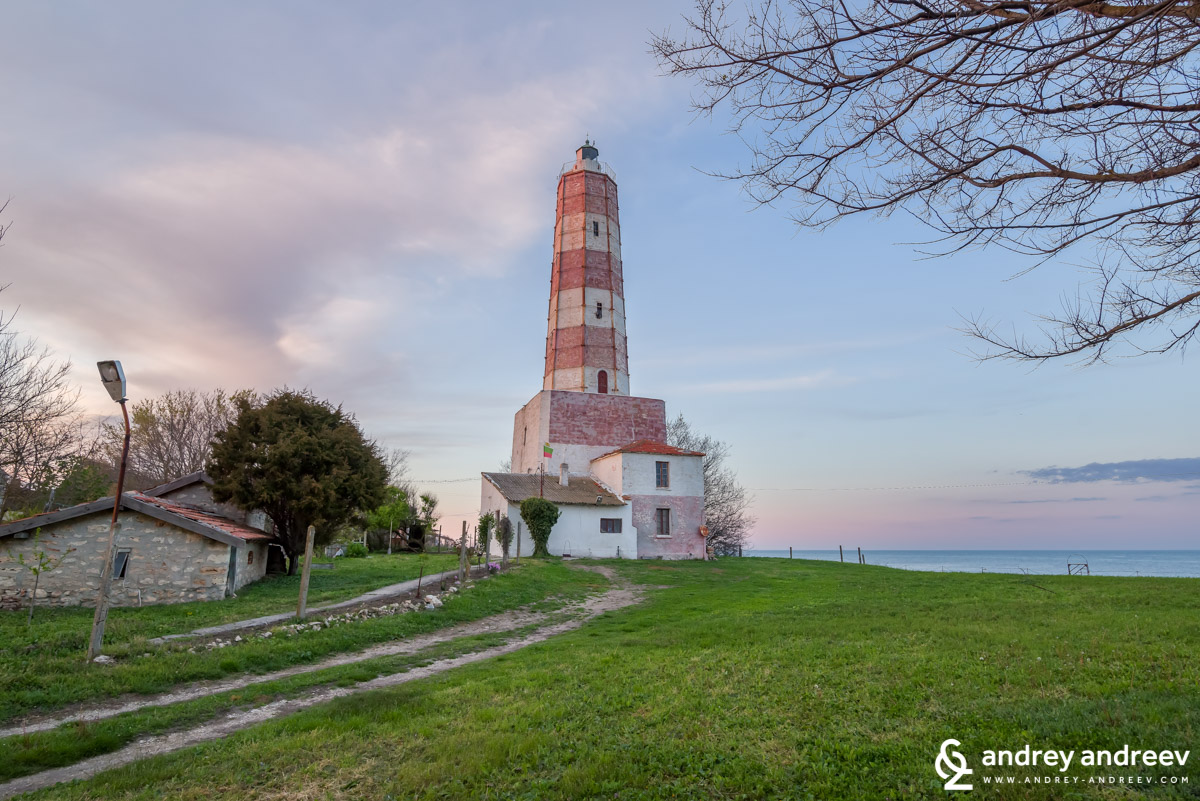 How to reach Krapets?
Krapets village is one of the hardest to reach places in Bulgaria. I would advise you to reach Varna and then hire a car to explore the seaside north of Varna. I would not suggest to risk with the public transportation, especially outside the peak summer season. I am not even sure whether there is a direct regular bus to Krapets.
June 19th, 2019
Anna likes to wake up around 6.30 am, with the first rays of the spring sun. Then she comes to our bed and wakes her baby sister Adriana and starts hugging her. Anna is 4 years old, Adriana is only 6 months at this time. The first one wants to play - the other one…
Follow us: Instagram and Facebook
---