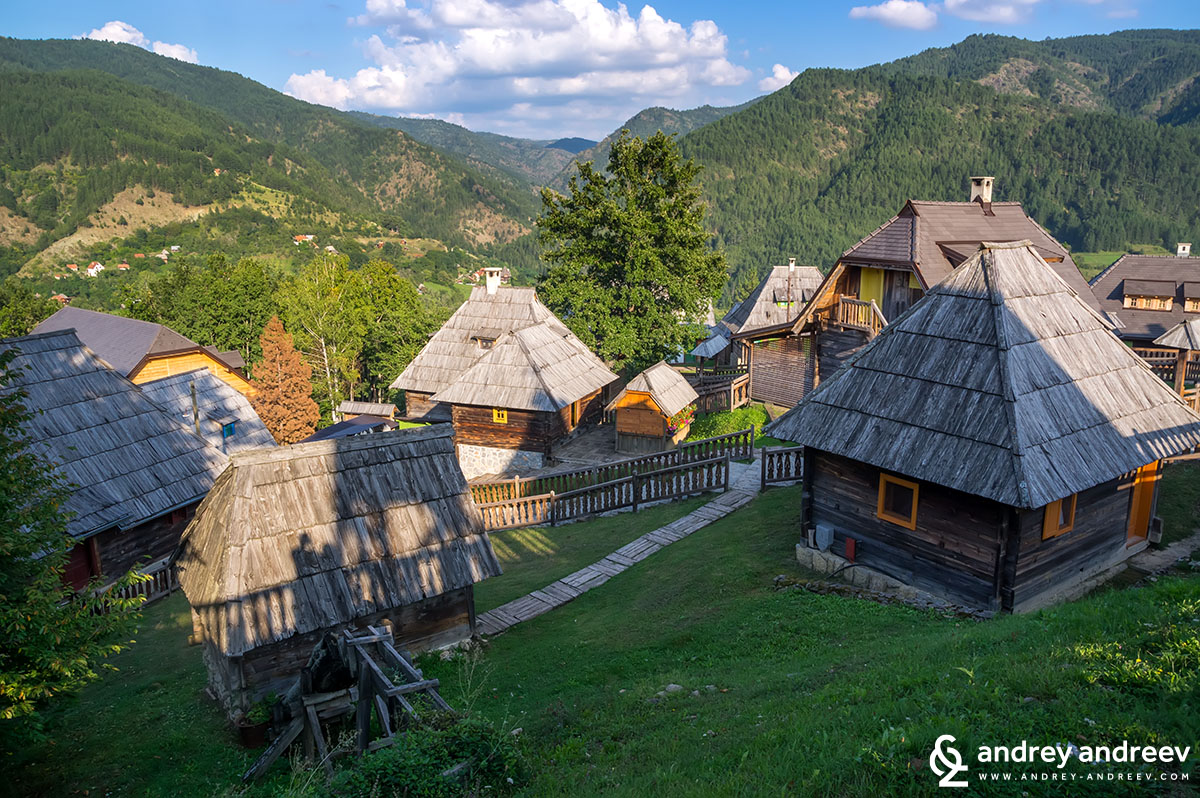 Kustendorf – The Timber Town of Emir Kusturica, where life is a miracle, Serbia
Emir Kusturica might be best known as a film director and a musician, but he proved to be more than that. Until a few weeks ago, we had only visited one concert of his No Smoking Orchestra in Sofia. A visit to his home in Serbia (Drvengrad/Mecavnik/Kustendorf) and seeing another one of his projects (Andricgrad) in Bosnia and Herzegovina showed us that his works go far beyond what all of us are thinking.
A collection of unique hotels in our section Lodge as an experience.
During our last travel adventure we visited Serbia and Bosnia and Herzegovina. Neighbouring Serbia is one of our favourite destinations with its warm people, good and cheap food and many beautiful hidden places to discover. Sometimes we just go to Pirot for a lunch, another time we decide to go deeper into the country. This time the final point was Mostar, Bosnia and Herzegovina, and we had to cross the whole country from the east to the west.
We rarely follow a strict plan where to go and what to see, but The Wooden Town (Timber town), known also as Mecavnik or Kustendorf (Drvengrad – Mecavnik), built by the film director Emir Kusturica, was on the list. The Wooden Town is located in western Serbia, in the Mokra Gora Natural Park, a few kilometers from the border with Bosnia and Herzegovina. Mokra Gora is a beautiful mountainous area with green forests, sunny hills, numerous trekking paths, offering quietness, fresh air and all you could need for a complete relax, away from the noisy crowded city.
[mapsmarker marker="141″]
The beautiful sunny hill that Kustiruca fell in love with
The Wooden City is located on a sunny hill named Mecavnik near the village of Mokra Gora. Kusturica first noticed the hill while he was filming Life is a Miracle in the area in 2003. He noticed that hill with nothing on it but with plenty of sunshine and he decided that he wanted to build his own village there someday.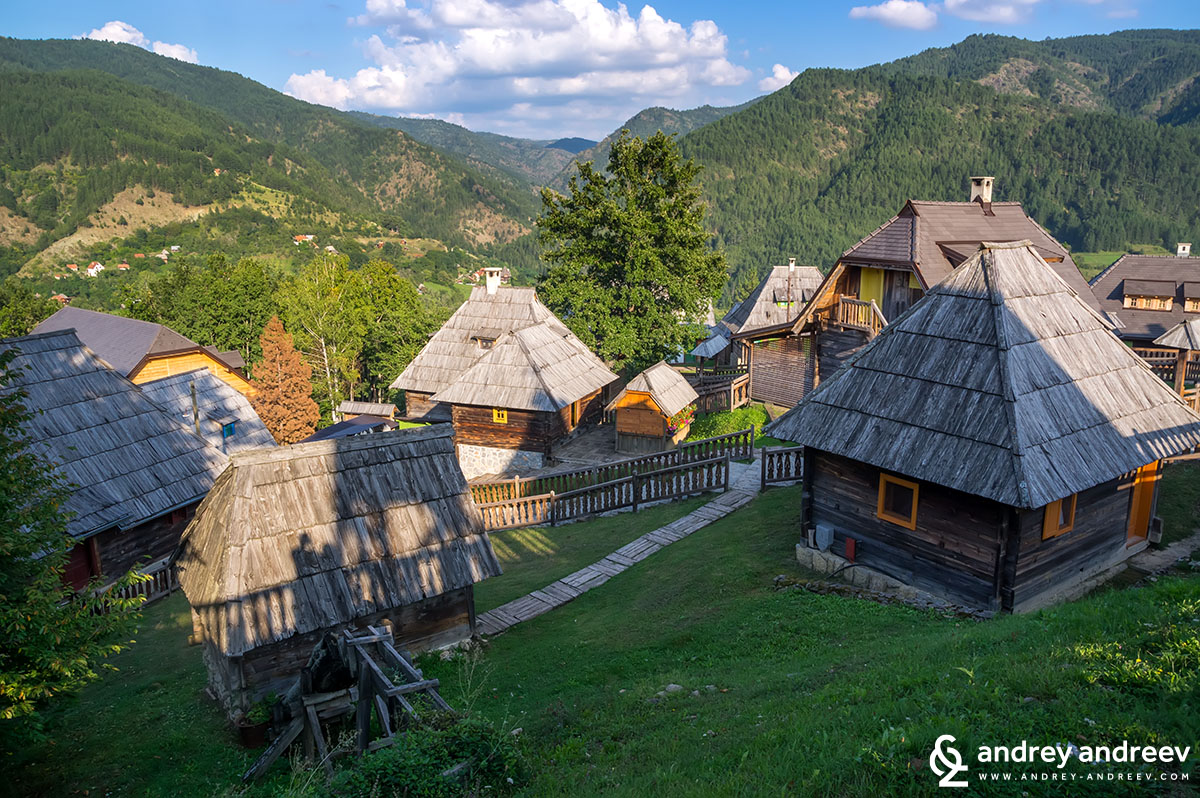 "I lost my city [Sarajevo] during the war. That is why I wished to build my own village. It bears a German name: Küstendorf. I will organise seminars there, for people who want to learn how to make cinema, concerts, ceramics, painting. It is the place where I will live and where some people will be able to come from time to time. There will be, of course, some other inhabitants who will work. I dream of an open place with cultural diversity which sets up against globalization.", said Kusturica in an interview.
Kustendorf – the dream town
Mecavnik/Kustendorf is an ethno village with 20-30 buildings, all made of wood and representing the traditional style of Serbian villages. The complex has everything a real town would have – a main square, a church, a cinema, a pool with spa centre, a gym, two restaurants and a sweet house and even a jail. But Mecavnik is much more than this simple description.
When we entered the complex, we found ourselves in another world – as everything good in our world was collected at this place and everything bad had somehow been erased. It felt like in a fairy tale, but at the same time it was real – happening right here, in this 2016 world that many of us hate daily. Walking through the main street of the town, we were seeing beautiful wooden houses, neatly arranged in a few lines with narrow alleys between them and plenty of grass and flowers around. There are no identical houses, each one is unique, but fitting perfectly in the whole picture.
The streets with names to remember
When you first enter Mecavnik, you find yourself on Ivo Andric square – named after the writer and Nobel laureate Ivo Andric. On one side are the reception and a bookstore, on the other – the pastry shop offering various local specialities and wonderful espresso. A few steps away is the main square – Nicola Tesla square. This is the center of the city with the main public buildings around it. The main house is a big two-storey building just next to the pastry shop where Kusturica and his family live. It features also the Stanley Kubrick Theater and a helicopter pad in the back yard. On the opposite side of the square is the national restaurant offering traditional Serbian dishes like pljeskavica (a big grilled meatball). At the end of the square is the church – a small wooden Orthodox church with pretty interesting 4-level roof.
Behind the church is the Bruce Lee street leading down to the residential part of Mecavnik. The complex itself is categorized as a 4-star hotel and many of the houses are being offered for rent. Despite initially Kusturica wanted to make a closed complex just for him and his friends, he has probably changed his mind and the hotel is open for everyone willing to stay there.
A bar to remember
Just behind the national restaurant is Federico Fellini street with Nikita Mihalkov square. On the opposite side of the street you find The Damned Yard café – a wonderful bar with live music in the evening. An orchestra of happy old men performing traditional Serbian music, including some of Kustirica's songs made everyone full of emotion. No microphones, no sound equipment – just their voices and instruments making the whole bar happy.
Mecavnik is a small village, but with so much to offer – culture, science, cinema, arts, crafts, history. Mecavnik also hosts the annual Kustendorf film festival that gathers world-known stars every year in Serbia. It is held in January and among the people that have come here are Monica Bellucci and Brad Pitt.
It is one thing to have a walk around Mecavnik for an hour and a totally different thing to live there even for a while. The small streets with lots of greenery around them are enchanting, and between them there are even a kindergarten and a hair salon.
The irresistible hotel
We arrived in Mecavnik on a late Friday afternoon without any idea where to spend the night. While drinking coffee an wondering which way to take, something was not letting us go. Charmed by the place, we checked the prices and after a short wondering, we decided to stay in Mecavnik. This was probably one of the best travel decisions we have ever made.
Mecavnik is a categorized 4-star hotel. We were given a cozy, romantic room with wooden furniture and home-made soap in the bathroom. Then we immediately headed to the swimming pool and the spa centre next to it. It was the ultimate relax centre. There is a real wood burning sauna, a wonderful pool and a steam bath just for ourselves.
The relax zone is open until 23 h but we had to go early because we had dinner included in the price. Some people may say that the dinner is modest. But I think there was plenty of diversity of local dishes and all of them were delicious and high quality. Visconti restaurant, featuring a library and a winery, offered us a cozy atmosphere to have our dinner.
The culmination of the night was in The Damned Yard cafe – a wonderful bar filled with live music in the evening. Guests were entertained by a local band playing traditional Serbian song and making everybody sing and dance. We spent the night enjoying the calmness and fresh air and it was so difficult to leave the next day.
The stone city – Andricgrad
Earlier, when visiting Visegrad in Bosnia and Herzegovina, we were surprised to discover another "town" built by Kusturica – Andric Town, located on a peninsula on the Drina river in Visegrad. It is a stone town named after Ivo Andric. Kusturica built it not only as a tribute to the wirter but also to film an adaptation of the novel The Bridge on the Drina. It is a wonderful place to walk or have coffee or lunch. The feeling is as you are in a castle surrounded by white stone walls, away from the noisy city. It also features a hotel complex.
Visegrad and Mokra gora are just 20 km away from each other, across the Serbian-Bosnian border. Spending a weekend there following the steps of Kusturica would be a great idea not only for the fans of the director but for everyone who believes that life is a miracle.
Follow us: Instagram and Facebook
---