L'Oasi dei Sapori – one delicious story that started with prickly pears
Everything started with a few prickly pears on the fruit market in Taviano, Puglia, Italy. We were wandering through the market, watching the numerous melons, watermelons, tomatoes and snails in boxes of hay. Alive snails, indeed. However, we stopped in front of a box with cactus fruits, or prickly pears, or Indian figs – it is the same fruit, indeed. In our country cactuses are not something anyone would consider food. They are usually very small and live near computers and other electronic devises. However, later in this story we will tell you how to eat a cactus. You may have tried it already, but we are still going to tell.
Why we always dig so deep into strange things?
It would not be us if we were only telling about the big attractions and the top 10 places to see. For us the small details are even more attractive. It is not our first time to speak about Salento, this undiscovered part of South Italy, and the constant effort of local people to produce their food locally instead using things that have travelled thousands of kilometers before reaching the table. It is not our first time to sit in wonderful cozy restaurants with just a few tables, serving only what their in-house farm has produced. And we will never get tired of speaking of something so beautiful that has almost disappeared, but still surviving and reviving in some parts of Europe. I can't say I am seeing many good examples of this in Bulgaria.
The market, the snails and the figs
Let's go back to the market. It is Friday afternoon andd we are wandering through the fruit market in Taviano. A smiling local man comes to us with unexpected enthusiasm about our group of foreigners, accompanied by the deputy mayor of Taviano. The man enthusiastically starts speaking to us in beutiful Italian and peels a few prickly pears, inviting us to try them. Later he gifts each of us a bag with dried origano and the female part of our group is more than happy. We contunue our walk and discuss the unexpected interest of locals towards us.
"He wanted you to go in his restaurant but we told hin that we have no time" – this is what our local hosts shared with us when we later discussed what happened on the market. It appeared that the man was Villiam Bove – a local agriculture producer, who also owns a restaurant. We very kindly explain that despite the schedule is very busy, we are sincerelly happy to visit such palces and we are almost sorry that we cannot visit. Two days later and two days more tired, while driving to the beach, we are being told that we actually "should go" to the restaurant of Villim at least for half an hour because he is very insisting and we cannot say No. We are secretly celebrating.
The oasis of cactuses, tomatoes and all the other flavours – L'Oasi Dei Sapori
On Sunday we had more time to relax at Lido Pizzo (some day I will write another article about the beaches in Salento). Then, in the late afternoon, very pleased and salty, we headed to the "oasis". Villiam and his family were already waiting for us. Welcoming and smiling, they invited us to try everything. First we entered the shop.
First we entered the small showroom, where we could see an exhibition of all the fresh fruits and vegetables, produced by the family and used in the kitchen of the restaurant. They are not for sale – they only show what you wil find later in your dish.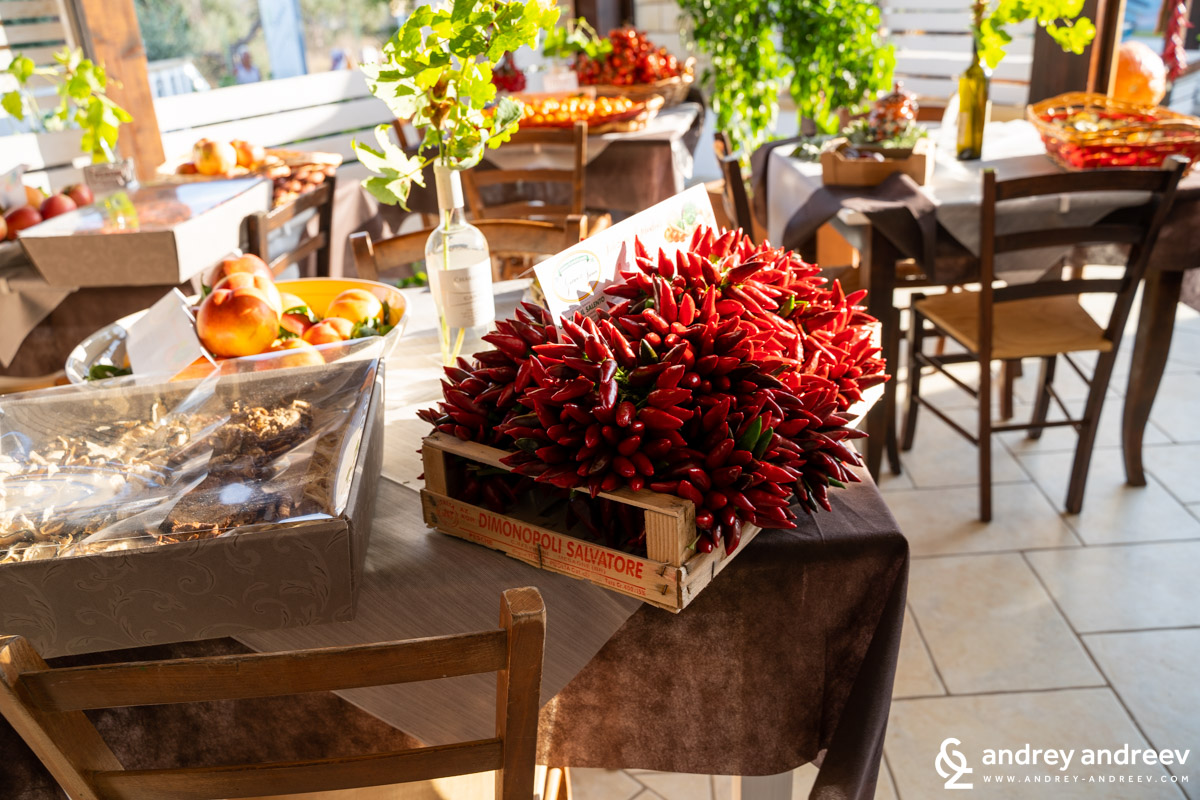 Then we entered the shop itself, where you can buy numerous of goods produced by the Bove family in their own farms and plantations. Among them are jams, fruit soups, canned vegetables, chutneys and so on. Well, they are still not able to produce all the food for the restaurant. For example, they do not grow wheat so for the pasta and other pastries they partner with another local producer. The philosophy of L'Oasi dei Sapori is "La Cucina A km 0".
LA CUCINA A KM 0
If you wonder what is "LA CUCINA A KM 0" – it is a cuisine based solely on locally produced products. All they can, they produce it themselves. What they cannot grow themselves is produced by other local partners.
So we entere the shop of L'Oasi dei Sapori and started picking some products to buy for home. Actually, they offer free shipping across Europe so you can easily buy your stuff on site and then have it delivered to your home, instead of wondering how to put them in the luggage. We spent quite a lot of time speaking to the owners and admiring what they are doing here. For home we took jams from indian figs and chilly peppers. The eggplant jam also looked interesting but we did not dare to buy because we are not fans of eggplants at all. But if you like them, maybe it is worth trying.
I tried to think of a restaurant in Bulgaria with the 0 km policy. The one I know so far is the restaurant of
Uva Nestum Wine and Spa
near Gotse Delchev, southwest Bulgaria.
The food at L'Oasi dei Sapori
It was a very emotional visit for us. We received such a warm welcome, something very usual for south Italians. And for some reason everybody was very enthusiastic about us, despite we look a bit weird after the beach and we come from a country that is rarely mentioned in this region. So, on the table started to arrive numerous dishes. Among them we had traditional pasta with chickpeas, meatballs with chilly tomato sauce, some very special veal and of course, delicious local bread. And for dessert – the Torta pasticcioto (Pasticcioto cake). Pasticcioto is a legendary pastry, very traditional for Salento. And extremely delicious and suitable for any time of the day. We will tell you more about this in our article about food in Salento.
We tried all the meals on the table and they were all extremely delicious, or maybe we were very hungry. Indeed, we were a bit sorry that our visit was not at lunchtime so we could have a proper lunch there.
How to eat a cactus
You can find the prickly pears everywhere across Salento. They grow literally along the road. But be careful if you want to pick them. They have tiny spines that are very hard to extract if you touch them. Here is one very successful method to pick prickly pears. You take a single-use plastic glass and catch the fruit with it. Then carefully put the fruit on the table, make cuts on both ends and then along the fruit, and then peel it and enjoy the red or yellow juicy fruit.
Follow us: Instagram and Facebook
---