The restaurants of Tuscany: Le Logge Del Vignola and true hospitality, Montepulciano
Massimo Stella greets us at the door and we immediately know we are at the right place. It is our first night in Tuscany, we've arrived late, but at Le Logge del Vignola they are waiting for us as we are dear guests. Massimo quickly understands that we are tired, but at the same time we are eager to dive into the food of Tuscany. He offers us a glass of sparkling wine, from a big local winery (Sauvignon and Chardonnay) and amuse bouche while we wait for our table. We decide to leave ourselves entirely in his hands for the choice of the menu. We really like to be surprised.
Massimo knows little about us and we know little about him, but that will have changed by the end of the evening. But in these first minutes we quickly understand that we are on the same page. We, as in all restaurants, have asked in advance for permission to take pictures, because we love to share our good impressions. Massimo, on the other side, made us truly happy by offering us two different tasting menus so that we can try as many flavours as possible. Welcome to Tuscany – thank you Massimo for the great reception!
Who is Massimo Stella?
Massimo Stella is the heart, soul and brain of the restaurant Le Logge del Vignola, which we later confirm is the best in Montepulciano. He is a sommelier by education and profession and founded the restaurant back in 2001. Since then, he has been working continuously with one single goal – to offer a great experience based on traditional Tuscan products and recipes, but always with a pinch of creativity.
Hospitality and friendly welcome are imminent here and this is projected on the smiling faces of all the other guests around us. The family atmosphere here is palpable and not without reason – the guest service is solely in the hands of Massimo and his daughter Virginia. There are two or three other staff in the kitchen, there are just twenty seats and the feeling of being here is just like being a guest at an Italian home.
The front door is dotted with signs with ratings from various guidebooks and culinary rankings. Here you will notice that the restaurant is recommended by Michelin. It does not yet have a star but is in the popular guide since 2010. 
Le Logge del Vignola and the journey through Tuscan cuisine
We are seated at the cozy table in the corner by the window. Right behind Mimi is the antique cupboard, storing insanely beautiful cutlery and crockery. Both Massimo and Virginia lead us through the journey of Tuscan food, which begins with four types of homemade bread.
Then one of the restaurant's specialities appears on the table – a "breaded" blue egg with polenta cream. Questions immediately pop up about the blue egg and we are shown us a whole catalogue of the poultry farm they source from. They have eggs of various sizes and colours of the shell. No, they're not dyed – they just come from different breeds of hens. Here, Massimo has selected a 2021 Tuscan Vermentino for wine pairing.
Another popular speciality based on traditional Tuscan recipes comes to Andrey at this time – chicken pate with wine sauce. And the wine is from Trebbiano and Malvasia of a small winery near Siena. A wine with a very pleasant amber colour and distinct sweetness.
The pasta of Tuscany – Pici
Then Virginia appears and pulls us out of the sweet rapture of conversation about the appetizer and the wine to show us Tuscan pasta in an unexpected way. Here we meet for the first time the traditional "pici" (pici) – probably the most traditional pasta of Tuscany, resembling in shape handmade thick spaghetti. The typical recipe here is with black garlic, breadcrumbs and local pecorino cheese, and its aroma spreads throughout.
Rosso di Montepulciano is one of the iconic wines of the region
On the other side of the table is an open raviolo with vegetables combined with Friulano wine from northern Italy, near the border with Slovenia.
In the next series of dishes, we move through pigeon foie gras, parsley-crusted lamb, and it's time for desserts.
The wine of Montepulciano
The wine for both of us here is Vino Nobile di Montepulciano , the best of the region and our favorite 2016 vintage, but from two different wineries: Croce di Febo, an organic winery south of Montepulciano and Il Conventino, both organic. We compare the wines, we like them, magnificent examples of Vino Nobile di Montepulciano.
Massimo's amazing wine pairing and selection made me ask about his favorite wineries around. He gave us a map with all the wineries in the Montepulciano region and pointed his favourites. We still keep this card!
We also took a glance of the restaurant's wine list, which is extremely rich and features mostly Italian wines, but also some world classics.
The burning finish
Mimi's dessert spectacularly burns in front of her. The flames melt the chocolate sphere under which the tiramisu shows up.
An "egg in a nest" made of panna cotta, tangerine and hazelnut arrives at Andrey's.
And the finish is just as explosive – specialty coffee coming from the slopes of the volcano on the island of Java.
Two dessert wines with the desserts, sweet and extremely suitable. The dessert blows our emotions to the limit and makes us dream of our next visit to this restaurant.
Feeling home
During our journey we understood that Massimo has been professionally involved with restaurants all his life and hospitality is his passion. He has also earned numerous awards as a sommelier. Virginia, only 20 years old, herself has also decided to study hospitality at the university and to keep working in the business. She is doing great!
We have seen many restaurants, we have been to great chefs, but we have seen such hospitality and attitude in very few places. They can be found only where the owner, the ideologist and the host in the restaurant are the same person, like Massimo.
Midnight in Montepulciano
It's almost midnight, the restaurant is now quiet and empty, and Massimo and Virginia are diligently and lovingly setting the tables for the next day's guests. By then we will have already left Montepulciano, but we are happy for all the other twenty lucky people who have made a reservation and will enjoy the wonderful experience at Le Logge del Vignola.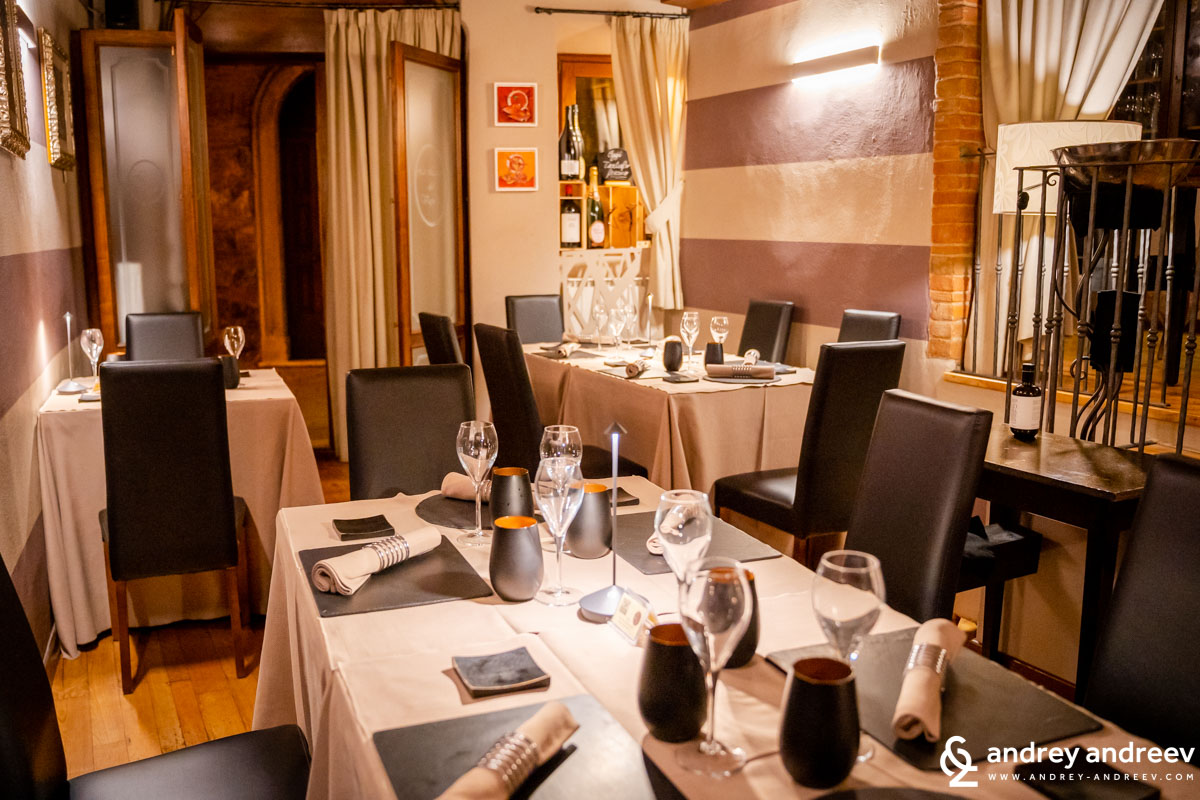 And with all our heart and soul, we can recommend you to visit Le Logge del Vignola if you are passing by Montepulciano some day. For us it was the best possible start of our first trip through Tuscany.
Follow us: Instagram and Facebook
---