The beauty of Melnik and Melnik pyramids – one of our favourite places in Bulgaria
"What could we write about Melnik, besides the food and wine – everyone is coming here mostly to eat and drink" – this is how my wife "encouraged" me when I suggested we wrote an article about this town. Actually, we are also among the people who often visit Melnik and spend a lot of their time in the many local restaurants and wineries. However, we have been there many times and have seen many wonderful places besides places to eat and drink. And now we will tell you about all of them, because Melnik might be a tiny town but with incredible history and interesting places. Well, we will of course tell you where to drink really good Melnik wine.
The smallest town in Bulgaria
This is the most common description you will find about Melnik. We even study this at school. I personally have lived in another one of the smallest towns in Bulgaria. And my daughter was baptised in one of them. Melnik is far from these places but has always attracted me with its beauty and rich history.
Melnik is a special place. It has long and interesting history but would not reveal it to anyone. Today it has 325 official inhabitants and no one would suggest that only a century ago more than 10 000 people lived here. Well, in 1912 the town was inhabited mostly by Greeks and there were over 1000 houses. However, after it was included into Bulgaria's territory, most of them moved to Greece.
In the Middle Ages it was a border town between Bulgarian and the Byzantine empire. It was a big city on the main road to Thessaloniki. It was a place where the Byzantine emperors used to send in exile some aristocrats they were not happy with. This is why Melnik developed mostly in Byzantine style. Even now you can see ruins of Byzantine buildings around the town.
The Ottoman times and some notable places from this period
The ruins around the town tell the most of the history of this town. Upon entrance in the town, you will notice beautiful houses with architecture typical for the Ottoman period. We would call this Bulgarian Revival architecture but if you are from Turkey, you would probably disagree. In the centre of the town is still standing the Turkish konak (b. 1821). Here were the headquarters of the Ottoman rule during Ottoman times. After 1912 it became a government building and later school and school boarding house. The building very well recalls the Ottoman period of the town.
The amazing Kordopulova house
However, the most important building in the town in not any of the old houses turned into hotels and restaurants. It is indeed the Kordopulova house, located in the suburbs, at the highest place in town. It dates back to 1754 and was once the house of local rich man Kordopulos. His occupations were trade and wine production and he was among the most noble people in town.
It is a lavish house with winter and summer gardens. Beautiful and spacious rooms with decorated windows. Even more attractive is the wine cellar which consists of several tunnels dug into the sandstone rocks. During your visit in Kordopulova house you will also have the chance to taste their home-made wine. However, I would advise you to go to another place id you are wondering where to taste good wine. Keep reading.
Byzantine times in Melnik or what is left from them
One day in the spring we were exploring the town when we met a group of young artists drawing pictures of notable places in Melnik. Many of them were around the ruins of the Boyar house. It is one of the oldest surviving buildings on the Balkan peninsula, though only partly preserved. It dates back to the 13th century when it was a part of the residence of Despot Alexius Slav. The buildings featured mosaic floors, frescoes, lavish furniture and other luxuries. Through centuries it was reconstructed and upgraded multiple times and at one time it even had a clock tower.
Despot Alexius Slav was a member of Asen dynasty of Bulgarian rulers. He ruled his own despotate between 1207 and 1230 and was a nephew of kings Asen, Peter and Kaloyan. Alexius Slav was married to Isabel, daughter of Latin Emperor Henry of Flanders. The first capital of its despotate was Tsepina fortress, near
Velingrad
, Bulgaria. But later he moved it to Melnik.
Saint Nicholas plateau
During one of our visits Anna was still a baby, sleeping in our bed and moving around all night. We were staying in a hotel in the centre and we were supposed to sleep, but Anna suddenly woke me up with a kick in the head. I had no choice but get up and leave the bed to her. It was early dawn and I decided to go for a walk to the nearby Saint Nicholas plateau.
Melnik is a noisy place during weekends, especially in the spring. But early in the morning it is quiet and deserted. Just against Bulgari hotel (where the Museum of wine is) starts the trail leading to Saint Nicholas plateau. It is a steep but not difficult path that will take you in 20 minutes to the beautiful plateau above the town. Up there you can find various historical treasures. One of them is Saint Nicholas church from 12th century, which is now in ruins after a fire in 1913. After it, you will reach the ruins of Despot Alexius Slav's fortress.
Monasteries and churches at Saint Nicholas plateau
On the plateau one there were two monasteries – Monastery of the St Mother of God Spileotissa or "St Zona" and "St Haralampius". Both are now in ruins.
My favourite place in the area are the ruins of the Monastery of the St Mother of God Spileotissa or "St Zona". Nowadays only a small chapel is standing here. But from here you can enjoy one of the best views in the region. That early morning I was standing on the edge, watching the view and listening to birds and bees. Well, at one point I heard a noise in the bushes that scared me a bit so I decided to go back to the hotel and have a breakfast.
All of the hotels in the area traditionally offer for breakfast fried bread or Mekitsi (fried dough). Both are very delicious.
Melnik pyramids and Rozhen monastery
The stunning Melnik pyramids are probably the most charming thing in the area. The sandstone rocks are beautifully shaped by mother nature – a beauty that leaves no one indifferent. The red peaks are everywhere around. If you want to enjoy them to the maximum, there is a trail from Melnik to the Rozhen monastery, taking about 3 hours.
The Rozhen monastery is one of the best preserved monasteries in Bulgaria and the largest in Pirin mountains area. We have never seen monks there but there are always many tourists. Nearby is one of our favourite places to stay – Rozhen village. The air is amazingly clear and nights are quiet and peaceful. There are several cosy hotels in the village with good prices.
Melnik – a food and wine paradise
In the Middle ages the area of Melnik was known for its wine production and its endless vineyards. Wine from here was exported all around Europe. even to England. Melnik wine is still famous nowadays and the small town is a very popular food and wine destination for Bulgarians and Greeks. There are plenty of restaurants and hotels in Melnik, offering delicious Bulgarian meals. We love eating here. If you are looking for a full relax place, you could stay in the 4-star Spa Hotel Mantar, in Marikostinovo village, some 20 km from Melnik. It is located on a very communicative place, on equal distances from most wineries in the region.
Where to drink good Melnik wine
Almost everyone in Melnik has a vineyards and makes wine. When you enter the town you will immediately meet some of the local winemakers. Many of them are just on the street, offering "love wine" and whatever else. However, we are not fans of homemade wine and would love to take you somewhere else to try really good Melnik wine. In the region there are many boutique wineries making amazing wines. Closest to Melnik is Villa Melnik wine cellar, somewhere between the villages Vinogradi and Harsovo. There is a sign for the winery on the road to Melnik and I strongly advise you to follow it. The owners of Villa Melnik are wonderful people and we love to visit them. Moreover, the view from the winery to the vineyards is stunning and can be mistaken for a Tuscany in Italy. The wines are even better.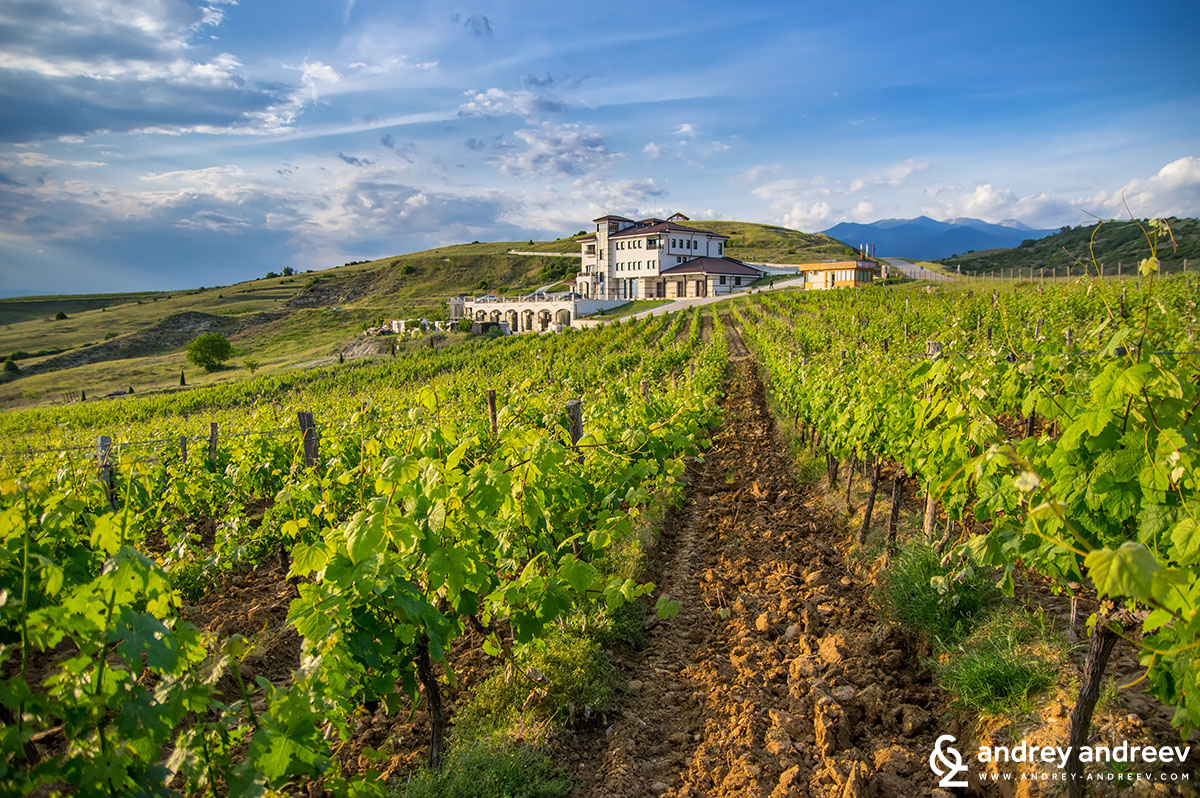 This warm and sunny end of Bulgaria hides wonderful places where you can find really good wine. The next winery is near Kapatovo village – Zlaten Rozhen. They have very nice tasting room where you can try and buy your favourite wine. If you are not willing to drive to Kapatovo, you can also try the wine in their hotel – Zlaten Rozhen hotel in Rozhen village, just below Rozhen monastery. In this area there are wineries all around, but we recommend you our favourite ones.
Another winery we are always happy to visit is Rupel Winery in Dolno Spanchevo village. They will also fascinate you with their wines and view to the vineyards. Visit not only the winery but also the chateau on the hill a few hundred metres above the winery to enjoy the best views.
There are many wineries in the region, here is a map of all of them. You can see more at the Facebook page: "Melnik Wine Routes"
---
How to reach Melnik
How to reach Melnik by car
This is actually not very easy because public transport options are limited. The best and most common way is by car. So it is a wise idea to rent a car if you are determined to explore this part of Bulgaria. Melnik is located some 130 km south from Sofia and the drive takes about 3 hours because half of the way is a curvy mountainous road. However, it is a popular destination so the road is good enough.
---
How to reach Melnik by bus or train
There is no train station in Melnik, the closest one is in the nearby town of Sandanski. Maybe there are buses from Sandanski tbut I would not recommend this option. From Sofia there is only one direct bus a day. It leaves from Sofia Central Bus Station at 2 pm and arrives around 6 pm. From Melnik to Sofia the bus leaves at 6 am. The journey costs approximately 7 EUR in one direction. If you decide to try this journey, I advise you to spend at least 2 nights in Melnik.
---
By shuttle or guided tour
This is probably the best and easiest option to reach and explore Melnik. Several companies are offering tours to Melnik and we are partnering with one of them to provide you with a discount for this 1-day Guided tour to Rila Monastery and Melnik. It is a combined tour to Rila Monastery and Melnik and is a great opportunity to visit some of the most notable places in Bulgaria that are hard to reach by public transport. It will be a long but rewarding journey to see the wonderful monastery and then walk along the cute cobblestone streets of Melnik. Get 5 % discount with Promo code ANDT18.
You could also use this promo code for several other tours – check here: Get discounts for day tours from Sofia
---
---
---
Follow us: Instagram and Facebook
---