Surviving Marrakech –Movenpick Hotel Mansour Eddahbi and how to keep our sanity in Marrakech
We have another article dedicated to Marrakech itself. In this one we will speak about the things that are aside from the core of Marrakech. About the things that helped us survive Marrakech easier. Not that Marrakech is bad. It just has its own peculiarities and charm that make you feel many different and controversial things. Luckily for us, in Marrakech there are places that offer you a pleasant escape from these peculiarities.
If you are curious about Morocco, take a walk with us through all the places we visited in this country in our Morocco category.
We arrived in Marrakech after three days of wandering through the peaceful High Atlas mountains. Our team was enlighted by the idea to enjoy the city all guides pointed to. We were already used to the hectic driving of the moroccans and confidently navigated through the city traffic. Then we quickly checked in our hotel (this time we opted for a luxury 5-star hotel from a famous world chain – Movenpick Hotel Mansour Eddahbi Marrakech). After 10 days of travelling and staying in traditional riads, old medina houses, appartments and mountain huts, it was time for something like this. Also, we wanted to spend some time by the pool and not all the hotels heat their pools in November.
First hours in Marrakech
We dropped our bags, left the hotel and headed to explore Marrakech. We wanted to have dinner on the central square, famous with its size and various attractions, including endless food stalls. A couple of friends tipped us to try the best sausages in the world that were supposed to be prepared somewhere on the improvised open-air restaurant on the square. Generally, we started our walk with a very romantic vision of the city that almost no tourist would miss to visit.
Maybe we were tired from the start or maybe the emotions came too much, but the historical part of Marrakech exhausted us. Maria almost got a panic attack because of the numerous snakes being carried and exhibited across the Jemaa el-Fnaa square to entertain the passers-by. The intruding merchants dragging us to their stalls did not motivate us to try the street food at all. During our walk through the medina we accidentally tipped the wrong person and he just escaped with the money. Then we had to tip again the right man, who had kindly allowed us to take photos in his lighting shop. At the end of the evening, on our way to the hotel, we were on the verge of our sanity because of the crazy bargaining on the price of the taxi.
Breakfast in Marrakech
In the morning the breakfast in the hotel revived our enthusiasm and hope that we will have great time in Marrakech. We had numerous pancakes, croissants, omelettes made in front of us and house-made chocolate, as well as many glasses of fresh juice and the traditional Moroccan tea. No way to miss the tea – there were a dedicated person to serve tea only. How can you say No to him?
Despite the wonderful start, the mornig walk through the city made us feel exhausted again. So we hurried to go back to the hotel for lunch and at least a small break. Then our plan for an afternoon walk went wrong after we became extremely lazy and decided not to go out of the hotel and finish with the attractions of Marrakech for now.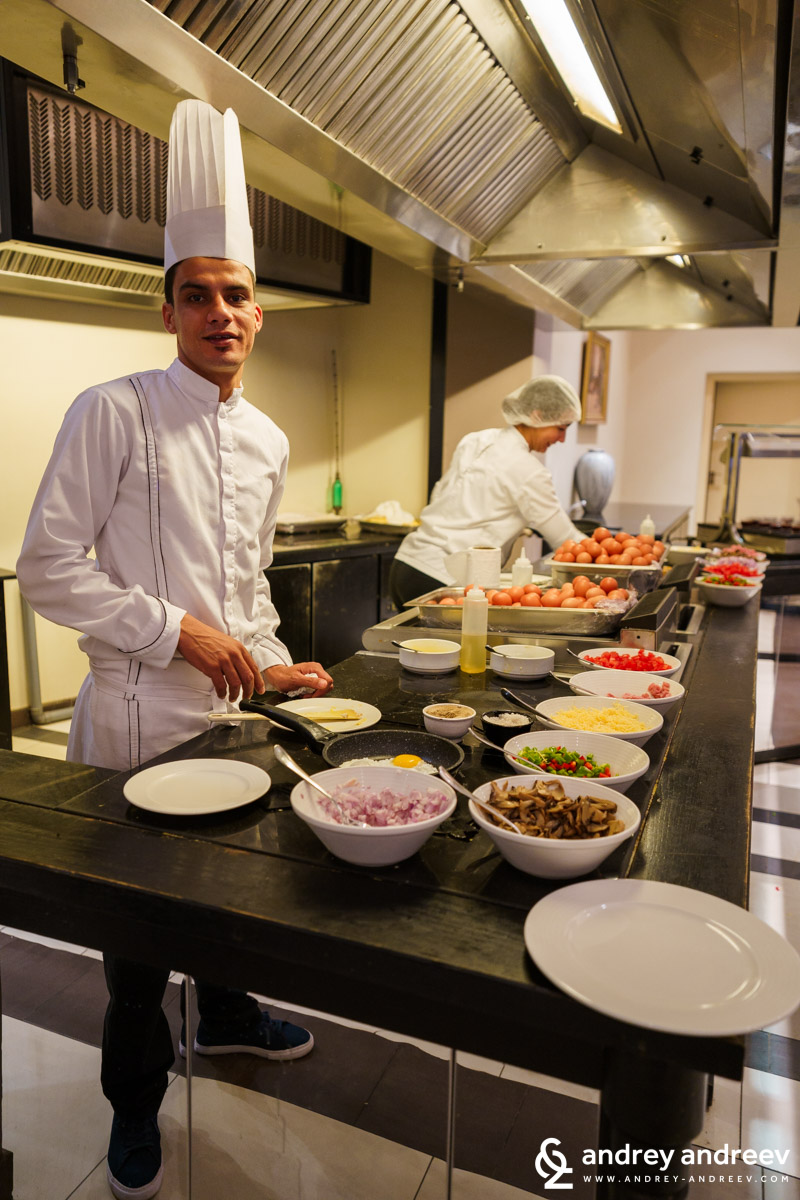 Lunch at Jamra restaurant
Hotel Movenpick Marrakech is quite a large estate with more than 500 rooms. One of the best things about this is that there are plenty of things to do within the complex. For lunch we sat at the Jamra restaurant, one of the 4 restaurants, a refreshing outdoor place by the pool.
Jamra Organic & Healthy Living is the full name of this restaurant and it perfectly corresponds to the character of the place. In the menu there are plenty of healthy and delicious offers for every diet – including vegan, gluten-free, dairy-free, etc. However, if you are strong fan of the junk food, there is a separate menu and they are also ready to prapere a burger for you, if this is your wish.
Healthy and delicious – mission possible
We opted for the recommended options from the healthy menu. We filled the table with vegetarian appetizers and calamari salad, the latter exclusively recommended by the waiter. Well, we also ordered a glass of wine, despite it was not quite in the healthy menu and wine is not a popular drink across Morocco. But up to us, a glass of wine enriches the good food so we decided to step aside of the local traditions and for a while return to the style of lliving we are more used to.
From the photos you will see that we enjoyed a wonderful lunch with fresh and quality local products. The good thing in this part of Morocco is that you can have wonderful fresh fish and seafood. Among the meat dishes, the most popular are chicken, beef and lamb.
Again we ordered different meals to try the more tastes and flavours. And we were all happy – Andrey with his chicken, Maria with her salmon and the other two of our company with the beef and vegetarian options.
From the desserts we tried the cheesecake and the carrot cake, which were also healthy. The carrot cake was gluten-free and sugar free and I think the cheesecake was dairy-free.
One very lazy afternoon
Many people would think we were crazy about what we did after lunch. We admit that sometimes we make weird decisions. But we rarely regret them. This time, despite we had only one full day in Marrakech, we decided to skip exploring the city. And spent a relaxing afternoon at the hotel. As we said earlier, there are plenty of things to do.
We had a short break after the meal and went to try the pools and the SPA centre. Mövenpick Hotel Mansour Eddahbi Marrakech has three pools, the largest one of which is heated during the colder months.
Relaxing time at the Ô de Rose Spa
In the Ô de Rose Spa we tried the jacuzzi, sauna and steam baths and booked massages. The spa centre is quite large so we could book 4 massages for our group at the same time. The offer a long list of spa procedures. We opted for classic relaxing full-body massage. We would probably try the hammam too, if we hadn't had full hammam a couple of days ago and another peeling would come too much.
We won't spend too much time describing the massage because it is something that has to be felt. We relaxed in the cozy room under the tender music and left our bodies in the hands of the experienced therapists. What is important is that we woke up refreshed, our bodies feeling light and spoiled. Many of the therapies in the higher-class spa centres in Morocco are done with products based on argan oil. Argan trees are endemic in Morocco and argan oil is a traditional product here. If you are spending more days in Morocco, you will notice the specific argan scent almost everywhere – in the bathrooms, in the hotels, on the streets and even in restaurants..
After the relaxing treatment we were served aromatic herbal tea and took a tour around the jacuzzi and the relax zone. Maybe we attracted some unusual attention because we were taking photos, but I bet that we were not the first ones doing this.
Later we decided to take some sunbaths by the outdoor heated pool but Maria got cold and we headed to our room for some more rest and a nice espresso, because the good espresso is a rarity in Morocco.
Dinner at Urban Brasserie restaurant
Urban Brasserie is another nice restaurant at Movenpick Marrakech and is philosophy is to offer amazing food combining tastes and flavours from around the world. Here the menu is also dependant of the supply of fresh and quality seasonal products. There are thematic menus every week and also daily offers.
During our visit it was probably the Italian week, we really have some spiritual connection with Italy. Andrey ordered the Caprese salad and Maria opted for an artichoke salad. On our table we also had pizza and bruschetti. And a glass of wine each, of course. It was refreshing to get a step closer to our upcoming trip through Bergamo to home on the following day.
For main course we ordered fish and beef steak, which were amazing but a bit too big for our capabilities. The beef steak was indeed one of the best such we have tasted.
Finally, we had almost no room for dessert. But we did our best to try. It was again Italian-style – affogato and cannoli.
After there last moments from our dinner our memories are a little blurry. Not because we got drunk or something, but because these were the last notable moments from our Moroccan adventuee. It was almost midnight and we hurried to the rooms to pack our bags and prepare to make the trip back home.
A bit more about Movenpick Marrakech
Mövenpick Hotel Mansour Eddahbi Marrakech is a 5-star hotel, located in the central part of Marrakech in the Hivernage district. The distance to the medina and central square is about 3-4k and takes about 40 minutes of walking. It is quick to go by taxi but bargaining with local taxi drivers was not such a pleasant thing for us so I think we prefer the walking. The estate is quite large, there are 7 hotel buildings, over 500 rooms, 3 pools, spa centre, yoga studio, kid's club and a yard with a lot of greenery.
The hotel is named after sultan Ahmed al Mansour, the sixth and most famous ruler from the Saadi dynasty, ruled from 1578 to his death in 1603. He is also know with the nickname Eddahbi – The Golden one. During this rule was built the El Bahdi palace, which is nowadays in ruins but is a popular tourist attraction.
Despite it is located in the city and it may look as a business hotel, Movenpick Hotel Mansour Eddahbi Marrakech is quite a good place for a family holiday, too. And also for traveller like us, who are always happy to discover new and unusual things but insist to have some quality relax, too. There is also a kids club with animators and baby sitting service. We, as a family, would happily chose it for a family holiday, if we have the opportunity.
And a final word from us. From the side it may look that staying in such hotel is a distraction from the most important task of travelling – exploring the destination, in this case Marrakech. However, for us it does not look quite like this. For us it was an opportunity to enjoy Marrakech in a way to keep good memories of it, without osing our sanity in the cultural shock.
---
A bite of Morocco in Sofia, Bulgaria
If you are not heading to Morocco soon but wish to try Moroccan cuisine, we can recommend a very nice place in Sofia, Bulgaria –
Annette Moroccan restaurant
. we have previously shared our thoughts about it
here
.
Follow us: Instagram and Facebook
---
If you are curious about Morocco, take a walk with us through all the places we visited in this country in our Morocco category.