Omodos village and the terraced vineyards of Cyprus
We are sitting on the veranda of our small stone house at the end of the village. It is a real palace for us and our children. Anna waters the hot stones under the sun and baby Adriana, our 6-months old, is singing something in her stroller. We are sitting on this cozy veranda, enjoying a bottle of well-cooled semi-sweet white wine. It might sound weird but Anna won the bottle for us the previous day. And the wine itself was described by Mike, a sommelier, like "pear soup". We admit that this pear soup was perfect for is in the heat. And now we will tell you about Cyprus wine and the beautiful village of Omodos.
May in Cyprus
After two days in Nicosia we understood what a Cyprus heat is. And we heard that it could be even worse. So we escaped in the Troodos mountains, some 800 m above the sea level. Of course, this retreat was planned because well in advance we knew where we wanted to be – somewhere where we can find Cyprus wine.
We have to admit that we were very skeptic about local wines. All the people we asked insisted that it was nothing special. However, we had to confirm or deny this ourselves, because we know that everything is subjective. So here we will tell you about our subjective opinion.
In May harvesting is finished in Cyprus, the coastline is full with tourists and the inside of the island also start to feel the heats. We took the highway from Nicosia to Limassol and then the curvy road from Limassol, some 40 km to the Troodos mountains. If you are reading this to plan your trip, mind that in Cyprus they drive on the left. However, everyone is very tolerant to inexperienced drivers in rented cars, so you will quickly get used to it.
While approaching Omodos, we thought it looked like a very beautiful village. The village appeared to the right of the curvy road, between the peaks of Troodos mountains. We left the main road and drove down to the village. There we were met at the public parking, from where we were taken to our home for the upcoming 4 days. Driving by the small sloppy streets we reached our house. And after a quick rest we went out for walk again.
The monastery of Omodos village
Omodos is a very interesting village. It was established around the monastery, which is now in its centre. It is believed that the monastery was established before the visit of St. Helen, who arrived in Cyprus in 327 AD after her mission to Jerusalem.
It is thought that during that mission was discovered the True Cross and she left a part of the Holy Rope and the Holy Rood in the church of the monastery. Then, after several miracle attributed to the relics, the monastery of Omodos became a great place of adoration. The monastery is named Τιμίου Σταυρού (Timios Stavros – Holy Cross).
According to another legends, the monastery was established after local people discovered a miracle cross in a cave on the site of the monastery.
A little bit about Omodos village
Omodos is a very popular place for tourists. It is situated near the large resorts and the city of Limassol and is a wonderful idea to diversify your beach holiday. At daytime it is full of visitors but in the night is very quiet and calm.
In the late Byzantine era and the beginning of the Frank Domination era inhabitants of nearby former settlements settled around the monastery. This is how the village of Omodos was created. The village itself is very beautiful, with stone fences and steep narrow streets. There are shady places where you can escape the summer heat and some nice restaurants at the centre of the village, near the monastery.
In the evening it is especially calm, quiet and cool there. And despite you can get bored if you stay there for too long, we were very happy to have 3 days to explore the wineries around and the several preserved painted churches of the Byzantine era, which are now in the UNESCO world heritage list (10 churches currently in the list).
We had settled in the Marios House (Omodos village houses). Well, we do not know who exactly Marios is, but the house was made of stone, in the typical style of the village and very comfortable. There was cold drinkable tap water and the house was exactly what we were looking for – a small island of peace, almost at the end of the village. If you decide to go to Omodos and spend some time there, we would happily recommend you this house. The houses on Booking.com, if you prefer to book this way.
The culinary Omodos
With kids who easily get overexcited and also get sick of travelling by car, we tried to spend our evenings and dinners at Omodos. On the central square of the village there are several restaurants. Taverna Kamara was recommended to us and it was a really nice family-owned place with delicious food.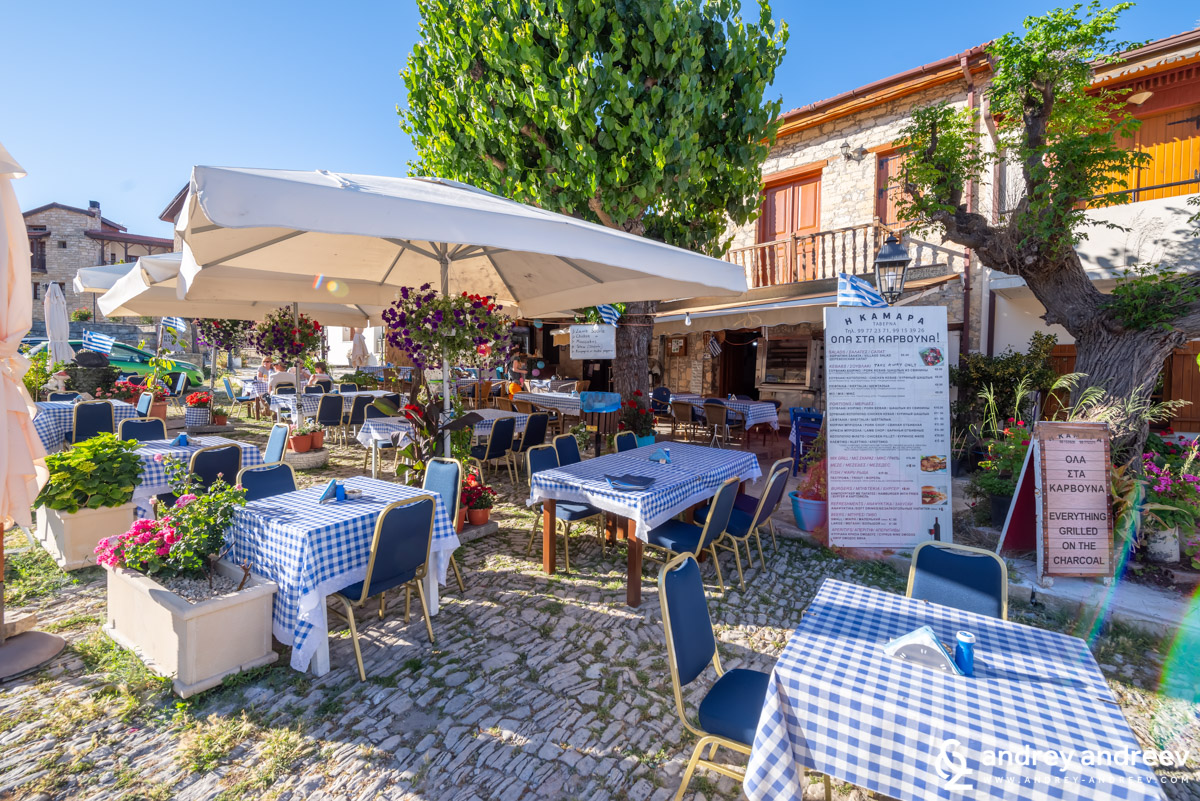 Arkatena bread
In Omodos, as on the whole island, you can taste several popular dishes with Greek or Turkish scent, but in their local Cypriot version. Among them are Cyprus souvlaki (pieces of pork or chicken meat, grilled on a skewer), Cyprus moussaka, baklava.. But the most typical local specialty is the Arkatena bread.
It is a bit sweet, a bit similar to rusk. The Arkatena bread is made by a little unusual technology, with leaven from chickpea fermentation. Then to the dough are added various essences, such as vegetal mastic (gum), cherry seeds), nutmeg, and rose water. It is baked like a usual bread in the oven, then left on air to make crispy cover. Then it is returned to the warm oven for a few hours to dry. This bread is usually made in the villages of Omodos and Koilani in Limassol district.
Soutzoukos
Another traditional local specialty is the Soutzoukos. At first we wondered what are these sweets, looking like dried sausages. Instead, the Soutzoukos are a traditional specialty in the wine-producing villages of Cyprus, like Omodos, and are made of grape mist. The usual Soutzoukos contain a nut in the middle, such as almonds or hazelnuts, covered with the grape mist, mixed with flour. This sausage-like delight is then cut into small pieces and usually served with Zivania – the local strong alcoholic spirit, a kind of brandy.
The wineries around Omodos
The magic of Omodos is not only in the cozy streets and old houses but also in the large areas of terraced vineyards all around the village and the many small wineries around. We started our story with wine and now we will take to our wine walk in the area. We had time to visit only two wineries because we had plenty of other wonderful things to do in the Troodos mountains, but it was a good start.
The local grape varieties are:
Xynisteri – a white variety, the most popular grape on the island;
Μαύρο – Mavro (meaning Black) – its name says that is is dark-coloured. An indigenous variety on the island;
Μαραθεύτικο – Maratheftiko – another indigenous variety for Cyprus;
Лефкада, a variety that was brought from the Greek island of Lefkada but started a completely new life in Cyprus;
Zivania
Zivania is the traditional Cypros brandy, the Cypriots are very proud of it. We cannot speak a lot about it because we avoid hard alcohol. However, it is a thing you should try. We tried it in the Oenou Yi (Οίνου Γη) winery.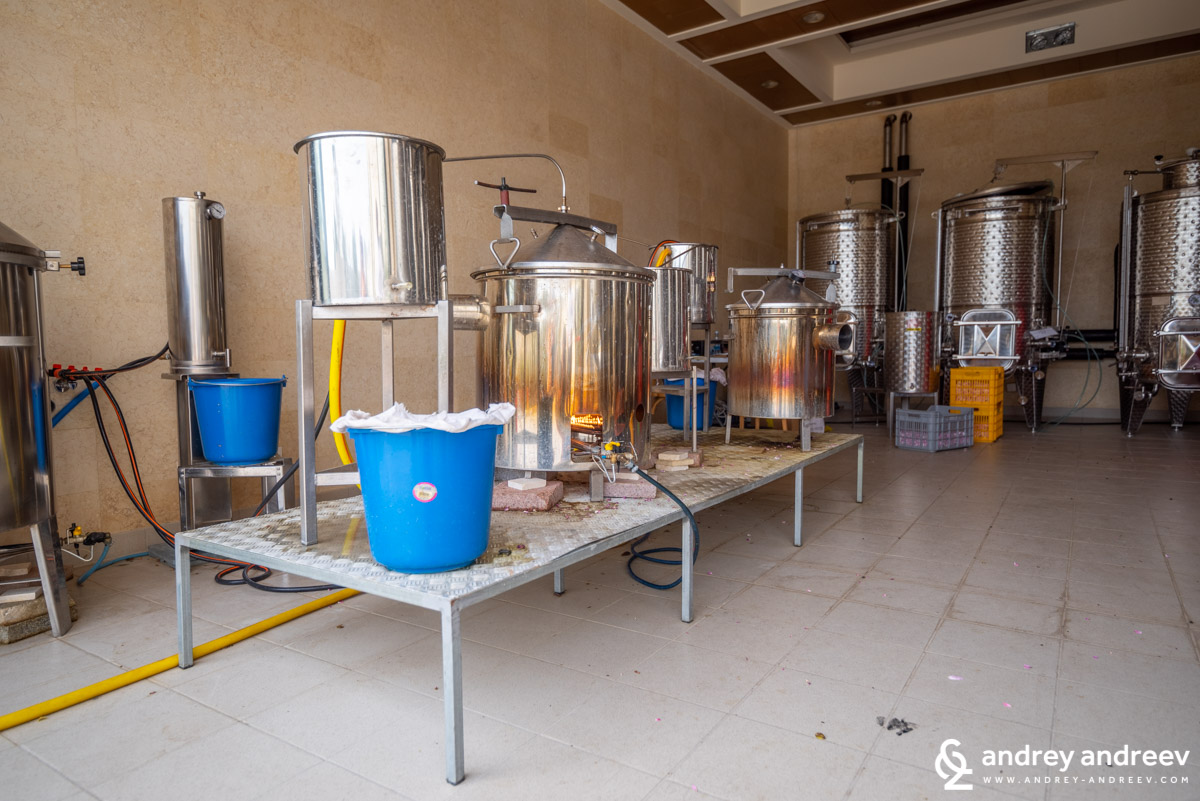 Οίνου Γη (Oenou Yi wine cellar)
While in Nicosia, we met Kostas, maybe the only real native Cypriot we met during our trip to Cyprus. Kostas is a very cool guy and is also husband of Sylvia, a very joyous and enthusiastic friend from Bulgaria. So this wonderful couple, after they showed us Nicosia, took us to Omodos, or actually about 200-300 m outside the village, to the new and luxury Oenou Yi wine cellar.
Here we met Mike, the sommelier and our guide through the world of Cyprus wine. Oenou Yi is a wonderful, modern winery, where you can taste really good wine. There we spent a very nice time, although at the end of the day the place was overtaken by a large Russian-speaking group and we were left behind.
How did Anna win the wine? Mike suggested that we play a game to keep her entertained during the wine tasting. He sipped her a glass of multivitamin juice and she had to guess at least five of the ingredients. She made 6 guesses, 5 of which correct. She is really good at tasting.
Commandaria – the oldest wine in the world
About this wine you will hear words like "The King of wine" and other cliches. But the truth is that commandaria is a very good wine. It is believed to be the oldest wine still in production. The name dates back to the crusades of 12th century, when knights Templars bought Cyprus. They really loved the locally produced sweet wine and even after they sold the island to Guy de Lusignan, kept a large feudal estate at Kolossi, where they continued to produce large quantities of wine. The area under control of Knights Templars was known as Commandaria. It is believed that this wine have been in production since 800 BC. Even ancient poet Homer wrote about it in his works.
Nowadays, Commandaria is a protected name of origin and is made only in 14 villages in Cyprus. The traditional Commandaria is made only by local varieties Mavro and Xynisteri. The grapes are let to overripe, then stay on the sun for a few months to dry. Finally, the wine matures for at least 3 years in oak barrels.
The taste is really royal rich, sweet and with smoky aromas. We became real fans of Commandaria. A month after our trip to Cyprus we met representatives of the Cyprus embassy in Berlin and were very happy to taste Commandaria again. In Cyprus we tried Commandaria at Oenou Yi winery – another thing we recommend without any hesitation.
Zambartas – a family winery in the area
We visited the family-owned Zambartas winery by recommendation from the Cyprus Agrotourism Company. It is one of the famous wineries in the area where you can also taste the typical local varieties. Unfortunately, we had missed the owner – Mr. Zambartas and his family. But the sommelier (from Romania) presented us the wines and the winery, while we were sitting on the cool terrace, overlooking the surrounding hills.
We visited Zambartas winery on a Saturday and it was a very busy afternoon. We are indeed used to the warm personal welcome in the small Bulgarian wineries. So you should better book your visit in advance to ensure that they can accept you.
A bit more about wine tourism in Cyprus
And now let's say a little bit more about wine tourism in Cyprus and why you could have second thoughts about Cyprus wine. Tour operators often take large groups of tourists from the seaside resorts for day tours through several wineries. Unfortunately, such groups quite often include not only wine lovers but mostly alcoholic tourists. Most of the wineries offer free tasting packages of their basic wines, which I would not recommend because they usually do not include a tour of the winery. So, in general, if you want to try something special and if you want it to be presented to you with proper attention, you should usually pay well for the higher-class tasting packages. And also arrange it well in advance to ensure you will receive the attention you need.
Is Cyprus wine good after all? Well, as we said in the beginning, it is a subjective matter. We discovered several wonderful bottles that will make us taste Cyprus wine again. Even now I am drinking a glass of commandaria and I am happy that I keep exploring wines wherever. Whether you will find interesting Cyprus wine that you like – we will be happy if you tell us!
Rural tourism in Cyprus
For our few days in Cyprus we visited several villages, really wonderful villages, with beautiful mountainous views, local crafts and other interesting things to see and do. We had previously researched the villages and contacted the local Cyprus Agrotourism Company. They helped us with the initial orientation and helped us to find accommodation. I would advise you to check their website and look for an interesting place for rural tourism in Cyprus or contact them if you cannot decide.
Travelling through the whole island of Cyprus is nice but I am not sure how is the question with the public transportation. We had
rented a car
from Nicosia and left it at Larnaca airport just before departure. Just at the airport there is a gas station to fill the tank before leaving the car.
A word about snakes
While going through the vineyards, Kostas advised me to be careful about snakes on the island. In Cyprus there are around 10 types of snakes, from which only three are poisonous and one is deadly.
The blunt-nosed viper (Vipera Lebetina) , the deadly one, is easily recognizable, because it is big, fat and can be met around water basins, where she cools in the heat. You can even find it in your swimming pool. Despite it is very dangerous and has contact with about 20 people yearly, there are no fatalities in the past 15 years.
So, the Cypriot Kostas jumped in the vineyards before me to protect me from snakes. Because, he said, snakes were afraid of native Cypriots. And was bravely walking before me to scare the snakes. Kostas is a big man.
---
---
Follow us: Instagram and Facebook
---