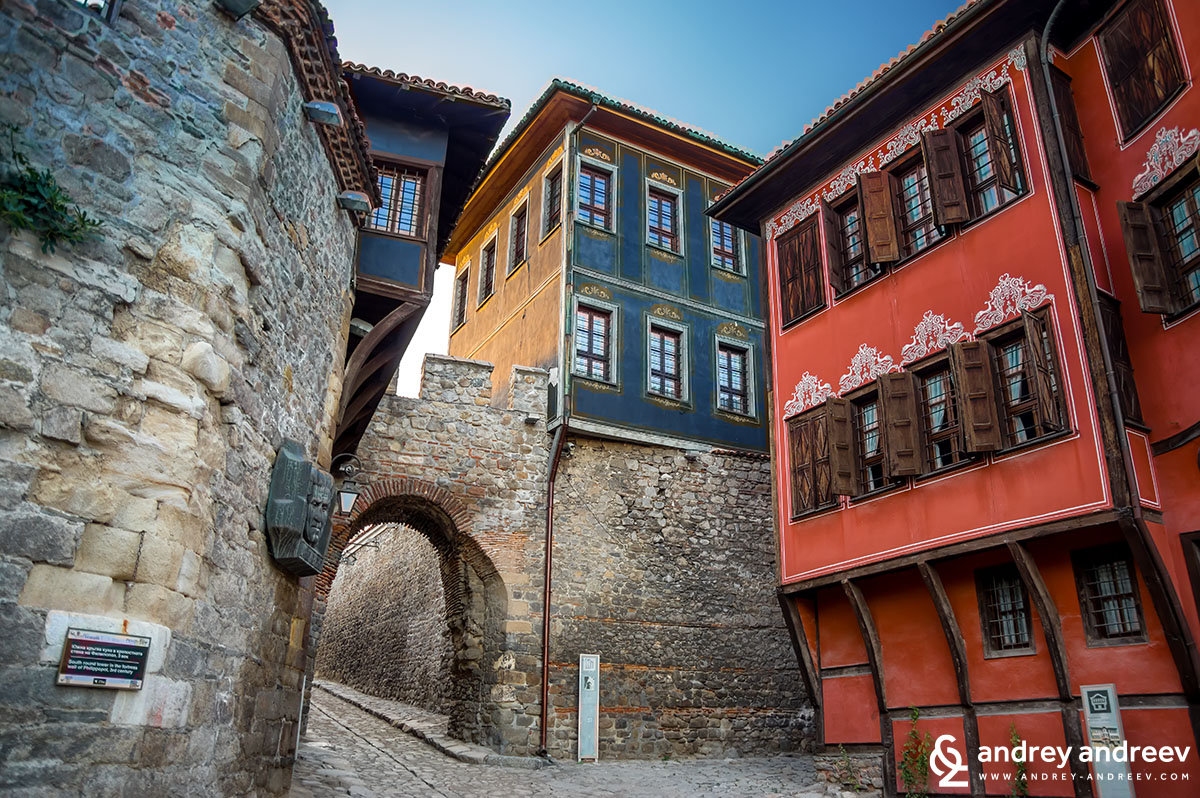 The most exciting places in Plovdiv, Bulgaria – the European Capital of Culture 2019
Тази статия може да я прочетете и на:

Български
Plovdiv is a wonderful city, the second-largest city in Bulgaria and European Capital of Culture 2019. It is a place worth visiting for a few days but I admit that we often go for just a day or two. This time is completely insufficient to explore all amazing places in Plovdiv but it still better than not visiting at all. Here are our suggestions what to see and do in Plovdiv in one day.
The Main Street (Glavnata)
Glavnata does not need any introduction. It stretches from the Trimontium hotel and the Central square through the ancient Roman stadium remains to the pedestrian bridge above Maritsa river in the north – almost 2 km.
This long and wide street is full of shops, cafes, restaurants, fast foods, fresh points, even a theatre. It also keeps the memories of thousands of local people and tourists – about wild nights in the clubs, or about calmer romantic nights, or even memoryless nights.
Everyone who has ever visited Plovdiv has a memory about Glavnata. It has been the meeting point of Plovdiv people for decades and today it is still a lively place full of people and emotions every evening. In the summer evening Glavnata is particularly popular – even at 11 pm it is crowded with people of every age – from babies in strollers to old men and women. During summer days it is a little bit lonely because it is so hot that few people would dare to take the walk.
A street full of history
Glavnata is so famous that it has its own page in Wikipedia (BG). It deserves its glory – not only because of the memories and emotions it keeps, and not only for the numerous coffee shops and restaurants. Today's pedestrian zone lies on the remains of the ancient Roman stadium. The stadium itself is a major attraction and a central part of Glavnata. Everyone interested in history and ancient culture can go down to the remains of the stadium, have a seat on the ancient benches, read about the story of this place and watch a movie projected down there. For the tired tourists there is a café just above the stadium where you can have a refreshing drink while enjoying this great site.
Note the buildings
Glavnata is also an open-air museum offering great views of the architecture of the 20th century. Most of the houses were built in the early 20th century and the architecture has elements of classicism, secession and postmodernism. Most of the buildings are now renovated and if you have some imagination you could successfully go back in time to the years when there were no phones, no internet, no cars, no TV and Glavnata was the only place for social and cultural life.
Glavnata is also a starting point to the other attractions of Plovdiv – the renovated art district of Kapana, The Old Town, Tsar Simeon's garden, etc. But if you had the walk through Glavnata, you might be already hungry. So were we and we decided to find a nice restaurant to have lunch.
Kapana – the heart of art in Plovdiv
Our story about Kapana should start from its name. The area is known like this since Ottoman times. Literally "kapan" means "trap", however the name of the district comes from a different thing. In the Ottoman empire they used the word "kapan" for marketplaces. And here is the reason. "Kapan" also means a weighing machine. And in the past such machines existed usually around marketplaces. The current district was formed between two markets, surrounded by workshops. They were known as Un Kapan ("un" means "flour" in Turkish) and Buyuk Kapan (Buyuk – big). So later the whole district became known as Kapana.
A district named Unkapani you can find also in Istanbul, Turkey.
Kapana has been a craft district since 15th century. It formed around Kurshumhan, the largest caravanserai in the city. It was named after the lead tiles on its roof ("kurşun" in Turkish means "lead"). And the streets were named after the different crafts being practiced – Zlatarska (the Goldsmiths' street), Zhelerarska (the Smiths's street), Kozhuharska (the Furriers' street). Today there are mostly cafes and bars on these streets but also some workshops and shops for hand-made stuff.
In 2013-2014 Kapana was renovated and turned into an art district, home for many craftspeople and art events. Before this is was quite a neglected place where it was not difficult to get lost, even if you were a local. However, nowadays Kapana is quite a neat and clean place and it is not impossible to get lost there, but you would be happy to get lost among all the cafes, restaurants, workshops, etc.

Lunch in Kapana in Plovdiv
Tourist guides strongly recommended Hemingway restaurant, located in the beginning of Glavnata, in front of the fountain. At first we did not like it and decided to look for another place. However, this appeared to be a wrong first impression because later Heminguay became one of our favourite restaurants in Plovdiv. Anyway, we passed one or two other restaurants and finally found ourselves behind the mosque in the lovely district Kapana, with is a wonderful pedestrian zone with many bars, coffee shops and sweet houses.

Restaurant "Amsterdam" is located just behind the mosque, almost on Glavnata but in Kapana at the same time. It is located on a quiet pedestrian street and offers a nice and interesting menu, different from the traditional menus in most Bulgarian restaurants which are mostly serving ready-to-cook food. It proved a delicious place with wonderful service and we had a long lunch before we continue our walk. Another "bonus" is that it is located on a pedestrian street which is very convenient if you are visiting with small children, who you can let run around freely.
Coffee in Kapana
I could write and talk about Kapana a lot – maybe even more than about Glavnata, In 2013-2014 it was renovated and became the Kapana Creative District, hosting many art festivals and workshops. Once Kapana was neglected and full of cars but today it is a lovely pedestrian zone where you can have a quiet walk and even leave your kid play unattended.
After the exhausting walk in the heat we were determined to have a fresh or lemonade and settled comfortably on the orange chairs in one of the sweet houses inn Kapana. The girl showed us the freshest cakes and squeezed the lemonade just before us.
Kapana caught us in its trap and we didn't want to leave it for a long time. We shared the opinion that it looks like the Ukrainian city of Lviv and the Old Bazaar in Skopje – both places with a lot of energy and history.
Kapana is a very dynamic place, changing constantly and also changing the people who visit it. There are places that are now only a memory in our blog, but many new exciting shops and cafes have opened. 
I can write about Kapana more and more but no matter what I write, you should really go there and feel it. So let at least 30 minutes for a coffee there if you do not have much time.
Sunset in the Old Town of Plovdiv
The Old Town is one of the main attractions of Plovdiv, together with the Roman remains. It stretches on three of the hills in Plovdiv – Nebet Tepe, Dzhambas Tepe and Taksim Tepe. It is suggested that Plovdiv is one of the oldest cities in Europe, together with Troy and Mycenae, older than Rome and Athens. It is thought that people first lived here 8000 years ago. In ancient times it was inhabited by the Traces who built a sanctuary there. The first fortress walls were built by Phillip II of Macedonia. From the Roman times are preserved many structures like the Roman Stadium, Roman Theater, ancient Forum. When Philip II invaded the city its name was changed to Philippopolis. The city was quite famous in the ancient world and the Greek writer Lucian called it "The largest and most beautiful of all cities".
The Ancient Theatre in Plovdiv was discovered during archaeological works in 1978 – 1979 and is one of the best preserved ancient theatres in the world
Apart from theatre performances, it is believed that the venue was used for gladiatorial and hunting games. Remains of safety facilities in front of the first row have been uncovered.
The times of the Bulgarian Revival
Today the ancient glory of Plovdiv lives next to the memories of other ages, most notably the times of the Bulgarian National revival in 19th century. A notable part of today's Old Town are exactly the houses with traditional Bulgarian architecture, bearing the spirit of the Liberation war (1876-1878) and the decades before it.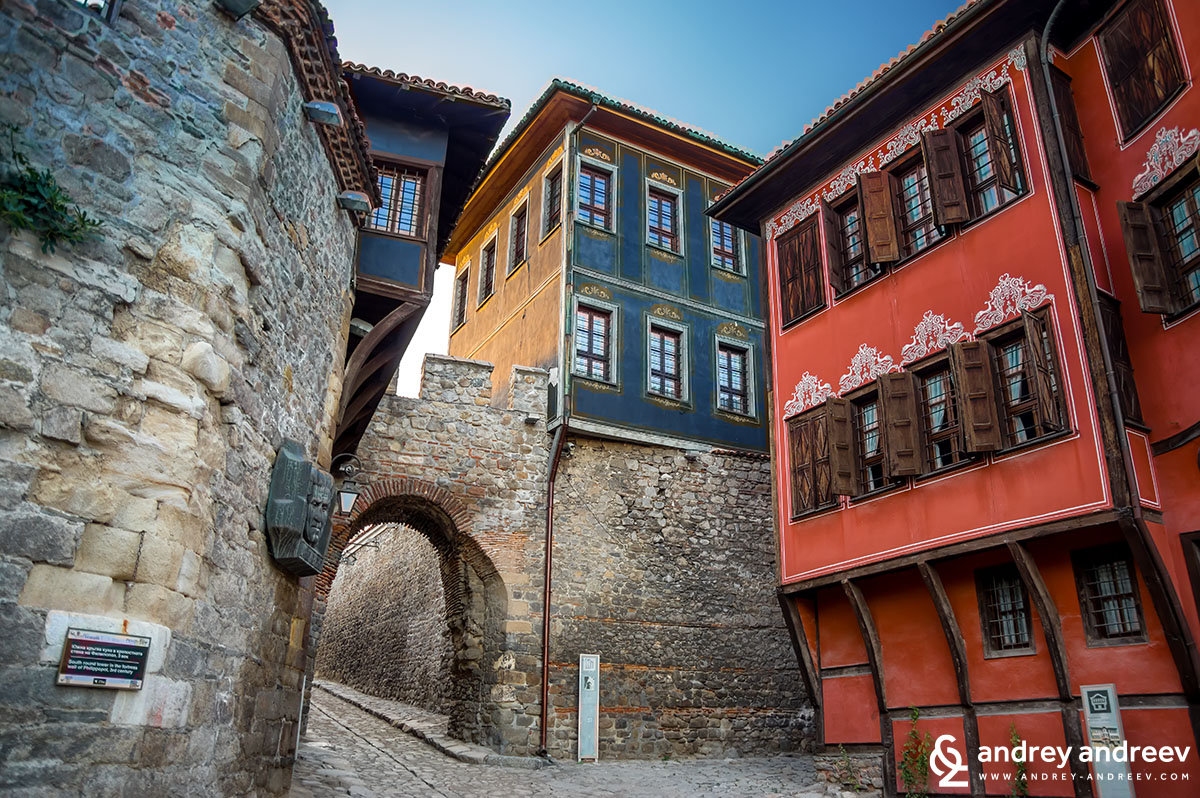 I can write a lot about the Old Plovdiv but it is again a place that needs to be visited and cannot be described thoroughly. To feel the atmosphere best you might want to stay in any of the numerous hostels in the Old Town. Plovdiv is maybe the city with most hostels in Bulgaria.
Tip: Free Plovdiv Tour
Tourists who are interested in such attractions need to let enough time. Maybe a whole one day in Plovdiv or even more are needed to explore the Old Plovdiv. One of the best ways to see the Old Town is taking the Free Plovdiv Tour. During our walk we met the group of tourists led by a nice girl a few times. She was always telling something very interesting about this beautiful place.
The Children Railway
If you went to Plovdiv with a kid, one of the funniest places to take it is the Children Railway. The small train goes around the Youth hill on real rails, over bridges and under a tunnel. Once there were even real train stops where children could get on and off. Today there is just one station from where the train starts its journey. The ride lasts about ten minutes to Panorama stop and then turns back. Children's songs are being played inside the cars and the kids are really enjoying the experience. The ticket is just 1 lv. (Google Maps)
Dinner on Glavnata
Tired of walks, trains and coffees, we wanted to have a nice dinner in central Plovdiv. This time we decided to give a second chance to "Hemingway" and it did not disappoint us. It proved to be a wonderful restaurant with delicious meals and perfect service. And again located on a quiet pedestrian street where our daughter was playing free. Later we asked some friend to recommend a nice restaurant in Plovdiv and they recommended exactly "Hemingway". /Location/
Dining in Kapana
One of the trendiest places for dinner in Kapana is Pavazh, on Zlatarska Street. The restaurant is always crowded with locals and tourists and offers delicious meals. If there is not a free table at the moment, you could leave your phone number and get a call as soon as one is ready for you. The meals they will suggest for you are the pork ribs and the veal. Pavazh is a place worth visiting at least once.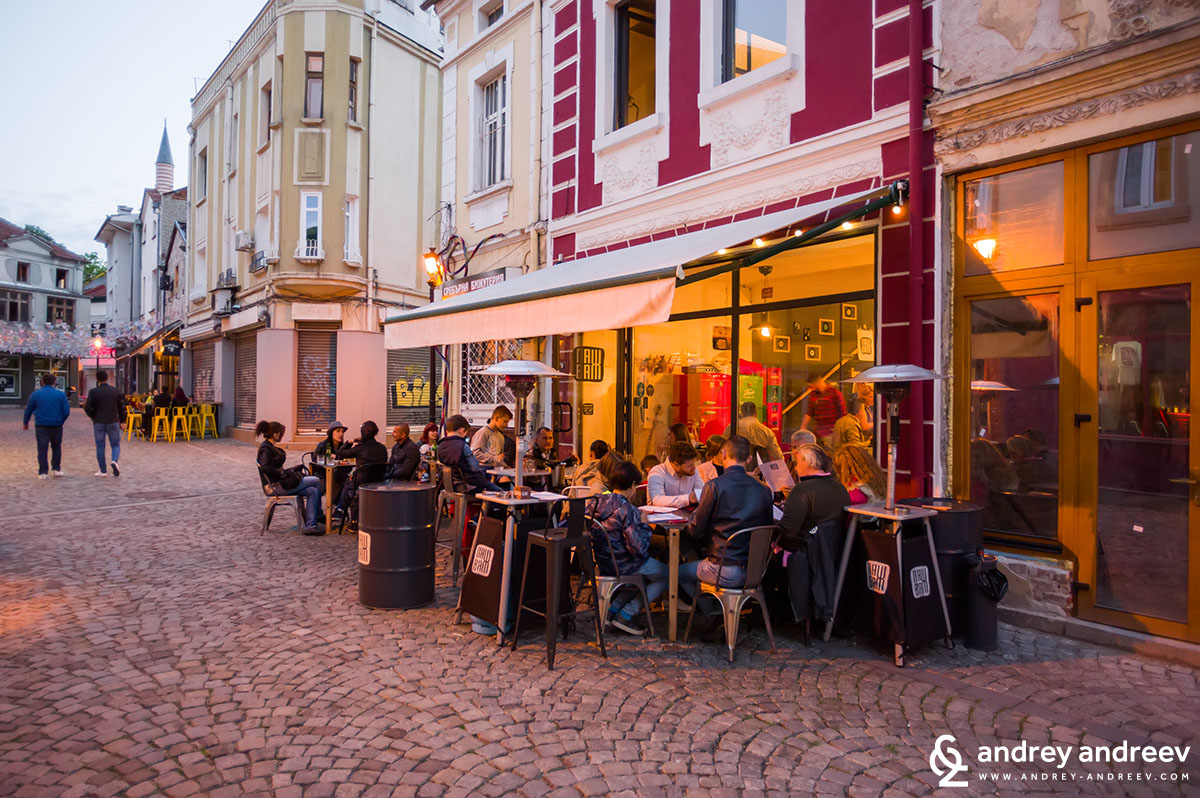 How long do we stay in Plovdiv?
If you have decided to visit Plovdiv as a tourist, you made the right choice. I would recommend you to allow enough time, just one day in Plovdiv is too little to enjoy. Exploring the Old Town could take hours, Kapana too, especially if you are tired and want to just sit, drink beer or coffee. You will definitely get tired after passing by the whole length of Glavnata. Walking around the city, you will definitely find many other interesting places. So even if you stay there for a few days, you will not get bored.
So for your trip to Plovdiv take a few days, if possible. Another good feature of the city are the numerous hotels and hostels with very good prices. We stayed in a 4-star hotel near the city centre for just 30 EUR a night for a double room. If you prefer a hostel, they are much cheaper and many of them are located just on Glavnata. If you are travelling by car, you might not want to stay in the centre. It is a pedestrian zone and you will have trouble parking.
Whatever you choose, Plovdiv will not disappoint you. Winter there is much warmer than in the other Bulgarian cities. But in the summer you should be careful because Plovdiv is one of the hottest places in our country. If you have a few days, you will definitely not get bored. If you have just one day in Plovdiv like us, you will absolutely want to go back soon!
How to reach Plovdiv
There are regular trains to Plovdiv from many cities and towns in Bulgaria. From Sofia to Plovdiv by train it takes about 2 hours. Check the schedule here. There are also regular buses from Sofia Bus Station.
A very convenient way of reaching Plovdiv is by shared shuttle or organinzed tour. We are partnering with two travel companies to provide you a discount for their tours.
You can also use the discount code for several destinations from Sofia. See full list: Get discounts for day tours from Sofia
---
---
Read more about Plovdiv
---