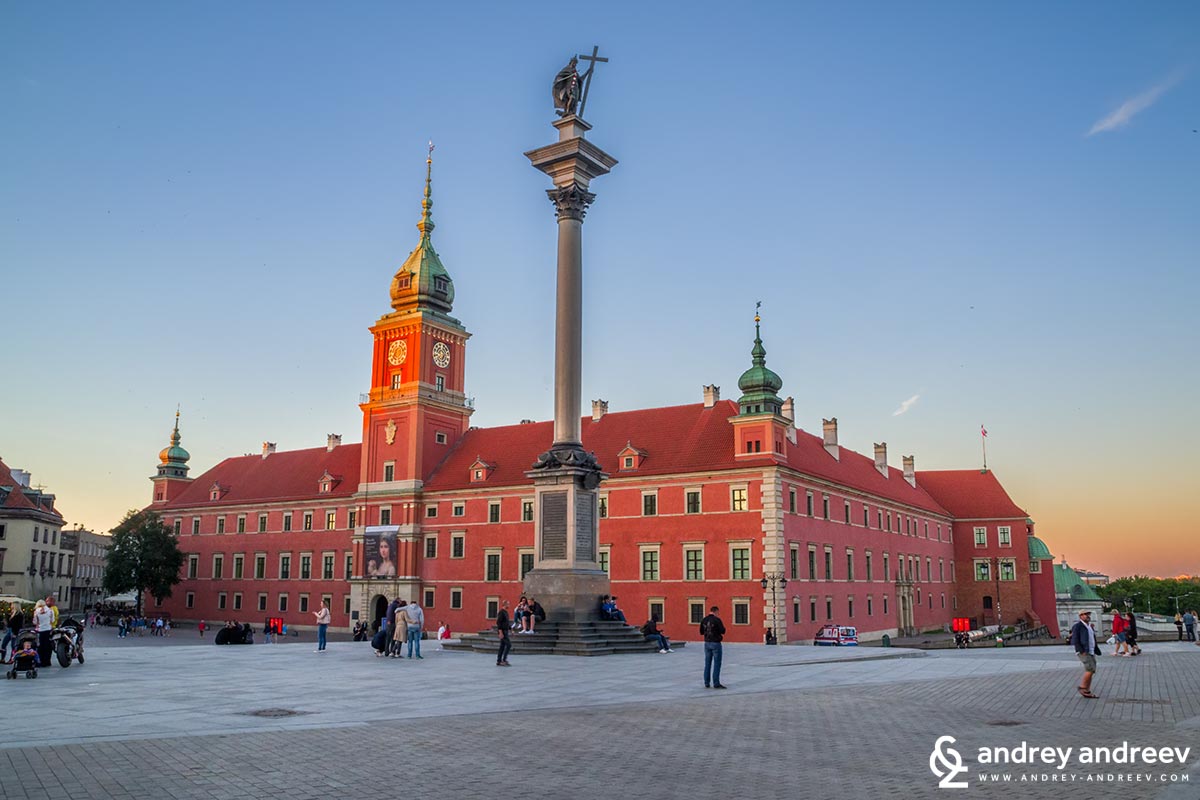 A brief Hello to Warsaw, Poland
How to spend a 13h layover in Warsaw in the best way on a Wednesday
We spent some time wondering whether to write about this little stop for just one day in Warsaw. However, this is our blog where we write about our things, so why not! So, it all started with our trip to Estonia. It was a really amazing trip, very interesting and emotional. However, it included some layovers and we don't like them at all. It takes endless minutes and hours on boring airports, spending enormous amounts of money for small but expensive things like water and drinks. And the enthusiasm of the upcoming holiday just fades away.
This happened to us on our way to Estonia – with a boring 4-hour transfer on a very early morning. However, the trip back was another thing. We checked our bags straight from Tallinn to Sofia and enjoyed a 13 hour layover in Warsaw on a sunny Wednesday in June.
Why Wednesday?
Every museum in Warsaw has a free-entrance day once a week. And Wednesday is the day of the Royal Castle in the Old Town of Warsaw. We rarely manage to plan our things in advance but this time we were able to adjust it so Voila! – we had a perfect plan and opportunity to spend a wonderful one day in Warsaw. And we could also use the case to tell you more about Warsaw, which is sometimes underestimated as a travel destination.
The easiest way to reach the city from Frederik Chopin airport is by bus 175. It stops just next to the exit of the airport and its last stop is in the Old Town. It is a long journey – maybe an hour on a busy day, but you can see many landmarks in the city centre. You can buy tickets from the airport or inside the vehicle where you can pay with credit card. We opted out for daily tickets because distances in Warsaw are large and walking can be long and tiring. The daily ticket costed about 4 single journeys so it made perfect sense.
The new Old Town of Warsaw – a UNESCO world heritage site
We got off at the last stop of bus 175 which is next to the Old Town. We had no strict plan and we were actually tired of so many emotions and new things. So we decided to get to know the city slowly and without stress. In other words, to enjoy a lazy sunny one day in Warsaw.
[mapsmarker marker="229″]
I think that sometimes we do not appreciate it, but the most valuable thing in contemporary Europe is that wars and suffering are already a history in the area. We all have been taught that during World War II Warsaw suffered in a way we could never imagine. If you see photos from before the war, you will notice that not a single building in the old town has survived.
So the Old Town was rebuilt after the war and the current one is actually quite new, a copy of the old one and still very beautiful. It still keeps the spirit of passed centuries and of course it is full of tourists. We initially stayed on the large square in front of the red Royal Castle, enjoying a performance of traditional Polish music. We were not in a hurry and actually had plenty of time to enjoy the moment.
Polish performers in front of the Royal Castle
Maria taking photos of performers in front of the Royal Castle in Warsaw
Since 1980 the historical centre of Warsaw is in the UNESCO World Heritage list.
The Royal Castle in Warsaw
As we mentioned in the beginning, the Royal Castle is entrance-free on Wednesdays and a must-see place if you have only one day in Warsaw. Of course, not without the queues at the front door. In the morning we collected our free tickets (yes, you still need to take tickets) and continued our walk through the old town. This proved a very good decision because around noon the queue of student groups was gone and we took our time around the castle.
So we left our bags in the storage area and only took Maria's smaller camera (Olympus Pen-F) that was quite more compact and easy to carry than mine. And started our slow tour around the castle.
History of the Royal Castle
The castle was built between 1598 – 1618 for Polish king and Grand Duke of Lithuania Sigismund III Vasa, ruler of the Polish–Lithuanian Commonwealth that existed between 1569 – 1795. It ended tragically at the end of WW2, when Nazis destroyed it together with a large part of Warsaw. The place of the castle stood empty until 1971 when the parliament decided to rebuild it by photographs and survived elements. In 1984 the museum opened to the public and the reconstruction finished in 1988. Nowadays you can see holes for explosives in some of the survived parts of the building.
The walk around the Royal Castle is very interesting and pleasant. Royal bedrooms have also been restored. Moreover, you can enjoy amazing works of art, including those of Rembrandt and Matejko. For me one of the most interesting halls was Canaletto.
Canaletto hall
In this room you will find 22 paintings signed by Canaletto. But this is not Giovanni Antonio Canale, the Italian artist who mostly painted Venice, but instead his pupil an nephew Bernardo Belotto who borrowed the name Canaletto. Bernardo Belotto was also a very talented artist. He painted numerous of works in the 18th century showing the look of Warsaw at that time. Bernardo Belotto was also a royal painter for King Stanislaw II August from the beginning of his reign till the end of the artist in 1780.
In the Royal Castle you will find many more paintings, statues and other works of art. We told you just a little piece of it and now we will take you to a walk around Warsaw.
The fortification walls of Warsaw
We are jumping through our story about Warsaw because we actually started our walk with the fortification walls in the capital of Poland. Or at least what is left from them. On the walls you can clearly see the border between the authentic ruins and the restored ones.
So we reach the Warsaw Barbican. Barbican is actually a defensive structure – a fortified outpost or gateway, such as an outer defense to a city or castle, or any tower situated over a gate or bridge which was used for defensive purposes. The Warsaw Barbican is not the largest in Poland nor the best preserved. However, it is red and beautiful. During WW2 it was almost completely destroyed. After the war, the government decided to rebuild it using sketches from 17th century. For its reconstruction they used bricks from historical buildings in Wroclaw and Nysa.
The largest barbican in Poland and also well preserved is the one in Krakow dating from 15th century. Krakow itself is a wonderful city that I advise you to also visit. I have been there once, in a cold October day in 2008 and I still keep great memories.
Nowadays, around the barbican you will see many artists selling their works, as well as lots of tourists. If you enter the inner part of the old town, you will soon reach the central square. Once there was the market and nowadays you can enjoy cafes and restaurants as well as the pleasant feel of the old buildings around.
From here we headed to the large boulevards, surrounded by huge building, looking for a place for delicious lunch. It was not a bad lunch but we had an even better dinner about which we will tell you about later. Now, if you want to keep exploring the Warsaw tourist attractions, check the article of our friend and fellow blogger Eli from Drumi v Dumi. Otherwise, join us to our leisure trip across parks and riverside.
Lazienki park – the best place for an afternoon nap (and not only)
Lazienki park is the largest park in Warsaw and probably the most beautiful one. Even before we landed in the city, our local friends advised us to go there both for rest and sightseeing. There are plenty of attractions around the park, including several palaces, a Roman-style amphitheater and many smaller buildings now turned into museums.
But let's tell you what we did in Lazienki park. Actually, not the most common thing a couple of first-time visitors would do.
So, we headed to Lazienki park after lunch with the tram from the city centre. It was a good idea to take the tram because distances in Warsaw are really big and what looked a block or two of walking would probably take us an hour to walk.
So we entered the park near the Belvedede palace, which we did not visit. Our initial idea was to have a sit on a bench and have some rest and then walk around the palaces and other attractions. Instead, we discovered a quiet lawn with free public sunbeds that we immediately utilized for our afternoon rest.
The fish in Lazienki park
After the nap we took a small walk around the park to do some sightseeing. Weirdly, one of the things that stunned us were not the palaces but instead the large fist in the channels and lakes of the park. I don't know whether they were trout or something else but they were definitely at least 40-50 cm long which for us looked amazing for fish living in a dirty park channel.
Then we walked by the amphitheater that remembers old Greek and Roman style. However, there is nothing authentic Greek or Roman about it – it was erected in the late 18th century.
Lazienki palace or the royal bath
From the amphitheater you can see the main sight in the park – the Lazienki palace, know also as the Palace on the Isle. But let's go a little back to the name of the park. Lazienki park means the "bath park". Just because the first important building here was a royal bath in the 17th century, built by local nobleman and politician Stanislaw Lubomirsky.
Later the building was bought by King Stanislaw II August who decided to turn it into a summer residence. A large part of Lubomirsky's bath was actually preserved, but also new royal facilities were added. The palace was one of the few notable buildings in Warsaw that survived the WW2. It was also meant and prepared for destruction but it never happened.
We can't tell you much about the interior of the palace because we did not visit it (as we said, we were busy napping around). However, if you are enthusiastic, the park offers many wonderful sights and museums.
A sunset walk around Vistula River – a calm dinner with pizza and ice cream
I think we finished for now with the parks and kings of Poland. From here we headed to Vistula river, together with our local friends and guides Olka and Rafal to finish our one day in Warsaw as locals would do. Olka was enthusiastic to show us the places where contemporary life is taking place. We were more than happy to be shown the areas with cafes and restaurants around Vistula promenade.
We may never stop complaining about how long distances in Warsaw are. The public transport was very useful indeed. However, we decided to walk to the river which took us maybe an hour and were impatient to find a nice place to have dinner. And here it was – pizzeria Dwa Osem. I have no idea what the name means but we loved it.
Until recently there was traffic flowing along the river promenade. However, it is now a pedestrian zone, full with wonderful youth places. The restaurants might look unpretentious but are actually not cheap at all. However, all of them offer wonderful food.
Delicious Neapolitan pizza
Delicious Neapolitan pizza, a bit too hot
We had wonderful Neapolitan pizzas, watched the young people having fun in the local skate area and became lazy again. Just by the pizzeria there was an ice cream stall and we could not miss it, of course.
Praga district
Olka insisted to show us Praga, a quarter ow Warsaw just opposite to the Old town, on the other side of Vistula river. The name of the quarter came from the word prażyć which meant "burn". It is said that one on that place there was a forest burned in order to make space for the new town. First notes of Praga date back to 1432. In the later centuries Praga was an autonomous town, separated from Warsaw. In 1791 King Stanislaw II August joined is as a borough of Warsaw.
There are many facts about Praga but let's come back to its recent history. In WW2 the district was less damaged and during Socialist times it was an area of factories and industrial life. In the recent years it is developing as an art district, together with many restaurants and cafes. And becomes more and more popular to live in.
Feeling Warsaw
We did not feel like tourists during our one day in Warsaw. We were more like lazybones than travelers. However, we spend the 13 hours in the Polish capital just the way we wanted to – without stress, without plan and looking for nice cafes and restaurants instead of tourist attractions and museums. Our local friends were also surprised of this behaviour and how could we spend a whole afternoon in an unknown city sleeping in the park. Now we don't know whether Warsaw is worth for tourism but we definitely know how to spend wonderful leisure hours there. And this has always been the most important in our trips.
Follow us: Instagram and Facebook
---