THE POSITIVES OF THE OVERBOOKED FLIGHTS: ONE LONG JOURNEY FROM BERLIN TO SOFIA
Friday, June 28, we are running through Berlin to the main train station (Berlin Hauptbahnhof). Some protest blocked the route of our bus to the Tegel airport and our time quickly melts. We do not know Berlin well, but one very kind lady from Frankfurt, working for Bosch, helped us navigate through the city, bypass the blocked roads and reach the train station from where we are supposed to take another TXL bus to the airport. However, the road is still blocked and we start to wonder what to do and whether we should stay another night in Berlin. Well, that day we did not make it to Sofia. But it was not because the protest in Berlin, but because of another thing that happened in Vienna.
Berlin – will we catch the flight?
Despite the roadblock, the organization in Berlin was perfect. While wondering what to do, we heard a bus driver near the stop at Berlin Hauptbahnhof to call "For the airport!". So we headed to the bus, jumped on and started counting the minutes to our flight. We arrived at Tegel airport in the last minute before they closed the baggage drop desk. A little bit more running, because we are not familiar with the airport either. We were there just before they close the business class desk and despite we were not business class, they still agreed to check in our bags. Great, a minute for a deep breath and we settle in the waiting area for boarding the flight to Vienna.
In this story we will not speak about the airline, despite it deserves a good word for the professional attitude. But we will tell you the story because it can happen to anyone. And it is not a complaining, not actually a boasting either. It is a funny story from real life and we decided to share it because maybe you, just like us, dream of being paid to prolong your vacation. And it can really happen to you some day.
Friday afternoon in Vienna
We travelled from Sofia to Berlin via Vienna with Mimi, where we attended a wonderful political party – the Stallwaechterparty. We do not have a lot in common with politics but the people who we met there were wonderful. Our trip to Berlin was brief but we were happy about the 24 hours spent there. Our kids were waiting in Sofia, it was Adriana's first night without us.
We landed win Vienna, crossed the airport, found our gate and went shopping. Our flight was one hour late and I did not pay much attention to what they say on the speakers in the hall.
At the same time, I was joking on social media with a friend in Vienna who asked whether someone would drink beer with him. His name is Plamen and I really like seeing him. When we were younger and with less kids, we liked to make appointments on the airports across Europe and then travel together to somewhere else. I miss those years but now it is even better. Indeed, he told me they were expecting their first child on one such meeting in Barcelona.
Three volunteers needed..
I wasn't listening but Mimi was: ".. the flights is overbooked, we are looking for three volunteers to spend a night in Vienna..". It is a usual policy of airlines to buy more tickets than they can accommodate on a plane because it often happens that someone is missing his flight. However, it was 28 June, the last schoolday in Austria, and everyone was heading to a holiday or just to see the family in Bulgaria. No one had dropped from the flight.
Maria is trying to explain me, I did not get everything from the first time but we quickly moved to the desk to ask about details and volunteer. It did not take us too much time to make the decision, we decided that the kids can survive another night without us.
What happens, when your flight is overbooked?
If a flight is delayed more than 3 hours by the airline's fault, or is cancelled by the airline, or overbooked, you are due a compensation. It depends on the distance of the flight. For flight up to 1500 km is 250 EUR, from 1500 to 3000 km is 400 EUR and over 3000 km is 600 EUR. You can check all your rights as an air passenger here on the EU website.
The good thing about overbooked flights is that the airport personnel usually first try to find volunteers for another flight. Otherwise, they should force someone and deny boarding, which is not good at all, especially if you have important work to do. However, if you are not in a hurry, it can be a great opportunity.
Here is what we were offered:
From the airline: 250 EUR compensation (on a pre-loaded credit card) which we could withdraw the next day; an accommodation in Vienna with dinner; transfer from and to the airport; breakfast in the hotel; another flight to Sofia the next day.
Requirements: we had to wait until boarding is finished and the last passenger has boarded. If one free seat is left, one of us had to go. This almost happened to the third volunteer who was asked to board to bus to the plane but the main passenger arrived in the last minute.
The bags: If you have checked-in bags, there are two options. You can ask to take it but it can take a few hours to be found and withdrawn from the airport. Or you can just ask them to check it for your next flight and survive one night without baggage. As we did. Luckily, we were offered overnight kits, containing all you need for the night – a t-shirt, toothbrush, basic toiletries.
One night in Vienna
With an hour and half delay the plane departed. I am not sure whether my parents understood what was happening when I called them to take care of the kids for another night. Then we were sent to the next desk to arrange the night and the next flight. We were initially offered a flight through Istanbul at 7 am or 3 pm. We were happy with the afternoon flight so we queued until our turn came to arrange the details. Not surprisingly, we were not the only people in such situation.
The next flight
It appeared that they were unable to book us the afternoon flight and we were unhappy to fly at 7 in the morning. So we had for us arranged another booking for the afternoon, but for a direct flight. We sent the baggage straight to the next flight to Sofia.
250 EUR compensation
The compensation was paid to us by a pre-loaded credit card. (Actually, the card is loaded within 24 hours after you receive it, so it takes some time). According to the terms, the first two transaction are supposed to be free of charge. However, I would advise you to withdraw the money in the county where you received the card, if possible, because it may not be free in another country. For example, in Bulgaria the fees were quite big and we lost some of the money. Maybe if you are within the euro zone it may not be as expensive to use the card.
The black limmo
We exited the airport and headed to the desk of the transfer company (one with smiley faces on the logo). The driver immediately took us to the black Mercedes and we headed to the city centre of Vienna.
The hotel in Vienna
It was a wonderful 4-star hotel, just next to the Belvedere Palace and very close to Vienna city centre. I strongly recommend it, here is a link for it. The restaurant at the hotel was cozy and romantic and the service also very good. Food was wonderful, a three-course meal with an included drink.
My friend Plamen called me just when he passed by the hotel, about 10 pm. He said he was going home after a football game and we agreed that we should meet in the morning. Plamen is a very cool guy, the next day we met him and his son Gogo and ate ice cream. After this, at 13 h on Saturday, the black Mercedes came to pick us again for the airport.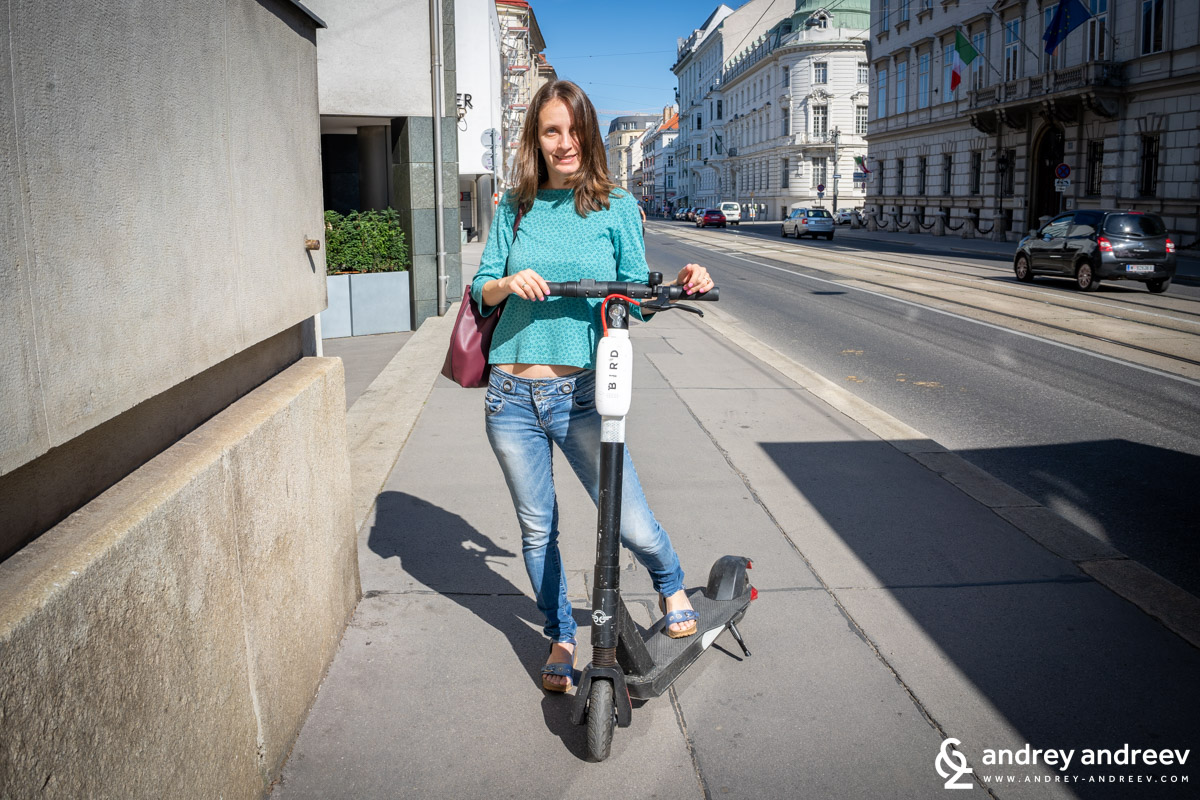 Saturday at Vienna airport
"The flight from Vienna to Sofia is overbooked..
It is a deja vu now and we are hesitating what to do. Maria has to go home beacause the kids need their mother. However, I could stay and "work" for another night, so I agree to fly at 10 am the next day. Maria goes, our checked bags go with her, I take another overnight kit and head to the smiley faces of the transfer company.
This night I am staying next to Schonbrunn Palace, my favourite place for walks in Vienna. I greet the sunset in the park, eat an almost mediocre dinner in the hotel, but drink Austrian beer. The hotel room is nice, I wake up early in the morning. the breakfast in the previous hotel was also better than this one, so I still recommend the hotel next to Belvedere palace, where Maria made herself a fresh waffle. The Mercedes came to pick me at 8,30 am.
Sunday at Vienna airport
On Saturday I had met two fellow Bulgarians who wondered what an overbooked flight meant. Then I convinced them that they would like it and indeed they had had a great time at another hotel. One of them had decided that if that happened again today, he would volunteer for another night. The other one had business on Monday so he needed to fly. So, the three of us sat to wait for the flight.
"The flight from Vienna to Sofia is overbooked …"
You know who the volunteers are, that day they needed just two. We agreed to fly in the evening via Munich. We received lunch vouchers and sat for a meal at the airport. Then we spent several hours in the shopping zone, then flew to Munich and then to Sofia. We arrived two hours late, which does not include any compensation. Anyway, on Monday I was in the office.
Why am I telling you this story?
For us this was a very funny and emotional experience. Since we came home, we can't stop telling about it to everyone. So we decided to share it in the blog as well. The truth is that we have always dreamed of being offered an extension to our holiday and we were very happy that we can take the opportunity. Well, if we were in a hurry to go home, we would not be that happy. But if you also dream of such an offer, listen carefully when you wait for your next flight in the minutes before boarding. Especially if you are flying on busy dates around holidays for example.
Follow us: Instagram and Facebook
---