On the heel of Italy. Salento – a small but very charming part of Puglia
Everyone has his reasons to love Italy or not to love it. Maria and I adore it, but we actually adore so many things. We are amorous people, especially Maria. I tend to be less emotional. But life is taking us here and there and we eventually reach South Italy. For us Italy is full of romantic memories and calm days. We have spent many beautiful days here, outside the touristic season. This is why we will rarely speak about beaches, which they have plenty of here.
First night – Tiggiano
First time we arrived in Salento in the middle of the night. We were met at the Brindisi airport by our hosts and we headed to a small town, an hour drive to the south. You may not believe us, but Maria and I really had no idea where we were going. We had just a common idea but had trusted our Italian hosts. So, the morning found is in Tiggiano – a small town that I bet you have not heard of. And you will have to search on the map to find it.
If you have decided to escape the big city and immerse somewhere in calmness and timelessness, Lower Salento is your destination. Work on Sunday is a taboo there and people really enjoy their holiday. The small towns and villages are very beautiful with their numerous historical buildings. They are example not only of the rich history of this area, but also of the fact that not too far away from us, there are places that have preserved their spirit and habits, where time goes really slower. Actually, this is how whole South Italy looks like.
These neat villages are very similar to each other and are an usual view in this part of Italy. Stone is a main construction material and is used everywhere – from the houses of local to the fences between the olive gardens.

Stone is probably one of the reasons why most old buildings in the area are well-preserved – stone is a material that lasts for long. Moreover, the locals maintain their buildings pretty well. Most castles are inhabited and many historical houses, too. Actually, a palace here means just a larger building. So you will find a lot of palaces.
So, here we are in Tiggiano. Its biggest attraction is the Serafina – Sauli palace – one of the largest palaces in Lecce province
(1650 г. – Palazzo Baronale di Tiggiano). It was renovated recently and nowadays hosts the local town hall and the town museum.
Actually, one of the most impressive things of the palace are its gardens, where grow magnolia, oaks, orange trees and olive trees. There is also a small plantation with tomatoes, zucchini and parsnip. This agriculture is located in the palace's gardens – actually a whole wood with impressive for a and fauna.
Churches in Tiggiano
If you are a church lover, try to visit the church St. Hypatius and the Oratory of Saint Archngel Michael, some 100 steps from each other. However, if you want to go inside, you may need first to contact a local travel guide.
Warmth of South Italian people
No trip to South Italy will be real until you spend some time socializing with local people. People living across Salento were extremely happy to meet our group of journalists, some foreigners like us.
Tourists, especially foreigners, are a rare attraction here and everybody will be happy to talk to you, if you can speak at least a little Italian. Our group of journalists attracted a lot of attention in this calm area and we were happy to see the local way of life from a closer look. While learning about local houses hundreds of years old, we were given fresh apricots and figs by a nice lady that was willing to share her story with us. During another visit, the local pensioners taught us play Trottola.

Warmth – this is what anyone could feel in the villages and towns of Salento. And it is one of the few places left where you can enjoy the really natural local way of life, just opposite to the one we are used to.
Getting to know Salento, South Italy
I am flying above Italy, on my way to Salento, for the third time. Well, the plane flies. Like little start I see below the small towns. I recognize Bari, the plane descends and the stars become houses and streets. We are more than an hour late and my luggage (as I am going to understand later) will be more than 2 days late. I land in Brindisi and luckily my hosts are waiting for me at the airport, unlike my baggage. We hop in the car and head to Tricase.
Tricase – do you know where this is?
If you do not know where Tricase is, check on the map. It is somewhere in the middle of the peninsula, which we call the heel of the boot. This is Salento, a sub-peninsula of the Apennines peninsula. Tricase is close to the sea but nit actually on the seaside. It is a small wonderful town with three amazing churches in the centre and a palace – Palazzo Gallone.
A palace here may mean a lot of things. Some of the palaces are just larger houses. We have written about Tricase a few times and I personally like it. It is a small town, but with enough shops so I could buy some clothes until my baggage arrives. However, I had to remind myself that on Sunday nothing is open. Also, at noon. Last time in Tricase I settled into a small limestone guest house in the old town.
A main attraction in the town is the tower Turris Magna inside the palace, from which you can enjoy a marvellous view. Well, we did not climb because we had not enough time. However, the two churches are also impressive. San Domenico church hosts a few chapels, dedicated to the Good, Nativity, Death among others. The opposite church stuns with its dimensions and is not less impressive.
The several chapels in San Domenico represent not only religious, but also historical events, like the fights with the Turks trying to invade the area. The different chapels, dedicated to life, death, sun, lie and truth, will steal your eyes forever.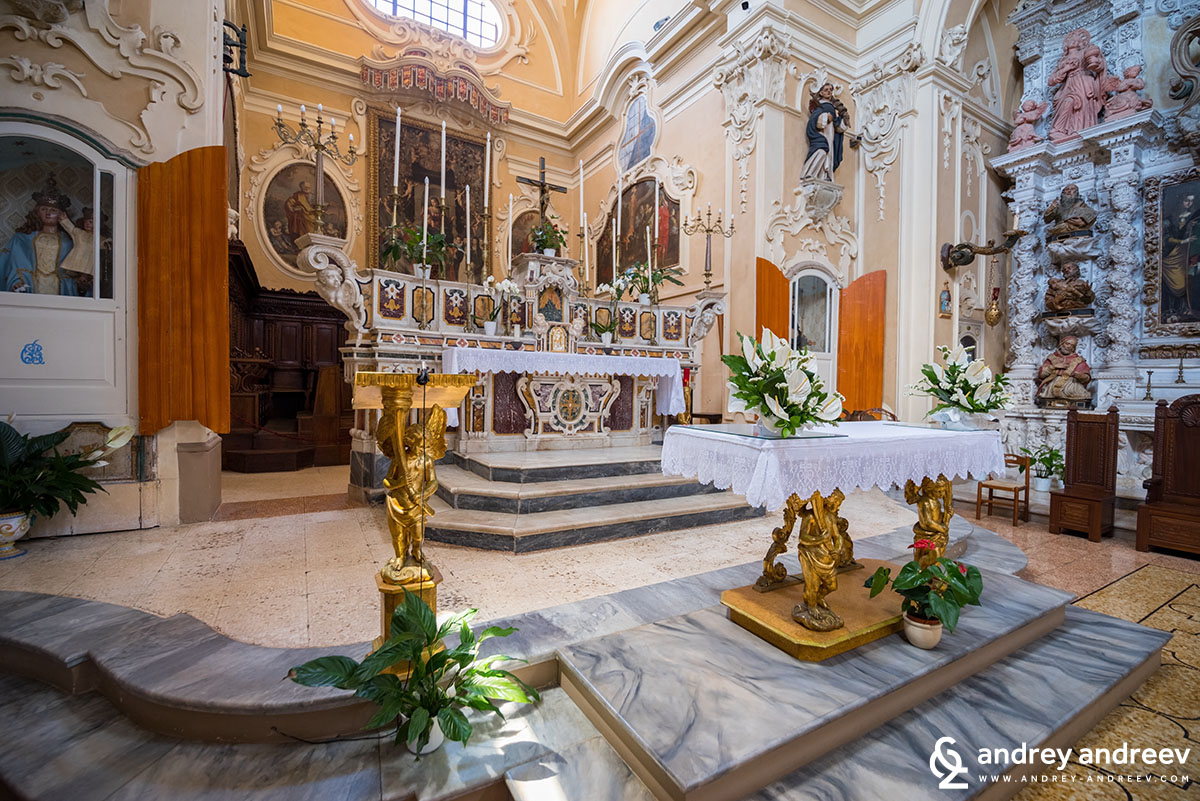 Tricase appeared to be a very nice town with its churches and some other minor attractions. Can you guess what this is below?
Where to eat the best octopus in Tricase?
There is one hidden place between the old houses. Its name is "Lemì bar cozze e gin". It is a really unique place but I am not sure when it is open. Both times I was there I met Ipazzio Turco. Ipazzio is the owner and chef of this bar and also of a gourmet restaurant in the town, open only in the summer months. Here the food is just divine and Ipazzio is a master of octopus. For a finale, do not miss to try his home-made gin.
There is one more curious place in Tricase – Balboa Pharmacy (Farmacia Balboa). The only medicine you can buy there is an amazing cocktail. So the pharmacy is actually a nice bar. But everyone from the staff is dressed like a pharmacist.
Breakfasts in Salento
One amazing place is Casa Probo. Rossa is a wonderful host and every day met me with fresh juice from lemons and oranges from the garden. And not to forget her home-made cakes with orange jam. She made me cappuccino every morning and filled me with good mood for the whole day. Well, she did not speak English, I do not speak Italian, but we got on well. I was sleeping in the room on the second floor, just below the limestone ceiling.
Some off-topic
In the morning Carlo picked me from Piazza Giuseppe Pisanelli, named after a famous local politician. I was the only tourist on the square on Saturday morning. Actually, maybe I was the only tourist in town in the off-season. We left for Specchia, another small town with beautiful historical centre. That Saturday there was a local festival and fair in the town. We discovered a small place, not actually a restaurant, but rather a wine shop. So we sat to taste some local wine with home-made local dishes.
The town of Specchia
It is 2nd February and on this day Italians celebrate Candelora (Candlemas). So the centre of the town of Specchia was lively, with many stalls and people around. February might not be the most popular month to visit South Italy because you cannot enjoy sunbaths on the beach, but it is great time to mix with local people. Anyway, you do not have a large choice – they do not speak any other languages that Italian here.
So, on Candelora day we visited the church of Piazza del Popolo – Parrocchia Presentazione Vergine Maria. On the same square is the Castello Risolo – a castle that now hosts multiple companies – the tourist information office, a hotel and several shops and cafes. We took a key from the tourist office and headed to a well-preserved cave on the hill – a former olive oil mill. This was the second such place I visit in Salento but I am always curious to go underground.
Such olive oil mills were once common in the area and it is not a surprise – when travelling by the local roads, you will see many olive trees. So olive oil is a widely produced product in the region. In these old old underground mills the temperature is almost constant through the year and the conditions are wonderful for storage of the olive oil. During our stay, we always enjoyed wonderful local olive oil everywhere.
As I mentioned in the beginning, there was a small local fair and we bought almonds, dried chestnuts and other treats from the stalls. Then we headed to the shop of a small local winery where we tasted wine and local delicacies. In February in Salento it is neither cold nor warm, the weather can actually vary a lot. That day it was windy and we were happy to go inside and warm up with some wine. We entered through one of the doors of Castello Risolo which was also calling us with nice Salentian music (by Antonio Castrignanò).
Speccia is a very special place, one of the beautiful and authentic towns of Italy, with well-preserved vision and spirit. Specchia is located on the top of a hill. One of the churches in the town is currently under renovation and may be turned into a hostel. In Specchia time goes by very slowly. No one hurries and it is a wonderful place to feel South Italy.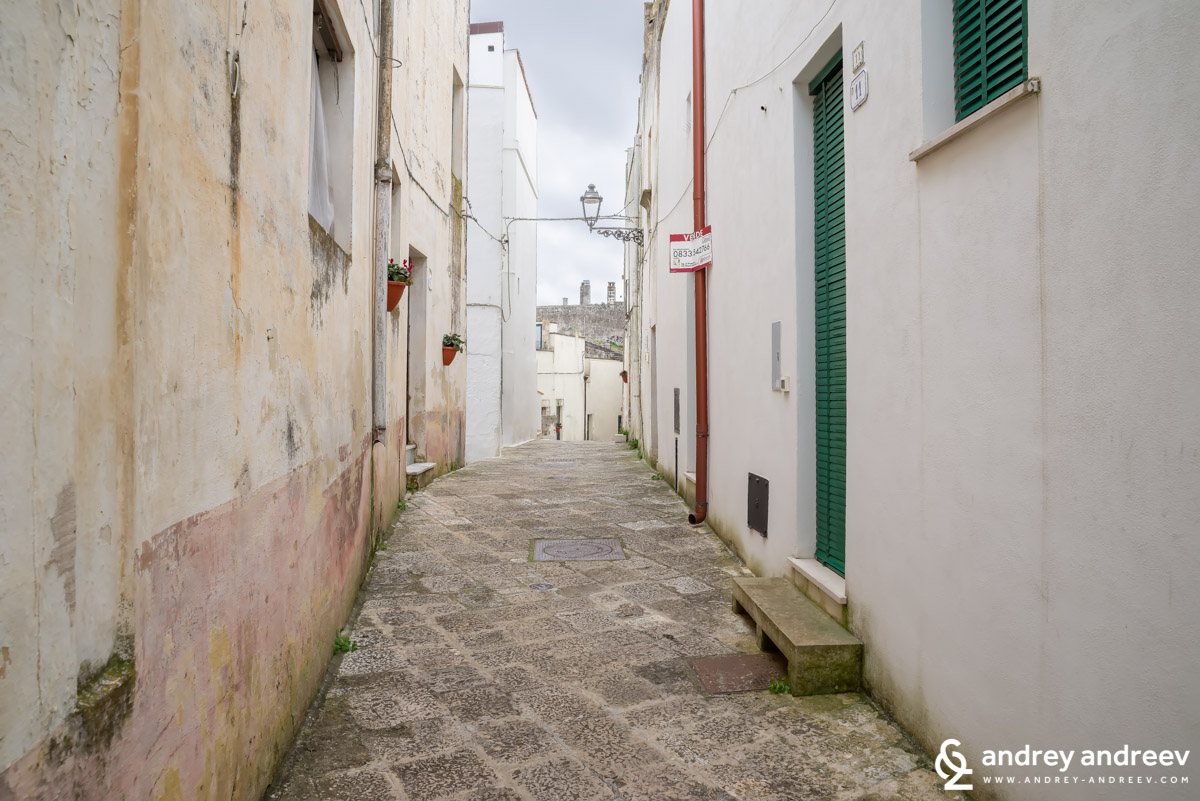 Tricase porto
We have friends from Salento that often invite us and take us to trips around. I don't know why we rarely see the sea in South Italy. It is always cultural and culinary life. However, February is not time for the sea. So we arrived at the Tricase port in the evening, we could only hear the sea. And entered the Taverna del Porto (Instagram).
It appeared to be a fish paradise. This is how my kind of restaurants look like. We were probably the only customers in this cold February night. We may not have seen the sea, but I really felt it in the air and wine.

Salve – almost on the top of the heel
My story becomes more and more messy but now I return to my first visit to Salento and the town of Salve. In Italian "Salve" is a popular greeting, meaning "Hi". The town of Salve is not less welcoming. Near the central square in Salve there is a tourist information office of the local tourist organisation Arches. There you can find maps, leaflets, books and other useful things for tourists. This is also one of the few places you can find English-speaking people in the area.

Just steps from their office there is a local weaver workshop where local young people are trying to preserve the old habits of weaving. It looked very nice but it was hard for us to find it too impressive after we had visited the carpet factory in the Bulgarian town of Kostandovo where huge carpets are being made daily.
Another interesting place in Salve is the old underground olive oil factory. It is located in a man-made underground cave. Today you can see there the storage tanks for the olive oil, the spouts for transportation of the oil from the press to the storage tanks and also the places where the olive oil presses once stood. The press was driven by a donkey and when necessary – by people. Nowadays you can easily go inside the cave and see how this old factory worked. The mills are open and free to go but I would not advise you to go in the night.
Salve is a small and cozy town. Here you won't meet many tourists and at noon you will see few locals, too. However, in Salve there is a wonderful restaurant that we recommend. There we met the cook Tina who welcomed us with cold wine and local delicacies that we still remember. If you are going to the area, go to Trattoria il borghetto, our favourite place. And send us a photo because we will not be back there soon.
At the centre of Salve is the beautiful baroque church San Nicola Magno Chiesa. On 6th December they celebrate their patron day with a large procession with the figure of the saint, starting from here and going through the whole town. The inhabitants of Salve welcome the procession with open doors and windows and lit candles. The atmosphere is very sacral.
Minervino di Lecce
Another nice town with a beautiful church in the middle. I have been here twice, both times with the same purpose – a gourmet lunch with wonderful wine. I have told about this winery in another article so I won't be bothering you too much about it now. Just have in mind that this is not a budget place to eat but the wine is on very reasonable price – you can find wonderful wines for 10 EUR. Se more in my article about the Menhir winery.

Galatina – I actually don't know why we were there that evening

After we had a long and delicious lunch at Cantina Menhir, we decided to go for a walk in the town of Galatina (about 27 000 population). The historical centre of the town is beautiful, baroque style. There are a few attractions – the church Santa Caterina d'Alessandria from 1390 y. and the other baroque style church Chiesa Madre dei Santi Pietro e Paolo, built in the 17th century.

So I don't really remember why we went exactly to Galatina that night but we had a wonderful walk with friends in the old town.

Otranto – Leece province, region of Puglia
I am trying to gather my impressions from the small towns of Puglia at one place and always recall more and more towns or just towers I have been to. Today I remembered Otranto. I have been there twice. One of the times I was just staying in the cold on the harbor, where we arrived late for a meeting after an unplanned stop at a wine cellar where we spent several hours. However, I will not write about this not so nice visit to Otranto.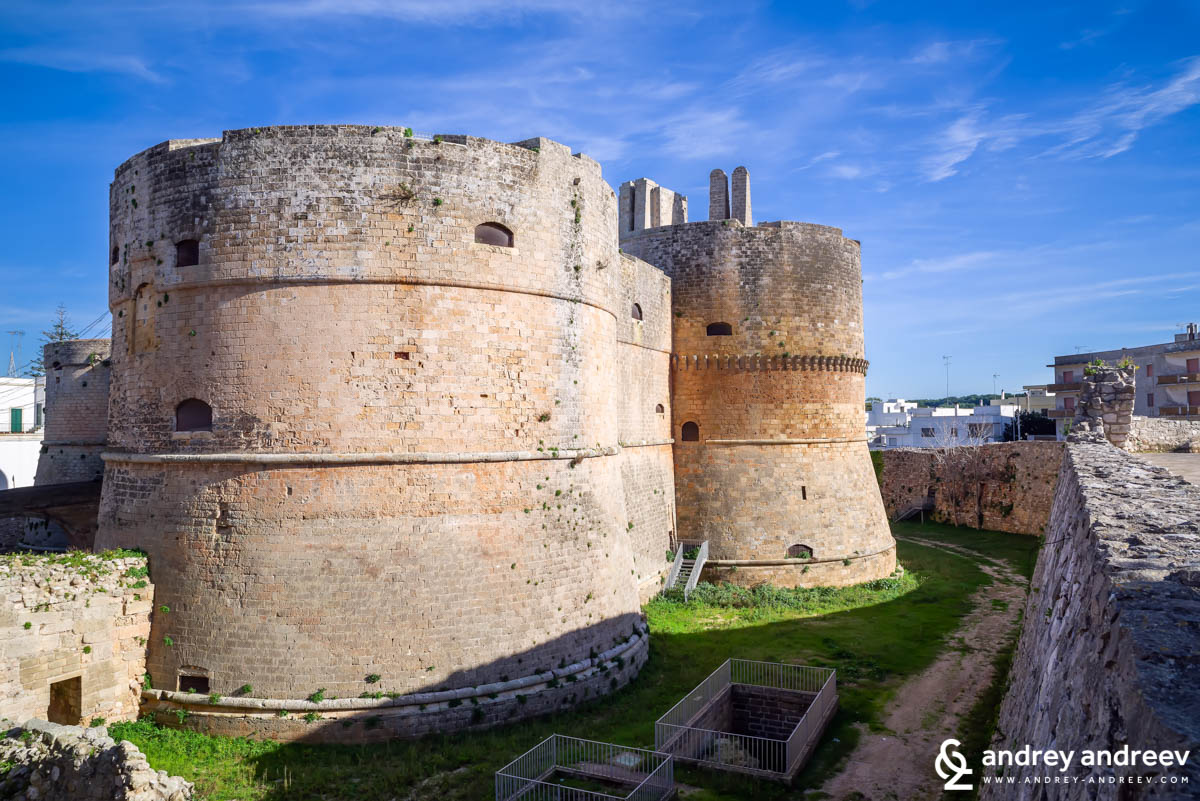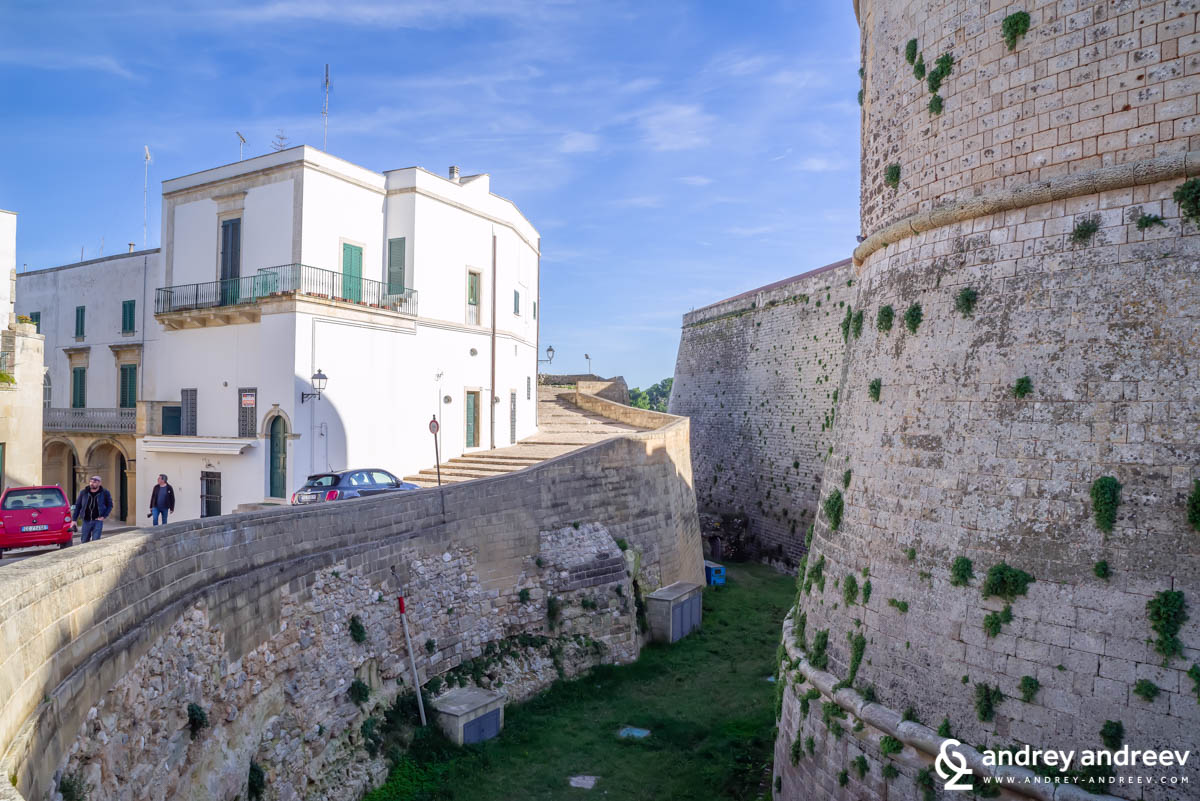 The first time I visited Otranto was on a very warm day in December. Otranto is located on the easternmost part of the Italian heel. The distance from there to the coast of Albania is only about 80 km. During Roman times the town was an important harbour, an end point of Via Appia and a starting base for the Roman legions invasion to the Balkans. Another important base was Brindisi (then Brindisium).
In the summer of 1480 (July 28) Gedik Ahmed Pasha looted the coastline of the city and on August 11 conquered the city. On the streets you can still see the stone cannon balls from the battle. Nowadays they are used as decorative elements for many buildings. Their number was really big back then. During Gedik Ahmed Pasha time (to be precise, 14 August 1480) were executed 813 people who declined to convert to Islam. Skulls of the Martyrs of Otranto are on display in the Otranto cathedral, dedicated to the Annunciation of the Virgin Mary.
The Otranto cathedral was consecrated in 1088. One of the most notable things inside it is the mosaic covering the whole length of the floor, made between 1163 and 1165. It represents many scenes from the Old Testament, The tree of life and even Alexander the Great.
Nowadays, as tourists, you can enjoy the wonderful mood of the town and the old centre with huge walls of the Otranto fortress. You can also take a nice walk along the promenade. Not far from Otranto is the abandoned bauxite mine, where you can feel like on the red planet Mars.
More towns and habits in Salento, Puglia, South Italy
If you cannot take your eyes and soul from those cute small streets with stone houses and castles, make a stroll through Patu, Giuliano, Ruggiano or any other village of your choice in the area. Even the smallest one has some attraction to offer – would it be an old church, a castle or a terrace. Every step in Italy is historical.
We were lucky to be on the right place at the right time and enjoy the procession for Corpus Domini feast in Patu. It was very interesting and emotional to witness this event.
Back to the middle ages in the steps of pilgrims and kings
Salento area has always been an important geographic crossroad. From its coasts you can see the mountains of Albania but also the coast of Calabria – both about 100 km far. The cape of Leuca is important for two things. First, the lighthouse which is the second most important lighthouse in Italy after the one in Genoa. The second one is the Santa Maria di Leuca sanctuary.
The sanctuary was built to commemorate the passage of Saint Peter during his travel to Italy. Once on this place there used to be a Roman temple dedicated to the goddess Minerva. The sanctuary has always been an important destination of Christian pilgrims.

In those ages, Salento was a place of numerous fortifications, castles and towers that are still present and reminding of those glorious but also dangerous ages. Some examples are the Torre Nasparo, outside Tiggiano, Torre Vado, Torre Pali (nowadays half-submerged near a nice beach). In many churches and historical monuments you will find pictures of Turkish invaders and motives related to the battles with the Ottomans.
The sanctuary Leuca Piccola is another sacred place in the area, visited by many pilgrims. Once it served as a hostel for pilgrims heading to Santa Maria di Leuca. Today you can still see the wall where horses were being tied, the underground area with stone beds and the old well supplying water to the pilgrims. The chapel above hosts centuries old frescoes, still feeling as a sacred place and deserving its attention.
Pajare – the local cousins of the famous Trulli
In Salento there were these small stone houses, everywhere around. Very cute houses. Centuries ago, they used to accommodate local peasants living in small groups.
These houses can be seen all around Salento and you can try to enter some of them. However, when you think that once people lived in them and even nowadays some build them intentionally for a summer house, it gets a little claustrophobic. These houses are relatives of the famous Truli (the most famous among them are in Alberobello). In Salento they call them pajare.
Trekking by the seaside – Ciolo paths
Despite being a home to so many historical and religious sites, Salento is not a busy place and not very popular among tourists. This makes the area a great choice for those who are looking for a calm retreat among a lot of nature.
Salento is a home to many natural phenomena, among the caves and natural pools by the sea that will leave you stunned. The miracles of nature have no limits. To explore some of them, you can do the easy and pleasant trekking in the area of Ciolo fjord, where you can both enjoy walking in the nature or just take a sunbath and swim.
There are several paths, not very long, but very picturesque. One starts just next to the bridge at Fiordo del Ciolo – one of the most stunning natural formations in the area. There is a small beach at the foot of the bridge and if enthusiastic, you can swim there. To take the path, you first go to the small beach and then take the route up by steps carved in the rocks. The trail leads to the nearby village Gagliano del Capo and according to the signs is about 2-km long, taking about 1h 15min from one end to the other.
Another amazing idea is taking the path on the opposite side of the road, starting just next to the bar, on the stairs down. Passing by the amazing seaside, it will take you to some of the most impressive caves in the area.
Actually, the place was once underwater, covered with ice in the ice age. After the meltdown many seashell fossils were left on the rocks and now you can see them everywhere. The path is easy and the best time to take it is the late afternoon – around 5-6 pm in the summer, to enjoy the beautiful sunset and avoid the local heat.
The beaches of Salento
Of course, this picturesque area surrounded by waters has some beautiful beaches to offer to the tired visitors. Among them is Torre Pali, named after the medieval tower that is now the main attraction there. The tower was built as an observation point against pirates and now you can easily put your towel a few metres from it and enjoy the views and the sand.
In the calm countryside of Salento you can also find many private farms, some of them featuring luxurious hotels.
Not to miss in Salento, Puglia: Food
In our opinion, it is a crime to go to Italy and abstain from trying their incredible food in every possible occasion. For us, culinary tourism is an essential part of travelling. You could not feel a place without tasting it. And Italy has a lot to offer.
Yes, sometimes it can be hard. We got really tired of eating – Stanchi di mangiare, as said in Italian. But we are not sorry for trying either of the tens of meals we tried.
For the first 3 days of our visit in Salento we were served 7 different types of pasta, more than 10 starters and side dishes, more than 10 seafood meals, 5 or more different desserts, and not talking of the more than 5 types of pastries for breakfast. In Salento seafood is very popular, especially in the summer, so you won't make a mistake to order either fish, squid, shrimps, octopus or anything else. Sometimes they put strange things in the pasta – like chickpeas or parsnip. But be brave to try it – it may be incredibly delicious.
Food in Salento is so Incredible that we have a separate article about it – The Culinary Delight of Salento area in Puglia, South Italy.
In addition, dare to taste the local wines – we really loved them.
Another thing you could taste is olive oil – the area is famous with its olive oil production so ask in the tourist information office where to go and taste.
Where to go to party in Salento?
Salento is generally a very calm and quiet region but if you are nightlife lovers, there is still something for you. Gallipoli is the youth capital of the region and has many nightclubs and bars to entertain the young travellers. Another option is to stay in a calmer town like Tiggiano and jump to Gallipolli when you have had too much of calm life. Distances in Salento are small and everything is easily reachable.
Tips and useful information about visiting Salento
How to reach Salento?
The Salento airport is located in Brindisi and there are regular flights from Rome and some other cities. You can also arrive in Brindisi by a ferry from Greece or Albania. However, once there, your best choice of moving around is a rental car. None of the local travel guides recommends using the public buses and trains. Well, if you looking for an adventure, you could try.
What is the best time to visit Salento?
In the summer Salento becomes more and more popular among tourists that fill the beaches and enjoy the sun. However, the area is still calm and not too crowded. Separately from the beaches, the towns look still calm and peaceful. If you are not planning to go to a beach holiday, it is good to visit in April, September or October. June is a great time for the beach and July and August might feel really hot. However, the constant winds there make the heat bearable. In the winter the climate is mild but the seaside might be very windy.
Language adventures
If you are not speaking even the least Italian, you might be a challenge for others. Foreign languages are not very popular in the area so be prepared that the English speakers around will be very few. But isn't this great – you want to escape from the everyday life, don't you?
When we hear about travelling to South Italy, we are always ready. And we often write about small places, towns and villages, food, wine and other small stories. See all of our articles about South Italy.
Follow us: Instagram and Facebook
---