My photo holiday in Sinemorets
A small story about small villages on the Black Sea coast – Sinemorets, Rezovo, Brashlyan …
I am wondering how 20 years ago my parents managed to bring me and my two brothers to a sea holiday in a small car, together with a lot of luggage including food and even a small TV. This sounds like a magic to me because my car, which is slightly bigger than the old LADA, was not enough for me, my wife, my baby daughter and all our luggage. However thanks to good friends we managed to take all the things we needed for our holiday. And here we are – in the small village of Sinemorets, Southeastern Bulgaria.
Sinemorets
When you pass by Tsarevo the road starts to look like mountain, with beautiful views to the sea. I love driving in this area among forests, rivers, rocks and seaside. Finally we reached Sinemorets and settled in the far end of the village, far away from the popular central beach and next to the small path leading to the beautiful and calm Veleka beach. (Hotels in Booking.com)
In the middle of July there weren't many tourists in Sinemorets and the place was still calm, no cars on the streets and beautiful quiet nights. We quickly created our holiday routine, starting with Gözleme* or pancakes for breakfast. Then walking the small path to the beautiful Veleka beach.
Mouth of Veleka
Where Veleka river meets the Black sea, in a small bay between two steep hills, there is Mouth of Veleka beach. The sand strip between the fresh and sea water is very welcoming. There is a small paid zone with a couple of cafes and then a calm and quiet lifeguarded area, and at the end is the unguarded zone – a nudist area.
Mouth of Veleka is my favourite beach, I think it is the most beautiful. The sand is a little coarse but the area is very calm. Only the fishermen were not very friendly but we didn't like them either. They were angry because tourists were bathing in front of them and were frightening the fish. I still wonder why they would come to fish on a beach full of tourists.
Veleka river
I wanted to write a few words about Veleka river but I can only complain how my back burnt after two hours of kayaking. However it was a nice trip among turtles, fishes and plants around the river.
Кораба /The Ship/
In the evening, after a hard day on the beach and a nice dinner, we would all go this legendary bar – The Ship. Everyone who has ever been to Sinemorets knows this place. The party in the bar usually starts after midnight but even in the earlier hours it is a wonderful place to sit and drink cocktails.
Корабите /The Ships/
Everithing in Sinemorets is about ships. Now I am talking about The Ships – very beautiful rocks that look like ships. You want to go there over and over again. And you're never getting tired of that.
The Ships are located near the Fishermen's village, you can also see horses there. It is a wonderful and calm place despite its closeness to the crowded Butamyata beach.
The Ships at dusk
Details
Sunset over Корабите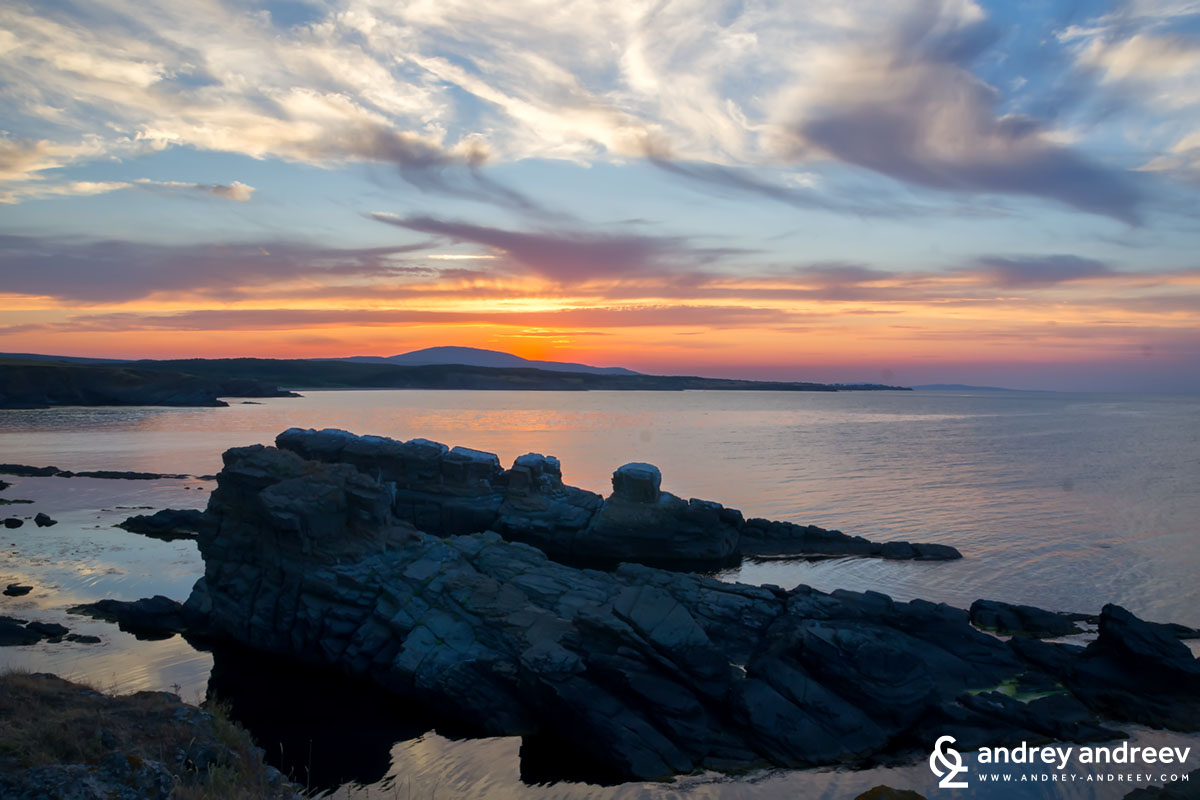 5A.M. – sunrise
Fishmen near the Ships
Varvara
It looked like this small village has gathered all good restaurants of Bulgarian seaside. Our favourite place is "Startsi Razboinitsi", offering home-made dishes, lemonade and ice tea. Here we celebrated after we christened our baby daughter Anna.
Our friends said that the Wake Up bar on the beach was also a good place to go. Next year we will try it.
Rezovo
When you arrive in Rezovo you feel at the end of the world. Rezovska river, which separates Bulgarian from Turkish territory, used to be very beautiful and its mouth used to be wide 50 years ago. At that time local people from the two opposite sides used to go fishing together. However Bulgarian and Turkish political leaders went into an argument which resulted in the fortification of the river bed with stones. Today you can still see small fishing boats on the two sides of the river.
There is no good beach in Rezovo, only a small unguarded sand strip just next to the border.
More beaches
Mouth of Veleka is not the only beautiful beach in the area. In the southern end of Sinemorets is Butamyata – a noisy and crowded beach with bars and some weird ads saying "You can find boobs everywhere on the beach but pizza is only here". The beach itself is not bad, with fine sand. It was named after the small river Butamyata which pours into the Black sea just unde the beach. Butamyata is more shallow and suitable for kids than the Veleka beach.
But if you're not happy with Butamyata you could go further south to Lipite beach. It is reachable only by a narrow path and it takes a 30 minute walk to go there. Lipite is a calm and clean beach but unfortunately unguarded. There is only a volunteer lifeguard. If you are even more enthusiastic and keep walking, you will reach another deserted beach – Listi. However we didn't see it that time.
If you like walking for hours by a narrow path near the sea, you could have a day walk from Sinemorets to the quite popular beach Silistar. The distance is about 5 km. It might be a nice walk in the spring or autumn.
Our curiosity took us to the overpraised Silistar beach which is said to be the best and cleanest beach on Bulgarian seaside. But there we were met by crowds of tourists, cars parked in the forest and a parking fee. We didn't even reach the beach and turned back to enjoy the calmer and free Veleka beach.
If it rains
If you have planned your beach holiday but the weather surprises you with rain, don't be so unhappy. You can spend a day going to Brashlyan village. It is about 60-70 km from Sinemorets and it takes an hour by car. I wouldn't recommend you to have lunch there because the only restaurant in the village is far from good but the village itself is wonderful for a walk. You can have a nice walk in the town of Malko Tarnovo too.
Family memories
The holiday in Sinemorets was not just a nice week spent by the sea but it turned to a family memory. Before we went there we considered the idea to baptize our baby daughter Anna during the holiday. So when we arrived in Sinemorets we contacted father Yordan from the church in Ahtopol and arranged the christening.
There is a wonderful small church in Ahtopol, just by the sea with a fig tree in the yard. We sat under the tree to fill the documents, the baby was happy and didn't cry at all during the ritual. Then we held a small celebration in "Startsi Razboinitsi" and when we were leaving we were already sorry that this wonderful restaurant is so far from our home.
The week in Sinemorets went very quickly, we didn't want to leave at all. This village is somehow magical with Veleka beach, Korabite and everything else around. We envied our friends who had planned another week in Sinemorets in August. But we will come back, next summer..
For navigation: