Social Cafe Bar & Kitchen and our lovely walks along Vitosha boulevard in Sofia, Bulgaria
One of our favourite things to do on a Sunday evening is a walk along the Vitosha boulevard – the famous promenade in Sofia, loved by both loals and visitors. We love that walk because our little Anna can burn some energy by running chaotically. She would get lost in the crowd only to remember that she needs to walk by her parents,at least for now. Then she would ask for balloons, a book, an ice cream. And another thing she always asks is to go to a restaurant because she got hungry. So every time we go for a walk out, we eventually finish in some restaurant, experimenting with something new or just sticking to the places we already love. 
So for us walks in Sofia are not only a time to burn some energy. Despite Sofia is our home town, we feel them as another journey through the world of culinary delights. We closely follow all food and drink festivals, wine tastings and cooking shows. Well, we cannot afford to go to such events too often but we do it from time to time.
Social Cafe Bar & Kitchen
One of the places where we sit to enjoy the social life in Sofia is Social Cafe Bar & Kitchen, on boulevard Vitosha 18. We love to visit both ourselves and with friends. If there is some event there, we are also happy to check it. And their chef Nikolay Genadiev can always please our appetite. 
Maybe you have noticed that we rarely write about mass places where they offer mostly grill and convenience food. Well, sometimes we visit such places but lack the emotion of a culinary journey. And if we write about something, it should be something that has really impressed us.
Sofia Restaurant Week – September 2018
Now we are heading to a very special culinary journey, out of the regular menus of the restaurants. We have previously written about the food festival Sofia Restaurant Week that is taking place between 16 – 22 September.  The festival is a great opportunity to taste colorful and interesting dishes, almost pieces of art, at an amazing price. So during the September 2018 edition we headed to the social cafe, bar and kitchen at the heart of Sofia, on the very Vitosha boulevard. 
Sunday
We kept our tradition to finish the weekend with a walk and Anna places all of her usual demands. So the time for the restaurant came and we found ourselves in the Social Cafe. Maria does not like to sit inside during daylight because she finds it a little dark. However, when the night comes, the atmosphere in the restaurant becomes magical. Even in colder seasons, there is the feeling of a summer garden and social life all around.
Appetizer: Home-made breads with olive oil and sea salt
They were not in the menu we had pre-ordered but we were happily surprised to be served this delicious appetizer. We love such small gestures, they leave a wonderful feeling inside and make you remember the place for a long time ahead. We ordered lemonades and fresh juices because one of us is pregnant and the other had to drive. Anna was also happy because she is not a big fan of gourmet food and bread is usually what she eats on such events. So the evening started very promising.
Delicious home-made breads at Social Cafe Bar & Kitchen

Olive ouil and sea salt for a company
Salad and starter: Seasonal salad with baked pumpkin and Avocado with shrimps
Being a cook mush be a very serious job. Dinners like this one prove it. Every time we are left stunned how meals with products we do not usually consume appear to be just incredible. 

This time we are speaking of the seasonal salad with baked pumpkin, which also featured spinach, quinoa, apples, pomegranate and tahini dressing. Usually, when Andrey hears of spinach and quinoa, he would prefer to stay hungry. Well, the chef had apparently done a great job because Andrey just loved the salad. A great surprise in it was also the strong presence of walnuts that gave an amazing taste of the quinoa. And despite the salad was quite big, we had it all to the last bite. 
The other starter was also wonderful, however not that surprising. The reason is we love seafood and when we read about avocado with shrimps and caviar, we expected nothing less than amazing. Of course it met all of our expectations and the dish was quickly emptied. 
Main course: Milk-fed veal steak with steamed spinach and Duck Fillet with carrots and ginger puree
Maria opted for the duck fillet because it allowed to be prepared medium to well-done and she was not willing to risk with a medium or rear meat because of her pregnancy. However, Andrey was happy with his juicy medium veal steak.

It is not necessary to commend how beautiful the two meals looked – you can see by yourselves.
The duck fillet arrived just the way we wished – slightly pink from the inside, but well baked and incredibly lean. Maria was thrilled by the puree – we are both huge fans of ginger. The crispy vegetables were a perfect garnish Generally, both main meals were quite big and after the great starters we even had some difficulties eating them to the last bite.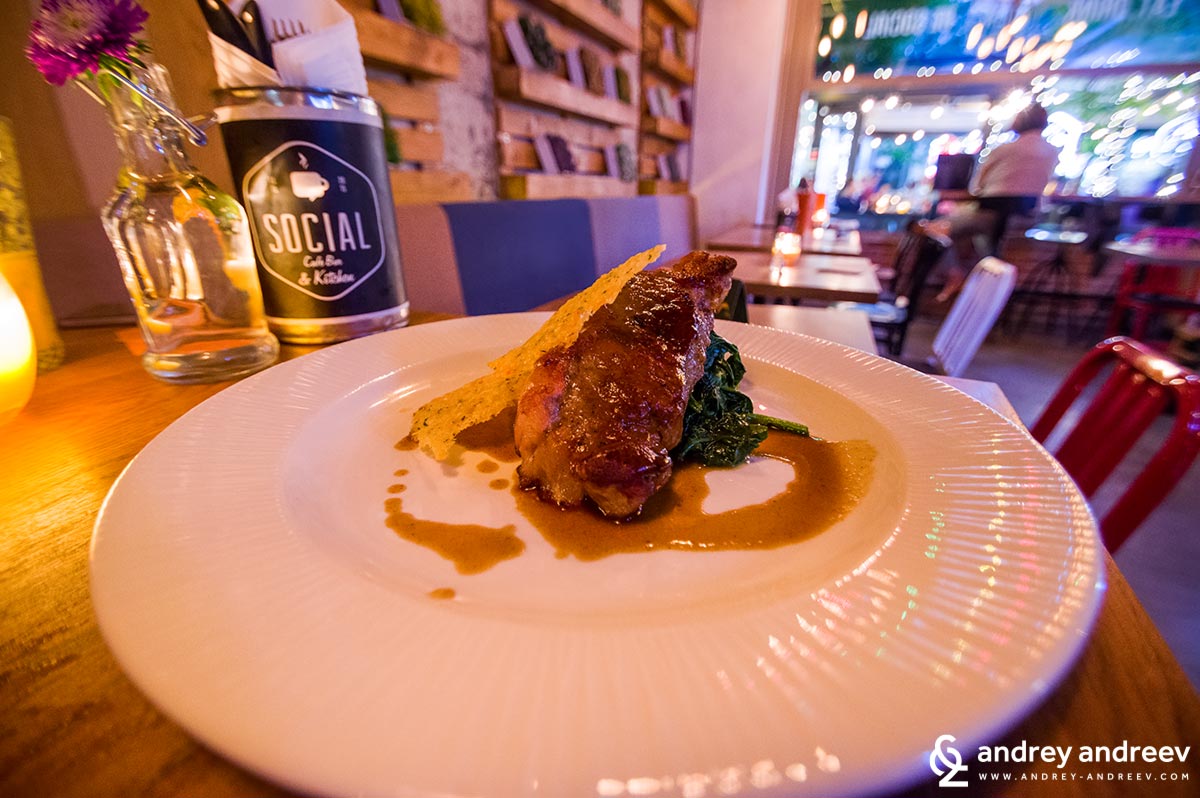 Andrey's veal steak was juicy, lean, tasty and also big. Here is the time to mention that until 1-2 years ago Andrey did not eat veal at all. Finally, it appeared that the problem was not with veal at all but with the way it was prepared. This one was just amazing and he is now a fan. The only thing he did not like about this meal was the fennel sauce, but this is because we do not like fennel at all. So it was a matter of personal taste.
Dessert: : House made cocoa cannoli and Millefeuille with halvah cream
When we see a beautiful dish, especially a dessert, we always wonder how to start eating it in order to preserve its beautiful look for longer. However, we usually end up destroying all the beauty from the first bite. The only positive thing is that the destroyed look is living a very short life because everything is eaten quickly.
We are not specialists in culinary terminology so we avoid using complicated expressions, but let's say a few words about the desserts. The Millefeuille was a wonderful combination between creamy texture and crispy bread.  Similar effect we felt with the cannoli and we were only sorry that it was too late for a coffee. The Tiramisu filling would pair perfectly with an espresso. The cannoli were served in the company of house made raspberry sorbet that made the dessert fresh and light. 
Here Anna actively participated in the tasting, especially of the sorbet which was simply ice cream for her. 
A few tips from us
Try as many different things as possible. All the restaurants during the Sofia Restaurant Week offer 2 different 3-course menus. If you are at least two people, make sure to order both menus. We did it again and to be hones, mixed the menus in order to try everything. And despite they were two separate menus, all the meals combined pretty well. The two separate menus looked like this: Menu 1: Salad with pumpkin, veal steak and millefeuille; Menu2: Avocado with shrimps, duck fillet and cannoli. 
Try to ignore the prejudices as much as possible. If we had insisted that we did not like spinach and quinoa, we would never come to this dinner at the first place. And let's remember than until 2 years ago Andrey did not eat veal and Maria did not drink wine. Well, the problem was neither in the veal as meat, nor in wine as a beverage. So trust the chef!
Follow us: Instagram and Facebook
---
November 11th, 2018
Hello! We are Andrey, Maria and little girls Anna and Adriana – the Andreev family. We live in Sofia, Bulgaria. Some of us have been living here for a long time, others for less and others their whole life.Now we want to show you our lovely city and take you to a walk through the…