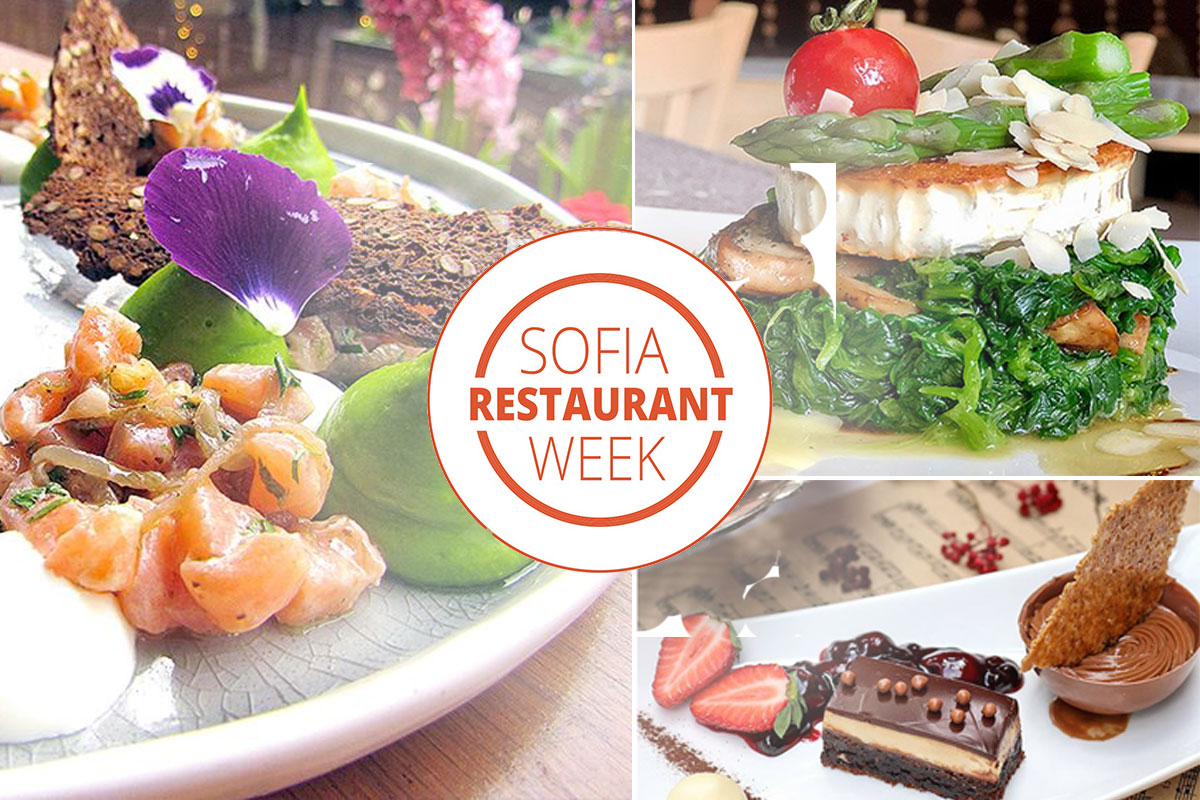 Discover Sofia through food – Sofia Restaurant Week 2019!
Тази статия може да я прочетете и на:

Български
Sofia Restaurant Week May 2019 edition – 7 – 12 May, selected restaurants, set menus at a price of 30 lv each
It is now spring and all foodies, gourmet lovers and restaurant lovers in Sofia are full of excitement – this means it is time for one of the top food events of the year – Sofia Restaurant Week. It has been 6 months since its last edition and we are all impatient to discover what some of the best restaurants in Sofia have prepared for us this time. If you still have no idea what we are talking about but would love to eat well in Sofia – keep reading.
The next edition of Sofia Restaurant Week will be held between 7 – 12 May 2019. The full list of restaurants and menus is now online and bookings are open. Below you can find information about restaurant we have visited during previous editions.
What is Sofia Restaurant Week?
It is a city-wide event held twice a year – in May and September. The participating restaurants offer set menus of three or four courses against a fixed price – this year it is 30 lv (15 EUR). Usually this is a great deal because most of the restaurants are fancy and with prices above the average level in Sofia. And a 3-course meal in such a restaurant for this price is just irresistible deal.
In May 2019 will be the 6th edition of Sofia Restaurant Week, between 7 and 12 May
What is the menu?
Every restaurant offers 2 set menus that guests can choose from. All the menus are published online here: http://restaurantweek.bg/menus/. Usually, there is something for everyone – vegetarians, meat lovers, seafood lovers… You can also find an Armenian restaurants, Japanese/Sushi restaurants, Indian restaurants, Italian, Portuguese and of course Bulgarian, as well as own restaurants of famous Bulgarian chefs. Maybe the more difficult thing is to pick the place of places you want to visit. So pick carefully and be quick to book your table on time.
How to book?
One of the things we love the most about Sofia Restaurant Week is that you can book your seats online. Do not be surprised but yes, there are still many places in Bulgaria where you cannot book online. Luckily, for Sofia Restaurant Week it is not the case. Just go to the page with menus, pick your preferred restaurant and against every menu/restaurant you will see the button for reservation. Finally, you just book your table, then show up and enjoy!
Which restaurants are the best?
As we said, this is the most difficult question ever. In May 2018 we visited Club Pouchkine and Tempero. If you ask us why and are they the best among all 29 – we cannot say! All of the restaurants are very good. In September we decided to visit Social Café, another wonderful place. In the May 2019 edition only Club Pouchkine from the above will be participating.
So choose the ones that excite you the most and be quick to reserve you table!
All about Sofia Restaurant Week May 2019 – here: http://restaurantweek.bg/