Velingrad – plenty of lux, SPA and nature in Bulgaria
Where you can enjoy SPA and nature in Bulgaria
Are we really late for dinner because we are stuck between cows and sheep trying to hit our car?! You can still fall into such a situation in Rhodope mountains in Bulgaria. It might look strange but it has its own mountainous charm.
Velingrad
This year we celebrated our wedding anniversary in Rhodope mountains again. But this time we went to Velingrad. Me and my wife love this city and often go there for a weekend. Velingrad is calm, quiet, with fresh air and stunning beautiful nature around. And not least – its famous hot mineral springs. Only a few towns in Bulgaria have all these "extras" so that's why Velingrad is one of our favourites. This time we stayed in a wonderful villa with a warm outside pool that definitely made our stay a time to remember.
But let's go back to the city. Its most known attraction is Kleptuza lake – one of the largest karst springs in Bulgaria. Kleptuza park is located in the end of the city and is usually reachable by car or bus but if you are enthusiastic you can take the nice 40-minute walk from the center.
Since a year and 4 months ago we have a new family member whom we bring to all of our trips in the country and abroad – our daughter Anna. She is not a baby anymore and she has her own demands about travel that include nice playgrounds. Velingrad didn't disappoint her and she played a lot before she went to sleep exhausted.
Another "extra" of Velingrad are the many parks and other nice places to have a walk. I have noticed that many people don't like SPA and pools but they still go to Velingrad to enjoy the fresh air, nice walks and the calm atmosphere. This city offers something to every taste.
Although we were met by clouds and rain in Velingrad, this did not ruin our stay at all. As photographers we were even happy that we could shoot some dramatic scenes.
Villa Vuchev  – our favourite accommodation in Velingrad
I cannot resist telling you about the place we celebrated our 2nd wedding anniversary. We could call it Home but actually no one would spoil us so much at home. We stayed in Villa Vuchev – a 5-star villa that we had wanted to visit for some time. In the cloudy Sunday afternoon, we were met by the very kind Vessy that made us relax and feel home. We kept this feeling until we said Goodbye 2 days later. (Villa Vuchev in BOOKING.COM)
Villa Vuchev offered us quite more than we ever expected and we couldn't be happier to have stayed there. Home-made food, home-made juice and pancakes being baked just in front of us in the morning – these are only a small part of the things we enjoyed. 24-hour hot sauna, warm outside Jacuzzi and the outside swimming pool gave us the best opportunity to have a perfect rest.
So all of this is somehow connected to the sheep and cows I started my story with. Vessy asked us when we would like the dinner served and we decided to have it at 8 pm. But as a photographer I couldn't wait for it at home and I went out chasing beautiful scenes in the mountain. And then I was caught in the middle of a flock of sheep near Tsepina fortress.
Tip: All the villages around Velingrad are located in picturesque areas. So pick one of them and visit it to enjoy the amazing views.
Tsepina fortress
The same brown dog always follows us to the ruins of Tsepina fortress. It takes a very nice walk to go up there despite the not so friendly weather. In an hour the sky turned from sunny to cloudy and finally rainy-sunny. You should be very careful in the mountain in the spring!
Tsepina is located near Dorkovo village, a half-hour drive from Velingrad, in a stunning beautiful part of Rhodope mountains. It is easy to go to the foot of the hill where you can find a hut-turned-museum. Then you take a little steep path to the top there you can enjoy perfect calmness.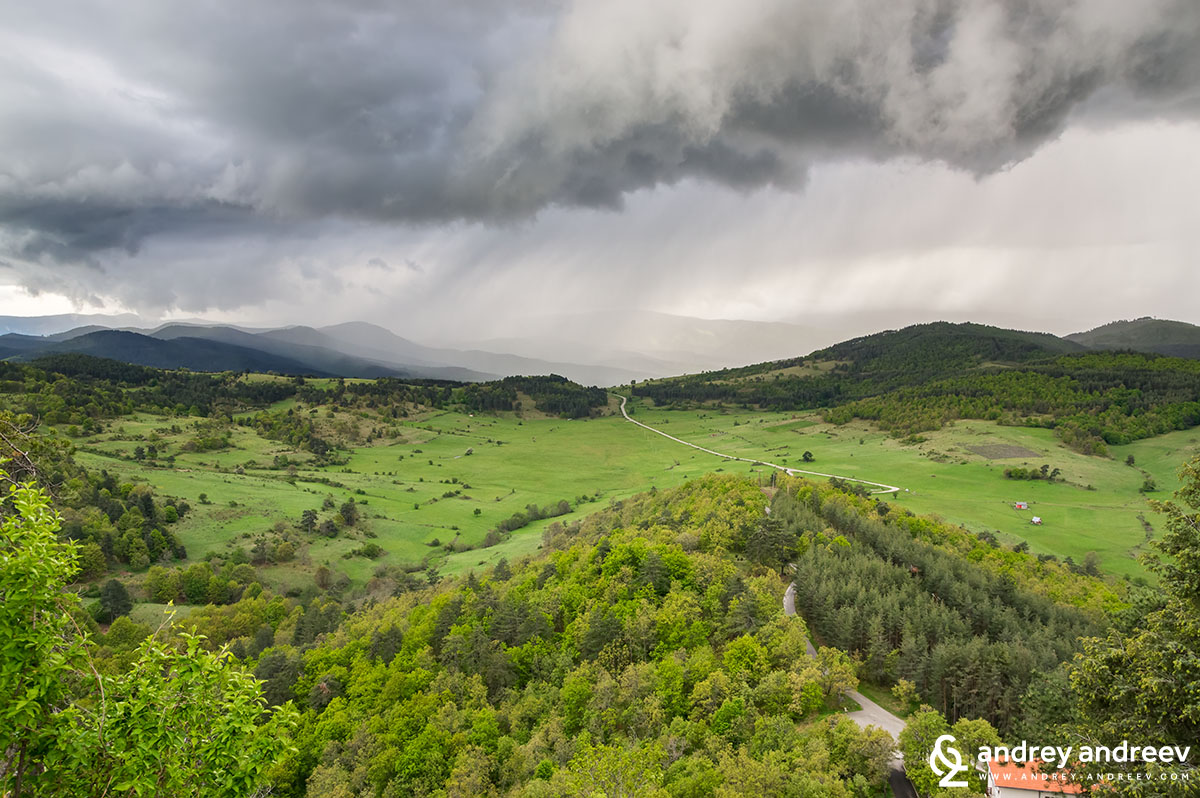 Dorkovo village – Pliocene park
If you want to go 5 million years back, this is the right place. In the very new museum you can see a reproduction of an ancient mastodon that we really enjoyed. It is a very impressive place for kids also. Last year a Danish museum asked me for photos of it so I hope the mastodon is now famous around Denmark too. The Pliocene park in my blog: The Rhodopean mastodon, Bulgaria.
Don't miss the Bulgarian Persian carpets in town of Kostandovo.
Chapels around Velingrad
Villa Vuchev is located in Kamenitsa quarter of Velingrad. If you continue your walk up towards the forest you will find the Sveti Georgi chapel, built above an ancient monastery.
After 30 more minutes' walk by a dirt road you will reach one of the most beautiful chapels I have ever seen – Sveti Nikola. It was built in 2009 on the spot of an ancient temple.
[mapsmarker marker="169″]
Despite it is quite new it looks like it has always been there. The walk to the chapel was wonderful but on the way back the rain was not very friendly and I got really cold and wet.
Take a ride with the Narrow gauge railway
I always recommend the trip with the only narrow-gauge train in Bulgaria – a charming journey, one of my favourites. On the train you can also meet quite colorful people.
What else to do in Velingrad
I could say a lot of things about Velingrad, there are also many other beautiful places to visit. For me the best seasons to go there are spring and snowy winter but every season is wonderful. I will not get bored of going there anytime soon, and my wife shares this opinion too. See why it is great to go to Vellingrad in the winter.