Sunny Beach – Bulgarian Las Vegas
Any traveler sometimes finds himself at places he would never visit voluntarily. Me, my wife and my daughter always try to avoid crowded and noisy places but for some odd reason we spent our summer holiday in exactly this kind of place – Sunny Beach – the biggest and most crowded resort on Bulgarian Black Sea coast, attracting mainly young tourists with its round-the-clock party life. We would probably never choose it for our holiday but some circumstances sent us there in August 2016 and we spent a week exploring it and surviving there with a small kid. So I think it will be a miss if I do not share at least some photos and tell you more about the most popular summer resort in Bulgaria.
Sunny Beach – the beach
Sunny Beach – the biggest and most crowded resort on Bulgarian Black Sea coast
Sunny Beach – Sundown
[mapsmarker marker="139″]
Between the forest and the sand dunes
The construction of Sunny Beach started in 1958 and the first tourists were welcomed in 1959. Sunny Beach was designed to be a seaside heaven with a lot of greenery, a calm and beautiful place for families with children with a marvelous sandy beach. For the creation of this paradise were brought 550 000 cubic meters of fertile soil, 300 000 trees were planted, together with 770 000 decorative bushes, 100 000 roses, 200 000 dune grasses. Unfortunately, all of this is gone now and today Sunny Beach has turned into a park of hotels and bars. However, in 1959 it was a brand new green resort that welcomed its first tourists.
The first visitors
The first visitors were not Bulgarians but guests from other former Socialist republics. Bulgarian hosts had organized a ceremonial reception but for some mistake the buses took the tourists straight to their hotel so there was no ceremony. The very first visitor was Czech citizen Frantishek Silvester. He was welcomed at 3,50 pm at Kalina hotel where workers were still finishing some details.
So began the history of the best of its time resort on Bulgarian seaside – Sunny Beach. Until early 90s it was probably the most prestigious place for a summer holiday for Bulgarians but it was mostly visited by foreigners. Happy holidaymakers were walking around the wide and long beach, enjoying the clean shallow sea, the greenery and some local attractions like riding a camel.
The party paradise
Today all the calmness and greenery are gone forever and Sunny Beach is the biggest and most crowded resort on the Bulgarian seaside. With its numerous hotels, residential complexes, bars, restaurants and night clubs, it is a noisy place where the party is happening round the clock. Today most of its visitors are still foreigners – mostly from United Kingdom, Russia, Ukraine, Sweden, Germany, Israel. Many of them are attracted by the party and the cheap alcohol. Others are just used to come here every year – they have been doing it for years, their friends and relatives too. These are mostly Russian tourists.


In the summer Sunny Beach also turns into a scene of huge techno parties on the famous Cacao beach. World-famous DJs like Armin Van Buuren and Tiesto have made parties there, attracting thousands of fans.
Sunny Beach has turned into something similar to Las Vegas with its many hotels, casinos and night clubs. It is some kind of attraction with its round the clock party life but its reputation is still very controversial. For party lovers it is a paradise, for older people and families it is a nightmare.
The beach
The beach is still there – a wide beach with fine golden sand and shallow waters. The climate is still Mediterranean with many sunny days and temperatures around 27 degrees. But sunbathing has changed a lot – the 30-60 m wide beach is not enough for the thousands of tourists and it is as crowded as the resort itself. Its contemporary look does not help a lot with its huge paid zones with sunbeds and parasols and the much smaller free zones located on the least attractive parts of the beach.


Sunny Beach – the beach


The free zones
If you do not want to pay for staying at the beach, you should almost fight with the many others like you for some space. Every inch of the free zones is packed so you should come really early and accept the intimate closeness to the other beachgoers. If you decide to pay for a sunbed and an umbrella, you would barely see the sea because of the hundreds of people staying before the first line of umbrellas. Although it is officially forbidden to place a towel before the paid zone, there is no way to remove all the people that have occupied it. So going to the beach is not an easy experience for anyone.
Sunny Beach – the biggest and most crowded resort on Bulgarian Black Sea coast





The promenade
The long and wide promenade attracts all the tourists visiting Sunny Beach in the early evening hours. Stretching through the whole resort and to Nessebar to the south, it is a place to have a walk, to have dinner, to buy a drink or a souvenir, or maybe take a photo with retro clothes or another attraction like a snake or a parrot. There you can find something for everyone – from kids to elderly couples. So everyone is there in the early evenings and again the space is limited and the crowds are usual.
For the party lovers the promenade would be a good place to choose a restaurant for dinner or a bar for the night. Many bars are located on the promenade itself and many young people are advertising the other places where you could have some fun. It is a perfect place to start your night if you are an owl but not so perfect way to finish your day if you have a small kid.
Go around by train or boat
If you are not a fan of walking or you want to go far from your hotel, you can use the regular tourist train or boats. The train starts from behind Kuban hotel at the very centre of Sunny Beach. From there you could go to Nessebar to the south or Sveti Vlas to the north. From the quay you can take a boat (traveling every 20 min in the summer) to take you to the Old town of Nessebar.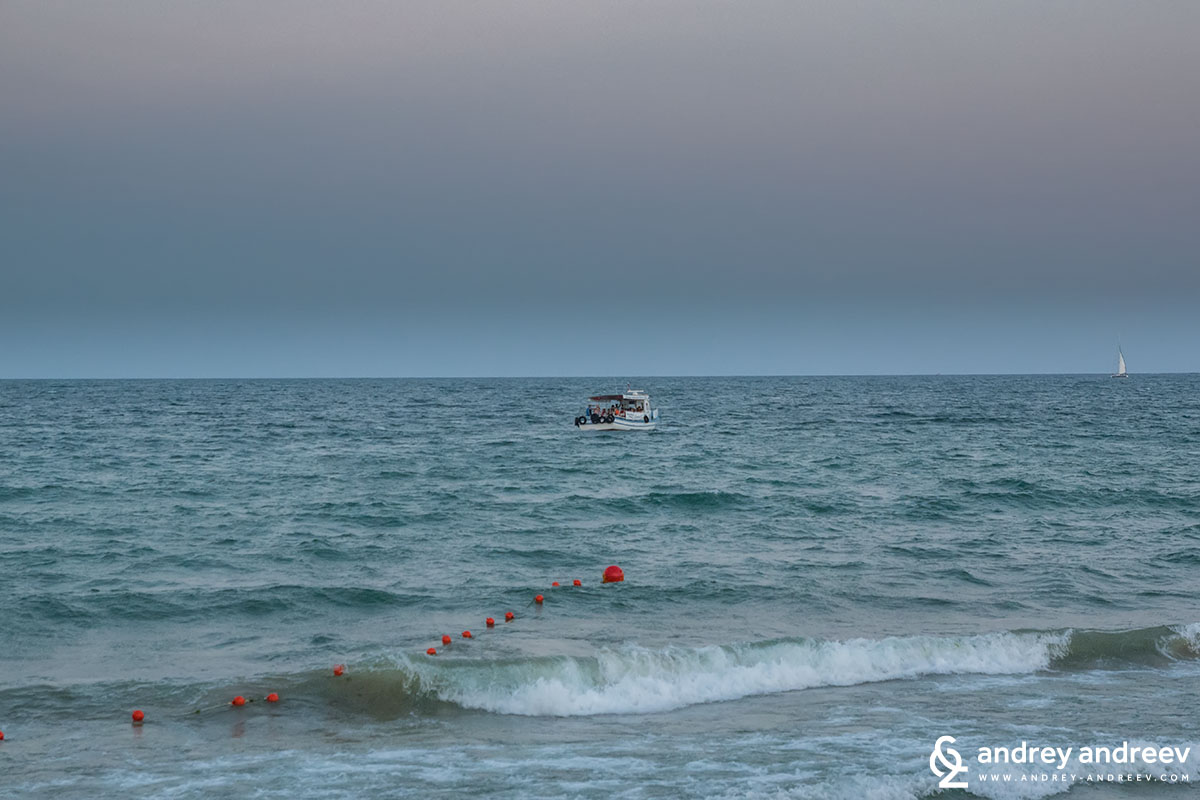 This time we decided to use the train which costed 3 lv (1,50 EUR) per person. You have to take two different trains to reach the Old town of Nessebar but it is a nice and attractive journey.
There is also regular public transport with buses traveling from Nessebar to Sunny Beach and Sveti Vlas.
The best places to visit around Sunny Beach
For me the best places to visit in the area are outside Sunny Beach. The most beautiful of them is Cape Emine – the easternmost point of the Balkan Mountains (Stara Planina in Bulgarian). It is about 30 km from Sunny Beach but it takes more than an hour driving because a part of the road is quite bad. However, it is a peaceful and beautiful place with an old lighthouse and a former monastery. Be careful when going there because it is bordering with a military zone and the access to some places is restricted.
[mapsmarker marker="140″]


Nessebar is doubtlessly another place worth visiting around Sunny Beach. It is easily accessible not only from Sunny Beach but from many other seaside resorts in Bulgaria, so if you are visiting Sozopol, Elenite or any other resort, just ask in your hotel how to reach Nessebar and do not miss it. The old city with its tens of churches keeps a long history and is a UNESCO World Heritage site.