The restaurants of Tuscany: La Taverna di San Giuseppe, Siena and food from the heart of Tuscany
A few meters below the level of the medieval streets of Siena, surrounded by more than 600 bottles of wine in an ancient Etruscan building, we try two types of pecorino cheese – one aged for 3 months, the other for 6 months – and wonder how we got here. We are in a real cave, once carved by hand by the Etruscans in the tuff rock. When you touch the walls and the ceiling, you can feel the moisture on them, brought by some natural magic inherent in this material, so common in buildings in this part of Italy. In this exciting cave, cheese and wine live and mature in complete harmony, without refrigerators, without air conditioners, as if it was made especially for them. In fact, the premises date from the 3rd century BC. and today it is part of a newer Roman-style building built in the 12th century. Inside, in the very historic heart of Siena, is the restaurant La Taverna di San Giuseppe. And we are inside its cellar.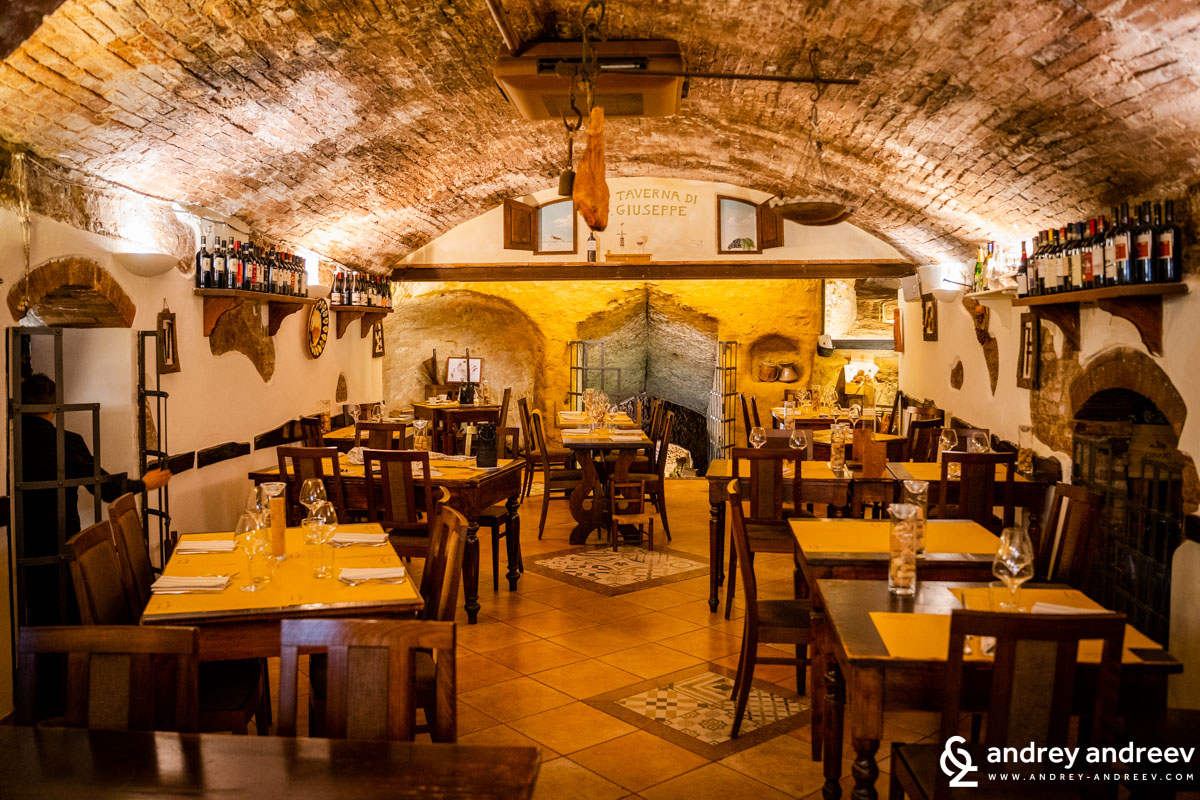 La Taverna di San Giuseppe
Taverna di San Giuseppe instantly takes you to another world – the world of home-cooked food, lit by candles and enlivened by the cheerful noise of the dozens dining here in a soulful atmosphere in the heart of the medieval town. Siena was one of the places that immediately stole our hearts during our Tuscan trip. And diving into the local culinary life on a rainy day at lunchtime only added to our instant love for this city.
The tavern is quite a famous place in the city and we'd be lying if we said it wasn't touristy or a hidden gem. Nothing like this – you will read on many places that it is the best restaurant in Siena, you will also find a recommendation for it in the Michelin guide. That's why we made a reservation a few weeks in advance and here we are – on a rainy September day, we slip into the beautiful Roman building.
We are escorted to our table – small but comfortable, pleasantly lit, although the restaurant's interior is generally rather dark. And although the tables are not too close to each other and all the guests have enough space to themselves, we can't escape the feeling that we are in a one-time osteria at lunchtime, when everyone from the town comes here to discuss the news from the day and enjoy a meal, a rest and a glass of wine before returning to their daily duties. Most visitors here may be tourists like us, but the love to good food and special places is obvious. And we are happy to share it with them.
The cuisine of Tuscany – a little bit of everything
We love asking the staff for recommendations when we dine at a restaurant. We are always happy to let them choose for us, since they know best their most signature dishes.
For a start, we were served a glass of extremely fresh and light white wine – Le Corbinie Vino Bianco, with which to refresh the atmosphere.
Appetizers with a forest flavor
The feeling of being in a medieval Tuscan home and being pampered with homemade traditional dishes also comes with the food. For starters, we were actually served a little of three different dishes that they offer in the restaurant. Our plates were accompanied by a crispy patty with spinach and truffle, a creamy cheese soufflé with black pepper, jam, pecorino and baked apple, and something extremely delicious with mushrooms, eggplant, ham and black pepper. Three different appetizers, complementing each other beautifully and teleporting us somewhere among the Tuscan hills, with the aroma of forest and cozy home.
Pasta and mushrooms
Pasta is like a religion in Italy, but you probably already know that. Mushrooms are no less important in Tuscany. Truffles and mushrooms are in every second course and our tasting menu at Taverna di San Giuseppe reminds us of that.
Immediately after the starters, we were served gnocchi with truffle . Infinitely tender, with a velvety pecorino sauce and a very aromatic truffle on top. We love such relatively simple dishes made with high-quality ingredients and a lot of attention.
We cannot imagine a menu in Tuscany without Pici – the most traditional pasta in the region. Pici are hand-made prolonged pieces, similar to spaghetti, and they are served with various sauces. In Montepulciano, at the best restaurant there – Le Logge del Vignola – they served them with black garlic, bread crumbs and pecorino. Here in Siena we taste one of the classics – pici with ragout, mushrooms and olive oil. Did I mention that mushrooms are everywhere?
Here comes our second wine – wonderful Rosso di Montalcino from the Camigliano winery.
Veal and game
As we finish the pasta and enjoy our wine, we notice the buzz around. The lights go out, the music stops, and the salon is lit only by a candle. The fire approaches us and goes directly to the table next to us. We realise that one of the waiters is carrying a cake with lit candles and moments later "Happy Birthday" blares and half the place sings along. It's about 3 pm, but that doesn't stop us from feeling like we're celebrating a new year. A few minutes later we returned to our table and let the celebrating people enjoy themselves.
Two meat dishes follow. One is an amazing beef steak, cooked rare , it literally melts in your mouth. Next comes boar meat, topped with steamed spinach with lots of pepper , which gives it a great spicy flavor. And with them comes a really exciting wine – Chianti Classico from the Ricasoli winery . The wine itself is wonderful but there is another curious fact to know. Ricasoli is the winery that literally invented the modern recipe for Chianti Classico in 1872.
We haven't visited this particular winery, but an hour earlier we were only fifteen kilometers from it, at the Riecine winery, where they also make a superb Chianti Classico. 
The desserts
We thought we were ready for the dessert but not for what arrived at our table. We felt like the whole menu with the desserts had come, every single piece more appetizing than the other. Salty panna cotta with tiramisu, crème brûlée, cheesecake with peanut meringue and balsamic reduction and incredibly light ice cream. Mind-blowing combinations of flavors. The wine pairing was Passito di Pantelleria from the Donnafugata winery in Sicily. A sweet finish that is hard to part with.
In the cave of cheese and wine
Undoubtedly the most interesting thing at La Taverna di San Giuseppe is the wine cellar. A small stone tunnel in the rock leads down to it. The entrance is open to all guests of the restaurant. Although there is no door between the two rooms, the difference in temperature and humidity is palpable. The cellar was carved into the tuff rock during the time of the Etruscans and dates back to around the 3rd century BC. And inside there are the perfect conditions for wine storage and cheese ripening, year-round. At any given time, there are several pies of cheese in the cellar, mostly pecorino, of varying maturity. We tried ones aged 3, 6 and 9 months. It's memorable. And the cellar has over 600 bottles ranging from small local producers to world classics.
Panforte
We are among the last guests of the restaurant at the end of the lunch service. It's almost 4pm, the staff have 2-3 hours to prepare for dinner, but we still chat at the door with the owners Marco and Matteo. Like most Italian restaurateurs, they are passionate about their place and tirelessly work side by side with all other team members to serve each guest properly. This is probably the reason why La Taverna di San Giuseppe is the most recommended restaurant in Siena.
As we are about to leave. we see this big cake-style dessert in front of us, asking what it was.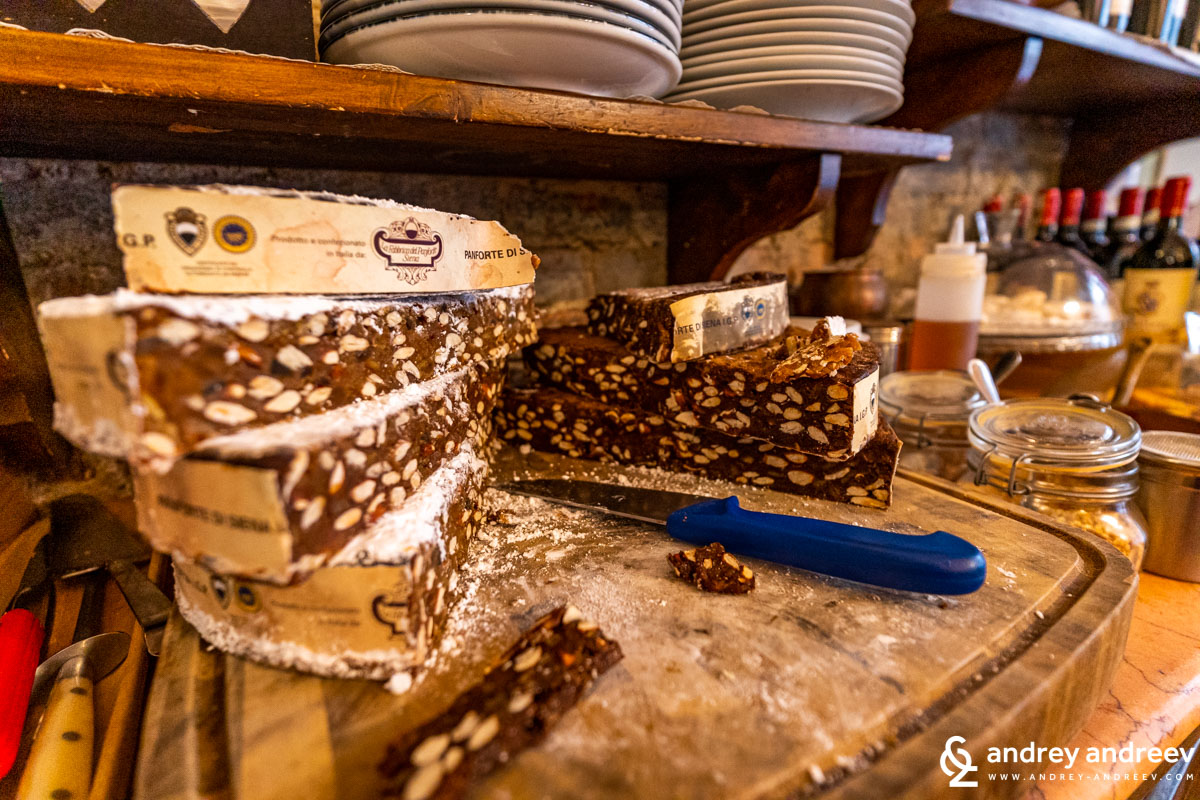 It turns out to be the traditional delicacy of Siena – panforte . It is a thick chewy dessert with lots of dried fruits and nuts, as well as lots of spices – cinnamon, ginger and even anise in some versions. Later, during our walk around Siena, we tried another panforte, at Nannini, the city's most famous patisserie. But the panforte at La Taverna di San Giuseppe remained our first pick.
After lunch we went for a walk through the medieval streets of Siena. Despite the torrential rain that we found there, the city became one of our favourites on this trip. Whether it's because of the excellent start at this restaurant or simply because Siena is wonderful – we can't say. But you can read more about Siena in our separate article on the remarkable towns of Tuscany.
Follow us: Instagram and Facebook
---