High Atlas mountains, Morocco – a trek through times, cultures and habits
Kasbah
– in
Morocco
the word kasbah is used for all fortresses or fortificated buildings, usually made by clay. In our story kasbah is a hospitality centre at 1800 m altitude built on the ruins of an old kasbah –
Kasbah du Toubkal
, overlooking Toubkal.
Toubkal – the highest peak in Morocco and North Aftica – 4167 m.
Trekking from Kasbah du Toubkal (Imlil) to the Azzaden valley and back – 20 km
Our mule did not have a name but we gave him one – Marmorko. The muleteer also had no name. Well, he probably had one but for the two days together we could not learn it. Maybe because he was not hearing well when we asked him and maybe because our Berber language was not very good and he was not good at any other language as well. Marmorko was white, a calm and quiet mule who followed us strictly, carrying our luggage. We had taken stuff needed for only one night and we hope we didn't cause much discomfort for Marmorko. The muleteer was colourful – with a blue jacket and some other colours in his clothing and the mule's equipment. They made a really colourful picture together.
Our route started from the Imlil valley, a home to several small villages under the name of Imlil (1800 m altitude). The valley is a green oasis among the rocky landscape around and is surrounded by the highest peaks in North Africa.
In the centre of Imlil village terminates the asphalt road from the town of Asni, which is probably the only asphalt road in the area. From here start many hiking routes, many of them with ascent to Toubkal peak. In the village you can buy or hire all the needed equipment for a trek in the High Atlas mountains but we had prepared in advance – mainly with jackets in different colours so we can look attractive on the photos.
The route – Imlil, Tizi Mzik, Ait Aissa, Tizi Oudite
In brief, we had a two-day trek. Starting from Kasbah du Toubkal, our wonderful base above Imlil. Then walking 4 km up to the Tizi Mzik pass (2489m), lunch in the shadows of the red cedars and down to other Berber villages and the other green valley, the Azzaden valley. There we reach the Berber village Ait Aissa (see route in Google maps). The descent from Tizi Mzik to Ait Aissa is 4 km and 1014 m denivelation. Then we spend the night in a luxury trekking lodge in the village. The next morning we start with 2.5 km ascent to the Tizi Oudite pass (2219 m), go down to the river that flows through the Imlil valley (4 km), have lunch and after 4 more km we go back to Kasbah du Toubkal.
The trek is 20.5 km long in total and you can hire a mule to accompany you and carry your luggage. Of course, there are plenty of other opportunities to enjoy the mountains so you can chose the one that matches best your style and capabilities.
Advise for Morocco: if you are visiting remote villages or towns (like we did in the mountains), it is good to respect local habits and traditions. Women are advised to be dressed modestly and avoid tight or too cropped clothes. It is unlikely to suffer any punishment if you don't observe this but it is still better to respect locals and their habits.
In the mountains with the Berbers – Abdul, Mehmed and the muleteer
Marmorko and his blue rider followed us closely and when someone fell behind to take photos, they calmly stayed and waited for us. We, on the other side, followed closely Abdul, our guide, on the dusty and deserted path. Pushed by some crazy curiousity, we started asking various questions – was he married, how old was he, in which village he lived.. We must have been very annoying.
Abdul spoke very good English, which is a rarity in Morocco. He was answering our numerous questions with enviable calm. We understood that he lived in Imlil and recently got married. He met his wife in a taxi from the town to the villages. They spent a year seeing each other in secret before they got married. Meeting someone without being married is a hard thing in the Berber world. Girls are not supposed to leave home without any proper reason and they should find very creative excuses if they want to go out with a boy.
Meanwhile, the greenery of Imlil stayed behind and we kept walking uphills.
We could not learn a lot about our muleteer. We only learned that he was quite old and he did not hear well so we were supposed to speak to him loudly. In Berber language, of course.
What about Mehmed? Mehmed appeared to be our personal chef, we tell more about him later.
The trek we are writing about is not very hard but it is for people in good physical shape that can cape with 6 hours a day walking in the mountains.
Abdul was not speaking a lot and did not pant a lot. On the other side, we tried to talk, despite our constant panting. We were not in perfect shape at all during our 2-hour ascent to the Tizi Mzik pass. The peaks of the High Atlas arised high above us and we were walking cheerfully through the highest mountains in North Africa. At some point the landscape became almost like desert, coloured only by some red cedar trees from time to time.
Lunch at 2500 m – Tizi Mzik
The first thing that catches your eye when you reach Tizi Mzik is the small stone house where you can buy fresh orange juice or a can of Coca-Cola. Besides the house (a shed, indeed), the red cedars and a few other tourists, there is nothing more up there. Mehmed was already waiting for us, apparently he had come in advance to prepare our picnic spot and Moroccan tea to welcome us.
He prepared our lunch very neatly and carefully. It included a large dish of fresh salads and white rice, as well as tagine with meatballs with typical Moroccan spices. Of course, the traditional cornbread was present on the table as well. For dessert – pomegranate and tangerines. Then we lied on the soft matresses to relax a bit on the highest point of our trek – almost 2500 m.
The Berber villages in High Atlas
When we walked through the High Atlas mountains, we were stunned how many people live there. Between the deserted hills we met so many people with mules or not, going there or doing some work. Despite the landscape might look deserted, there are so many villages hiding in the colours of the mountain. We will tell you about the colours a bit later.
We keep walking by the red cedars, their aroma is specific and unusual for us. The Berbers use these trees as a building material for the roofs of their houses. However, recently the felling of trees was prohibited in the area because they started to disappear. Here they have mostly red cedars, walnut trees, cherry trees and apple trees. At some place we even noticed fences to deter goats from eating the trees.
A few words about the fauna here. In High Atlas there are not large or dangerous animals. You can see goats, rabbits, squirrels, foxes, occasionally some harmless snake.
From Tizi Mzik to the Azzaden valley
We continue our trek through Tizi Mzik. Here used to be the old road connecting the two valleys. Nowadays it is mostly used by tourists and goatherds. The path is steep and narrow and the foreign mountaineers are few. Most of them reach the place where we had lunch and then go back. However, we keep walking by the next row of red cedars.
On the path we encounter a goatherd with a flock of goats. They approach us like a wave and slightly before we meet, they separate in two groups to bypass us. The baby goats make strange noises and their mothers call them from time to time. The goatherd walks last with a shillelagh behind his neck. We greet and pass by.
The colourful slopes of High Atlas
We pass Tizi Mzik and the views to the Azzaden valley reveal in front of us. There every slope has a different colour, totally different from the neighbouring one. Grey, blue and red slopes stand between the surrounding peaks. Along them, made by the material of the slope itself, live the small stone-clay Berber villages.
During the next several kilometres we descent by the steep goat paths. Abdul is leading us confidently and we often stop for a rest. We reach the green terraces made to collect water for the fruit trees. It is the season of apples, a part of the autumn subsistance of the locals. We also see walnut trees and in the spring they also have cherries. However, it looks like the apples are the most.
We walked through the grey village of Tizi Oussem, where a group of around 20 children ran after us and hid behind the houses. Currently a road to Tizi Oussem is under construction. We took the old dirt road below the village. We could not see the river down in the valley but everything was very green, as a small oasis.
Ait Aissa and the Azzaden Trekking Lodge
It was late afternoon and we were approaching the village Ait Aissa. The view of the stone houses on the slope was very charming and welcoming. We were walking by the dusty road, already tired and quite dusty as well. Our mule and muleteer were quicker than us to reach the lodge where we were staying. The Azzaden Trekking Lodge belongs to and is managed by the same owners as Kasbah du Toubkal. I admit we had no idea how the place where we would spend the night looked like. We only knew that it was a small hut with 4 rooms and a dining room and that another cook, warmth and coziness were expecting us there.
We entered Ait Aissa and started ascending by the narrow paths between the houses. All the houses are very similar to each other and there was no way to guess which one was our lodge. We walked until we reached the top of the hill, where we were welcomed into the lodge.
The host of the hut welcomed us, gave us slippers and washed our hands with orange water. Then he offered us dates to dip in milk – a traditional local expression of hospitality.
We settled, exhausted by the 10-km trek through the mountain. None of us is in very good physical shape, but at least we had spirit. We took a bath to refresh, there is bath in each of the 4 rooms in the hut. Then we put on our djellabas (djellaba is a very traditional piece of clothing in Morocco – a long loose-fitting outer robe with a hood) and went to the second floor to see the sunset and enjoy a cup of hot Moroccan tea.
We sat on the terrace, drank tea, listened to the last prayers for the day and relaxed. It would be a very quiet moment if it wasn't the buzz of the children from Ait Aissa and the neighbouring villages. Well, there may not be a road to here but the village was full of life, these villages are not deserted at all.
Berber-style evening
Here our story goes to the lazy and quiet evening in the hut, where we were alone with the weak internet, the fireplace and our slow talks. The valley was lit by the full moon and it was very strange how we were able to see both the stars and the light moon, throwing shadows on the peaks, just like a small sun. The atmosphere was almost extraterrestrial and we were waiting for the next day and its emotions.
Dinner at Azzaden Trekking Lodge
Actually, all of our meals since we arrived in Imlil were Berber-style. Once you arrive at Kasbah du Toubkal, you immerse yourself in the life of berbers. However, the dinner in the trekking lodge was the time when we really broke away from the life we are used to live. It immersed us in another culture, another life, another universe.
The traditional cuisine of berbers in High Atlas is simple and based on the products that you can produce in the mountain. Berbers eat mainly lamb, chicken and sometimes beef (we did not see many cows in the mountains, actually). Traditional vegetables include potatoes, eggplant, onion, peppers, peas. Sometimes they also add to the dishes raisins or dried plums, which add a very interesting sweet-sour taste to the dishes and pair perfectly with meat. The most usual way of cooking is in tagine, the traditional vessel consisting of a ceramic plate and a conic lid. Everything is cooked for a long time at low temperature.
That evening we were served vegetable soup for a starter and a tagine with vegetables for a main couse. For a second time in our lives (after the first dinner at Kasbah du Toubkal), we were able to eat lamb and like it. Usually we don't like the taste of this meat. Of course, no dinner in Morocco goes without the traditional bread with butter and olives.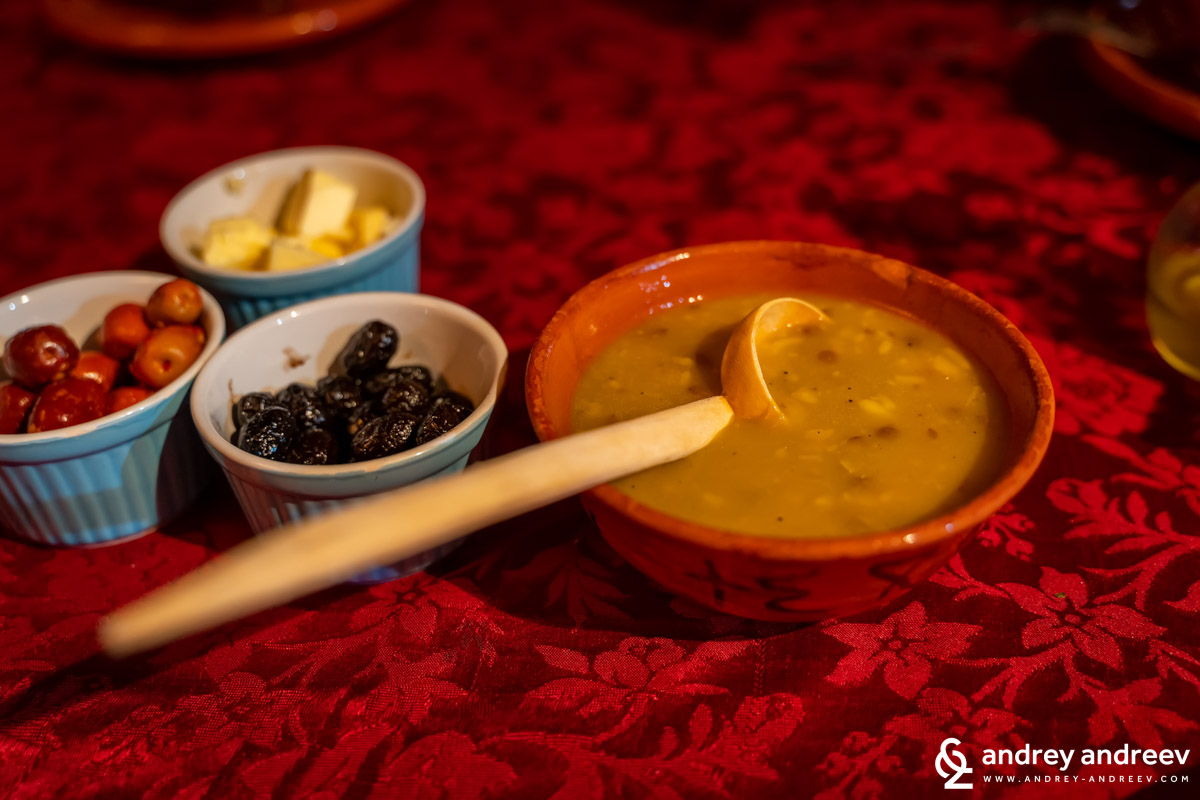 In the half-dark dining room, by the burning stove, sitting on the typical berber sofas, we talked about trips, cultures, religons, our lifestyle and other lifestyles. The dessert again was simple, natural and healthy – fruits (apples, pears and bananas).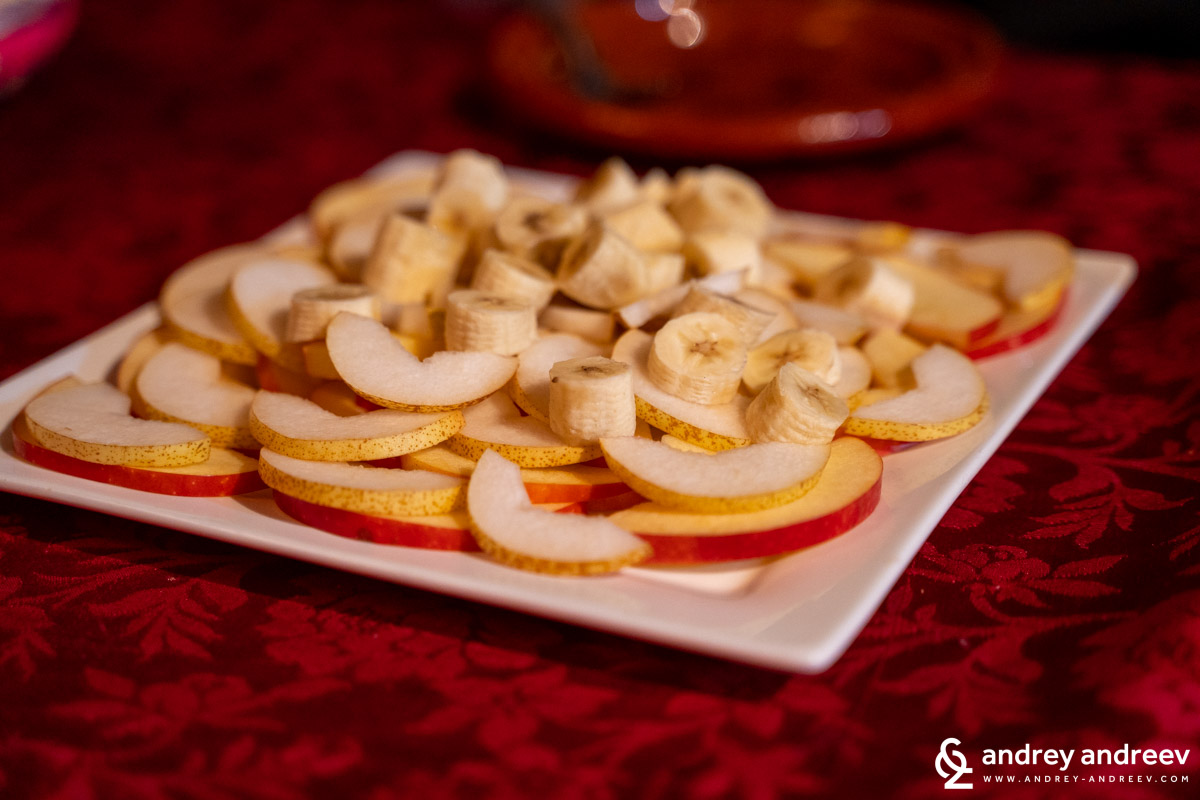 Tizi Oudite (2219 m) and the second day of trekking in brief
We had a wonderful sleep, we got up, had breakfast and headed to our next day of trekking in High Atlas. It started with an ascent, we passed by a football field, located probably at around 1900 m altitude. It had a bit strange shape and looked more like a skating ramp, but was very beautiful.
We walked by the reddish path on a reddish slope, up towards Tizi Oudite pass. When you look back, you see the red slope with reddish villages on it, the grey slope and it grey villages. Most of the roofs of the houses are made by wood and clay but now it becomes more popular to use cement and concrete, as it is waterproof and more comfortable in the winter.
We had a short break when we reached Tizi Oudite and then headed down to the Imlil valley. We crossed the bed of a dried river, passed by an empty goat farm (the goats were out for grazing at this time) and reached Matat village.
We reached the dirt road between the villages and kept walking the main road from Asni to Imlil. Then we crossed the road and continued our walk by the river bed.
We passed through Tadart, another village on the righ bank of the river. Just at the end of the village we noticed a small building with an oven. It appeared to be the local hammam – a really small hammam for only one or two people, but still a bath. It did not surprise us. We knew that until recently there were villages in the area without any hammam. And nowadays most of them have these cozy places where locals have both a nice clean and some social life.
Mehmed was waiting for us in the river bed, having prepared another amazing lunch. Our team, exhausted from the trek, enjoyed again the wonderful food and relaxed on the soft mattresses.
The mule was calmly grazing nearby. We were so exhausted that we decided to cut short the last leg of our trek and head straight to Kasbah du Toubkal. This day Maria and I stayed in a warm deluxe room, with a giant comfortable bed, beautiful bathroom with a bath. Again, a wonderful dinner by the fireplace was expecting us. We were ready to relax, energized by the good trekking but physically exhausted.
What do we need for trekking in the High Atlas mountains?
Before our arrival the team of Kasbah du Toubkal sent us an extensive list with the necessary equipment and other things needed for the trekking. However, not all of the things from the list were needed for this trek particularly. Below we share the things that we found most inportant for our trekking in November.
Equipment for the trekking
Proper hiking shoes, waterproof. It is important that your shoes have proper hard base and good grip, because some of the paths are very narrow, uneven and steep and there are also stones and screes. According to the list, the shoes should be boot-style with ankle support, but we found this not that important. Anyway, don't take a risk with sneakers/trainers/flp-flops, etc.
Comfortable clothes, best in layers – for example a t-shirt, a fleece and a jacket. The temperature in November was 10-15 degrees. We had prepared with thermal underwear but we removed it quickly. You don't need a warm and heavy winter jacket. It is more practical to have a lighter jacket, but waterproof and windproof. About the trousers, it is advised that women wear loose-fitting trousers instead of tight leggings. A combo of leggings and a longer loose sweater/jacket covering the but is also acceptable. In the summer women should avoid wearing revealing clothes or at least bring a scarf to cover themselves when they pass through villages and meet locals.
Raincoat. We actually did not use it but it is on the list and it is good to have one as the weather in the autumn may not be that good. If you have a waterproof jacket, it is enough. If not, a simple nylon raincoat should work above the jacket. In the High Atlas mountains rainfall is not an usual view, maybe only the winter months are wetter, but anyway it is good to bring at least a simple raincoat.
Holdalls/backpacks rather than suitcases. It is more comfortable for the mule to bring several smaller and lighter pieces of baggage instead of one large. For the hike from Imlil to the lodge and back we only took baggage needed for 2 days/one night, and the rest we left at the Kasbah. Here you can bring an additional layer of warm clothes as the hut is not inhabited and heated all the time and you may feel cold in the autumn evenings. On site there are djellabas and scarves for all guests.
Personal water bottle. It is a good idea to bring water in your own lugagge but in case you forget or do not take enough, the gude and muleteer always bring some additional water. However, if your group consists of several people and don't have personal bottles, you should drink from the same bottle. The High Atlas mountains are not rich of drinkable water sources so don't count to find a fountain or a spring during the trek. However, at the Kasbah du Toubkal they have a clean water source and you can fill your bottle there.
Other personal things
Hygiene materials. Besides a toothbrush and other basic things for the night, some people advise to bring a toilet paper roll. However, a small pack of napkins will probably fit your loo needs for a few hours of trekking. Wet wipes and a hand sanitiser are also a good idea. In the trekking lodge there is everything needed, including toilet paper, toiletteries, etc.
Personal first-aid kit and medicines. It is useful to have anti-diarrhoea tablets and rehydration tablets, and maybe painkillers. At the Kasbah du Toubkal and the trekking lodge the food is wonderful and safe but it is still a good idea to bring such stuff in case you stomach does not bear something. The rehydration tablets also do a very good job after intensive physical activity and quickly returned our powers after the long trek.
Sunglasses
Seasonal stuff – suncream, insect repellent, hat for sun/cold, gloves. In November we needed none of the above.
Documents. Please bring your passports to the lodge and don't leave them at the Kasbah with your other luggage. The lodge is a separate accommodation and they will require to register you. Proper registration of hotel visitors is a serious thing in Morocco.
How to organize a trek in the High Atlas mountains in order to have best experience
We would advise you to trust the locals. We took the unique opportunity to spend two nights at Kasbah du Toubkal and another one in the lodge in Ait Aissa, which is also managed by the Kasbah du Toubkal owners. The Kasbah is everything but a typical hotel, it is indeed a Berber Hospitality Centre. Its purpose is to mix the best of both worlds – the one of Berbers and the one of visitors. And they are doing amazingly well. Our trekking was also organized by the Kasbah du Toubkal. We are more than happy with it and thankful for these amazing days in the High Atlas mountains.
If you are curious about Morocco, take a walk with us through all the places we visited in this country in our Morocco category.
Follow us: Instagram and Facebook
---