Finding Kokorko: Yalovo Winery and the traditional Bulgarian grape varieties
Dimitar and I walk among the vineyards, somewhere between the Gamza and Dimyat plantations. The vines are young and this year they will give their first harvest. Hopefully, soon we will try wine from them. Dimitar is the enologist of Yalovo wine cellar and we are the example how someone could spend seven hours in a winery. But the day finished well among the vineyards where we insisted to go and see how local grape varieties are being grown on the hills between Kilifarevo and Yalovo, some 15 km from Veliko Tarnovo in Bulgaria.
If you want to have a good vineyard, the view from it should be good, too, says Dimitar. When there is a nice view, it means that the place has good ventilation and exposure. The view is really nice here.
The old school building
Let's start the day over, when we parked the car in the centre of Yalovo village next to the building of the former school. It used to be a school in the early 20th century. The building is nice, with three classrooms on one floor. Nowadays it is reconstructed for the needs of the winery and the yards is stunning green. We were welcomed by Anton Tanev who owns the place together with Dimitar. At that time Dimitar was on the vineyard to have some work done. It was Sunday and we were the only visitors. Our kids enjoyed the swing in the garden and we started asking questions about the place and the wine, as usual.
I have some sympathy about old school buildings. And I am happy every time I see that they have found a new occupation after being abandoned as school. These buildings were made with so much eagerness and enthusiasm decades ago that it would be a pity if they were left in decay. Here everything has been renovated and adapted to the needs of a boutique winery.
The stone building is one of the most beautiful ones we have ever seen. One of the former classrooms is now a hall for wine tastings for large groups. The other one is a cozy and nice wine bar. But the most important room nowadays is the one turned into cellar. Its wooden floor has been removed and the former classroom is connected with the cellar under it, making a cozy space for aging of wines. The kids themselves loved the green yard with the swing and the table prepared for our tasting outdoors.
Yalovo Wine Cellar
The winery is a small one, making very limited quantities of wine in short series. They count on artisanal methods with a lot of handwork. The main workers in the winery are its owners. So it is natural that their wines are influenced by their personal views, which makes them unique and interesting. Dimitar is an enologist, keen on searching for the lost Bulgarian grape varieties. We spent a lot of time talking to him about the indigenous local varieties and his passion to walk among the abandoned vineyards and look for grapes that are almost extinct. Here we could not hide our curiousity about the almost lost grape variety Kokorko, which Dimitar accidentally found and even made a few bottles of wine from Kokorko. For some extreme chance, we were able to taste it.
We have always enjoyed the tour around a winery and we always prefer to start with this. Our advise to you is to take the tour, too, no matter whether you are anyhow familiar with wine production. You will see the fermentation tanks, the barrels and other technology used for wine production. The path of wine is similar everywhere but also has its individual details in every winery. Here a lot of things caught our eyes. One of them were the two vertical barrels used for fermentation of some of the wines. I recalled the times when I was a young kid, when my family used to make home-made wine in a similar barrel.
As keen winelovers and wine enthusiasts, we insist to visit the wineries where the wine is made. Here we have written a few tips about what to expect from a visit in a winery in Bulgaria: Wine tasting like a Pro in Bulgaria.
A lovely afternoon in Yalovo
While we were doing our trip, the kids played in the yard of the former school. Anton prepared the apetizers for the upcoming tasting. Eventually, the time came to discover the secrets of the bottles. Even though it is a very small winery, Yalovo makes a wide variety of wines, including a very nice sparkling wine.
In the beginning of the tour we had a brief confusion about some wine terms on the labels of the Yalovo wines. Eventually, it proved to be a Bulgarian language matter and some specific uses of wine terms on the Bulgarian market, like "assamblage" and "cuvee".
Anyway, I hope that we clarified the matter. Then we took a bottle of white assamblage, another one with red assamblage, one bottle with wine from exotic variety and one reserve and headed to the table.
A long tasting of memorable wines
Assamblage – Misket/Rkatsiteli 2019:
It was lunchtime and after the long winery tour we were thinking of something refreshing. The assemblage from Misket and Rkatsiteli, vintage 2019, was the wonderful choice of Dimitar and Anton. It had pale straw yellow colour and aromas of fresh flowers and fuits including green apple and white peach. Very juicy with refreshig acidity and notes of lemon and green apple in the taste. Alcohol is 12,7 % and this wine is a great idea for the hot summer days and afternooons. It would go perfectly well without food but if you want to pair it with something, a good fit would be a salad or bruschetti. We tried it with bruschetti with apple and cinamon jam and loved it, too.
Zasukano – Chardinnay / Misket / Sauvignon blanc 2019:
In Bulgarian language the word Zasukano means "twisted". It may be indeed complicated to make but it is quite easy and light to drink, great for the spring and summer. With pale gold colour, aromas of fruits and something sweet. Nice average acidity and middle body, tastes of apple, grapefruit and some other citrus, with a little bit of residual sweetness, alcohol content 13 %. This is one of the most recent wines of Yalovo winery and also one of the best-priced ones.
Kokorko 2019:
This is probably one of the rarest wines we have ever tasted. Here we will write the brief tasting notes and later in the article we will tell you more about the Kokorko grape variety and why it is so interesting. Pale, almost fully transparent wine, colour of white gold. Aromas of white flowers, fresh summer fruits (peaches and apricots), and a sweet note, maybe like roasted apples.
Extremely interesting combination of aromas and tastes. Voluminous and juicy body, with tastes of apple and some other fairly sour fruit. The curious thing about the wine from Kokorko is that it has relatively low acidity but actually feels fery fresh and juicy. As a feeling it recalls maybe the viognier wines, but not exactly. It was a really unique experience not only because of the wine itself but because of the history of the grapes as well.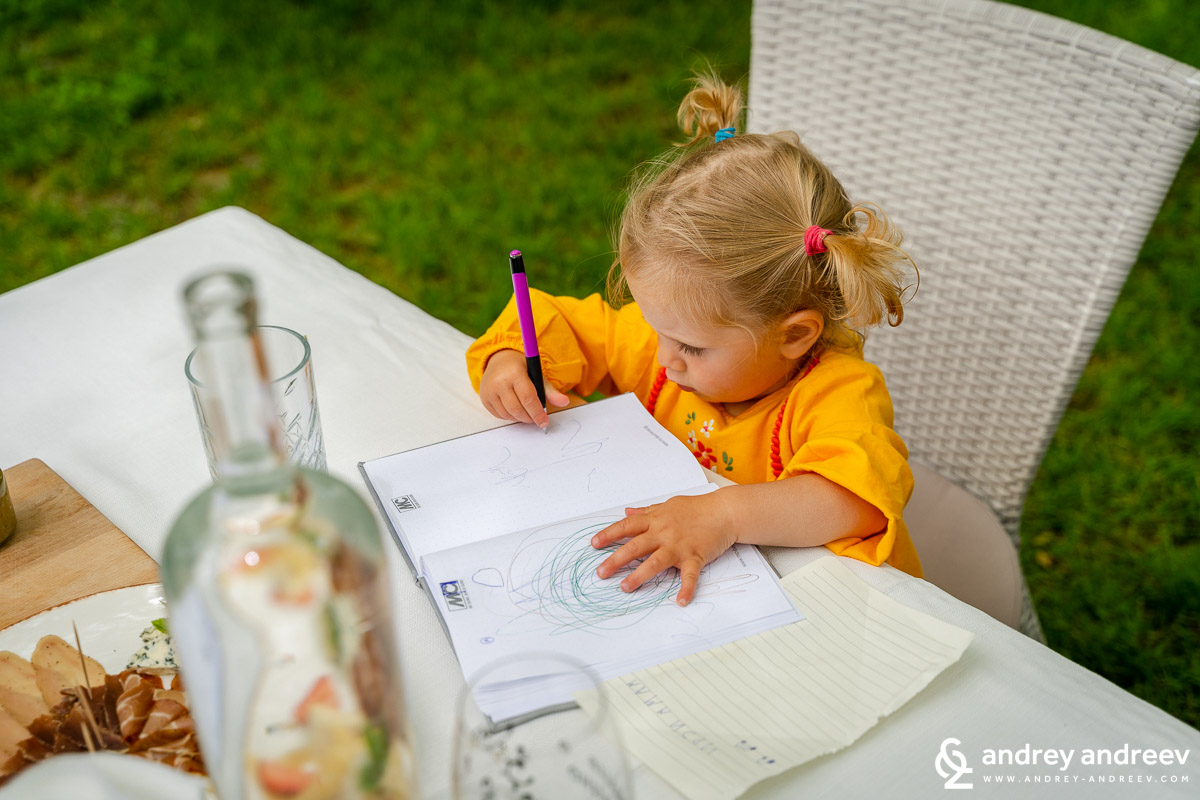 Assemblage – Cabernet Sauvignon / Pamid / Rubin 2018:
We already mentioned that Dimitar has a passion for Bulgarian grape varieties. Rubin is one of the favourites of both owners of Yalovo winery and is present in many of their wines, particularly in the collection series. This assemblage is full, with deep colour, intensive aromas of black and red fruits jam and oak. Full-bodied, with middle acidity, long final and notable tannins which remembered us that it would be best to pair it with food, meat preferably.
The making technology is interesting. First they put the Cabernet and Rubin together and drained grape juice to make rose wine. Then, on the remaining stuff were added the pamid grapes. The mix fermented together to make this wonderful assemblage. We have spoken previously about the pamid, an indigenous Bulgarian grape variety. It is an easy to grow grape, but not able to give full-bodied red wines easily. It is perfect for rose wine and for adding to blends. This assemblage is one such blend.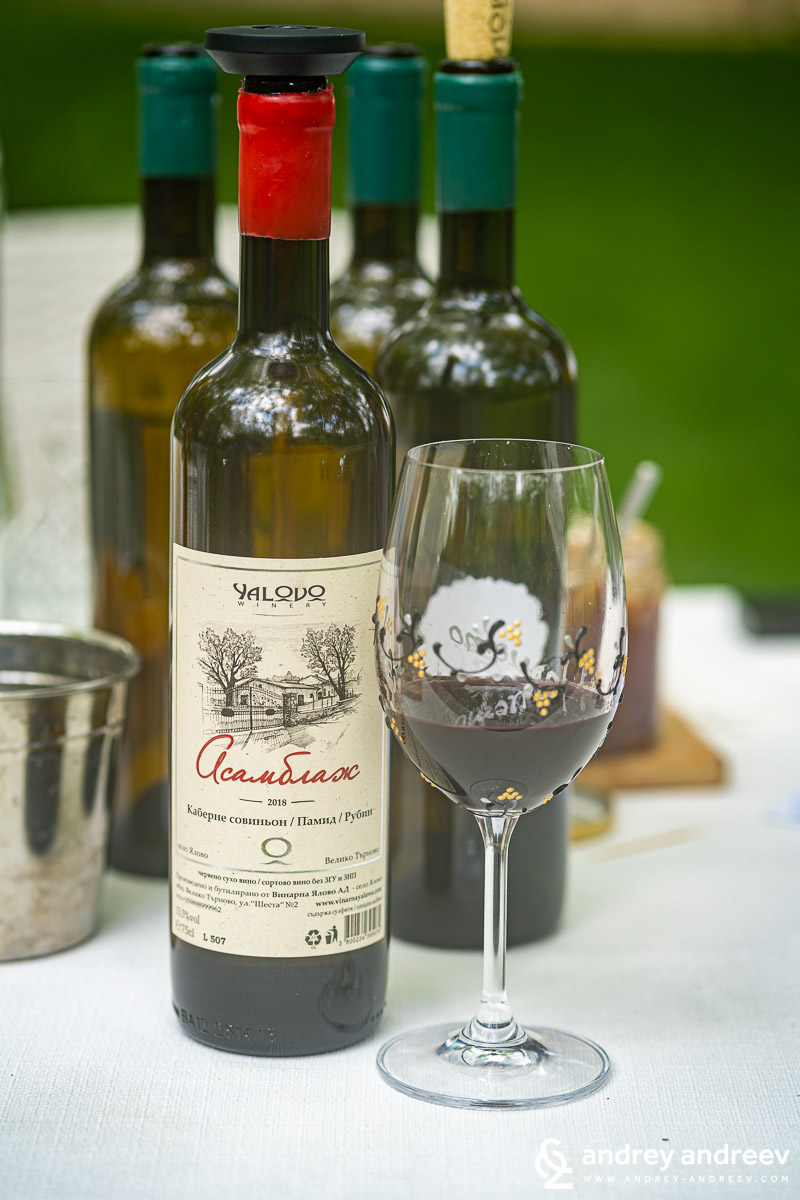 Rubin Reserve 2018:
The grapes come from Plovdiv area, the best region to grow Rubin in Bulgaria. The owners of Yalovo winery very much like this variety and actively work with it. Rubin Reserve 2018 has deep colour and aromas of ripe black fruits, oak, capuccino and juicy long final. Elegant and dynamic body with spicy notes. The grapes fermented in a wooden vertical barrel and the wine has matured in oak for 12 months. A wonderful wine from the enoteca series of Yalovo winery. We took a bottle for home, too.
Sparkling wine from Yalovo winery
The sparkling wine of Yalovo winery is one of the things you must taste. Very few wineries in Bulgaria make naturally sparkling wines and really few can show you vintage 2009. This wine is as good as its expensive cousins from France.
The grape varieties and the people
We left the story about the grape varieties for the end in case you are not so interested in them. But it is actually full of curious facts. During our trips, we always look for wines from local varieties. Dimitar is a man keen on searching for local varieties and grapes that are almost extinct. Like the white variety Kokorko.
In their young vineyards the owners of Yalovo winery have planted some traditional Bulgarian grape varieties, including dimyat, pamid and gamza. These were once very popular and widely spread across Bulgaria, carrying the local genetic material. Nowadays they are more like an exotic. During the whole day in Yalovo winery we did not stop talking about the grapes.
Kokorko grape
We had only read stories about this almost extinct Bulgarian grape variety. Previously we had not met a real person that had something to do with it and we had never tasted wine from Kokorko. This is why we were overenthusiastic when we understood that Kokorko is still alive. Dimitar told us that he accidentally found a few vines of Kokorko in the middle of a Misket vineyard. Now he is determined to plant more young vines and create a new vineyard with the interesting white grape.
Currently, there are no large vineyards of Kokorko. We could not find much information about this almost extinct grape variety. We understoot that it grows on large clusters of numerous tuny grapes with small dots on them. In the past it had many names, including Mokri Brada (Wet beard) and others.
While we were talking about Kokorko, the kids had great fun in the former school yard. It was apparently a popular place among the kids from the village and our daughters were more than happy to play with other kids. Meanwhile, Anton's wife brought an amazing home-made pie with cheese and nuts.
How to reach Yalovo winery
Yalovo winery is very close to Veliko Tarnovo, some 15 km (20 min driving). The road passes through the town of Kilifarevo. If you are coming from Dryanovo, it is about 25 minutes driving, the road is slower and curvy. Both Dryanovo and Veliko Tarnovo are nice places to visit and stay. Anton also owns a hotel in Veliko Tarnovo – Park Hotel Raya Garden. He have not stayed in it but indend to do it soon.
I would recommend you to arrange your visit to Yalovo winery in advance so they expect you. If you are a larger group, you could also arrange a lunch menu. It is possible to go from Veliko Tarnovo to Yalovo by taxi as well, if you don't want to drive after drinking.
Follow us: Instagram and Facebook
---