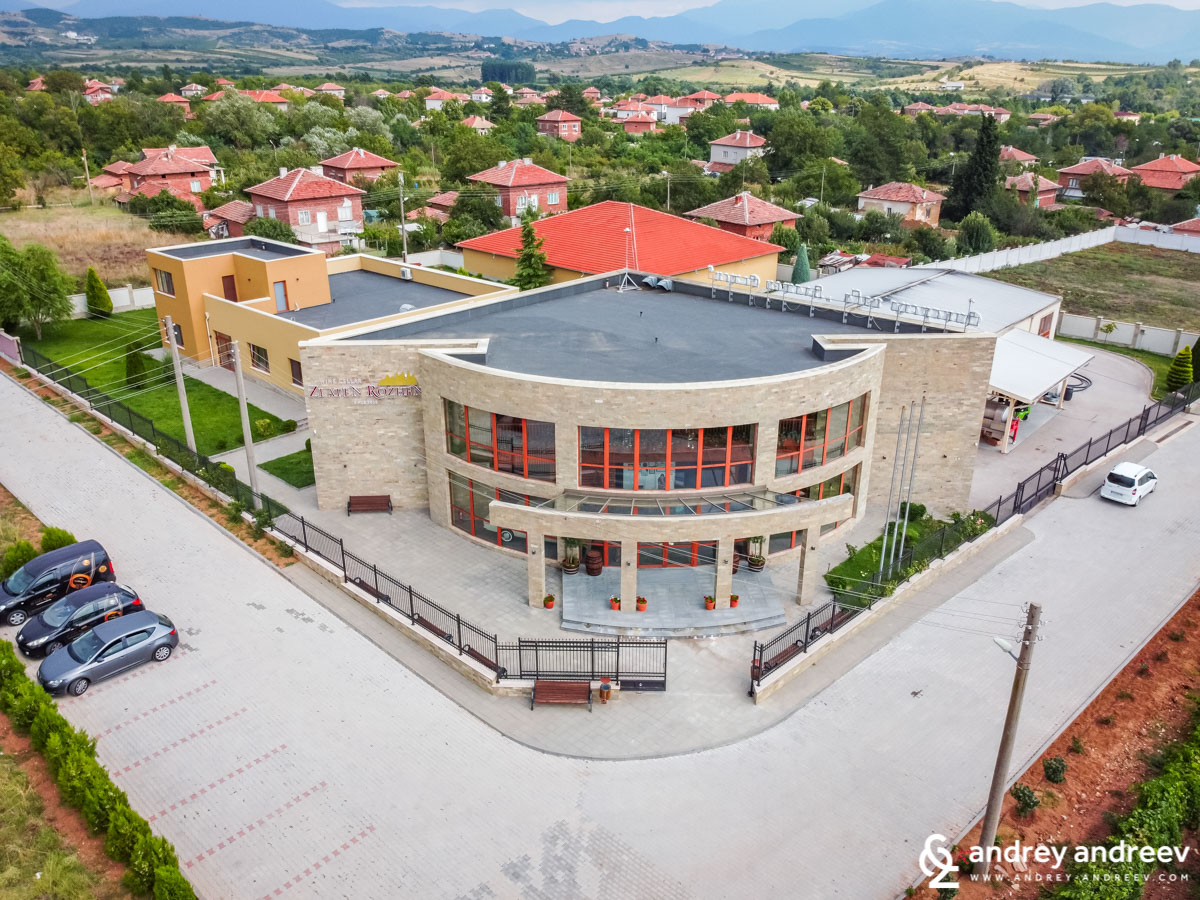 Zlaten Rozhen wine cellar, Bulgaria – where alchemy happens
We first visited the new building of Zlaten Rozhen wine cellar on a cold February day in 2018. It had just opened in the village of Kapatovo, near the town of Melnik in the famous Struma Valley wine region. By the entrance was proudly standing a Mercedes from 1969 and inside was the just-opened wine shop and wine tasting hall. We made a quick tasting and left because we were very tired after a long wine day.
Since then, we never miss an opportunity to visit when we are in the area. The car is now on the other side of the room but still acts an important role there. Our curiousity is endless and every time we ask for a tour in the winery, to taste wines from the fermentation tanks and the barrels. And every time we find new things to admire.
The first time we visited Zlaten Rozhen for a more serious walk was in the autumn of 2018. We were lucky to meet the charming product director Federico Ricci who took us through the whole process from the fermenting grape juice to the barrels and bottles. This visit left us with really warm attitude to the winery and we since then we love returning there.
In August we returned for another visit – this time to meet their new winemaker Kiril, see his visions and works (which are really interesting) and for the first time to visit the vineyards of Zlaten Rozhen, which we find really important. This article is a mix from our impressions from all the visits we have made here. Sometimes it may look confusing but it is an excitement for us to follow the development of this winery which we really like.
A walk in the vineyards
If you are driving on the highway from Sandanski to Greece, you will notice the big billboard advertising Zlaten Rozhen winery. It is located in one of their vineyards and the wine cellar itself is just a 5 minute drive from it in the nearby village of Kapatovo. If you are coming from Greece, you will need to leave the highway slightly before you see the billboard.  This vineyard was previously planted with Nebbiolo, which was recently replaced with new plantations.
Zlaten Rozhen wine cellar was established in 2010 and is continuously growing and developing through the years. In 2017 it acquired another local winery with its vineyards which made it one of the largest vine owners in the area. Currently Zlaten Rozhen owns 800 decars of vineyards, planted with various varieties. They have both local varieties like Broadleaved Melnik (known also as Shiroka Melnik), Melnik 55 and Rubin, and the classics Merlot, Cabernet Sauvignon and Syrah. They also have plantations with some exotic varieties for the region, like Sangiovese and Nebiolo.  
We finally had the opportunity to visit their vineyards in summer 2020. It was really nice to see the old vineyards with Melnik 55 and Melnishki Rubin and new plantations of the local varieties just next to them.
The "shaggy" rows with the local Broad-leaved Melnik (Shiroka Melnik) are also recognisable. The huge leaves of this typical vine actually give the name of the variety and can be easily noticed.
Near them we saw the young plantations of Mourvedre and Carmenere. We wait with a huge ciriousity to see what they will produce.
Wine and terroir
Our first meeting with Federico Ricci was emotional and colourful. Federico started his lecture with words about the soils and how important are they. Three different soils can be found in the Zlaten Rozhen vineyards and each one of them has specific characteristics that also reflect on the grapes. All of this matters for the following winemaking. We understood him better some years ago during our trip to Alsace, France, and our visit to Domaine Paul Blanck and their vineyards. Since then we are even more curious about terroirs.
Here is the time to mention why actually Federico is working especially for Zlaten Rozhen. He has been working with Bulgarian wine cellars for years but Zlaten Rozhen impressed him because they grow his favourite grape variety – Sangiovese, which is not very popular in Bulgaria.  
Sandanski Misket and what we did not know about it
A glass of Sandanski Misket is a classic start of any visit to Zlaten Rozhen. Sandanski Misket is a locally created white grape variety, very aromatic. However, we were surprised to hear that it was a hybrid between three varieties, only one of which white. The parents of Sandanski Misket are actually Tamianka, Broadleaved Melnik and Cabernet Sauvignon. We are always very curious about the different grape varieties and especially about the Bulgarian ones. 
The red fountain
The tours across the winery are one of our favourite things. We are ok to postpone the tasting and head to a tour through the winemaking department. Being there during the harvest season is very interesting as you can see all the route from grape to wine.
So the just harvested Cabernet Sauvignon grapes were put on the line that takes them to the inox containers. There, under their own weight, the grapes break and the juice goes out. It is very attractive to watch the red fountain through which the grape juice is moved to another tank for fermentation and further processing. And we were also happy to taste the sweet non-alcoholic juice which was just amazing.
Tasting the youngest wine
We spent a lot of time in this hall, where the first stages of the winemaking process occur. It was great to watch and listen to this lecture on a glass of wine straight from the fermentation tank. 
Then we headed downstairs, to the cellar with the barrels where the best wines mature. On the way to the cellar we also met another attraction in the winery – the dog Aira. We did not remember what breed was she but she was just huge. And very kind, too. 
Tasting in the cellar
Every time we visit Zlaten Rozhen, we see more and more barrels. Some of the treasures we tasted during the first visit are already in bottles. It is a wonderful emotion to taste wine straight from the barrel. On one side, it has went most of the way through technology. From the other side, it has some more job to do before going to the bottle. It is both ready and not ready. And no one knows when it will reach the bottle.
The Bulgarian-Italian alchemy
Zlaten Rozhen is a very dynamic winery. Every time they surprise us – with new vineyards, new wines, new ideas, new people. A few years ago they had only one middle-class series and another premium brand. Federico came with visions of new middle-class and premium series with amazing character. The latest good surprise, in which the young winemaker Kiril has a role, is the new series of budget wines with colourful labels and fresh feeling. It is always great to see the passion to create and striving for the better.
The new Zlaten Rozhen series
The main series, named Zlaten Rozhen, is nicely refreshed with several new wines with colourful labels and fresh feeling, at great price of under 9 BGN (4.5 EUR).
During our visit they had bottled just the first three wines – Sauvignon Blanc & Sandanski Misket, Rose from Shiroka Melnik & Sangiovese, Merlot & Shiroka Melnik. Both are fresh, aromatic and a great value for money.
Part from the new series are two more wines that we have not tasted yet. One of them is Syrah&Merlot and the other is pure Broad-leaved Melnik.
Family Reserve – wines for friends and all the good moments
Family Reserve is the product line of higher-middle class wines, created in 2018. Here we can find the alchemy between the local terroirs, the passion of the Bulgarian owners and the enthusiasm of Federico to create high-quality wine with unique character. The result is really Golden. 
The wines from this series are really interesting. We started with the only white – White Sand. White, but not actually. White wine from Shiroka Melnik, which is a red variety. Very exotic and unusual. See our full article about this wine for more details.
The rose from Sangiovese – Rosapina, has a scent more of flowers and herbs than fruits. We are used to taste roses with mostly strawberry and raspberry scents but this one is different. Not that the fruits are missing, they are just not dominant and the combination with the other tastes and aromas is really different and impressive.  Our article about Rosaspina says more.
Here comes the time for the wine that became our absolute favourite from the new series – Sansi. It is a mix of Syrah and Sangiovese. Federico calls it Welcome wine – because it is juicy, delicious, light, and perfect for every occasion. For welcoming friends, for pizza, pasta, or just for no special reason. It will definitely help you make the night awesome without demanding too much attention and effort. But everybody will remember it.
Finally, we have something that reveals the spirit of the region – Melnishki Cepage, from Melnik 55 and Melnishki Rubin varieties. The grapes grow together mixed in the same vineyard and taking them together in the wine is the most natural thing to do. We have a separate article for Melnishki Cepage, too.
Exclusive Lot
We waited for this line for a lot of time with excitement. First time we tasted these wines was in 2018 and then in spring 2019. Then Federico took us through the barrels to try some of the wines that were not yet ready. All of them were special – complex, explosive, rich – for really special occasions. A fruit of the alchemy we mentioned above.
The series are very limited – between 300 and 1500 bottles. But are amazing idea for gifts to wine lovers. Currently there are Cabernet Franc, Merlot, Syrah and SYCAGY. We have tried all of them before bottling and only one after bottling – the SYCAGY, about which you can read here. At home we have a bottle of Syrah that awaits its special time.
So, the limited series are from Syrah, Merlot and Cabernet Franc and are just gorgeous. If you have available budget, do not hesitate!
When and how to visit Zlaten Rozhen wine cellar?
The wine cellar is open for visitors every day from 10 to 18 h. it is located in the village of Kapatovo, near the town of Melnik. There are signs on the main road and the highway so it is not difficult to find it. Anyway, we always use GPS. Reaching the cellar and parking there is generally easy.
On the spot you can choose between 6 types of wine tastings. And they could also organize a tailored tasting according to your taste. The tour around the cellar is included.
Don't worry if you are visiting with kids – the staff is very welcoming and they will be happy to greet them, too.   
You can learn more about the wine cellar from their official website. We strongly recommend you to combine your visit to Zlaten Rozhen wine cellar with a pleasant holiday in the Melnik area. The owners of the cellars own also the Zlaten Rozhen hotel in the village of Rozhen, 6 km from Melnik. It is a wonderful place to stay. In the evening there you can enjoy delicious home-made meals with a bottle of your favourite Zlaten Rozhen wine.
---
The best thing about our hobby is that we make wonderful acquiantances and partnerships. One of the best examples is Zlaten Rozhen wine cellar. We quickly became friends with them and were able to learn so many interesting stories. We are happy that we met Marusya Osikovska, Federico Ricci, Maria, Valentina and Aira the dog and we wrote about this wonderful winery where you can meet them, too.
---
---
Follow us: Instagram and Facebook
---