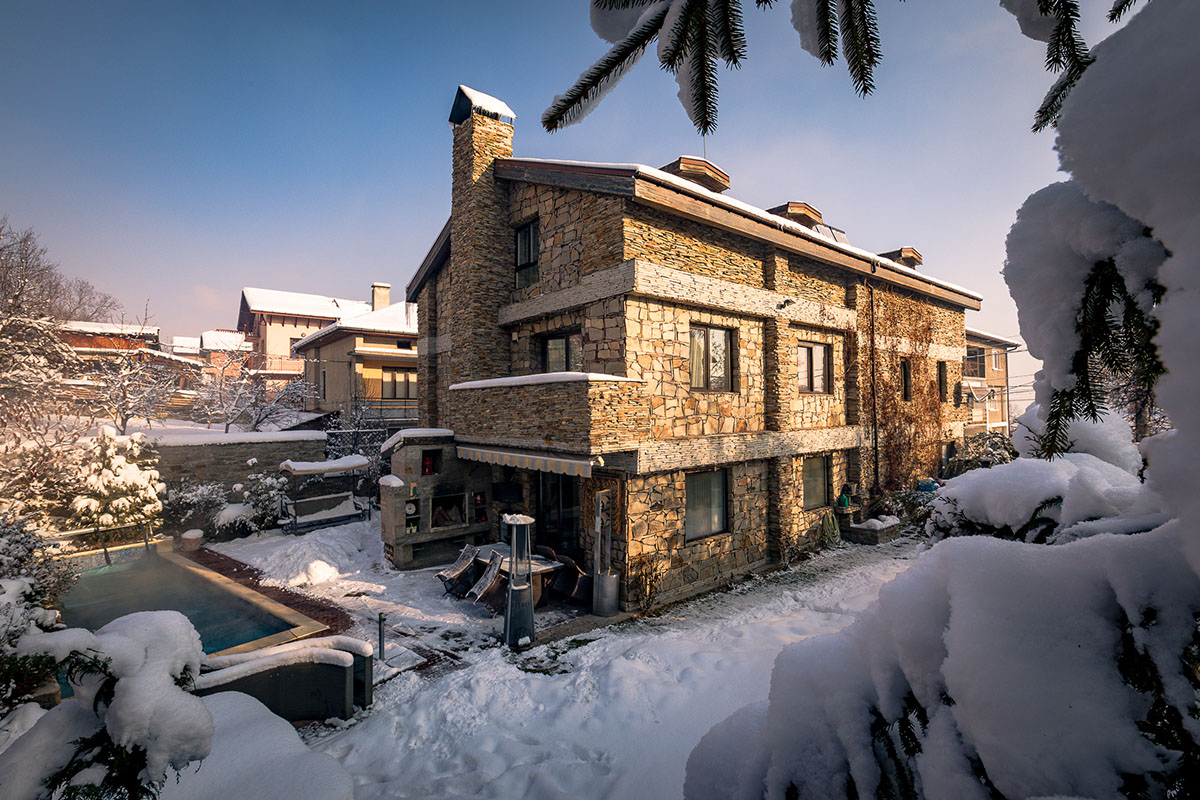 Villa Vuchev ***** – the best place to stay with friends in Velingrad, Bulgaria
Welcome to our favourite luxury SPA villa in the SPA capital of Bulgaria
Velingrad is a place where we would go anytime, any day, any moment. We just adore this town, known as the SPA capital of Bulgaria, and without a reason. We go there every few months and we adore it especially in the winter, spring and autumn seasons. Now spring is coming and we are again thinking about our next trip to Velingrad. And I won't keep it secret – one of the strongest reasons we visit often Velingrad is called Villa Vuchev – our favourite place to stay there, a luxury SPA villa, the best place to spend a great holiday with friends in Velingrad.
[mapsmarker marker="161″]
Villa Vuchev is a 5-star boutique villa in Velingrad, just a few steps from the forest itself. And yes, it is luxury. But what do we count luxury? For us it is the calmness, the privacy, the opportunity to jump in the hot outdoor mineral pool in the middle of the night, and to be cooked and served amazing home-made dinner, just for our small group of friends. To drink good wine and not to share the pool, sauna and Jacuzzi with people you do not know. Feeling home in a hotel is a luxury and this is what we most love in Villa Vuchev.
Villa Vuchev – what you will find there?
I do not want to bore you so I will describe the facilities of Villa Vuchev in short. It is a 3-storey building with 8 bedroom that can accommodate up to 16 people (and maybe a few babies, they can provide a baby cot on request). On the first floor you will find the dining room, kitchen, living room and a small SPA centre with sauna and Jacuzzi. In the yard is the hot outdoor pool, open year-round. And in the warm seasons you have all for you a beautiful garden with dining table and sunbeds – almost like paradise. We love to use the small living room as a children's room – and they love playing there or just watching TV.
The outdoor hot mineral pool
Our absolutely favourite facility in Villa Vuchev. We have bathed in in while outdoors it is -15 degrees, surrounded by white snow. Enjoying the quietness around. I have also drunk my morning coffee in the pool at 5 AM. I also like morning walks in the mountains which is quite easy if you are staying in Villa Vuchev – it is located just a few steps away from the forest surrounding Velingrad. And maybe you have noticed but some of the best photos are made on sunrise.
The outdoor pool is wonderful both in spring, autumn and winter. In the summer, the garden is our best place to serve the dinner or make barbecue. Also, it had happened that we are bathing in the outdoor Jacuzzi with a glass of wine in hand, while it is raining around. At the same time, kids are pleasantly sleeping on the second floor.
Food in Villa Vuchev
The basic package at Villa Vuchev includes accommodation, breakfast and unlimited soft drinks, tea and coffee. However, it is a great idea to ask for a home-made dinner which will be prepared on site especially for your group. The menu is whatever you wish it – I have seen options like stuffed piglets, home-made ice cream, delicious trout and many others. They usually prepare several starters, salads and main courses so you have a wide choice. The dinner is charged additionally but it is totally worth.
In the mornings we love enjoying a tasty cup of coffee which is rarely present in the usual breakfasts in the hotels. However, in Villa Vuchev they offer two kinds of wonderful Italian coffee, so no coffee lover will be disappointed.
What to do while staying at Villa Vuchev?
If you are staying at Villa Vuchev, you can probably spend 2-3 days without going out of it at all. However, if you want to do something besides the on site facilities, you have many options. First of all, do not forget that you are actually in a large town. Velingrad has plenty of parks, nice central street, and also the famous lake Kleptuza, where you can also take a boat ride. There are plenty of bars and restaurants. For nature lovers, Velingrad is surrounded by the gorgeous Rhodope mountains. On a short and pleasant walk from Villa Vuchev there are two beautiful small chapels.
Another favourite place of mine is Tsepina fortress, some 20 km from Velingrad, near Dorkovo village. It is in a very beautiful mountainous area, with stunning view to the Rhodopes. In Dorkovo there is also a museum of Plyocene, featuring a life-size mastodon.
These are our favourite things to do in Velingrad, but there are many others. Another interesting trip is the ride with the narrow gauge railway – one of the most picturesque trains in Europe.
How to reach Velingrad by train
This is actually an easy journey. First you have to reach Septemvri train station, which is on the main line from Burgas to Sofia. So you can take a train for Septemvri from Sofia, Butgas, Stara Zagora, Plovdiv and all other station on the line. From Septemvri you should take the train Septemvri – Dobrinishte (this is the narrow gauge railway). Velingrad is one of the stops on that line. Check the timetables on the website of Bulgarian State Railways.  And the journey with the narrow gauge railway is extremely cheap. However, if you are staying in Villa Vuchev, you should take a taxi from Velingrad train station to the villa because the distance is not short.
Prices at Villa Vuchev
Their price table is a bit unusual for Bulgarian standards. The concept is such that you book the whole villa even if you occuoy just one room. No unknown guests will be let in if you have booked it already. Well, this goes with a price – if you book just for 2 people, it would be even more expensive than a double room at a 5-star hotel in the area. However, the more rooms you book, the price per room decreases. This is why Villa Vuchev is before all, best for groups of friends rather that for single families or couples. And I believe you will just feel better with your friends there rather than by yourselves. Check the current prices on their website. If you prefer booking through world-famous platforms, find Villa Vuchev at Booking.com. Villa Vuchev is located in Kamenitsa neighbourhood in Velingrad.
We wrote this article just because we love this place and we were happy to be guests of this amazing villa. Maybe the one thing I missed there is an indoor fireplace for the winter.