Dead sea – where you cannot sink but you can drown
How it feels floating in the lowest point on Earth – the Dead Sea
The views around the highway do not change much but the feeling of curiosity about the unknown grows and grows inside me. Road signs saying 100 m below sea level, 200 m below sea level make me really excited about what is coming in front of us just a few kilometers away. Our descent started from Jerusalem and ended at the Dead sea– the lowest place on Earth. We had an easy journey, traveling by a comfortable car through the Judean desert and feeling absolutely safe despite some fears we might have had before we started our journey. Nice roads, desert around and some Bedouin villages in the mountains is what we were seeing nearing the Dead sea in Israel.
Millions of years ago the Dead sea was connected to the Mediterranean Sea. But the heat and vaporization turned it into a lake that shrinks year after year. Dead sea lies on the border between Israel and Jordan. Nowadays it is about 430 m below sea level. It also changes every year – its level falls by 1 m a year and it shrinks by 5 m a year.
The sea on "life support"
Dead sea consists of two water basins – Northern and Southern. Traveling from Jerusalem we first passed by the Northern basin. This is actually the "real" Dead sea, which is still fed by fresh water by Jordan river and some smaller rivers that dry in the summer. It is also the deeper part. Despite fresh water is still flowing into the lake, it becomes saltier every year because of vaporization and today its salinity is around 34 %. This is 10 times more than the World ocean.
So we were driving by a nice coastal road. For Europeans like me the views are a bit strange – desert on the right, the lower lake on the left and behind it deserts again. And the desert is not what we would imagine, with sands and dunes. It is rather a rocky desert. We quickly passed by a checkpoint just before the resort of Ein Gedi and continued our drive looking for a beach by the southern basin.
The southern basin of the Dead Sea
The Southern basin is an artificial lake now, a complex of salt evaporation ponds. It is filled with water pumped from the Northern basin by the Dead Sea Works company. Through the years there have been projects for restoration of the Dead sea by connecting it to the Mediterranean Sea but they failed. The most recent idea is connecting the Dead Sea to the Red sea by a 180 km channel but only the future will show whether it will succeed. The level of the Southern basin is being kept stable. This allows the normal operation of the local hotels and resorts which would be put in a hard situation if the sea was moving away each year.
Bathing in the Dead Sea
It was again May, may years ago, when we walked on the beach of the Dead Sea, bathed and floated in the water. The views are unreal, like in another world, but it is really a different world. These days we start our day with a glass of good coffee and memories of the places we have visited before. Maybe this is how our days will look like when we grow old and stay in the fireplace with a glass of good wine and sweet memories. Or I hope it will be like this and we still have our memories. Now, the memory of the Dead Sea is still as bright.
Today we watched an Ukrainian travel TV show and the episode in which the hosts travelled to the Dead sea and we really wished to go there again. According to the show, the two most popular places to bathe in the Dead Sea are Kalia Beach and Ein Bokek. Kalia Beach is the closest place to Jerusalem where you can jump in the sea. It is a paid beach with showers and all needed facilities. We have not been there.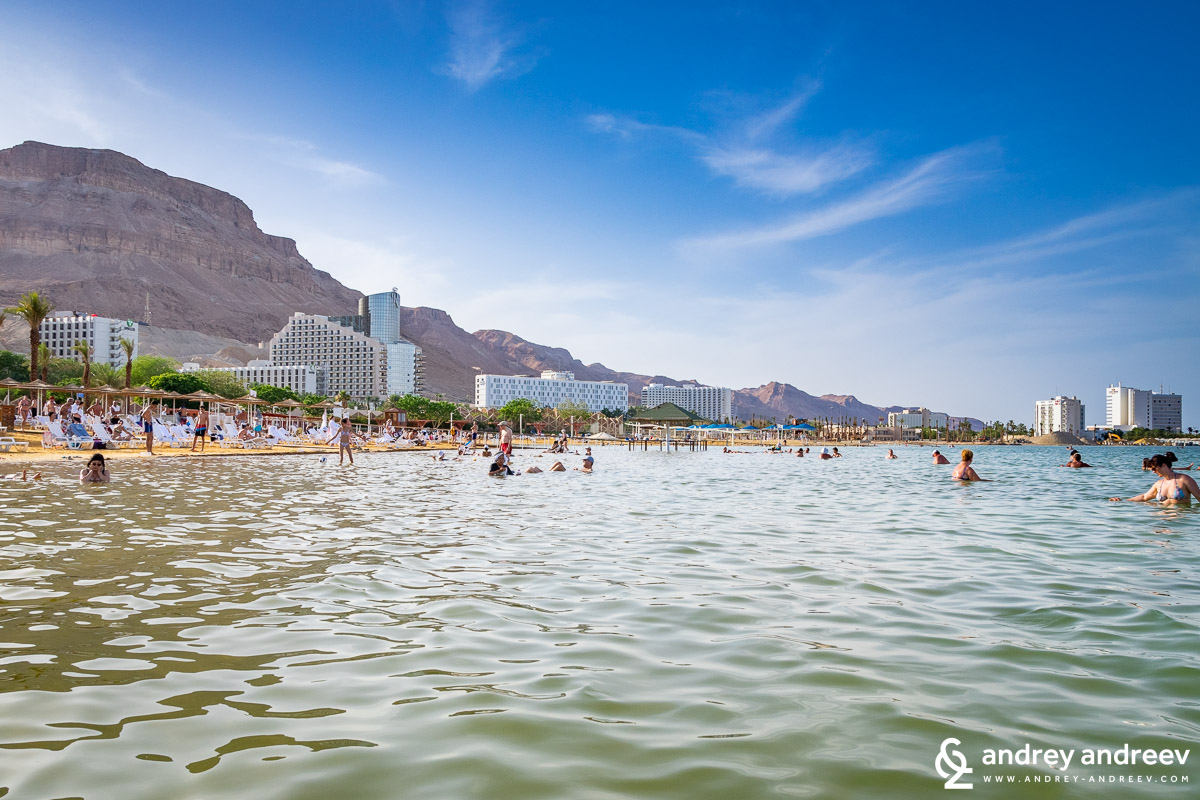 Ein Bokek – the resort of millionnaires
Ein Bokek is known as the resort of millionnaires. It is a nice-looking resort with luxury hotels and well-maintained yellow beach. Maria, Peter and I arrived there at the end of the day, almost on sunset. My younger brother, who was living in Israel for a few months, was quick to find a parking spot and we headed to the beach.
We were not asked for entrance fees and the beach was also well-equipped with showers and all the needed facilities. Showers are extremely important for this area, you must be quick to take one after bathing in the water. And because we are not yet millionnaires, we spent the night in the nearby town of Arad in a very nice and comfortable guest house. Arad is also a nice place to stay if you are heading to hike the Masada fortress, which offers amazing views to the Dead Sea.
There are probably many other places where you can bathe in the Dead Sea. If you know them, share with us so we add them to our list for the next time. I believe that whoever has been to the Dead Sea, has been left stunned by this place.
Going to the beach on the Dead Sea
The level of the Southern basin of the Dead Sea is constant due to pumps. The lake itself is not very deep – about 7m at the deepest. The constant water level keeps the beaches and hotels of Ein Bokek on constant distance to the waters.
The beaches of Ein Bokek are accessible for visitors and have all the needed facilities, including dressing rooms, showers, toilets, medical facilities, etc. The reddish beaches are clean and well-maintained, which is expected as in the area there are not cheap hotels, nor even average-priced.
Floating in the Dead Sea
We put on our bath suits and cautiously made our first steps in the Dead sea. It was a late afternoon in May but it was still quite hot outside – around 40 degrees Celsius. The water was not much cooler. It is a strange experience – the water feels somehow greasy and what we have heard about it – that you cannot sink – appears to be real. We cautiously start floating, enjoying the unusual experience that we have read about thousands of times.
However not everything turns to be pleasing in the Dead sea. When you try to get up on your feet, you find it almost impossible. The water does not leave your feet to touch the bottom and you are not welcome to make any sharp movements in order to stand up.
The water could be actually very dangerous – it is so salty that if it touches your eyes of mouth you feel real pain. If you inhale it, it could even kill you. So you have to be very, very careful. Another challenge is the stinging. You may think that you have no itches or cuts on your skin but the heavily salty water finds your most sensitive places and stings terribly. If this is your first Dead sea bath, you would probably not be able to stay in the water for more than a few minutes. However, we met a lot of experienced tourists that were floating and enjoying their stay without experiencing our problems.
Evening in the town of Arad
We left Ein Bokek a little nostalgic. We could not afford to stay there even for a night – the hotels are terribly expensive for our budget. So we head to the near town of Arad – a 20-minute drive from Dead sea and a popular budget destination for travelers. Arad is also a good starting point for our next trip – the Masada fortress.
We stayed in a wonderful house for a reasonable price for local standards. The town itself is neat and nice with many Russian-speaking residents. There we found the best bar for our dinner – Muza, offering wonderful burgers and beer.
If you return to the beginning of this article, you will see the amazing view towards the southern basin of the Dead Sea. The picture was taken from a panoramic viewpoint on the road between Neve Zohar and Arad.
Geting ready for the Dead sea
In tourist magazines the Dead sea looks like an exotic paradise with crystal clear waters that do not leave you sink. The truth is however slightly different and you have to be prepared if you don't want to lose your enthusiasm. Dead sea is nothing like the seas we are used to visit for holiday – for example the Black sea and the Mediterranean Sea, popular among European tourists. So here are some useful details you might need to know before you go there
Important tips:
There is nothing like the wide, long, golden sand beach we are used to visit. It is desert around and the beach does not differ very much. Luckily the official beaches are well-equipped with showers, toilets and dressing rooms
If you are looking for a water basin to cool from the heat, this is not your place. Dead sea water is quite warm, similar to the hot air around, and does not offer any cooling. It is also far from the crystal clear vision. It feels greasy and it is not clear at all.
You cannot sink but you can definitely drown. If you dreamed of a long and easy swim, forget about it. Swimming is technically possible but practically impossible. As I mentioned above, getting water in your mouth or eyes is something you should always avoid. And a swim without water touching your mouth or eyes would be a challenge. Also you are supposed to avoid sharp movements and try not to splash water on the other visitors around you.
Water stings. Everywhere. Even if you think your skin is fine, it will find your most sensitive places and start stinging. When you start feeling it go out and use the showers, this is my best advice.
Use flippers of water shoes. The bottom of Dead sea might be covered with salt crystals that may cut your skin.
If you are not visiting Dead sea for health reasons and do not have a serious budget, do not consider Dead Sea as an alternative to your yearly beach holiday. First, it is nothing like going to Mediterranean resorts in Greece, Italy or Spain. If you are looking for something similar, try Tel Aviv with its wonderful sandy beaches. And second, you should have a serious budget to afford a full Dead sea holiday. No budget hotels around, not even middle class.
However if you are going to Israel for an excursion and have the opportunity to visit Dead sea for a day or a couple of hours – do not miss is!
Follow us: Instagram and Facebook
---