The cities of Morocco: The hectic and colourful Marrakech
We passed by the Koutoubia mosque, turned left and along the many horse-drawn carriages, we found ourselves at the corner between Jemaa El Fna avenue and Moulay Ismail street. The most famous square in Morocco revealed before us. Maria clung to me as we were walking around Jemaa El-Fnaa, the heart of Marrakech, beating and noisy. Maybe we have not told you before of Maria's panic fear of snakes, but in this place there were lots of snakes. All types of cobras, paralyzed by the sounds of the serpent-charmers, pythons hanged on the necks of young men from all parts of Africa and various other big and small serpents, being carried around as a tourist attraction. If you are not careful, someone may even dare to put a snake on your shoulder or intrude to entertain you with a monkey or other animal.
Actually, the biggest attraction on the touristic places in Morocco is you. All the local merchants gather around you and try to attract your attention to their business. It has happened to us to walk by a deserted street and someone to appear from somewhere to offer us his services as a guide. Taxis stop on the street, offering to give us a ride. Everyone, everywhere is bargaigning, all the time. After a few days in Morocco all of this attention starts to feel very annoying. But if you are visiting Marrakech for the first time and your encounter with Moroccan culture just starts, you may find it interesting and exotic.
Jemaa El-Fnaa and from where to take photos of it
On the square there are numerous animals and other types of attractions fot both tourists and locals. Musicians, Africans in instagrammable clothes, men inviting you to their restaurants and food stalls.. The pallette is too colourful to be described in one sentence. Maria kept clinging to me and I felt her pulling me every time she saw a snake. The Jemaa El-Fnaa square just absorbed us. We kept walking, people constantly chasing us and offering us things. In Morocco the instrusive and aggresive sales methods (including physically pulling people and touching tourists without their consent in general) are prohibited, but intruding your personal space and the constant asking for something is something you cannot escape from. And on the Jemaa El-Fna square tourists are all around, most of them hugging their handbags and backpacks to avoid pickpocketing.
The day was almost over, we had just settled in our hotel in Marrakech and we did not have much time to prepare for the noisy and mad city after the three peaceful days with the Berbers in the High Atlas mountains. Marrakesh just crashed on us, first with the traffic on its streets and huge boulevards, where there seemed to be no rules, where carts, donkeys, carriages, horses, cyclists, motorcyclists were running between cars, taxis and trucks. The pedestrians were maybe the most reckless, just jumping on the boulevards and running between the motor vehicles. Finally, we somehow reached our hotel and after a quick refreshment we found ourselves in the heart of Marrakech.
I had no idea what photos I had of Marrakech until I started processing them recently. Now, watching photo by photo, I am amazed by the place that did not welcome us very warmly. Actually, on the pictures it looks quite calmer and quieter than it really was.
We were walking between the hundreds of stalls, offering a variety of sausages, meats and everything cooked on the grill. Despite I am not the slimmest person, I heard a lot of times that I looked too thin and I needed to eat something. It looked nice but it was still not time for dinner. "Remember table 42", shouted one man, trying to take us to his stall.
Be careful with sellers
Here on the square you may not get pickpocketed but it is highly likely to be cheated by local sellers. Maria and I decided to buy some fresh juice from one of the many tables. There are numerous stalls with mountains of fruits waiting to become juice in front of your eyes. The sellers at first welcome you in perfect English and French, but just a minute later, when it comes to money, turn into "I don't understand" Arabs. And the bargaigning starts. First, the small juice you tried to order has somehow turned into a large one. Then, if you do not have the exact amount of money, prepare to bargain for your change as well.
So, we handed the banknote and the seller directed us to his aide for the change. However, the other guy was at this moment taking selfie with a girl. Then he played "I did not understand" while we were waiting for some 10 EUR of change. We reminded to the first guy, who replied "Just a minute!". We waited another few minutes and reminded again. They looked at us as they were seeing us for the first time and we were almost to call the police. Well, after the third reminder they finally returned us the 100 dirhams, obviosuly disappointed by our insistence.
Another story from the Marrakech medina: Lamps all around! Everyone takes photos with the beautiful lamps on the market in Marrakech. But beneath the beautiful photos, interesting stories happen on this market. Our experience with tipping in Marrakech is very unsuccessful. We are not good at this at all. First, a guy invited us to take photos in his shop for free.
We entered, took photos. Then another guy came and claimed that it was his shop and we should tip him for the photos. We did. But the first guy, looking confused, was apparently the real owner and asked for his tip as well. Meanwhile, a third man came asking for a tip, but we did not give him. Finally, we left the shop with a few photos, having given tips twice for the same thing and being chased for a tip by another man. But the photos are beautiful, aren't they?
From where to take photos of Jemaa El-Fnaa square?
The square is located in the old medina, it is the beating heart of Marrakech. Numerous of small streets starts from there, leading to the labyrinth of the medina. Well, they are not as many as the streets in Fes medina but you can still easily get lost. If you want to really immerse yourself in Marrakech life, try the food on the square.
You could also visit one of the many cafes and restaurants around the square. Find one with rooftop tables or terraces overlooking the square, there are plenty of them. We did not pick the best one for photos but we still had amazing view towards the square. We had just sat on the table when we heard the evening call to prayer from the nearby mosque.
Next time I would pick another place for photos – probably here, I see a rooftop terrace and it looks like a cafe. This place.
The old medina in Marrakech
Marrakech was founded by Berbers from the Almoravid dynasty sometime in early 11 century. Later is was a capital of the Almohad Caliphate who replaced them as a ruling dynasty after killing the last Almoravid king. The last Almohad ruler, Abu Dabbus, owned only Marrakech and was murdered by a slave in 1269. Then the city was conquered by the Marinid Sultanate, who made Fes their capital. Next came the Hintata, who ruled only Marrakech and the surrounding area and are known as the "kings of Marrakech". The Saadi era returned the capital statute of Marrakech in the 16th and 17th centuries. Then other dynasties came and went, and so on.
Despite cars are not allowed in the Marrakesh medina, you have to be wary of the many bikers around. Stay aside as they can drive very aggressively through the crowded streets.
The Koutoubia mosque (12 century)
The old medina and the surrounding walls are the heritage of all the above sultans, chalifs and other rulers. Between the buildings are hidden the stories of local Berber dynasties. The largest monument from the Almohad era is the tallest mosque in Marrakech (the minaret is 77m) – Koutoubia mosque. It was a meeting point for us during our whole trip in Marrakech.
If you are next to the mosque, you will notice the remains of the first Koutoubia mosque. There is a curious story around it. After taking Marrakech, the chalif Abd-al-Mu'min started the construction of the mosque. But during his successor's reign it became clear that the mihrab (prayer niche) was misaligned and not oriented towards Mecca. There was arond 5 degrees deviation. Despite it was a minor problem as devotees could always align themselves in the right direction during prayer, a decision was made to build another identical mosque, next to the first one, which was supposed to be regularly aligned. However, the second mosque deviated even more than the first one – 10 degrees. But anyway, the second Koutoubia mosque remained in use and the first one gradually deteriorated. Nowadays you can see the remains of the first mosque next to the present one.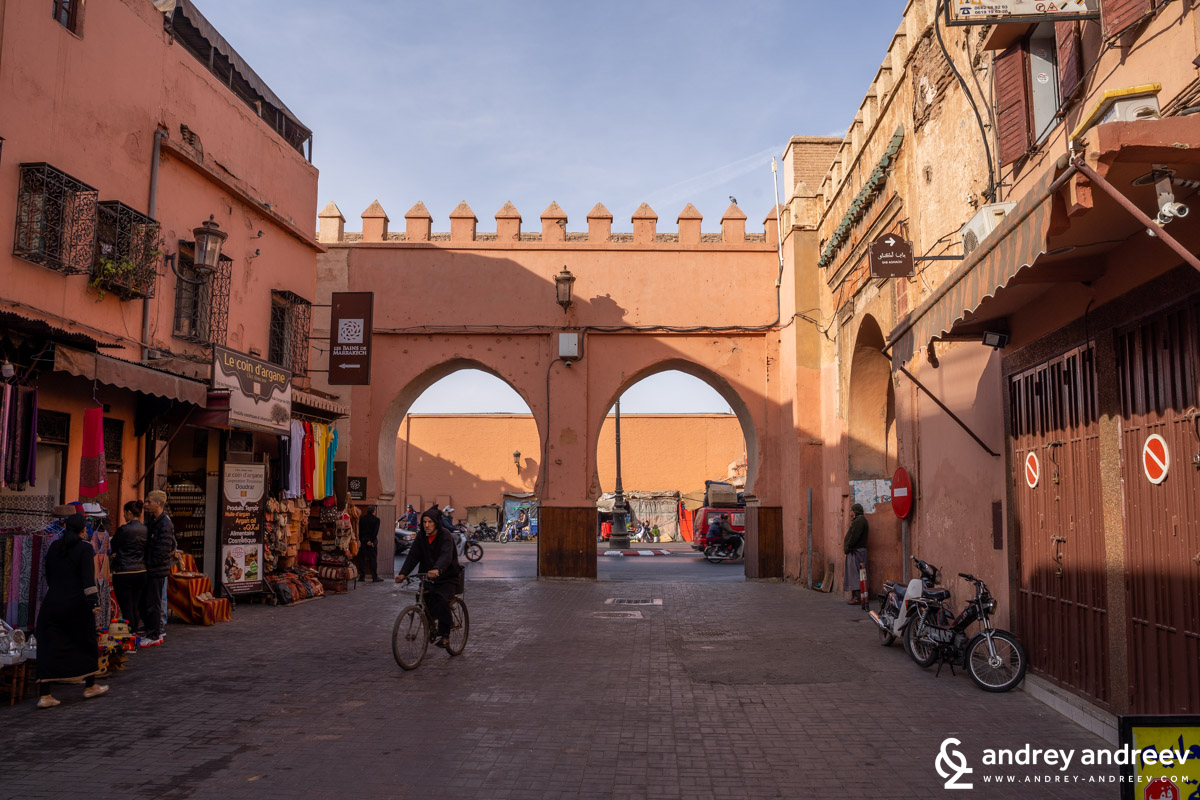 The Saadian tombs
In Marrakech you should get ready for a lot of walking and put on really comfortable shoes. Everything is huge there. Actually, I should write a few advices for the city, but a bit later. After the Koutoubia mosque, we headed to Bab er Robb gate – the southern gate of old Marrakech. From there we reached to Saadian tombs and the Kasbah Mosque (Mosque of Moulay al-Yazid).
Robb is a drink from figs and raspberries.
El Badi palace
Here we will tell you the story of the stupid tourists and the "helpful" residents of Marrakech. We headed from the Saadian tombs towards the El Badi palace, to see the remains of the palace of the Saadi dynasty.
But you can easily get lost on the streets of Marrakech, actually you cannot know for sure where you are in any moment. So started our adventure in the medina. We walked by tall walls and fences, there are quite a lot of them in Marrakech. We walk by with no idea where the entrance is. GPS does not help at all and locals from all sides shout at us something about the direction. It would be ok if all of them were not pointing to different directions. But there were not two same opinions. After an hour of walking we found ourselves before the Royal palace, which is actually not the King's place but is a private property. But we never found El Badi palace.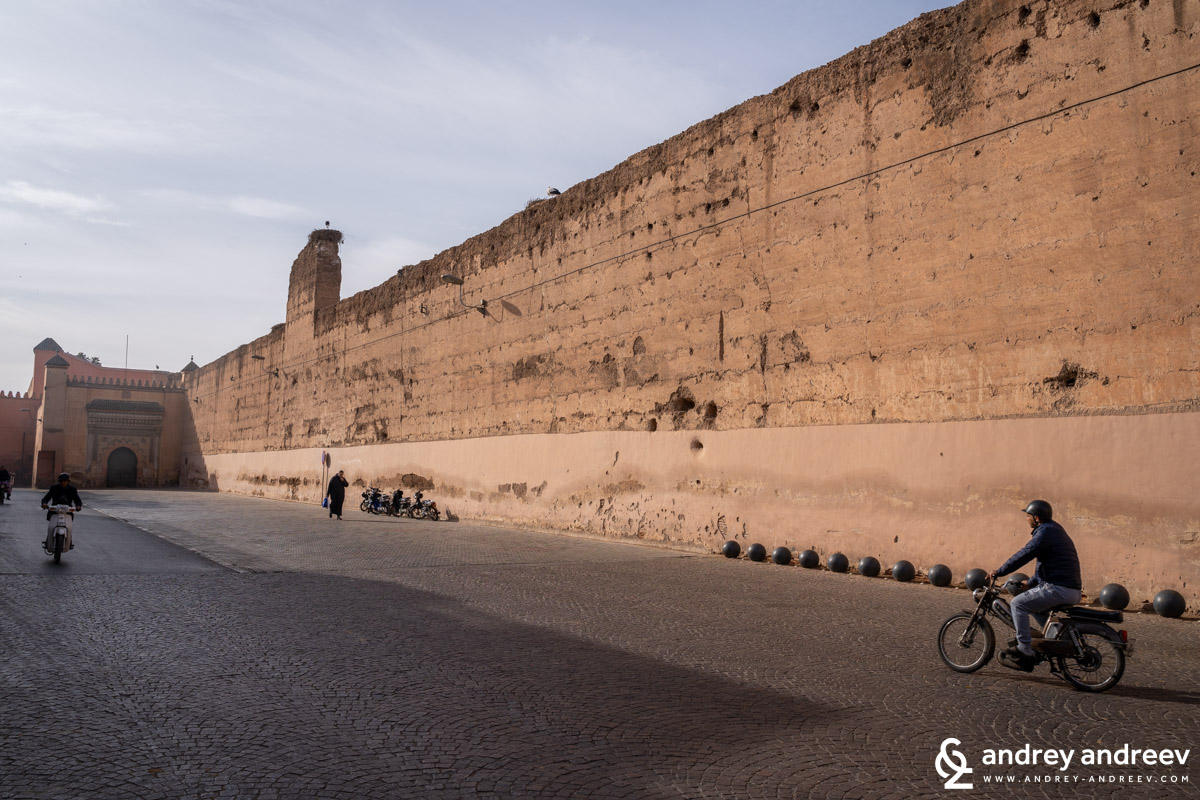 But we did not give up. Finally, we stopped to ask a local policeman who actually proved not local and had no idea where to direct us. Then he stopped a local man on a scooter who explained in French that we should turn back exactly where we came from. So we headed back. We walked through some creepy areas where no tourists were present. And where we were stopped multiple times, again, with offers for help.
Finally we decided to trust a young man who explained that he lived next to the Jewish market. And (not surprisingly) we took us not to the palace but to a shop. The owner's brother (or he said such) offered us tea and started showing us herb, saffron, natural paints, aphrodisiacs and whatever. We listened to the whole lecture which finally ended us with a "gift" offered to us by the seller, which he actually took back when we decided not to buy anything from him.
Finally, a few words about the El Badi palace. We did not find it but my brother and Elena managed to find it and visit. They did not seem too excited about the experience but at least I could see some photos. The entrance is somewhere here google maps location. El Badi is an important historical place in Marrakech and it is good to visit it with a guide to tell you more about it.
Bahia palace (19th century)
Tired, but not given up, we queued to buy entrance tickets to Bahia palace. Bahia palace was built in late 19th century by Moussa Ba Ahmed, grand vizier of the sultan, for his personal use. This palace would bear the name of one of his wives, Bahia.
The palace should serve as a harem for the vizier and his wives but also as a demonstration of the marvellous islamic and Moroccan architecture of the time. During those times, the state was de facto ruled by the vizier and the sultan served him well.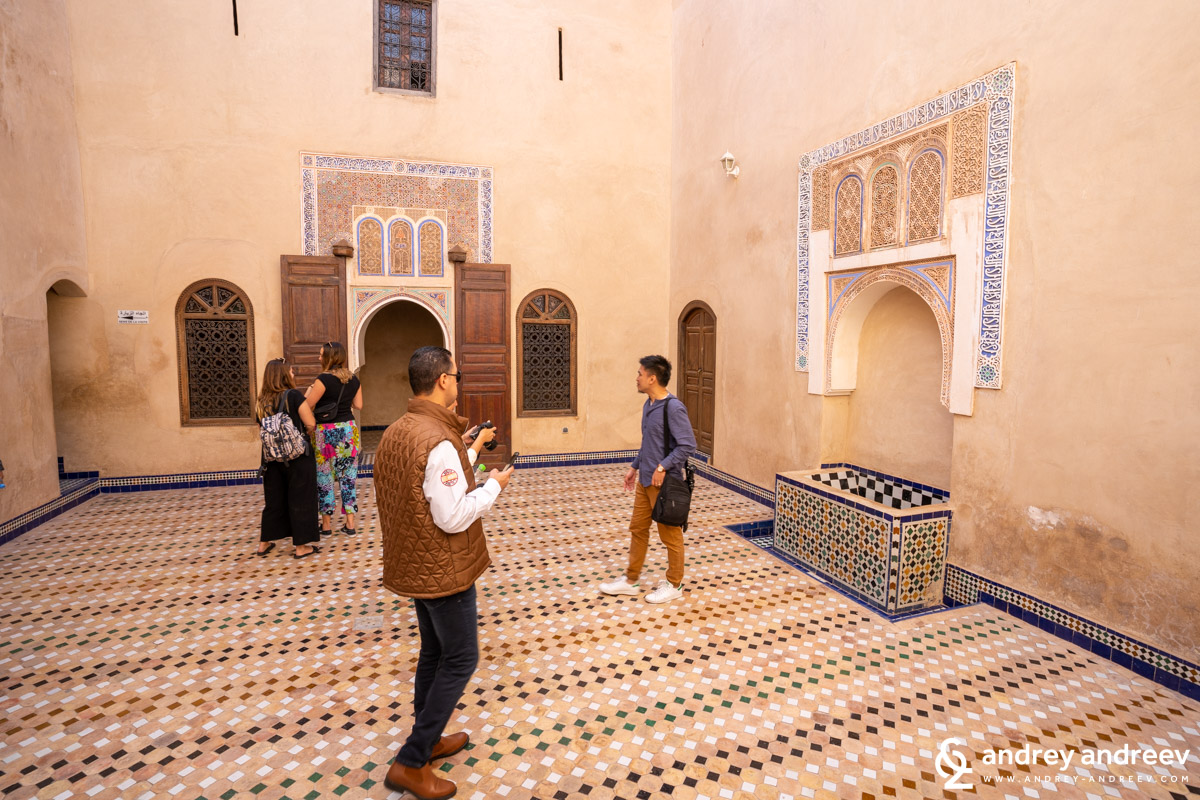 After the vizier's death in 1900, Bahia palace was looted. 12 years later French Resident-General in Morocco Hubert Lyautey restored the palace as his own residence.
Nowadays the palace is empty, you can walk through it and see the large spaces, gardens, rooms, bathrooms and other rooms located on an area of 8000 m2 in total, combining beautiful Islamic and Moroccan motives.
What else to see in Marrakech?
I really do not understand why you are wandering through blogs looking for information what to see in a certain city. Marrakech has a wonderful website: Visit Marrakech. Apart from the places we told you about, we wanted to see the Yves Saint Laurent museum and gardens but the two days in Marrakech were not enough because we had also appointment for lunch in the Palmeraie district and also wished to spend some time by the outdoor heated pool of our hotel.
Yves Saint Laurent was born in Algeria but fell in love with Marrakech and turned it into his second home. He bought the villa of French artist Jacques Majorelle, together with the unique garden, and the reconstruction started in 1980. If you have enough time in Marrakech, dedicate some time to the museum and Majorelle Gardens. Actually, Marrakech is well-known for its gardens.
Where we stayed and what else we did
Marrakech is famous not only for its oriental culture and the colourful life. Here you can find places for every taste and budget. Marrakech is a place where you can eat out at the Jemaa EL-Fnaa square or enjoy the gourmet cuisine of the restautants in the 5-star hotels. Our Moroccan adventure was near its end, we had had enough of the noise and the local exotics and decided to look for the other type of places.
Our first choice was the Palmeraie district outside Marrakech. It is known for a lot of things – mostly its thousands of palms, the desert-like landscape and even the camels taking tourists for shourt trips, imitating a visit to the real desert. We visited a hotel created and owned by a Senegalese-French architect, who had come to Marrakech in the 1980s and made it a home. We had the pleasure to meet her daughter and spend a peaceful lunch and afternoon among pools and palms in their small oasis, far from the noise of Marrakech.
And because we like to spoil ourselves when we have the opportunity, we stayed in the huge Movenpick Hotel Mansour Eddahbi Marrakech. It was our oasis in the noisy city. If staying at such place, I would advise you too book a transfer to the airport from the hotel, because bargaigning with local taxi drives can be a time-consuming and extremely annoying experience. And if you are not willing to bargain, they will ask you 10 times the usual price of the ride.
If you want to stay in the very heart of the events, you can find a more authentic place to stay like a riad in the medina. There are definitely many interesting small hotels with traditional architecture and furniture, and very authentic feeling. There are more than 1000 such hotels in the historical part of Marrakech.
We hadn't yet left Marrakech but we already missed it. For us the two night in Marrakech were the last from our Moroccan trip. We had landed 11 days earlier in Fes. Then we travelled to Chefchaouen, Rabat, Essaouira. We made a two-day trek through the High Atlas mountains at the foot of the highest peak in North Afrika – Toubkal. Morocco has a lot more to offer and we are looking forward to our next trip there, when we want to visit the sand dunes of Sahara desert. Marrakech was becoming smaller and smaller and our plane headed to Bergamo.
If you are curious about Morocco, take a walk with us and see all the places we visited in Morocco.
Follow us: Instagram and Facebook
---