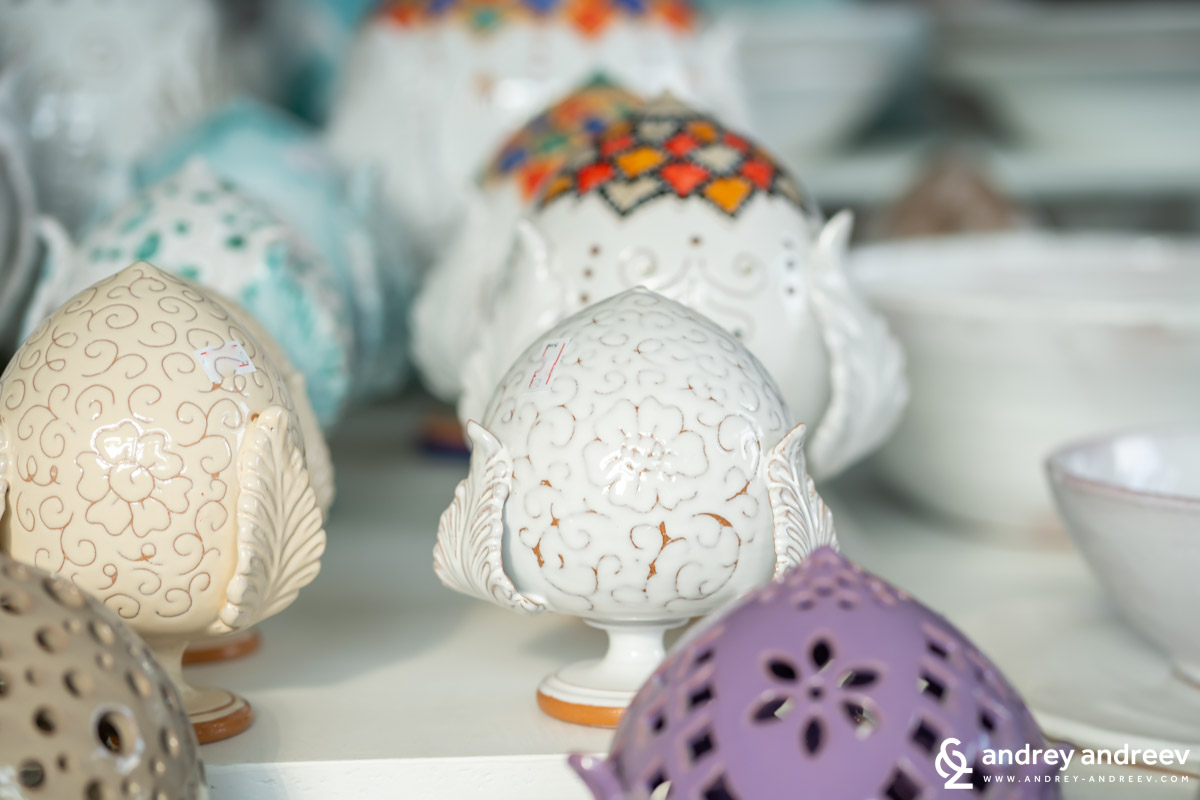 The hidden pride of Puglia – ceramics. A walk through workshops, La Cappeddha festival and the town of Taviano
We slowly crawl through the crowds on Corso Vittorio Emanuele II, one of the main streets in the town of Taviano. The street was named after the Father of the Fatherland, the first king of united Italy. Taviano is a small town in the area of Salento, region of Puglia, south Italy. We keep moving very slowly. Despite it is almost midnight, the street is crowded with locals and guests of the town. However, there are few tourists. Besides us, I spotted only a couple of Americans.
All around we hear Italian speech and a bit of French from time to time, coming from retailers of African origin. Our B&B is located just behind the stall of a man from Ghana, who has not learned yet Italian, neither speaks any English. The first day he had blocked our door with "original" handbags of brands like Gucci, Armani, etc. We slowly twist our way through the crowd and need to stop every time anyone stops to talk to a friend. No nerves, though. It is a long-waited festival and you take your time to enjoy the colourful stands.
La Cappeddha – the fair of ceramics in Taviano
You may wonder what are we doing in this small Italian town outside the summer holiday season without some very special reason. Actually, we cannot give you a very convincing answer. This is us – we love being anywhere just for being anywhere and we are curious about everything. When we were preparing for this trip (on the invitation of the Taviano municipality), we tried to make a small research where we were heading to. However, it proved impossible to find any information in English for the town and the festival. We loved this even more. We have been previously in Salento and it is always an endless discovery of the small, but important things in life.
La Cappeddha (Fiera della Cappeddha di Taviano) is an annual event, awaited by the whole town of Taviano. Nowadays it does not look as before, when it was one of the most important events in the town. It is rather a long-awaited fair that brings some fresh entertainment to the common daily life. With the approaching of 7 September, the preparations for the fair begin – the stands come out on the streets, the lights are being set for the evening, small power generators are brought. La Cappeddha is held every year on the evening of 7 September and morning of 8 September. In the afternoon of 8 September everything is gone, as it has never been there.
What actually is La Cappeddha?
Once the annual fair of ceramics La Cappeddha was one of the most important events in Taviano. It was important both for the many ceramic producers of the region and the local households that needed to renew their tableware and any other household items made of ceramics, which were actually a lot. Initially the fair was organized in front of one of the churches in Taviano, and in bad weather – inside the church. This gave its name – Cappeddha in local dialect means "chapel".
Nowadays the market looks more like fair and besides ceramics you can see multiple other items – including traditional fair goods like the Scapece (marinated small fish with breadcrumbs, vinegar and saffron), all kinds of nuts and candies, "original" branded handbags, bearing labels of Gucci, Prada, etc. and even plastic toys coming from faraway lands.
The Cappeddha fair is not an event on its own for Taviano. Indeed, in the days around it, the town becomes full of life and numerous other events are being organized. During our stay we witnessed a literature night, book presentations, concerts, movie screening and other cultural events.
Salento and ceramics
La Cappeddha fair was initiated as a practical event to help the local people renew their houseware. Many years ago, in early September, local producers of ceramics gathered in Taviano to offer their production so local families could buy all they needed for the coming winter season. My story with ceramics in Salento started one day before Christmas the previos year, when I found myself in a small workshop in the town of Tricase. Then I genuinely loved all the items with holiday decorations. I even tried to decorate a plate myself while trying not to break the numerous goods at the small workshop of Branca, just next to the local fanclub of Juventus. In the same building was the small bar of Ipazzio Turco, but this is another story.
How possibly interesting and beautiful ceramics could be? Well, I am not the person to judge this but we visited a lot of places like workshops and museums of ceramics. It appeared that ceramics in Salento has a long story and in the recent years this business is in revival and the local people are very proud of their traditions.
"I want to take part, too.."
This is what my daughter Anna told me through our video chat during our visit to a workshop in Ruffano. Anna loves making pottery and I was happy to show her how the whole process is happening. That day I was really sorry that she was not with us but I made Maria try do something with her hands.
We will not discuss Maria's works here because she will be mad. So why not start with one of the ceramics workshops in Salento – Benegiamo. In this a bit crazy article I want to take you with me to two workshops – one very large, almost like factory, and the other one small and cozy.
Cutrofiano and Terracotta Benegiamo
Ceramics is a family tradition for the Benegiamo family. We jumped quickly in their workshop. Maria and I love watching how things are made everywhere we go. Our curiousity here was awarded by our hosts from Terracotta Benegiamo who were happy to walk us through all the steps of the production process. This was the larger workshop, where many people worked, and while most of the procecess were still manual, they had some automatized processes. Indeed, they explained that they use semi-automatic machines for two things. One of the machines is used to push the air out of the clay. The other machine is a dish press which allows making standard dishes quicker.
Here they had 3 huge ovens where the ceramics is baked under a temperature of 1000°C.
Despite there are some mechanisation, all the decorations are made by hand, some with very unusual tools, including household items.
The museum of ceramics in Cutrofiano
Cutrofiano is a small and cute town with a small and cute museum for all ceramic lovers. This was the only place where we were met by an English-speaking guide. The very nice Alexandra was so enthusiastic to show us around that if we were not hurrying for another place, we could spend the whole day here. In the museum you can see very curious ceramic works, many of them related to drinking alcohol.
The workshop in Ruffano
There is something magnetic about the process of making a vase from a piece of clay. This art is a real beauty and it is enchanting to watch how the craftman is doing his job. From the side it looks so easy and simple. But when you try to do it, you understand that these people are good at their job and you could do such thing maybe never. In Ruffano we visited L'azienda Terrecotte Fernando Falcone .
The workshop of Fernando Falcone also has a long history. The family is being making terracotta for 5 generations, since 1850. And everything is still manual. Here we are genuinely speaking about art – every dish, vase or decoration is being made by hand, with a lot of effort and creativity.
For a moment we were sorry that we were unprepared to buy a new set of tableware for home. Next time we will figure out a way to transport it safely.
Grottaglie – the centre of ceramics in Puglia
The town of Grottaglie has something in common with Matera. It is the fact that Grottaglie was once also a town full of cave dwellings, just like the Sassi di Matera. Indeed, these dwellings gave the name of the town. "Grotta" means "cave" in Italian.
Grottaglie is a town with very old traditions in ceramics. Here ceramics is not only a business, it is an art. Nowadays Grottaglie has a whole Ceramic Quarter (Quartiere delle Ceramiche), where all businesses must be related to ceramics. The quarter is in its revival in the recent years and we expect it to become more and more popular.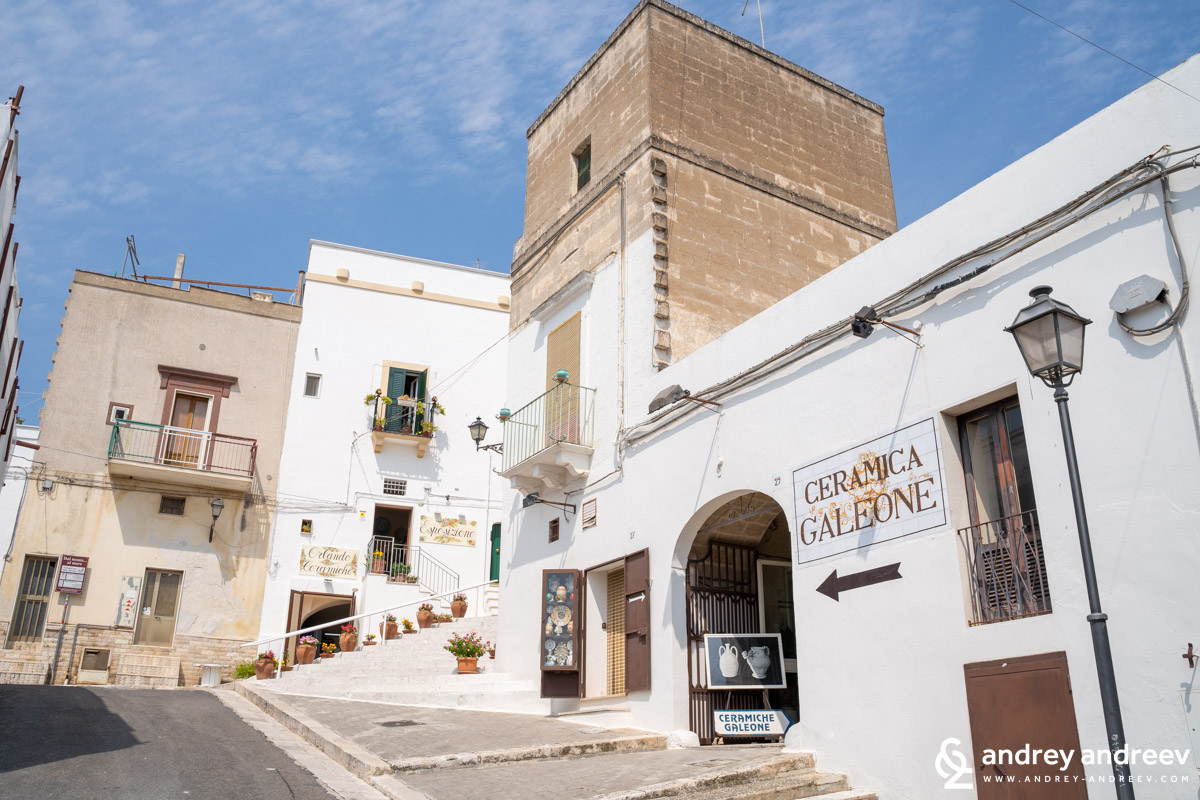 The Ceramics Museum in Grottaglie
In Grottaglie there is a large Ceramics Museum, accommodated in the former castle atop the hill of the Ceramic Quarter. Upon entrance to the museum, we were shown an exhibition of Nativity scenes, made of ceramics. In Grottaglie there is an annual competition for the best Nativity scenes made of ceramics. And the winning works are then placed in this hall of the museum.
The museum, as it is usual for museums, tracks the history of ceramics in Puglia in the past few centuries. There you can see various works – from household items like tableware or toilets, to grave stones and decorated vessels for storage of alcohol.
In another room there is an exhibition of vessels for alcohol in very interesting shapes and decorations. Their creation and use was indeed very practical. At some point, because of a common use of alcohol, the authorities imposed a limit of one glass of alcohol per person. So began the creation of various vessels with a total storage volume of one glass, but looking bigger and attractive. We are not yet sure why anyone would do the effort to carry a large and heavy vessel with a tiny inner volume, but it might have been trendy.
A bit of contemporary art
In Grottaglie there is also a school of ceramics. Once it was created as a place where masters to educate local people to make their own household items and correct their mistakes. However, the students were apparently so inspired that they started creating artworks. Later the initial school was separated into two – one department to teach the ordinary people and preserve the craft, and another one oriented in art. Nowadays in Grottaglie are held multiple competitions for ceramic art. Besides the Nativity scenes contest, we also spotted an exhibition of contemporary ceramic art.
Pumo – the symbol of Grottaglie and ceramics in Salento
While looking at all the cups, dishes, decorations and other ceramic works in the workshops, we could not miss one unusual element with unknown function, that can virtually be seen everywhere. It looks like a water drop, surrounded by leaves.. or just look at the photos as we cannot properly describe it by words.
This element is called Pumo and its role is mainly decorative, but locals love it so much that it has become a symbol of Grottaglie and whole Salento. The element was invented in Grottaglie as a balcony decoration. However, everybody liked it so much that they started to put it everywhere. So if you are looking for a traditional souvenir from Salento, the Pumo is a wonderful choice. Other popular ceramic figures are those of cactuses.
A few words about Taviano
I wish not to miss the importance of Taviano in our trip. The town is not only a home of the famous La Cappeddha festival, but it is also a centre of the flower industry in the region. Moreover, it is one very nice and beautiful town with many churches and former palaces.
One of the most notable churches is the Church of the Our Lady of Sorrows (Chiesa della Beata Vergine Maria Addolorata) which was once a part of a Franciscan monastery, established in 1643. We will not dig deep in the historical details but it is important to say that the Sorrowful Mother has a central part in the church because it is believed that she made at least two miracles for the town. One of them is the healing of the whole town from meningitis in 1894.
Around the former monastery there are a few private houses that keep in their basemets remains of old olive oil mills. They are not officially open for visitors but if you are very keen to see such thing, you may call the municipality of Taviano and they may be able to arrange a visit for you. Once such mills were everywhere across Salento and now some of them are open to visit freely. A couple of years ago we visited one such in Salve.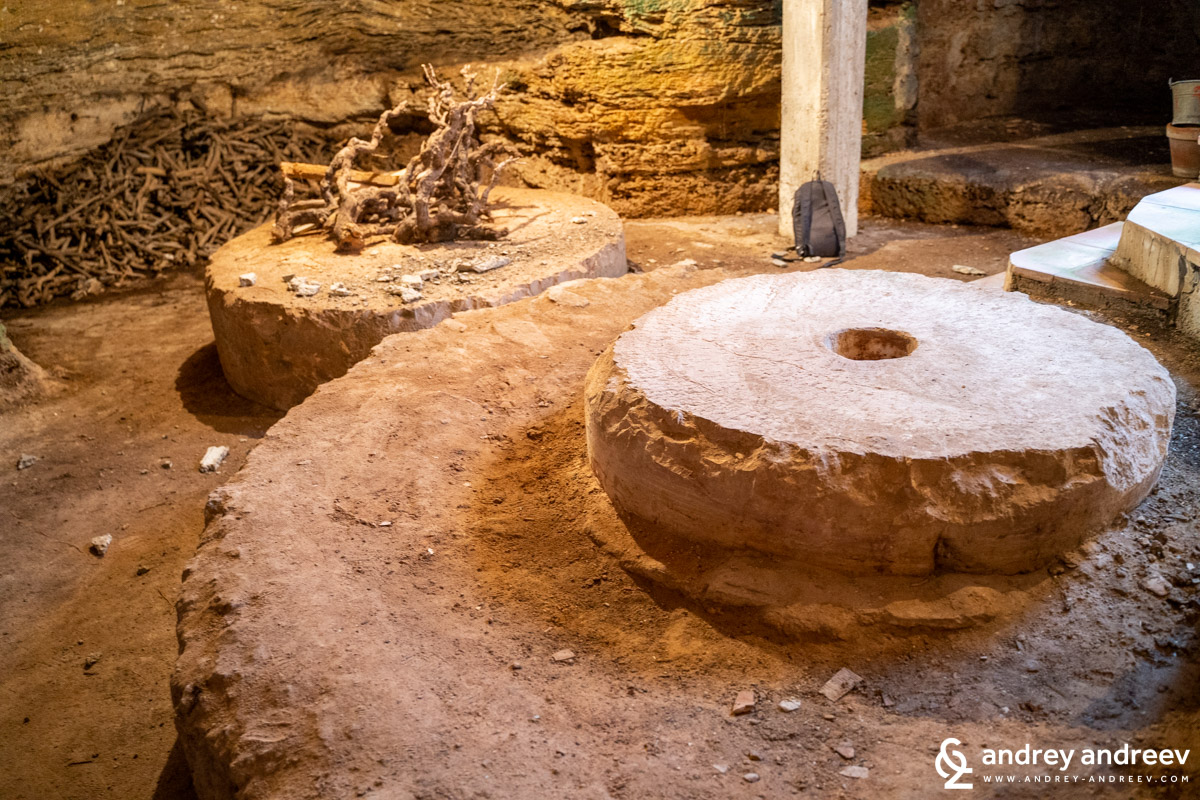 Taviano is a small and nice town with small and cozy historic centre. We liked the culture of the town and its citizens. During La Cappeddha festival every night there was a cultural event, like a concert tribute to Ennio Morricone and another concert by a young band, playing wonderful songs. We wished to stay forever at these musical evenings under open skies. There is nothing better than seeing all the seats occupied with local people, enjoying the music after midnight.
The delicious places in Taviano
We never miss the opportunity to share a nice place to eat if we have discovered such. Here we have several.
Bistrot Ghef Gianluca
One such place is the bistrot of Chef Gianluca, where you won't find a regular menu. The offerings for the day depend on Gianluca's mood. Bistrot Chef Gianluca is a small restaurant with no more than 10 tables, most of them outside, in one small street behind the baron's palace. It is counted as one of the best places to eat in Taviano.
Both locals and guests notice that Gianluca is acting like a real chef and puts a lot of creativity in his dishes. This is why there is no regular menu and the daily menu depends on his mood. So when you go, just ask what he has for today.
Generally, Chef Gianluca is mostly a fish and seafood restaurant (quite typical for this part of Italy). The service is also wonderful and we were thrilled by the fact that we were served wine even before being asked what we would like to eat.
Our main problem at Chef gianluca was that we were served 10 meals in a row. Italians are familiar with such long and late dinners but we always find it hard to survive. However, Italians are not stupid people – they always have the right dessert for a final of one such feast. This is the sorbetto.
Vito Degli Scettici
This is probably the largest restaurant in Taviano in terms of seats. It is located no less than 20 metres from the central square and is one of the popular local places for both lunch and dinner. We were brought there multiple times during our stay in Taviano.. The restaurant offers traditional Salentine and Mediterranean food. It is not as attractive and fine as Gianluca's, but it is a good choice if you are looking for something more common or traditional.
Pasticceria Bar Claudio
Together with pizza and pasta, another legendary Italian food – the gelato, has its variations across the boot. In Salento the local specialty is called spumone. The name comes from "spuma", which means foam. If you have noticed, the sparkling wines in Italian are called spumante – coming from the same word. So, the spumone is a traditional three-layer ice cream dessert. Between the layers you could usually find candied nuts and fruits and sometimes some cake. Traditionally, one of the layers is chocolate and the others are often with tastes of pistacchio, cherry, vanilla.
Spumone is the specialty of Pasticceria Bar Claudio in Taviano and is made by another chef, a master of sweets, again named Gianluca. He has won multiple awards for his desserts. One of the awarded ice creams is made with sweet wine, traditional cookies (mustazzolo) and figs, and is also amazing. In Bar Claudio you can find numerous other desserts and they all look stunning. Moreover, the coffee is also amazing.
Vecchio Forno Cornacchia – The old oven Cornacchia
We can never resist Italian bread and in this old family-owned oven they make it every day since the 1950s. Besides the fact that people working there are masters of bread and pastries, the fire in the oven is lit with olive tree branches that give stunning flavour to the bread. A curious fact is that if they wish, every citizen of Taviano could go and bake their bread in the oven. However, few people do it nowadays.
No need to explain how delicious everything was. For the record, Maria's favourite was the focaccia with tomatoes.
If you want something traditional, try the bread with olives. Mind that the olives have pits!
Another very traditional bread here is Frise – double baked, feeling more like rusk. Once it was known as the food of the poor and also of the fishermen, because it is dehydrated and can last for long. The way of eating it is the simplest but also so delicious – rehydrate it with the simplest local ingredients like water, tomatoes, olive oil and salt. Your delicious snack is ready.
L'Oasi dei Sapori
L'Oasi dei Sapori, the Oasis of Flavours, is not only a place to eat but a separate attraction, according to us. It is a place that represents a whole philosophy of food – the zero-kilometre cuisine. We tell more about this place in a separate article because it deserves it. It is located on the road between Taviano and Mancaversa, the marina of Taviano, near the beach and the sea. And it is worth the short trip if you have a car at your disposal (indeed, if you are visiting Salento, a car is your best and sometimes only option to travel).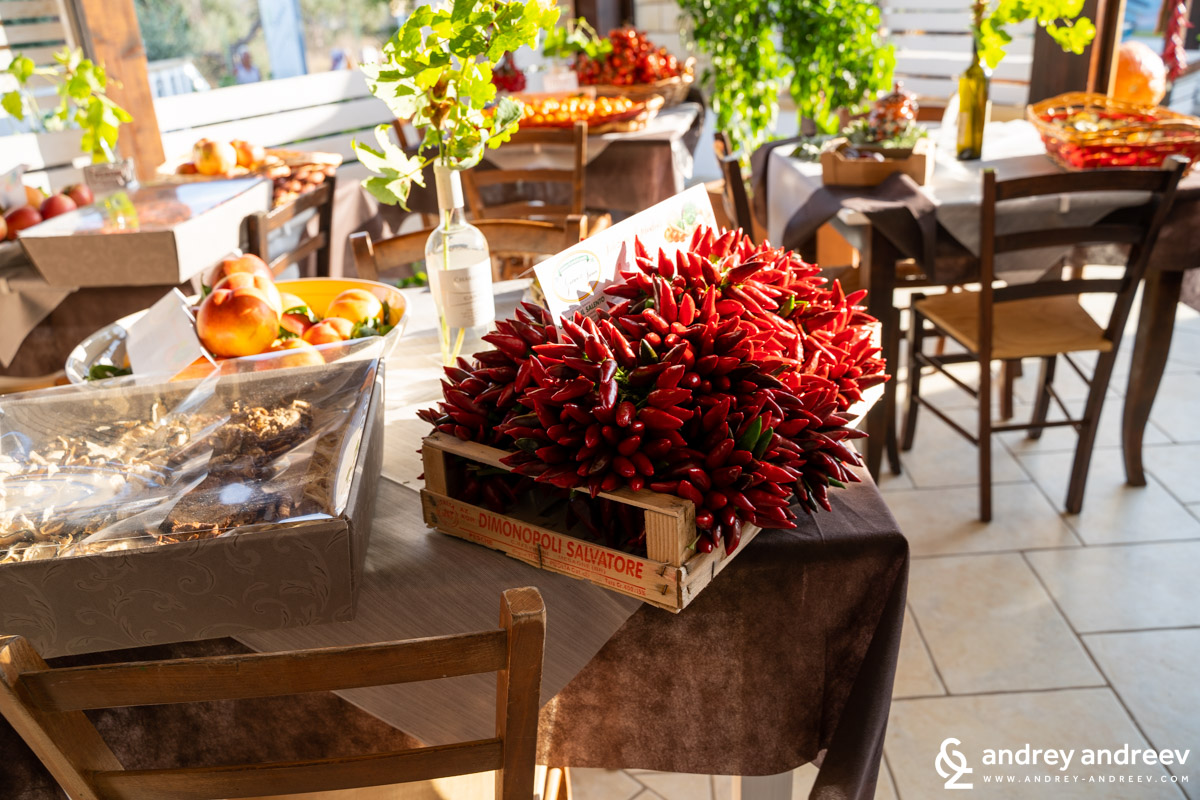 When you cannot leave
It was not a trip everyone would make, but our visit to Taviano, despite out of all tourist tracks, charged us with a lot of emotion, knowledge and Italian vocabulary. And let's not forget the good friends we made.
Follow us: Instagram and Facebook
---